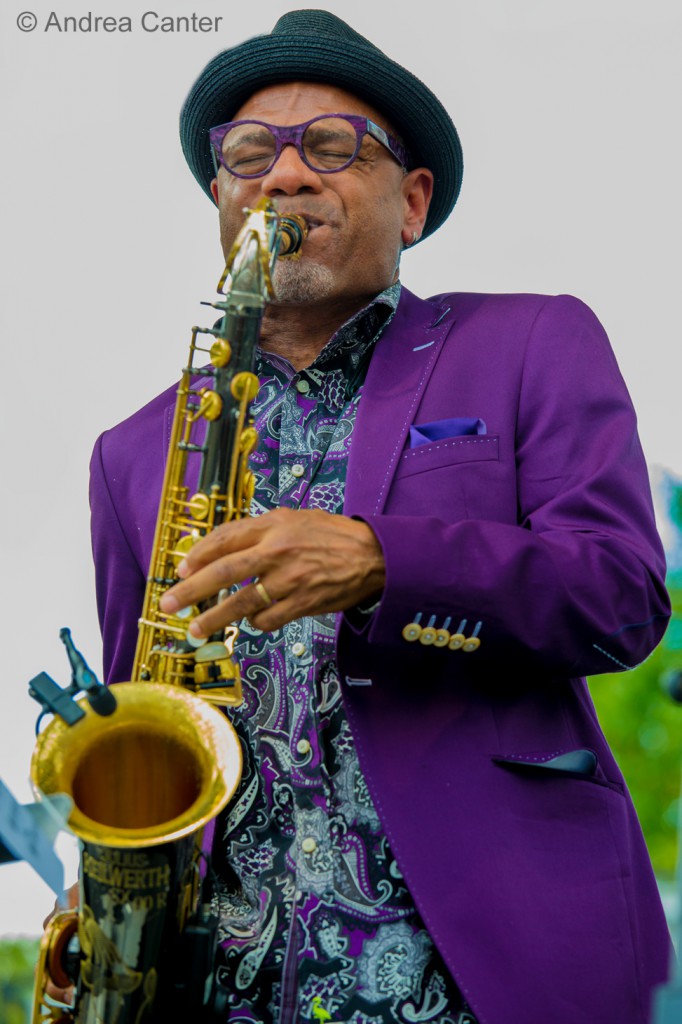 The 15th annual Selby Avenue JazzFest takes place –free– on Saturday, September 10, 11 am – 8 pm, at the intersection of Selby and Milton Avenues in St. Paul. The headliner this year is Grammy-winning saxophonist Kirk Whalum. Mychael Wright, festival founder and owner of Golden Thyme Coffee Café, notes that "2016 marks our fifteenth anniversary and I wanted to do something really special" regarding the line-up. "I think people are going to be really impressed."
US Bank Main Stage
Selby Ave Brass Band: This group of local musicians, including three members of the former Dick and Jane Brass Band, will kick off the Fest in a traditional New Orleans procession. They will also perform on the main stage later in the day in expanded format, with vocalist Maurice Jacox in tribute to the late Allen Toussaint, and with vocalist Thomasina Petrus in a salute to Etta James.
Walker West Music Academy's Urban Legends of Jazz: Staff and students from the St. Paul music academy will perform a variety of tunes, from historical jazz standards to vocal numbers.
Brio Brass: 44+ musicians strong, this big band okays everything from marches and polkas to ballads and lots of jazz. "This big group has played JazzFest a number of times," stated Wright. "We're glad to have them all back this year."
The Men of New Hope: This 11-member male chorus recently released their debut recording, Been So Good, which was produced by Sounds of Blackness' Billy Steele and Larry Robinson. This is the group's first JazzFest performance.
Anthony Walker Review featuring Reverend Carl Walker: Anthony began his piano training in his native St. Paul at age five, making his public debut at age ten. His smooth sophisticated style is comparable to jazz icons Herbie Hancock, Joe Sample, Bobby Lyle, and George Duke. His talent as a pianist has allowed Anthony to perform for audiences on five continents, sharing the stage with acts such as Stevie Wonder, Patti Austin, Kelly Price, Chaka Khan and The Yellowjackets. Joining Anthony will be Reverend Carl Walker, Anthony's father and co-fonder of Walker West Music Academy. "People around here are very excited about those two performing together," stated Wright. "This is going to be one great family reunion."
Grammy Winner Kirk Whalum: Soulful, passionate, stirring…these are the words most often used to describe Kirk's music. Forged from his Memphis gospel roots and his 1980's initiation into the thriving Houston, TX nightclub scene, Kirk's big, rich tenor sound is unmistakably his. It was also in Houston where jazz pianist Bob James "discovered" him and brought him on tour, which led to five successful albums with Columbia Records, including Cache, Kirk's first #1 album. After moving to Los Angeles, Kirk became an in-demand session player for top artists like Barbra Streisand, Al Jarreau, Luther Vandross, Larry Carlton, Quincy Jones and Whitney Houston, among many others. It's his sax that's heard on the mega-hit, I Will Always Love You. An 11-time Grammy nominee, Whalum is a Mack Avenue recording artist, appearing at the Detroit Jazz Festival annually and on tour with the Mack Avenue Super Band. "A Grammy Award winner on Selby Avenue…imagine that," stated Wright. "I can't think of a better way to cap off JazzFest's first 15 years."
Beyond Music
In addition to a great day of music, Selby Avenue JazzFest also features a variety of great food vendors, from ethnic specialties to state fair food with a soul food twist!; family activities; and live artist demonstrations. "We're working hard to make sure there's plenty to do to for folks to make a full day of it," added Wright.
Support
The Selby Ave JazzFest would like to thank the following funders, grantors and media partners: Metropolitan Regional Arts Council, City of St. Paul, St. Paul Cultural STAR Program, U.S. Bank (2016 Main Stage Sponsor), Ordway Center for the Performing Arts (2016 Family Fun Zone Sponsor), UCare (2016 Health and Wellness Village Sponsor), Blue Cross Blue Shield of Minnesota, Twin Cities RISE, Rondo Community Land Trust, Western Bank, Mississippi Market Co-op, Wells Fargo, Jazz 88.5 KBEM-FM, Anchor Bank, Insight News, Highland Bank, Home Depot, Associated Bank, and St. Paul Pioneer Press. This activity is made possible by the voters of Minnesota through a grant from the Metropolitan Regional Arts Council, thanks to a legislative appropriation from the arts and cultural heritage fund.
For more information, visit the event's website at www.selbyavejazzfest.com