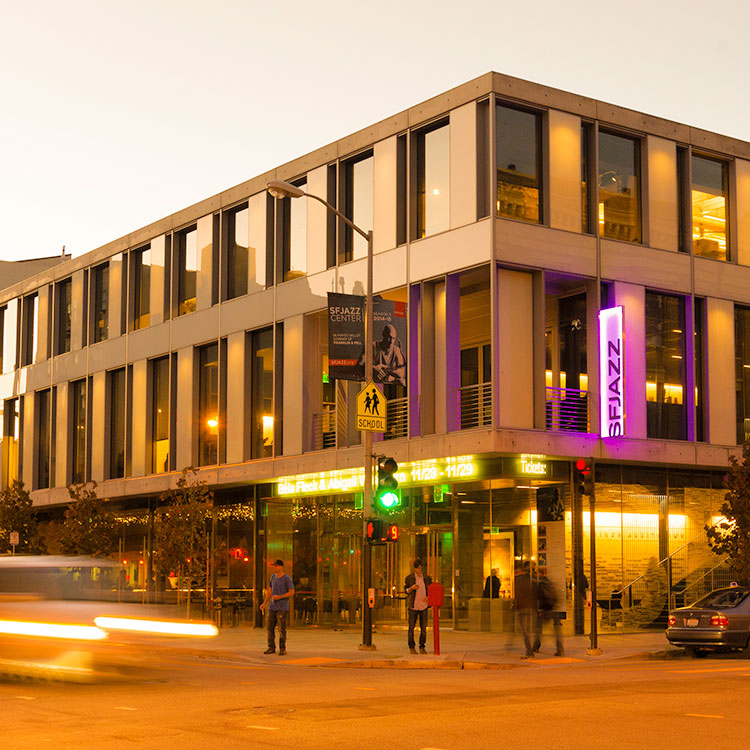 It has been some time since jazz was at its height of popularity. There was Thelonious Monk on the cover of Time magazine. College campuses featured jazz performances that became hit records (Jazz Goes to College, Dave Brubeck). And then, suddenly, the Beatles landed, and it was over. At the September 8th opening of the fifth season of SFJAZZ in its recently built location, two guitarist presented programs that harked back to an age when jazz was very popular and full of art and adventure. And it isn't surprising that the two musicians leading the charge, Pat Metheny and Julian Lage, are guitar players. And both of these players use elements of rock, the very music that almost wiped out jazz, as the basis of their music and appeal.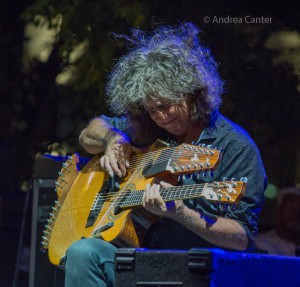 Pat Metheny has now established a remarkable career that includes amazing bands, teaching, and artistic collaborations of the highest order. His recording career is one that shows a constantly innovating player. On this night, his quartet featured drummer Antonio Sanchez, bassist Linda Oh, and pianist Gwilym Simcock. Each of these musicians is a leader in his or her own right, but as a backing group for Metheny, they demonstrated a gorgeous tableau of color, grace, and dynamism. Metheny opened with his very special prepared guitar, the Manzer Picasso, a 42-string instrument. Guitar World magazine indicates that this was built quite a few years ago by maker Linda Manzer, who was inspired by the paintings of guitars by Pablo Picasso.  Interestingly, Metheny burst into what sounded like Japanese, Koto-inspired sounds. He might have been reacting to being in San Francisco, a city bursting with Asian influences from food to a major Chinese art exhibit right across from the SFJAZZ Center. In any case, it was a startling beginning, and was followed by a steady stream of Metheny tunes.
Drummer Sanchez demonstrated a swinging and powerful swirl of rhythm. Bassist Oh seemed to be growing into the music deeper and deeper with each piece. And pianist Simcock demonstrated spectacular technique in short bursts of playing. All the songs we heard had a powerful and upbeat lift that seemed to be grabbing at listeners in a fluid and joyous way. Metheny wants us to listen, but he is also celebrating the melodic aspect of song, tied together from a lifetime of experience playing and listening.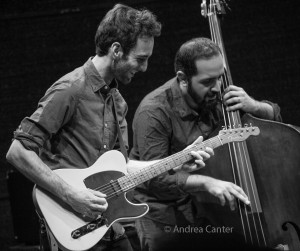 Downstairs from the main hall seating was another guitar show in the Joe Henderson Lab, featuring guitarist Julian Lage in a trio setting. With him was bassist Jorge Roeder, originally from Peru, and the local hero, Kenny Wollesen from Santa Cruz. Lage plays originals, such as "The Ramble" and "Henry," along with a few standards such as W.C. Handy's "Harlem Blue," as well as "I'm Getting Sentimental Over You" and "Call of the Canyon" from the Tommy Dorsey band.  This set was the first of four consecutive evenings of performances at the Henderson lab. The sound was excellent for such a small room. Wolleson's playing was especially notable, with his blazing technique and gereat sensitivity to dynamics.
All that was missing was a jam between Lage and Metheny to make a truly spectacular night. What was certain from both bands is that guitar certainly has come a long way in the history of jazz.  Both Metheny and Lage have been greatly influenced by rock, but in very different ways. With Metheny, this influence appears in the bouncing, up-beat and rhythmical style of his original tunes.  For Lage, a generation younger, he is even less inhibited by including licks from every form of popular music, including country, folk, and rhythm and blues.
One last thought hung over these performances: Will these players and the generations of guitarists to follow open up the jazz world to a new level of popularity and acceptance? Both Metheny and Lage seem to provide the perfect window for listeners to explore the deep satisfaction in experiencing the tour de force playing styles that is generated. This is the point where popular music of today and great improvisational playing merge. Let's hope a younger audience will dig in.