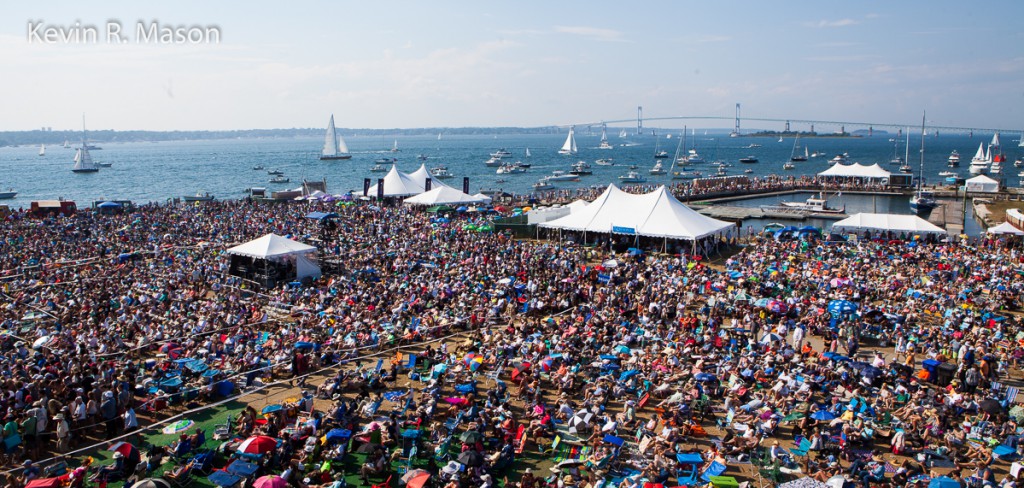 The 2016 Newport Jazz Festival, presented by Natixis Global Asset Management, took place July 29 –31. Sometimes at Newport, you get gorgeous weather, other times you experience torrential downpours. Although the Newport Jazz Festival (NJF) got off to a rainy start on Friday, the sun came out at midday, and the rest of the weekend was mercifully dry. At least the morning rains were nothing like the legendary storms at the 2011 Festival, which were so prolonged and drenching that you might as well have been floating in Narragansett Bay!
Friday, July 29
John Hailer, President and CEO of Natixis Global Asset Management, has supported NJF for several years. He welcomed the crowd, and spoke about music education and the power of jazz, which he called "the one genre that carries throughout the world." Hailer discussed the George Wein Jazz Ambassador Scholarships, sponsored by Natixis, which are given to college-bound musicians "who embody the spirit and energy of jazz." This year's recipients of $5,000 scholarships are William Evans of Rehoboth, MA and Samuel Atallah of Needham, MA.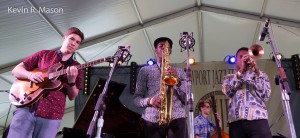 The Berklee Global Jazz Workshop is a five-day residential program that culminates in a concert at NJF. Under the tutelage of Artistic Director Danilo Pérez, Terri Lyne Carrington, John Patitucci, and other mentors, students took part in rehearsals and master classes at Newport's Salve Regina University in collaboration with Berklee College of Music. On Friday at the Quad Stage, a number of colorfully named groups performed, including the Silver Ensemble, who played mentor Yoron Israel's composition, "Tippin." Yoron said he was very impressed by the growth he witnessed in the students in just one week. The Orange Ensemble played "Short Story" under the direction of pianist Isaac Wilson. The Purple Ensemble, conducted by Professor Donna McElroy, sang "Autumn Leaves" in vocalese with fantastic harmony and scatting. McElroy said of the experience, "I'm blown away! It's almost too big to take in!" Each group was quite impressive, so despite periodic predictions that jazz is on the decline, you can't help feeling optimistic when you hear all this young talent. The Berklee Global Jazz Workshop demonstrated that the future of jazz is in good hands.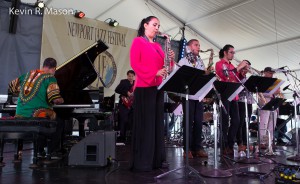 The Berklee Global Jazz Ambassadors–pianist/composer Danilo Pérez, trumpeter Mao Sone, saxophonist Edmar Colón, drummer Anthony Fung, alto saxophonist Patricia Zarate, bassists John Patitucci and Seungho Jang, and keyboardist Isaac Wilson–played a wonderful set that included "Galactic Panama," "Scene 3," and "Chocolito." They were joined by percussionist Eric Blanquicet and trumpeter Brandon Woody, a student from the Berklee Global Jazz Workshop who was chosen to sit-in with the group. Teaming professionals with some of Berklee College of Music's most promising jazz musicians, The Berklee Global Jazz Ambassadors encourage creativity and musicianship, participate in social projects for peace and positive changes in the world, and perform internationally in the continued promotion of jazz.
NJF was part of the very busy schedule of Steve Coleman and Five Elements, including residencies all over the US and an upcoming European tour. Extensive travel is nothing new to alto saxophonist Coleman, who's collaborated on projects in Ghana, Cuba, France, Indonesia, India, and Brazil. At Newport, Steve was joined by trumpeter Jonathan Finlayson, tenor saxophonist Maria Grand, guitarist Miles Okazaki, bassist Anthony Tidd, and drummer Sean Rickman. The engrossing show was a continuous instrumental conversation. In fact, some brief scatting was the only vocalization until Coleman sang the introduction of the band, describing each musician and their instrument, as they joined in, one by one. It was an entertaining ending to a fine set.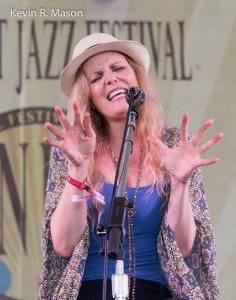 Tierney Sutton: "After Blue" The Joni Mitchell Project. This was multiple Grammy-Award nominated vocalist Tierney Sutton's first NJF appearance. She's always wanted to sing at Newport, and thanked the Festival. Sutton performed songs from her latest CD, After Blue, a jazz-inspired re-imagining of Joni Mitchell's music. Accompanied by cellist Mark Summer and guitarist Serge Merlaud, Tierney demonstrated her crystal-clear, multi-octave voice on "Twisted." She joked that it was only a sound check, and the audience should pretend they just started, but there was no need, since the song was note-perfect. Tierney divulged that for the first time in 20 years, laryngitis forced her to cancel two recent shows, adding, "If I miss a note here and there, well, that's life." Fortunately, she sounded superb, and continued with an exquisite mash-up of "April in Paris" and "Free Man in Paris." Since Joni Mitchell's songs are widely familiar, Tierney wisely put her own stamp on the tunes, with lovely results on "Court and Spark." She sang the composition that first made her want to sing Mitchell's music, "Little Green," which Joni wrote about giving her daughter up for adoption. The philosophical "Both Sides Now" started as a ballad and morphed into a jazzy, syncopated pleasure. Sutton acknowledged singer Gretchen Parlato in the audience, calling her "little sister." Gretchen taught her the Portuguese song, "Chega De Saudade," which Tierney sang in English as "No More Blues." For Tierney Sutton fans, old and new, this show was pure enjoyment.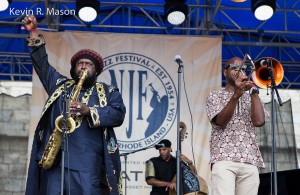 Recently, tenor saxophonist Kamasi Washington has taken the jazz world by storm, and has been one of the most sought-out musicians of 2016. However, he's no overnight sensation. Kamasi has worked with jazz greats Quincy Jones, Stanley Clarke, Gerald Wilson, Freddie Hubbard, and George Duke, as well as artists from other genres like Kendrick Lamar, Lauryn Hill, and Chaka Khan. At NJF, he played two standing-room-only sets of music from his groundbreaking CD, The Epic, with Ricky Washington on flute, vocalist Patrice Quinn, bassist Miles Mosley, drummers Tony Austin and Robert Miller, Jamael Dean on keyboards, and trombonist Ryan Porter. An imposing figure on stage, Kamasi's electrifying show was a complex amalgam of free jazz and old-school funky soul. No wonder there were no empty spots at either set!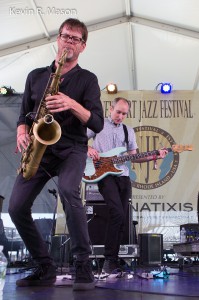 Saxophonist Donny McCaslin dedicated the plaintive, minor-key David Bowie/Brian Eno song "Warszawa" to the memory of Bowie, with whom McCaslin worked on a recent project, and also performed the David Bowie song he recently recorded, "A Small Plot of Land." Donny talked about NJF's legacy, and reminisced about his trip to Holland at 14 with his school band, when he was stricken with appendicitis and bedridden for a week. During his recovery, he listened to Ellington at Newport so much that he broke his Walkman! McCaslin told the audience how proud he was to be in Newport, and was joined in his surreal, atmospheric set by pianist Jason Lindner, bassist Nate Wood, and drummer Mark Guiliana.
It was a beautiful evening at the International Tennis Hall of Fame for the doubleheader of Chick Corea's Trilogy and Gregory Porter. The show started with the great pianist Chick Corea and his cohorts, drummer Brian Blade and bassist Christian McBride, really swinging on a set that included "Green Dolphin Street," "Fall Blues," and Bud Powell's "Tempus Fugit," with Chick praising Bud Powell as a musical hero.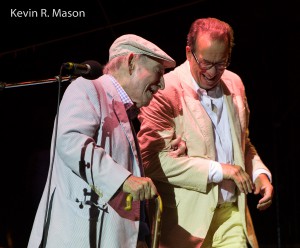 Between sets, John Hailer announced that Natixis will continue to sponsor NJF until at least 2020, then introduced Festival Founder George Wein. Wein thanked Hailer for all his support, and observed how quickly 62 years has passed since the first Festival. Wein also discussed Christian McBride's appointment as the new Artistic Director, but added, "I'm not going anywhere, as long as I can stand up!"
Singer Gregory Porter's fantastic show included "Holding On," "Hey Laura," and "On My Way to Harlem." "Young Man" was written for his three-year-old son, and "Take Me to the Alley" powerfully described shining a light on dark places where the most downtrodden live. Porter recalled his mother and grandmother humming if the spirit in a room didn't feel right, then sang "Liquid Spirit," a song about filling your soul with goodness. The set continued with "Wolfcry," "Papa Was a Rolling Stone," "Work Song," and "Musical Genocide" with Gregory receiving excellent support from saxophonist Lakecia Benjamin, pianist Chip Crawford, bassist Jahmal Nichols, and drummer Emanuel Harrold. Gregory said his encore, "No Love Dying," is a pushback to all the negativity in the world.
Both Gregory Porter and the Chick Corea Trilogy did Saturday shows at Fort Adams Park, which was great for people who missed the Friday sets. The virtuosity of this concert was at such a high level that, even though tennis is usually played in this arena, the audience got served some fabulous jazz!
Saturday, July 30
For the first time in about 25 years, NJF was completely sold out on Saturday! Fortunately, the weather cooperated, allowing the throngs of music fans to fully enjoy the concerts and the lovely saltwater breezes from Narragansett Bay on the beautiful, sunny day.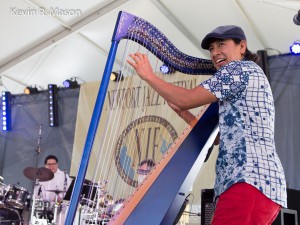 Edmar Castañeda World Ensemble. Incredible harpist Edmar Castañeda started with a scintillating, exciting song, with expert backing from Grégoire Maret on harmonica, trombonist Marshall Gilkes, saxophonist Yosvany Terry, pianist Pablo Vergara, drummer Rodrigo Villalon, and Itai Kriss on flute. After a standing ovation for the first song, Edmar tickled the audience, joking, "It's too early to play. We're just warming up!" Castañeda wished blessings for everyone and said, "I will pray for you on my harp," on "Jesus de Nazareth." Edmar introduced his wife, vocalist Andrea Tierra, telling of their whirlwind romance, marrying 20 days after they met! Andrea's sultry voice added to the phenomenal show, and she explained the meaning of her song. Half the song praised Edmar, because he treats her so well, and the other half admonished men who mistreat the women in their lives. The chemistry between Edmar and Andrea was palpable, and she sweetly kissed him on her way off stage. The set finished with "For Jaco," a song inspired by Jaco Pastorius.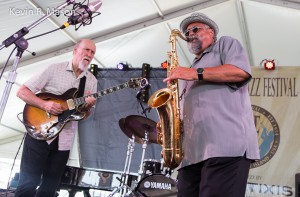 John Scofield/Joe Lovano Quartet. Tenor saxophonist Joe Lovano and guitarist John Scofield were school chums at Berklee College of Music, and years later, they're still performing together. They have the polished skill and natural confidence that comes from years of experience, and a very rich sound, whether playing something mellow or up-tempo. They were accompanied by bassist Ben Street and drummer Bill Stewart on "Museum," "Cymbalism," "Hangover," and "Big Ben," a tribute to saxophonist Ben Webster. John Scofield said it's always an honor to be at Newport, and thanked the audience for making them feel so good. The quartet played "Chariots" as the finale.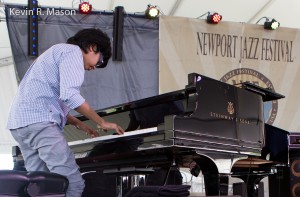 Bali-born piano prodigy Joey Alexander has racked up an astonishing list of accomplishments at the tender age of 13. He's been featured twice on 60 Minutes, received a standing ovation at the Grammy Awards, performed at the White House on International Jazz Day, and has recorded two CDs, his Grammy-nominated debut, My Favorite Things and the just-released Countdown. So it wasn't surprising to see a huge audience for Joey at Newport's Quad Stage, where the photo pit was so filled with photographers, Joey couldn't be seen at the piano until the area was cleared after the first song.  He played with such grace and maturity, you could forget how young he is, until his voice cracked when he spoke. There was a contingent of pubescent female fans loudly expressing their admiration. Although he smiled at the youthful voices calling his name, Joey, with drummer Ulysses Owens, Jr. and bassist Dan Chmielinski, got down to playing some serious jazz, including Coltrane's "Countdown" and Herbie Hancock's "The Sorcerer." Despite all the buzz about Joey Alexander, he remains humble and polite, thanking the audience for coming, and George Wein "for a beautiful festival." "Who Can I Turn To?" was the perfect encore in a concert where Joey showed he's much more than just hype; this kid is the real deal.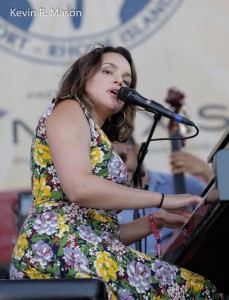 Multiple Grammy Award-winning singer/composer/multi-instrumentalist Norah Jones displayed wit and humor, beguiling the audience with laid-back charm and her unmistakable musical style. Norah thanked drummer Brian Blade for pulling double duty, since he had just finished playing with the Chick Corea Trilogy. With Peter Remm on B-3 organ, bassist Chris Thomas, and the whimsically nicknamed back-up vocalists Tank and Jelly, Norah performed "Cold, Cold Heart," "Out on the Road," and Horace Silver's "Peace." After the song "Sinkin' Soon," Jones looked at Narragansett Bay and quipped that she didn't think the yachts would be sinking. "They don't look too shabby. I think they'll be all right." Norah continued her show with "I've Got to See You Again" and "Come Away With Me." Guest star, guitarist Jesse Harris, joined Norah on their global hit "Don't Know Why."  Norah Jones has sold over 50 million albums, and her widespread appeal earned her spots at both the Newport Jazz Festival and the Newport Folk Festival.
Sunday, July 31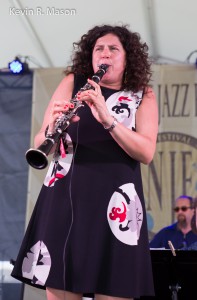 Anat Cohen Tentet. For eight years straight, the Jazz Journalists Association has named Anat Cohen "Clarinetist of the Year," and she's won the DownBeat poll annually since 2011. Anat's concert featured music by noted composer/arranger/producer Oded Lev-Ari, including "Putty Boy Strut," "Cais," and "Happy Song." They performed a composition with a beautiful, haunting accordion solo by Vitor Gonçalves that evoked a Paris café on a rainy afternoon, and followed with a captivating number with a vivid 1940s big-band sound. Before Anat finished with a sultry Mali-inspired song, she introduced guitarist Sheryl Bailey, bassist Tal Mashiach, drummer Anthony Pinciotti, percussionist James Shipp, trumpeter Nadje Noordhuis, saxophonist Owen Broder, trombonist Nick Finzer, and cellist Rubin Kodheli. This band was a miniature United Nations, with members from Brazil to Australia, and they took the audience on a musical magic carpet ride, from Latin America to Israel. Anat thanked the audience for supporting live music, and received a prolonged, enthusiastic, and well-deserved ovation.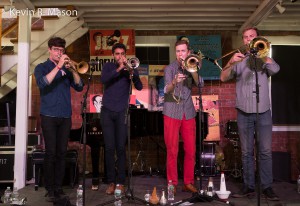 Trumpeters Riley Mulherkar and Zubin Hensler and trombonists Andy Clausen and Willem de Koch were childhood friends in Seattle, Washington who reconnected in Manhattan and formed The Westerlies in 2011. Their clever name comes from the prevailing winds from west to east, and The Westerlies certainly blew into Newport like a breath of fresh air. A self-described "accidental brass quartet," their unorthodox instrumentation, wide array of influences, and individual sensibilities make them a unique and welcome addition to the jazz scene. They were thrilled to be at NJF, and said they felt like kids in a candy store, seeing so many musical idols and friends. At the crowded Storyville venue, they played a beautifully melancholic "A Nearer Sun," and continued with "Double Situation," Get Away Jordan," "The Beekeeper," and a song by their mentor, pianist/composer Wayne Horvitz, "Sweeter Than the Day." "Rue des Rosiers" was inspired by the memorable sight of an elderly man riding a huge bicycle in Paris, wearing a vest covered with all sorts of tassels, bows, and sparkling bling, and the fanciful song was a standout in a set filled with impressive and skillful moments. Their upcoming self-titled CD will be released on October 7, 2016.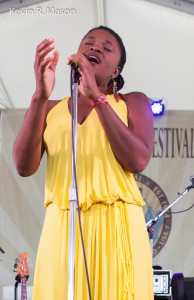 From the first note that Lizz Wright sang, on a lovely rendition of "The Nearness of You," she had the audience mesmerized. Lizz was backed by guitarist Chris Rosser, bassist Nicolas D'Amato, drummer Jay Marshall, and keyboardist Kenny Banks, with whom she's worked since she was 19. Wright's voice can take you to church, which isn't surprising, since her father is a minister. She wrote "The New Game" to show church members that she hasn't strayed from the flock. The song was stirring, perfect for Sunday. On "Walk With Me, Lord," Lizz pulled out the tambourine, and Kenny Banks put his whole body into his keyboards, playing the piano with one hand and the organ with the other! Wright also sang "Old Man," "Morning Glory," and "Somewhere Down the Mystic." When she first played at NJF, Wright said "Salt" was the only thing "she had in her pocket" and she sang it as a thank-you to Newport for their early faith in her. The encore, "Freedom," was the perfect finale for the deep, spirit-filled, joyous performance.
Toshiko Akiyoshi – Solo Piano. In his introduction, George Wein discussed how pianist Toshiko Akiyoshi's 1956 NJF performance amazed the world, how people were astonished that this young Japanese woman could play jazz so well. In the intervening years, Toshiko has more than lived up to her early promise, becoming an NEA Jazz Master. At 86, time hasn't diminished her power, and Akiyoshi still plays with skill, dexterity, and style. The distinguished pianist discussed the racial attitudes that were prevalent when Porgy & Bess premiered, when introducing "I Love You Porgy." She also regaled the audience with interesting anecdotes about her life and musical experiences. After a concert that was a fascinating history lesson and a great piano recital, with classics like "Night in Tunisia," Toshiko Akiyoshi spoke movingly about global strife, past and present, and expressed her desire for peace and tolerance.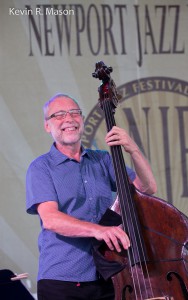 Newport has a history of great collaborations, and having Potter, Holland, Loueke & Harland together on one stage is a remarkable and notable assemblage. These exceptional musicians have been to Newport before, in some cases several times, but this grouping is one for the books. Saxophonist Chris Potter, bassist Dave Holland, guitarist Lionel Loueke, and drummer Eric Harland will be releasing their CD, Aziza, on October 14. 2016. Their set consisted of songs from the CD, including "Aziza Dance," "Blue Sufi," "Sleepless Night," "Walkin' the Walk," and "Finding the Light." They played with expertise and passion as a group and on solos, and the crowd hung on every note. Dave Holland said he hoped everyone was enjoying the set, and with their enthusiastic applause, the audience left no doubt about loving this show.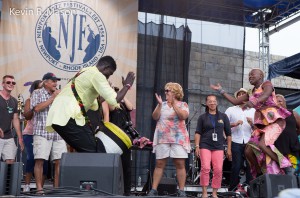 Energetic and spirited, Benin-born Angélique Kijdo is a force of nature, on and off stage. Singer, songwriter, dancer, activist, and UNICEF International Goodwill Ambassador, Kidjo has won numerous awards. She's worked with some of the biggest names in music, including Herbie Hancock, Branford Marsalis, Dianne Reeves, Roy Hargrove, Carlos Santana, John Legend, and Cassandra Wilson. Even if you only caught the end of her concert, it was still exhilarating. Kidjo's global influences extend across genres, making her show a cornucopia of jazz and world music. Angélique finished her set by dancing into the audience, then bringing a large group back to the stage for a joyous celebration, closing out NJF in high style!
NJF– Good for Your Soul
In these turbulent times, there's something particularly special about jazz festivals. At NJF, there were people of every ethnic background, age, and social class, all coming together for the love of music. It was wonderful seeing folks relaxing, enjoying jazz, sharing food, and swapping stories between sets. For three days, you could tell that the divisions prevalent in the news aren't universal. Festivals are beneficial for the world, and good for your soul, as over 24,000 jazz enthusiasts discovered in Newport.
The 2017 NJF will take place August 4, 5, and 6. For more information, go to: www.newportjazzfest.org.