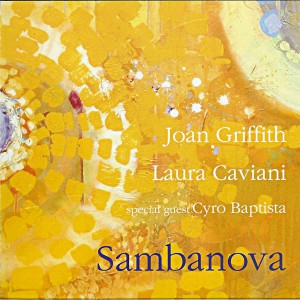 Over the past 20 years, the release of three recordings has helped fuel local interest in the rhythms and passions of Brazilian music, and the common denominator is guitarist/bassist/mandolinist, educator and composer Joan Griffith. With vocalist Lucia Newell, she released Enter You, Enter Love (1995), a collection of American jazz and Brazilian bossa; with pianist Laura Caviani, she released Sambanova (2008), combining Joan's original's in Brazilian styles with works from Brazilian composers; and with Newell and recorder player Clea Galhano, Joan released Circle of the Dance (2010), another collection of Brazilian works and Griffith originals. Just a few weeks ago, Joan and Laura presented some of their Sambanova works on the Jazz @ St. Barneys concert series at St. Barnabas Lutheran Church in Plymouth. But now, on October 11, in the intimate surroundings of the Dunsmore Room at Crooners Lounge in Fridley, Joan, Laura and Lucia unite for an evening of Brazlian music, including tunes "that are rarely heard around here," notes Lucia, "by Jobim, Cayimmi, Boscoli & Menescal, Luis Bonfa, Dolores Duran, and many others, instrumentals and sung pieces."  Adding to the elegance of this evening will be the new Steinway D, recently unveiled in the Dunsmore Room, recently played by Laura Caviani as well as the great Benny Green.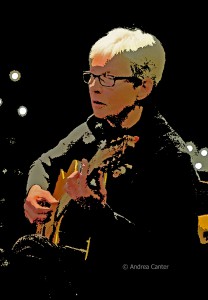 A noted teacher, composer and performer, Joan Griffith has toured and recorded as a classical and jazz guitarist, bassist and mandolinist. She started out on piano and moved on to ukulele and then guitar at age 11. A classical guitar major in college, she picked up the bass in order to form a rock band, switching from electric to upright later when living in Kansas City in order to participate more fully in the area jazz scene. Now head of the Jazz Studies Department at the University of St. Thomas, Joan is also a guitar and bass instructor at St. Catherine's University, director of the MacJazz Workshop at Macalester College, and a roster artist in jazz for COMPAS, the Minnesota State Arts Board and Young Audiences. She also appears frequently with the Minnesota Orchestra as a classical mandolinist.  With Lucia Newell, Joan released Enter You, Enter Love, named to the Top Ten list of recordings for 1996 by KBEM radio. More recent works include Sambanova! (2008) with Laura Caviani and Circle of the Dance (2010) with Clea Galhano and Lucia Newell. Joan is particularly known for performing and composing Brazilian style music, an area that has fascinated her since she first heard "The Girl From Ipanema" as a teen in Nebraska. Over the years she has developed her personal fusion of the African, European and Amerindian traditions that define the soul of Brazilian music. Most recently Joan has worked with Patty Peterson's Jazz Women All Stars,  performed in a two-guitar duo with Chris Olson, and was featured in the Jazz @ St Barney's series with Laura Caviani, Dave Schmalenberger, and Prudence Johnson.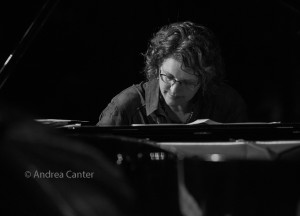 Raised in the Midwest where she studied trumpet as well as piano through high school, Laura Caviani received a Bachelor's of Music in Composition from Lawrence University in Appleton, WI, and a Masters of Music in Improvisation from the University of Michigan at Ann Arbor. Caviani is a veteran of nearly three decades of performing, recording and composing, including appearances with Toots Thielemans, Bob Mintzer, and Dave Liebman, and touring and recording with star vocalist Karrin Allyson. As a leader she now has five acclaimed recordings to her credit and a long list of supporting roles with local musicians. Projects include her tributes to Horace Silver, Mary Lou Williams and Thelonious Monk; Soul Café with guitarist Steve Blons and saxman Brad Holden; Pete Whitman's Xtet; and her cross-genre Alec Wilder project. In spring 2011, she collaborated with Prudence Johnson, Joan Griffith and other area composers to create "A Girl Named Vincent," setting the poems of a young Edna St. Vincent Millay to music for both live performance and recording. And more recently she has presented "From Bach to Bop" – jazz arrangements of favorite classical works– at a number of venues including the Artists Quarter, Hopkins Center for the Arts, and Jazz @St. Barneys. Her latest releases include Sambanova (with Joan Griffith), mostly original works drawing from the traditions of Brazil; another set of Brazilian influenced songs, Circle of the Dance; and a 2013 reissue of a holiday album, Holly, Jolly and Jazzy with Gordy Johnson and Joe Pulice. Laura currently directs big bands at Carleton College in Northfield and teaches at MacPhail Center for Music, McNally Smith College of Music, and Shell Lakes Arts Center.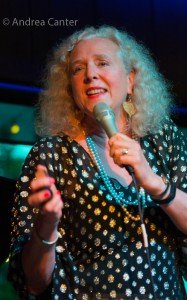 A Minneapolis native, Lucia Newell spent her early career performing and studying in Los Angeles, Brazil (singing for two years at Clube 21 in Rio), Mexico (six months at El Señorial in Mexico City), returning to the Twin Cities as a studio backup vocalist for Jimmy Jam Harris, Terry Lewis and Monte Moir of Flyte Time. Over the past two decades, Lucia has been engaged in voice-over work, performing, teaching, composing, and pursuing her life-long study of music. She has sung with the great Billy Eckstein, the Rio Jazz Orchestra, Oscar Castro Neves, Ben Sidran, and Nilson Matta; paid tribute to Anita O'Day and Betty Carter, A linguist as well as vocalist, Lucia writes lyrics in English, Spanish and Portuguese, and has translated many of her favorite Brazilian songs. In addition to her appearances with her quartet, Lucia performed often with Soul Café, a jazz trio (Laura Caviani, Steve Blons, and Brad Holden) combining poetry and music, and appearing on their 2006 release (Jazz and Poetry) reading the poems of Pablo Neruda and singing the songs of Rogers and Hart. In recent years, Lucia paid tribute to singers she describes as her "music mentors," the late Betty Carter and Anita O'Day.  Lucia spent years singing background vocals on recordings for Windham Hill, CBS, Warner Bros., MCA, GIA, Atlantic, A&M and Virgin Records, recording with Ben Sidran, Thelma Houston, Paula Abdul, Patty Austin, and others in London, New York, Los Angeles, Rio, and at home in Minneapolis. She was featured on Laura Caviani's jazzy Christmas CD, Angels We Haven't Heard. Her own first recording, Enter You, Enter Love, with guitarist Joan Griffith, was hailed as a "wonderfully surprising collection of love songs…that brings to mind steamy, moonlit tropical nights" (Sun Current). Lucia's work with Pete Whitman, along with her love of Billy Strayhorn, led to her 2005 release, Steeped in Strayhorn, described by Alan Bargebuhr in Cadence as "alive with authentic jazz affirmation." Collaborating again with Joan Griffith, Lucia appeared as guest vocalist on Sambanova (2008) and as part of Alma Brasiliera's Circle of the Dance (2010), with Griffith and Clea Galhano on recorder.
The Dunsmore Room in Crooners Lounge is located at 6161 Highway 65 NE, just north of I-694 and 15 minutes north of downtown Minneapolis; tickets at www.croonersloungemn.com. Show at 7 pm, dinner show option available.