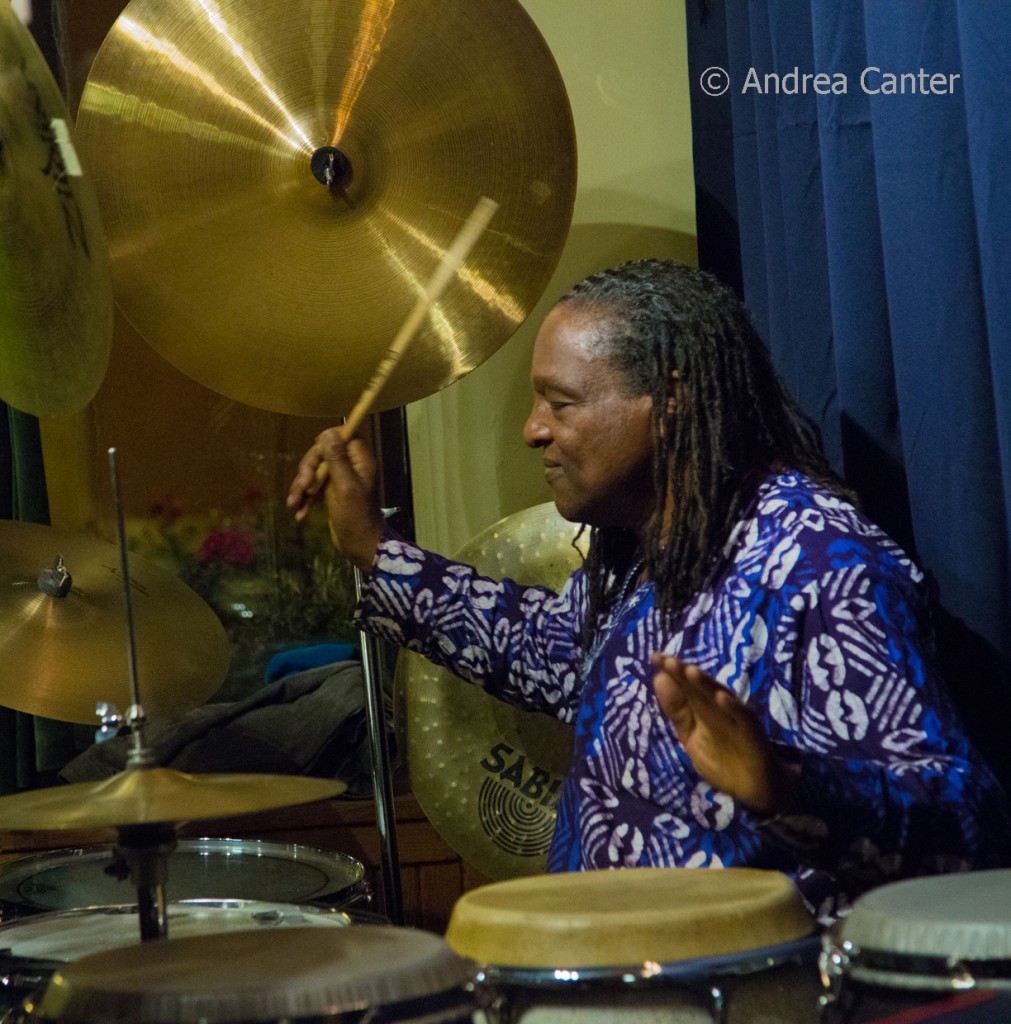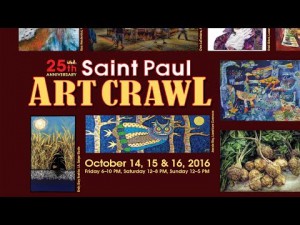 In galleries above, below and all around Lowertown and beyond, you can see a wide range of art created by area painters, photographers, printers, sculptors and more during the St Paul Art Crawl this weekend, October 14-16. And you can enjoy a break from all that visual stimulation by taking your ears to the Black Dog for the weekly Saturday Night Jazz double-header, this Saturday (October 15) featuring bands led by two of the nation's top drummers: Roger and Rajiah Johnson, along with Eric Kamau Gravatt, head the Jazz Bridge Project at 7 pm, followed at 8:30 pm by the Babatunde Lea Quartet.
The Jazz Bridge Project (7 pm)
The Jazz Bridge Project features the father-son team of guitarist Roger and flautist Rajiah Johnson, along with Weather Report alum Eric Kamau Gravatt on drums, Ron Evaniuk on bass and Javi Santiago and piano.
A native of Upstate New York, guitarist Roger Johnson grew up hearing the great organists like Jack McDuff and Jimmy McGriff.  Despite the great players of the era–Grant Green, Kenney Burrell, Pat Martino, and West Montgomery–Roger was heavily influenced by John Coltrane and the 1960's modal players. He notes that "Joe Ford (McCoy Tyner, Fort Apache) is my true friend, teacher, critic and a hero to me in all things." Coming up in the clubs of Buffalo and Rochester, Roger sat in "with almost every Jazz musician that came through, from Monk, Roland Kirk, Adderly and every organ group that came through." Son Rajiah Johnson (flute) has played with the late Jack McDuff and recorded with hip-hop band Atmosphere and Keston and Westdal, among others. Also a woodwind repair technician, Rajiah studied at the University of Connecticut, Concordia and Minnesota State Technical College.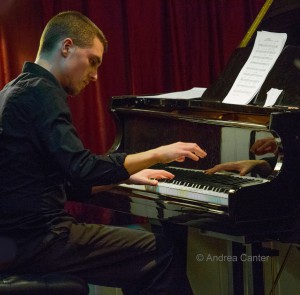 Minneapolis native Javi Santiago comes by his musical bent honestly, the son of drummer Mac and vocalist Laurie Santiago, and grandson of Latin percussion master, the late Luis Santiago. A former student of pianist Tanner Taylor, Javi was selected as a Fellow of the Brubeck Institute at the University of the Pacific after completing high school, where he attended for the maximum two years. From Brubeck Javi moved on to complete his college studies at the New School for Jazz and Contemporary Music in New York, graduating in 2011. Since returning to the Twin Cities, Javi has become a significant voice on the local jazz scene, performing  at the Artists Quarter, Jazz Central, The Nicollet (now Reverie), Black Dog, Icehouse, Crooners, and other venues as well as at the Twin Cities Jazz Festival. In 2015, Javi released an EP, Year of the Horse, with original compositions.
Leader of his own quartet, Ron Evaniuk recorded with Twin Cities trumpet legend Gene Adams and played with George Avaloz, in addition to his long-standing work with Eric Gravatt's Source Code and occasional work with the JazzMN Orchestra. He's recently appeared with drummer/pianist Rodney Ruckus.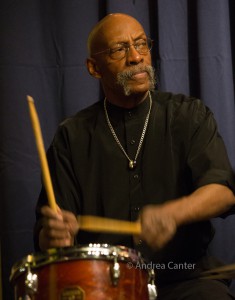 An alum of Weather Report and the bands of McCoy Tyner, Joe Henderson, Freddie Hubbard, Blue Mitchell and others, drummer Eric Kamau Gravatt essentially has had two careers in jazz with a couple decades of separation. Like John Coltrane and long-time associate McCoy Tyner, he is a native of Philadelphia. Originally a conga player, Gravatt taught percussion and music in Philadelphia and Washington, DC in the 1960s. Miles Davis invited him to join his band, but Gravatt turned down the Prince of Darkness to follow Wayne Shorter into Weather Report, with whom he toured and recorded. He moved on to the fusion band Natural Life (with Bobby Peterson and Bob Rockwell), bringing him to the Twin Cities some 30 years ago. Demands of family and a desire for financial stability took Gravatt out of fulltime music and into fulltime work as a guard at the Minnesota Correctional Facility in Lino Lakes. Only after retiring from Lino Lakes did Gravatt return to his calling, touring again with McCoy Tyner, performing with his band, Source Code, and recently engaging in more experimental improvisations with Adam Linz, Brandon Wozniak, and Dean Magraw, with whom he recently released the duo CD, Fire on the Nile.
Babtunde Lea Quartet (8:30 pm)
Acclaimed percussionist Babatunde Lea leads ensembles with the best of the region's jazz artists, including trumpeter Solomon Parham, pianist Phil Aaron, and bassist Gary Raynor.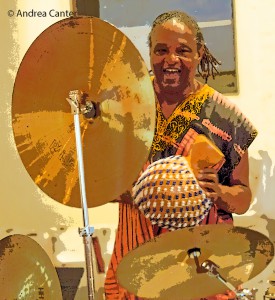 Babatunde Lea's vast experience of over 50 years as a master percussionist, along with the spiritual depth in everything he does, has made him one of the most esteemed musicians of the past half century. A New York native who was raised in Engelwood, NJ, Lea (given name Michael) came to music naturally. His aunt was one of the first women to play in a marching band. Shortly after starting on drums at 11, he saw Babatunde Olatunji and his Drums of Passion, and soon changed his own name to Babatunde. Absorbing the rhythms of Africa and the Caribbean, Lea moved west to the Bay Area at 18, expanding his palette with affiliations with Bill Summers (Bata Koto) before joining Juju, leading to another relocation, this time to Richmond, VA. But perhaps the most influential connection was with Leon Thomas, who he had known from church back in New Jersey. "Leon sang in the choir. I used to see him sing every Sunday and he would 'turn the church out!'" recalled Lea. Babatunde ended up working in Thomas's band in the early 70s. "Leon was not only the bandleader and one of my bosses," Lea explains, "but he was very instrumental to my artistic growth. He was a great influence on the type of music I like and the genre of music that I play." Back in the Bay Area, He returned to the Bay Area a few years later, he worked with Stan Getz, Joe Henderson, McCoy Tyner, Randy Weston, Van Morrison and, particularly, Oscar Brown, Jr., who was "like a father, he was an activist and I learned a lot just being around him," recalls Lea. Babatunde released his first album as leader, Levels of Consciousness in 1979, recording with a band called Phenomena, which grew out of the Loft Jazz Association. It was nearly two decades before his next release, Level of Intent, on his own label, Diaspora Records, which was reissued in 2003 when he co-founded Motema Records with Jana Herzen. Four albums later on Motema, Lea released a tribute to Leon Thomas, Ubmo Weti (2009). In 2010, he moved to Pennsylvania to teach at Gettysburg College, moving again a year later when he finally landed in the Midwest.
Babatunde Lea has long been committed to education, not just about music but also about social justice and spiritual connections. In 1993, with his wife Virginia, he founded the Educultural Foundation, a California non-profit organization that provides workshops, classes, and presentations. "The purpose I try to imbue my music with is that our growth as human beings should strive toward an anti-racist, anti-sexist, anti-homophobic, egalitarian, democratic universal society and I don't care how many life times it takes to get there! I consider myself an activist as well as a musician and consider myself an 'agent of change,'" says Babatunde. Lea has presented clinics and demonstrations of his approach to merging traditional African percussion with American jazz, yielding a drum kit he refers to as the Troponga.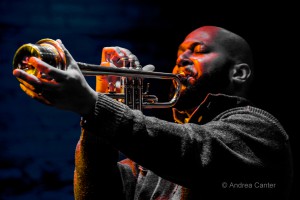 Trumpeter and educator Solomon Parham came to the Twin Cities from Detroit where he taught in public school and performed at Baker's Keyboard Lounge. He's also performed with Delfeayo Marsalis' Jazz for Kids, "Jazz and Jasmine Meets the Jazz Band," Wessell Anderson, Eric Gravatt's Source Code, and at  the Twin Cities Jazz Festival, Artists Quarter, Dakota, Bedlam, Jazz Central and more. Currently, Solomon teaches in the St. Paul Schools and directs jazz ensembles at Walker West Music Academy. He's led "Solomon's Sessions" weekly at The Bedlam during winter and spring 2016, and as the after hours jam at The Bedlam during the 2016 Twin Cities Jazz Festival. In his spare time, Solomon recently completed his Master's Degree at McNally Smith College of Music.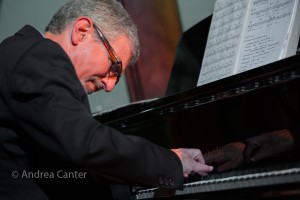 Pianist Phil Aaron is a Chicago native who studied music at the Berklee College of Music and the University of Illinois.  After ten years in LA, he moved to Minneapolis in 1989, becoming fully immersed in the local jazz scene. By day,  Phil works as a composer of film and television scores winning an Emmy in 2007 for his scoring work on the PBS animated series, Auto-B-Good. As a performing jazz artist, Phil has shared the stage with Lee Konitz, Eric Alexander, Jim Rotondi, Jim Snidero, Byron Stripling, Barbara Morrison and Jackie Allen, among others, and has provided piano accompaniment to many local jazz singers and ensembles. An active recording artist as sideman and on five CDs of his own, Phil plays regularly with his own trio and Lucia Newell, as well as the Phil Hey Quartet. Drawing inspiration from Bill Evans, Cedar Walton, Tommy Flanagan, and Keith Jarrett, he "can swing hard or wax romantic at the keyboard" (Minneapolis Star Tribune).
A Minnesota resident since 1977, Gary Raynor(bass) toured with Sammy Davis Jr., performed with the Count Basie Band, Rupert's Orchestra, Richie Cole, Claudio Roditi, Herb Ellis, Mark Murphy, and Clark Terry, and has appeared with dozens of Broadway touring shows, including the first presentation of The Lion King. A long-time performer with Guy's All-Star Shoe Band onPrairie Home Companion, Raynor is featured on Janet Jackson's hit single "Again" and the original Rio Nido album, I Like to Riff. Locally Gary has performed with Debbie Duncan, Bruce Henry, Dave Karr, Manfredo Fest, Laura Caviani, Pete Whitman, Reuben Ristrom, Tim Sparks, the JazzMN Orchestra, and more.
The Black Dog is located at 308 Prince Street, on street level of the Northern Warehouse in St. Paul's Lowertown Arts District. The Saturday Night Jazz series is curated by Steve Kenny and takes place every Saturday, always two bands, no cover but a donation to the tip jar ($10 suggested) appreciated to support the series and the musicians. Schedule at www.saturdaynightjazzattheblackdog.info; venue schedule at www.blackdogstpaul.com