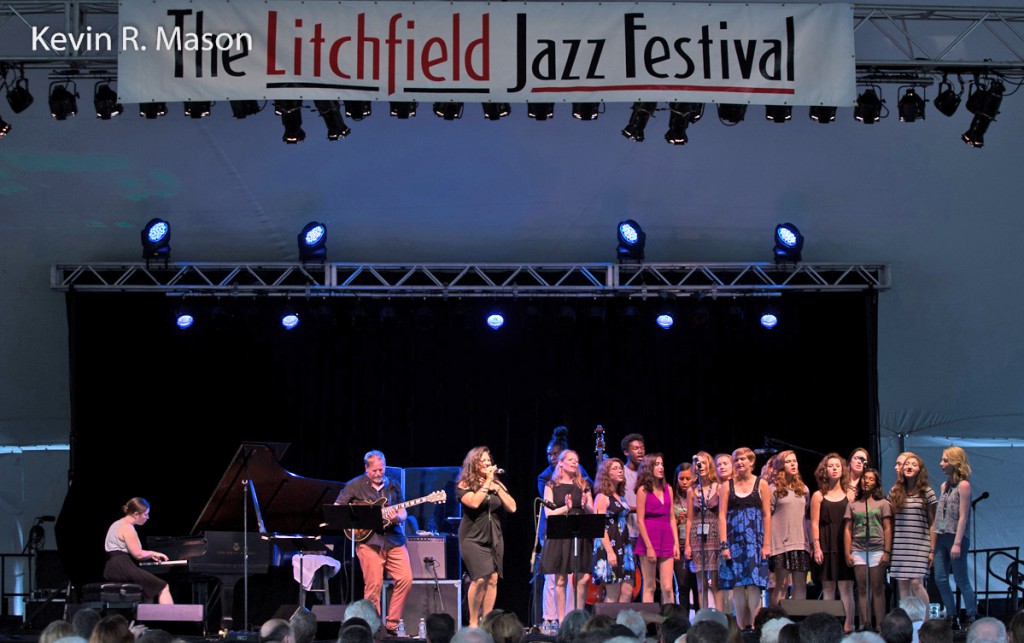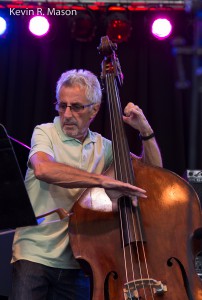 The 2016 Litchfield Jazz Festival took place August 6-7 at Goshen Fairgrounds in Connecticut, and was dedicated to bassist/composer/bandleader Mario Pavone, who has been associated with the Festival from the beginning. Mario appeared at the first Litchfield Jazz Festival and several more times over the years. He has taught at the Litchfield Jazz Camp every year since its inception, where he's been a tireless and dedicated mentor to many budding musicians. For his devoted support of all the Festival's endeavors, Mario Pavone is certainly a deserving recipient of this honor.
The theme of this year's Festival was "Generations of Jazz" in commemoration of the 20th anniversary of Litchfield Jazz Camp. To mark this important milestone, Executive/Artistic Director and Festival Founder Vita West Muir invited several former jazz campers, who are now professional musicians, to perform at the Main Stage. Each young artist, in turn, invited their special mentor to join them, which resulted in fabulous, multi-generational groupings, great music, and wonderful, tangible proof of the extraordinary success of the Litchfield Jazz Camp. With this theme, the 2016 Litchfield Jazz Festival became a living testimony to the great work accomplished by Litchfield Jazz Camp, and the enduring power of mentoring. It was a joy to see artists of all ages collaborating so beautifully.
In addition to the abundance of music, there was a lot of art available. In the Student Stage corner, four eminent artists who are Litchfield mainstays had their displays: exquisitely detailed jazz-themed paintings from Chris Osborne, jazz prints by Steven Soklin, Danielle Mailer's metal sculptures, and Steven Sussman's jazz photography. The adjoining Exhibitor's Village also had several outstanding artisans and craftmakers.
Saturday, August 6
Although Saturday started out overcast and windy, with a forecast of thunderstorms, the music was enthralling from the start. Fortunately, the sun came out later, and the weather was beautiful for the remainder of the weekend.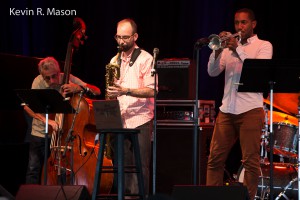 Andrew Hadro Quartet with Tony Malaby and Mario Pavone. Baritone saxophonist Andrew Hadro was joined by drummer Robin Baytas, pianist Julian Shore, trumpeter Nick Roseboro, and two of Hadro's mentors, soprano and tenor saxophonist Tony Malaby, and bassist Mario Pavone. Throughout the concert, Andrew introduced his cohorts one at a time, as each one played a solo or one of their own compositions. Hadro sang the praises of each artist, giving details of their lives and music, and described Mario Pavone as "a powerful force for good…having him on stage already puts us on another level." The group showed great versatility, sometimes sounding like a big band despite having only six instruments.
At the end of the set, Mario Pavone was honored with an official citation from the State of Connecticut General Assembly in recognition of his years of service to the Litchfield Jazz Festival. Vita West Muir spoke glowingly of Mario's many contributions. Vita came from a classical music background, and said that Mario's help has been invaluable, since he was instrumental in teaching her about jazz. She exclaimed to Mario, "Don't ever leave me, because I need you!" Frank Alkyer, publisher of DownBeat, descried Mario Pavone as an ambitious, inventive composer, and one of the finest educators he has met. Alkyer told Pavone, "You're not just a gift to the state, you're a gift to the world of jazz." Mario responded, "This has been like a family for 20 years!" He thanked everyone for the honor, and praised Vita for all her hard work.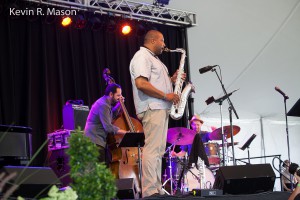 Richie Barshay Trio with Jimmy Greene. This was percussionist Richie Barshay's third appearance at Litchfield, and his first as group leader. He invited saxophonist Jimmy Greene (his Jazz Camp mentor) and bassist Jorge Roeder for a concert of iconic songs. Richie chose Jelly Roll Morton's composition, "King Porter Stomp," because of Morton's life and legacy, and the exciting arrangement really lived up to the song's title. The set also included "Buddy Bolden's Blues" and music by Thelonious Monk and Sidney Bechet, because Barshay thinks it's vitally important to keep the names of all the jazz greats fresh in people's minds.  Richie dedicated the concert to Jimmy Greene, as mentor and musician, and to the many artists who came before and inspired them. Powerful poetry was part of the show, including a poem about the disastrous consequences after Thelonious Monk and Bud Powell were arrested. James Baldwin's poem, "The Fire Next Time" was also read, and the poetry was very appropriate and timely as punctuation for the historically important music.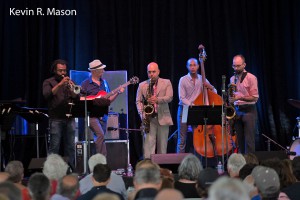 Albert Rivera's 'Back At It Band' with Paul Bollenback. Award-winning composer/saxophonist Albert Rivera was a scholarship student at Litchfield Jazz Camp throughout his teens. Now, as a professional musician, Albert has the pivotal role of Director of Operations at Jazz Camp.  Of mentor/guitarist Paul Bollenback, Rivera said, "He embraced the younger generation from day one of Jazz Camp." The set list included "Seeds of a Tree," "Misunderstood," and the somber "Remembrance," which featured a lovely solo by pianist Julian Shore. Albert also had wonderful backing from bassist Zwelakhe-Duma Bell le Pere, drummer Ian Carroll, trumpeter JS Williams, baritone saxophonist Andrew Hadro, keyboardist/organist Beck Burger, and guitarist Andrew Lipow. Rivera welcomed his old friend, trombonist Joe Beaty, who provided a scorching solo on "He Said, She Said." This hot set concluded with "Remember When" and "Back At It," the title track from Albert Rivera's new CD.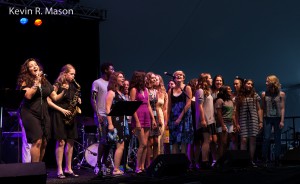 Nicole Zuraitis Quintet with Dave Stryker. Vocalist/keyboardist/composer Nicole Zuraitis put her gorgeous voice to great use on "That Old Black Magic," "Fine and Mellow," and her original composition, "The Inscription," with excellent support from bassist Jon Michel, pianist Carmen Staaf, saxophonist Caroline Davis, and drummer Dan Pugach. Nicole performed a breathtaking duet of "Spring Can Really Hang You Up the Most" with her mentor, guitarist Dave Stryker, who contributed an exquisite solo. Nicole discussed the Festival's "Generations of Jazz" theme, recalling how she started at Jazz Camp at 12 and fell in love with the guitar skills of Dave Stryker. In turn, Zuraitis welcomed several students she mentored this summer to perform a wonderfully moving rendition of "Wade in the Water." Then, Nicole was joined by vocalists Melinda Rose and Caroline Davis (who temporarily put down her saxophone), and the trio sang "Long Meadow Vine" with fantastic harmony, very reminiscent of groups like the Andrews Sisters. Zuraitis praised Vita Muir and her entire family for 20 years of Litchfield Jazz Camp and 21 years of the Festival, and sat at the piano for her encore, a jazzy, sultry version of Dolly Parton's "Jolene." With a heart as big as her remarkable voice, Nicole is an advocate for animal shelters and generously donates $1.00 from the sale of each copy of her CD, Pariah Anthem, to NYC rescue groups. Nicole Zuraitis contributes to the beauty of the world through her music and charitable works.
Artist Talk with The Daryl Johns Trio. Frank Alkyer hosted an Artist Talk featuring bassist Daryl Johns and his father, drummer Steve Johns, along with pianist Orrin Evans. They discussed the history of the Festival and Jazz Camp, and Steve spoke with pride about his son headlining at the Mainstage on Saturday evening. Although jazz remains Daryl's first love, he said many genres of music interest him, and he touched on practicing and mixing recordings. Orrin predicted great things for Daryl, and said the audience was fortunate to be able to see him now. The trio talked about Erroll Garner and the theme of their concert. Daryl added, "We're going to have fun!"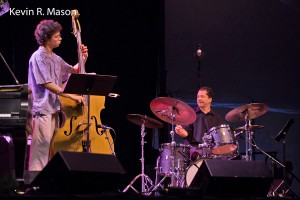 Daryl Johns Trio Featuring Steve Johns and Orrin Evans, Saluting Erroll Garner's 'Concert by the Sea.' Shortly after their Artist Talk, the Daryl Johns Trio took to the Mainstage. Their set was a tribute to Erroll Garner's influential Concert by the Sea which was recorded in 1955 in Carmel-by-the-Sea, California, and was part of a series that set the groundwork for the Monterey Jazz Festival. At 19, Daryl Johns is the youngest musician to ever headline at Litchfield Jazz Festival, and he was the youngest semi-finalist in the history of the Thelonious Monk Competition at 13 years old! At 10, he joined his father for his first Jazz Camp experience. Despite all his early achievements, Daryl remains modest and level-headed. He joked about forgetting to count off a song, and he had to be reminded by Orrin. Daryl said he wasn't used to being a bandleader, because normally, he'd be in Orrin's group, not the other way around. However, Daryl was a real pro who performed with astounding maturity.  The trio played "Where or When," "Night and Day," "It's All Right With Me," and "They Can't Take That Away From Me." Daryl John's performance as a leader was a clear and unqualified success!
Sunday, August 7
Scat & Scramble Jazz Brunch. This year, a new event was added to the Festival: The Scat & Scramble Jazz Brunch on Sunday morning.  Instead of the established Friday evening gala, the Jazz Brunch was the fundraiser for Jazz Camp scholarships with a marvelous silent auction. Jazz Camp Director Don Braden and Operations Director Albert Rivera co-hosted the event. They discussed the hard work the students did to improve their musical skills, and all the wonderful experiences the students shared. Vita Muir said of the jazz campers, "We don't just get good acts, we're raising them!" Vita addressed the continuing challenge of providing scholarships in today's environment, but no student has been turned away due to need. This year's Jazz Camp had a stellar group of teaching artists, including Avery Sharpe, Paul Bollenback, Matt Wilson, Nicole Zuraitis, Gary Smulyan, Claire Daly, and Dave Stryker, and attracted students from as far as Brazil, Germany, Haiti, California, Spain, Florida, Bermuda, and Israel. The current Jazz Camp students performed throughout the Festival at the Student Tent, between sets at the Mainstage, and many were featured at the Scat & Scramble Jazz Brunch.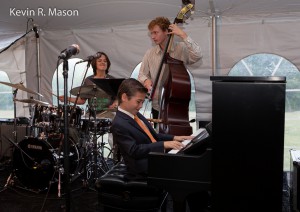 While people enjoyed delicious Southern-style food and beverages, and perused the auction offerings, several Jazz Camp ensembles performed, including the Stryke Tones (named for mentor Dave Stryker). Songs included "I've Got Rhythm," and "I Wish You Love." "A Night in Tunisia" featured a very promising pianist, the precociously talented 10-year-old Brandon Goldberg. Three students were recognized as Strayhorn Award winners: vocalist Ellie Calhoun, bassist Julian Weisman, and pianist Alejandra Williams. Bassist Luques Curtis and pianist Zaccai Curtis were joined by New Orleans saxophonist and "Nouveau Swing" innovator Donald Harrison. The trio led a big band composed of top jazz campers and professional musicians, including first-rate trumpeter JS Williams, on a terrific set that included Harrison's composition "I'm the Big Chief of Congo Square." Between the great music, delectable food, and convivial atmosphere, this was a welcome addition to the Festival.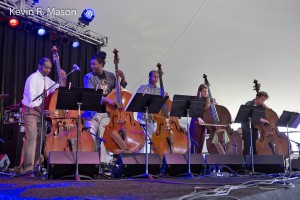 The Great Big Bass Blowout with Avery Sharpe, Matt Wilson, Julian Shore, and the Litchfield Bass Quartet. Bassist Avery Sharpe's set featured four exceptional young bassists he mentored over the years, the Litchfield Bass Quartet: Zwelakhe-Duma Bell le Pere, Emma Adomeit, Sean Pentland, and Jonathan Michel. In addition to this powerhouse of bassists, Sharpe was accompanied by the top-notch skills of pianist Julian Shore and drummer Matt Wilson. This was a pretty atypical jazz combo, but this group made it work like a charm! Avery Sharpe's composition, "Stone Soul Jester," was written for his father, who was a real joker with a great sense of humor.  Sharpe described Joshua Redman's "Jazz Crimes" as a real challenge for the bass. The group re-interpreted the classic "A Night in Tunisia" in a fresh and unexpected way. Avery did a great solo turn on Kevin Eubanks' song, "The Dancing Sea." In fact, all the players had impressive solos. Matt Wilson looked like he was having the time of his life, and there was some stellar work from Zwelakhe-Duma Bell le Pere. Sharpe said to the audience, "Maybe one of you young'uns will be inspired by seeing five bass players all at once." This set creatively expanded the idea of how the bass can be used in jazz.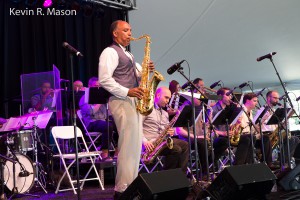 Litchfield Jazz Orchestra with Don Braden: 'Earth, Wind & Wonder'. Saxophonist Don Braden has loved and recorded many iconic songs by Earth, Wind & Fire and Stevie Wonder over the years, so he took great pleasure in arranging their music for an orchestra. For people who knew the songs, it was exciting to hear different interpretations. For those unfamiliar, the songs could be appreciated as jazz numbers. Braden discussed the mentors and students on stage, saying, "I can't tell you how proud I am of the things we've achieved during 20 years at Jazz Camp." The orchestra included trumpeters Dave Ballou, Jean Caze, Elliott Bild, and Nick Roseboro; trombonists Peter McEachearn, Nicole Connelly and Joe Beaty; saxophonists Kris Allen, Albert Rivera, and Andrew Hadro; vocalist Allegra Levy, and more! The show started with "Fantasy" and "Getaway" by Earth, Wind & Fire, followed by "I Can't Help It," which was written by Stevie Wonder and made famous by Michael Jackson. Allegra Levy provided fantastic vocals to Wonder's "Don't You Worry 'Bout a Thing." Braden talked about teaching students the importance of light, strength, and positivity, and the music of Stevie Wonder and Earth, Wind & Fire embodies those qualities. Don said that despite all the negativity in the world, we won't fall into divisiveness, anger, and hatred, at least not for long. The show ended with a unique version of "Can't Hide Love" and Don Braden's passion for the project shined through on every note!
Artist Talk – Donald Harrison, Luques Curtis and Zaccai Curtis. Frank Alkyer reprised hosting duties for the second of the Festival's Artist Talks. Donald Harrison gave a humorous breakdown of what to expect at the closing concert, then got a bit more serious and said that they're not going to use gimmicks; they're using reality as a solid basis for their music. Donald recalled how two older ladies taught him the Lindy Hop years ago, insisting that to play the music, you had to be able to dance to it. He also discussed the two characters on the HBO show Treme who were based on his life, and bemoaned the missed opportunity to get more jazz on television due to reluctance in some corners. Harrison continued, "Music is infinite, so you always have something to do every day." He also discussed patents, music piracy, the impact of technology on the music industry, and declared his affinity for social media because it offers lots of ways to get music out there.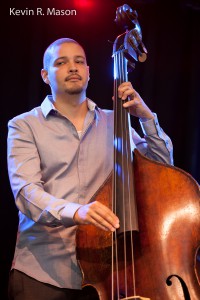 Luques and Zaccai Curtis talked about their influences and inspirations, how much they learned from other artists, and their forward-thinking and progressive recording label, Truth Revolution Recording Collective. The Curtis Brothers had a chance to sign with a major record label, but there were so many loopholes and problematic requirements, that they decided to create their own independent label. This Artist Talk was an enlightening and enjoyable session with three accomplished musicians.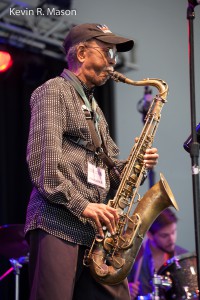 Emmet Cohen Trio with Jimmy Heath. Pianist Emmet Cohen, who's already in great demand at only 26, was joined by drummer Evan Sherman and bassist David Wong. When Emmet was asked to bring a mentor, he said he couldn't think of anyone better than the great saxophonist Jimmy Heath. Displaying energy, spirit, humor, and on-stage charisma that belied his nearly 90 years, Heath said, "It's my pleasure to work with these young men." Cohen responded, "Today, we have a national treasure here, Mr. Jimmy Heath!"  Jimmy joked that he re-interpreted "Autumn Leaves" as "Winter Sleeves" so he could collect the royalties, and his joie de vivre and virtuosity were evident throughout the set. The concert continued with Emmet and Evan's brilliant duet of Scott Joplin's 'Original Rags." The whole group performed Heath's "You or Me" where Jimmy did a scat solo that the crowd loved, with some fine bass work by Wong. Heath made a risqué joke about the microphone, but said it with such a twinkle in his eye, he managed to make it sound almost innocent, and the audience roared with laughter. The delightful set ended with two more of Jimmy's songs, "A Sound for Sore Ears" and "Gingerbread Boy."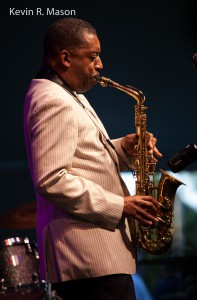 Curtis Brothers with Donald Harrison. Bassist Luques Curtis and pianist Zaccai Curtis are paying it forward. They were Jazz Camp students as kids, and now they're both Camp instructors, sharing with the next generation what they learned. Zaccai introduced Donald Harrison, praising him as one of the greatest living saxophonists and extolling Harrison's generosity as a mentor. The group was joined by the Curtis Brothers' longtime friend and collaborator, drummer Richie Barshay. New Orleans-born Donald Harrison described his "Nouveau Swing" music as "Duke Ellington meets Art Blakey meets James Brown," and the concert included "Cherokee" and a gorgeous "Body and Soul." Harrison revealed the surprising fact that the group didn't have a chance to rehearse, but you'd never have known it. They really fired up the crowd on the New Orleans high-energy classic "Iko Iko." Even without practicing, this gifted quartet displayed what Donald called "advanced manual dexterity," and they did it with abundance, closing the Festival in style!
Music, Beer, and Food –  Octoberfest Fundraiser
On October 29, from 5:00 pm to 8:00 pm, Litchfield Performing Arts will be hosting an Octoberfest party at Mary Stuart House Barn in Goshen, CT, featuring live jazz, a selection of fall beers, and German-style cuisine. Proceeds will fund Litchfield Jazz Camp scholarships. Advance-sale tickets are $50 ($25 is tax deductible), and are available until Tuesday, October 25. To purchase tickets, call 860-321-6285 or go to: https://litchfieldjazzfest.com/news/379/39/Shades-of-Autumn-A-Litchfield-Jazz-Camp-Fundraiser/.
If you are unable to attend the party, but would like to make a donation to the Litchfield Jazz Camp Scholarship Fund, go to: https://litchfieldjazzfest.com/lpa/GetInvolved/donations/.