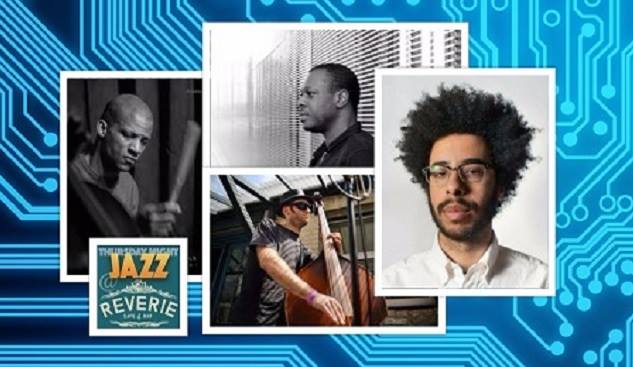 Put four highly creative artists together on one stage and you can count on a night of unique pleasures. That's the prediction for this week's installment of Thursday Night Jazz at Reverie, which features an ensemble led by bassist Josh Granowski, along with emcee Joe Horton, keyboard master DeVon Gray, and drummer Davu Seru. Each is known for his talents as an improviser and ability to juggle many projects.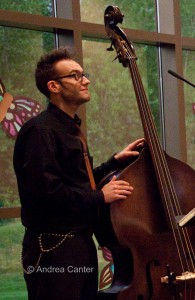 Josh Granowski is a renowned bassist with a reputation for being versatile and supportive in any context. In recent years he has become a stalwart of Minnesota's traditional jazz scene, playing in the Butch Thompson Trio as well as with Patty & the Buttons and The Southside Aces. Yet he also has been a longtime bassist/collaborator with improvising artists George Cartwright, Davu Seru, Bookhouse Trio, Midwest Paul Cook, Byron Johnson-Blanchard Trio, and more.
Twin Cities based emcee and fiction writer Joe Horton teaches composing and songwriting at McNally Smith College of Music and serves as a Youth Mentor at the Loft Literary Center. During his early career, he wrote and performed spoken word works at coffee shops in his native Milwaukee; he studied psychology at the University of Wisconsin Eau Claire where he launched his interests in writing songs, poems and short stories. He gained national attention as emcee for the alternative hip-hop trio, No Bird Sing.
deVon R. Gray is a multi-instrumentalist best known as dVRG in the acclaimed live hip hop band, Heiruspecs. He is also a composer of classical and chamber music and film scores; arranger for Poliça, The Cloak Ox, and Allan Kingdom; and has engaged in experimental collaborations (SPCO Liquid Music Series), session work, and production. Gray has studied orchestral conducting with world renowned artists Manny Laureano (Minnesota Orchestra) and Donald Palma (Orpheus Chamber Orchestra); and studied composition with Lee Hyla and Michael Gandolfi, among others. His performance credits include Chastity Brown, Brother Ali, Atmosphere, Dan Wilson, the Honeydogs, Lazerbeak and more. A graduate of the Perpich Center for the Arts, deVon went on to study at the New England Conservatory.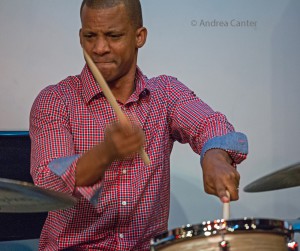 Respected internationally as a free jazz drummer as well as his performances in  jazz, rock and avant-garde improvised music, Davu Seru is known for his "big ears." His percussion style is notable for its attention to sound, silence and melodic line as much as rhythmic pattern. He has worked with Milo Fine, Charles Gillett, Elliot Fine, Paul Metzger, Anthony Cox, Dean Granros, Dean Magraw, Wendy Ultan, Adam Linz, Evan Parker, George Cartwright, James Buckley, Taylor Ho Bynum, and Nicole Mitchell, and currently plays with Merciless Ghost, Milo Fine, J. Otis Powell‽, Dean Magraw (First Tuesdays at the Black Dog) and Cherry Spoon Collective. Davu leads the New Territory Band and curates a monthly show at Khyber Pass Cafe.  In addition to his musical pursuits, Davu is a PhD candidate in African American Literature at the University of Minnesota.  He has received awards from the American Composers Forum and the Metropolitan Regional Arts Council, and has received commissions from the Zeitgeist Ensemble and Walker Art Center.
Thursday Night Jazz at Reverie is curated by Steve Kenny and takes place at 1931 Nicollet Ave South, just south of downtown Minneapolis. No cover but tips ($10 suggested) are appreciated to support the series and the musicians. See www.thursdaynightjazzatreverie.info for complete series information.