It will indeed be a "Jazzy Christmas" at the Dakota on December 8 when saxophonist Tim Warfield comes to town with an all-star cast to celebrate the holidays. His 2012 album Tim Warfield's Jazz Christmas will no doubt serve as the source for the ensemble, which includes pianist Cyrus Chestnut, vibraphonist Stefon Harris, drummer Clarence Penn and more — all stars and leaders in their own right.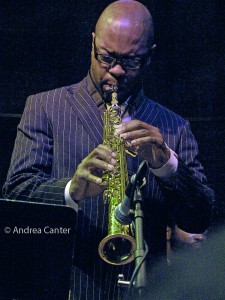 Tim Warfield, Jr. is a native of York, Pennsylvania. He started out on alto sax at age 9, moved to tenor when he started high school. He went on to spend two years at Howard University before heading out on his own as a bandleader in central Pennsylvania and the Baltimore/Washington, DC. metro area. Warfield joined Marlon Jordan's Quintet in 1990, staying for three years, and toured with George Wein's Jazz Futures in 1991. Also in 1991, Tim placed third in the Thelonious Monk International Jazz Saxophone Competition. A few years later he began a five-year stint in Christian McBride's band, and 1999, began a collaboration with Nicholas Payton.  Another notable partnership began in 2006 when Warfield joined Terell Stafford's quintet, and very recently joined Stafford's Jazz Orchestra of Philadelphia. Over his career, he has also performed and/or recorded with a long list of jazz luminaries, including Donald Byrd, Michelle Rosewoman, Marcus Miller, Dizzy Gillespie, Shirley Scott, Jimmy Smith, Kenny Barron, Stefon Harris, Joey Defrancesco, and more.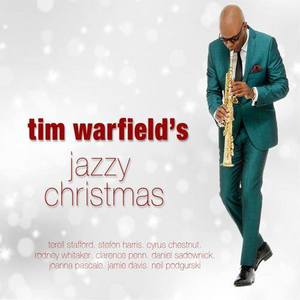 Tim's first recording, A Cool Blue, was named one of the top ten recordings of 1995 by the New York Times, as was Gentle Warrior (1998). Similar acclaim followed his 1998 release, One for Shirley (tribute to Shirley Scott), Sentimental Journey (2010), and Tim Warfield's Jazzy Christmas, name one of the top holiday recordings for 2013 by the New York Times. His most recent recordings include Eye of the Beholder (2013), Inspire Me (2013), and Spherical (2015), dedicated to Thelonious Monk. Warfield has also appeared on several GRAMMY-nominated recordings such as Stefon Harris' The Grand Unification Theory, as well as on Nicholas Payton's Dear Louis and Sonic Trance.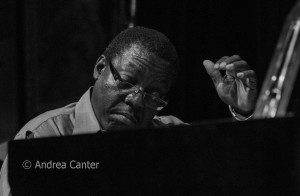 One of the most soulful practitioners of piano jazz, Cyrus Chestnut is noted for "his brand of crisp articulation and blues-inflected harmony" (New York Times) and "willingness to abandon notes and play space" (Time Magazine). The 53-year-old Baltimore native is considered one of the most beloved ambassadors of jazz for his swinging and accessible style as well as his warm persona. After graduating from the Berklee College of Music, Chestnut worked with Jon Hendricks, Terence Blanchard and Donald Harrison before joining the Wynton Marsalis Septet in 1991; he also spent two years touring with the Betty Carter Trio, and over his career has performed and/or recorded with Freddie Hubbard, Branford Marsalis, Delfeayo Marsalis, James Moody, Chick Corea, Dizzy Gillespie, Curtis Fuller, Freddy Cole, Jimmy Scott, Kevin Mahogany, Manhattan Transfer, the Boys Choir of Harlem, and Kathleen Battle, among others. He's also been on the piano bench for the Lincoln Center Jazz Orchestra, Dizzy Gillespie Big Band and Carnegie Hall Jazz Orchestra, and made his acting debut in Robert Altman's film, Kansas City, playing a Count Basie-inspired character. Cyrus has performed several times in the Twin Cities over the past few years, including at the 2013 Twin Cities Jazz Festival, the Dakota in 2015, and headlining the Twin Cities Winter Jazz Festival in January 2016.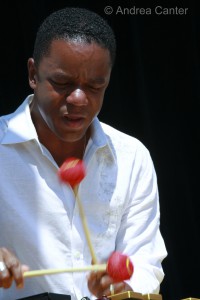 Vibraphonist Stefon Harris was heading toward a classical music career when exposure to the music of Charlie Parker sent him into jazz and studies at the Manhattan School of Music. After early stints with Steve Turre and Charlie Hunter, Stefon released his first solo project in 1998 (A Cloud of Red Dust), followed by Grammy nominated Black Action Figure in 1999. Grand Unification Theory (2003), Evolution (2004), African Tarantella (2006), and Urbanus (2009) followed; in 2011 he released as co-leader Ninety Miles, with David Sanchez and Christian Scott. Harris is a three-time Grammy nominee and six-time "Best Mallet Player" designee by the Jazz Journalists Association. He currently tours with his ensemble Blackout, and with the SFJazz Collective, and was recently named director of Jazz Arts at the Manhattan School of Music.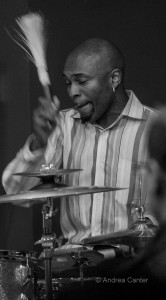 Clarence Penn is one of the busiest jazz drummers on the planet, a leader of multiple bands, a composer, a prolific producer, and an educator. His resume includes Ellis and Wynton Marsalis, Betty Carter, Stanley Clarke, Steps Ahead, Makoto Ozone, Michael Brecker, Dave Douglas, Maria Schneider, Luciana Souza, Richard Galliano, and Fourplay, and his discography includes several hundred studio albums (including the Grammy-winning recordings 34th and Lex by Randy Brecker and Concert in the Garden and Sky Blue by Maria Schneider). A graduate of Virginia Commonwealth University, where he was a protégé of Ellis Marsalis, Penn is active as an educator and drum clinician. From 2004 to 2012, he taught on the faculty of the Banff International Workshop in Jazz and Creative Music. He's also served on faculty at the Stanford Jazz Workshop, the Saint Louis College of Music in Rome, Italy, and the Jazz at Lincoln Center Intensive Jazz Institute. Penn's most recent recording as leader is Monk – The Lost Files (2014), new arrangements of the music of Thelonious Monk.
Tim Warfield's jazzy ensemble at the Dakota will also include bassist Eric Wheeler, trumpeter Jason Palmer, and vocalist Joanna Pascale. Two sets, 7 and 9 pm.
The Dakota is located at 1010 Nicollet Mall in downtown Minneapolis. Reservations recommended at 612-332-5299 or visit www.dakotacooks.com