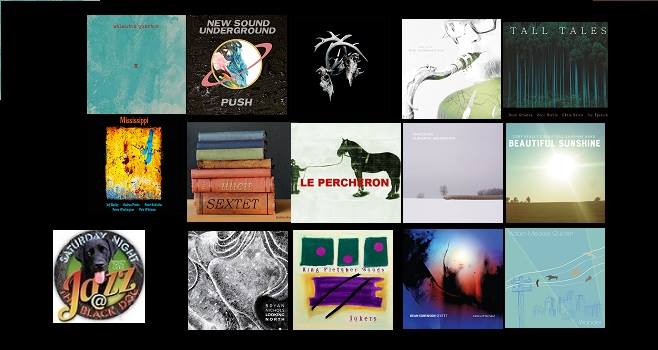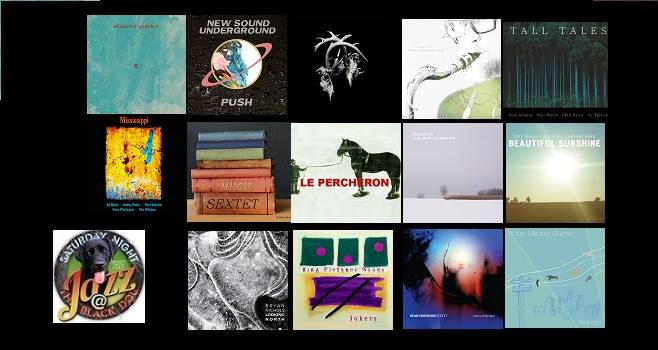 In 2014, Illicit Productions, under the leadership of Steve Kenny, compiled and released the first volume of the Twin Cities Jazz Sampler, a collection tracks from 13 recent local artist releases. Now we have Volume Two, to be officially released via the Saturday Night Jazz at the Black Dog series, curated by, who else, Steve Kenny! To highlight the quality of the music, Kenny invited three of the 14 represented ensembles to perform a set each at the Black Dog on Saturday, December 10. Participating bands include the Illicit Sextet, Cory Healey's Beautiful Sunshine Band, and Mississippi. Among the three bands (with no overlapping personnel), there will be long list of top Twin Cities instrumentalists on the Black Dog stage in one evening.
TC Jazz Sampler II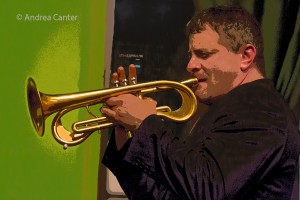 Sampler II was funded through Kickstarter, as was the first volume. Kenny notes that "the overall goal is to increase awareness of the quality of the jazz ensembles performing and recording in our community, and to introduce audiences to a set of some of the best recently released products by these groups. Each track in this collection is sourced from separately available recordings that were produced locally in the last couple of years featuring Twin Cities-based Jazz artists, composers, producers, and record companies. This collection of releases also highlights the quality and professionalism of a critical mass of active recording studios, technicians, and graphic artists working today in the Twin Cities and surrounding communities to provide the infrastructure to allow for the regular creation of these state-of-the-art offerings."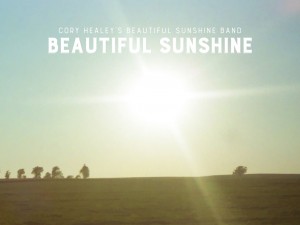 The recordings included in this collection:
Dean Sorenson Sextet – Colors of the Soul
MANCRUSH – Authentic Midwestern
Le Percheron – Le Percheron
Cory Healey's Beautiful Sunshine Band – Beautiful Sunshine
King Fletcher Woods – Jokers
Adam Meckler Quintet – Wander
Atlantis Quartet – X
The illicit sextet – Addendum
Tall Tales – Tall Tales
Peter Vircks – What You Believe Is True
Bryan Nichols – Looking North
Mississippi – Mississippi
JT Bates – Open Relationships
New Sound Underground – Push
Illicit Sextet (7 pm)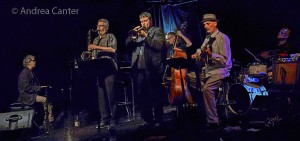 One of the most popular area ensembles of the late 1980s and early 90s, the Illicit Sextet was dubbed "the Cadillac of local jazz" by critic Jim Meyer. Co-founders Steve Kenny, Kelly Bucheger and David Roos formed the IS in 1987 with cohorts from the University of Wisconsin River Falls. Their focus was on "bebop, hard bop and 'straight ahead' music, an expressive language whose grammatical rules were codified by our mentors and heroes: Miles, Trane, Newk, and others… we tapped into this meaty part of the jazz legacy because it communicated very directly to us, because we wanted to understand more about the music and its practitioners, and because we wanted to see what we could do in that form" (Kelly Bucheger, liner note for Chapter One).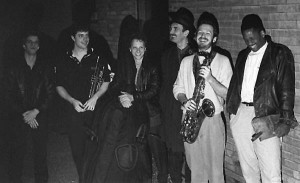 A short while later, the band decided to focus on original compositions, bringing more responsibility and challenge, as Buchager explained: "We not only had to be performers within a complex and demanding musical genre, but we also had to compose meaningful music worthy of that genre… the Sextet became an outstanding vehicle for personal and group expression." The focus on original material was one of the unique features of the band, and a long-standing weekly gig at O'Gara's in St. Paul afforded them the opportunity to try out their new music. But in the mi-90s, the band, for various reasons, went on hiatus. A long one.
Fifteen years is a long time to reconvene but the band reunited in 2009 at the Artists Quarter with the same personnel who were playing in the mid 90s:  Paul Harper (tenor sax), who had taken over when Buchegar moved, along with the musicians who appear on Chapter One―Steve Kenny (trumpet), David Roos (guitar), Chris Lomheim (piano), Tom Pieper (bass) and Nathan Norman (drums). (Lomheim, Pieper and Norman were not in the very first edition of the band, but came on board around 1990.) In 2013, the sextet finally released the sequel to Chapter One — Chapter Eleven; and now has a third album,  Addendum, released last month.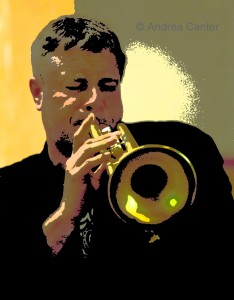 Steve Kenny, FLUMPET™, led long-running gigs with The Bastids and then Group 47, weekly at the Artists Quarter, and more recently at Jazz Central, the Icehouse, the Black Dog and more. He has produced summer series of jazz at Studio Z for the past three seasons, featuring "All Originals" from local ensembles. In fall 2014, Steve launched the Saturday Night Jazz at the Black Dog series, and with Illicit Productions, assembled and released the first Twin Cities Jazz Sampler. In 2015, he inaugurated another weekly series, Friday Night Jazz at The Nicollet (now Thursday Night Jazz at Reverie) in Minneapolis.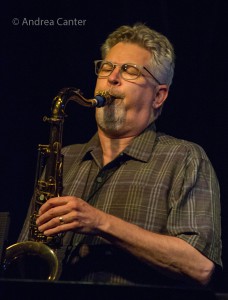 Paul Harper, tenor sax, joined the Illicit Sextet in the mid 90s. A busy Twin Cities performer, Paul has appeared on numerous recordings (including Charmin Michelle's Pure Imagination) and performs on sax and flute with guitarist Joel Shapira, Charmin & Shapira & Friends, and other ensembles through Sunset Park Music. Paul leads several ensembles, including Show and Tell, Chordless Quartet, and the Bardo Quartet.
David Roos, guitar, also a founding member of the Illicit Sextet, leads the trio Exquisite Corps,  sells guitars at The Podium in Dinkytown, and devotes time to teaching and writing about jazz guitar and theory.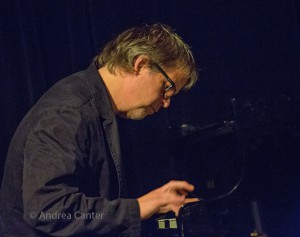 Chris Lomheim, piano, was a protégé of the late Bobby Peterson. Today he is one of the most in-demand pianists in the metro area, backing area vocalists and heading his own trio, quartet and quintet, as well as playing and recording with the Reid Kennedy Trio and more. Chris returned to the studio in 2014 to record a trio project of all original compositions (Timelines), released to rave reviews. Chris is heard at least monthly at Vieux Carre', continues to perform solo for High Tea at the Saint Paul Hotel, and is a featured performer at Orchestra Hall, the Dunsmore Room and more.
Tom Pieper, bass, is on the faculty of the MacPhail Center for Music. With wife Karen, he performs as SpiritJazz, and is also the middle school orchestra director for the Wayzata Schools.
Nathan Norman, drums, has an extensive resumé performing with area artists, including vocalists Debbie Duncan, Connie Evingson, JoAnn Funk, and Charmin Michelle. He's also played and/or recorded with Bill Banfield, Nancy Bierma, Robert Huntley, French 75 and more, and performs regularly with the Travis Anderson Trio
Cory Healey's Beautiful Sunshine Band (8:30 pm)
When Cory Healey moved to the Twin Cities a few years ago, the Metro not only added a versatile drummer to the scene, but also a talented composer and bandleader. Healey initially launched his 4-Tet, soon expanding to a quintet dubbed the Beautiful Sunshine Band, conceived during a cold spring period when some musically "beautiful sunshine" brightened spirits and ears at Studio Z in St. Paul. The ensemble, with Healey, Brandon Wozniak, Jake Baldwin, Zacc Harris and Erik Fratzke released its first recording (Beautiful Sunshine) this past spring on the Shifting Paradigms label.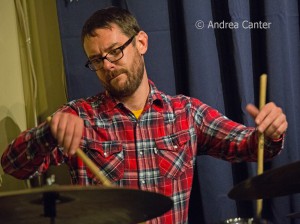 Iowa native Cory "The Healer" Healey moved to the Twin Cities about 3 years ago after stints in Chicago and New York. His unique and versatile style of drumming led to performance opportunities in a wide range of genres and touring extensively in North America and Europe. While in Chicago, Cory performed regularly with Windy City ensembles, including Fareed Haque's Flat Earth Ensemble, and has performed with a number of leading international artists, including Kenny Wheeler, Dr. Lonnie Smith, John Abercrombie, and David Berkman. In addition to fronting his own bands, Cory has appeared locally with the Bryan Nichols Quartet, Adam Linz's Le Percheron, Chris Bates Trio, the Jon Pemberton Trio, and more.
A graduate of Minnetonka High School and alum of the second and third editions of the Dakota Combo, Jake Baldwin studied with Jerry Bergonzi, Bob Moses, John McNeil, Joe Morris and Fred Hersch at the New England Conservatory, and was one of three finalists in the 2011 International Trumpet Guild Solo Competition; a year later he was runner-up in the jazz division of the National Trumpet Competition. Now back in the Twin Cities, Jake leads his own bands at such venues as the Dakota, Artists Quarter, and Jazz Central, and performs with the Twin Cities Latin Jazz Orchestra, McNasty Brass Band, Hustle Rose, HarMar Superstar, and Cory Healey's ensembles. Jake, whom Healey describes as a "fire-breathing dragon of a trumpet player," released his first album as leader of the band Ra Ra Ru in 2014, dubbed Metallic Ink Co.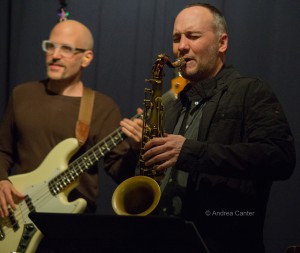 Saxman Brandon Wozniak previously lived and worked in New York City, toured with the Tommy Dorsey Orchestra, and earned his BA from Indiana University under the tutelage of the late David Baker. Now based for the past decade in the Twin Cities, he has performed with Chris Bates' Red Five, Dave King Trucking Company, the Bryan Nichols Quintet, Zacc Harris Quartet, and Vector Families; and in varying combinations with Adam Linz, Billy Peterson, Dean Magraw, Kenny Horst, Zacc Harris, Steve Kenny and more. Over its first three seasons, Brandon has performed on the Jazz in the Target Atrium Series at Orchestra Hall as part of the Atrium Jazz Ensemble, led by Jeremy Walker.
Zacc Harris came to Minneapolis about a decade ago from Illinois, where he graduated from Southern Illinois University. Zacc leads his Quartet, Atlantis Quartet, Vital Organ, the Zacc Harris Group, Counterclockwise, merican Reverie, and his long-running trio; performs in Dean Granros' Tall Tales quartet and frequently with Brandon Wozniak, Adam Meckler and Babatunde Lea; and teaches at Hamline University as well as private guitar lessons. He's also curated the Jazz at Studio Z series for five seasons.
Multi-instrumentalist/composer Erik Fratzke lends his bass to Happy Apple and his guitar to other projects, including the Dave King Trucking Company, Gang Font and Zebulon Pike. Over the years, the three-time Minnesota Music Awards winner as "Bassist of the Year" has played with Reid Anderson, Bill Carrothers, Mike Lewis, Dave King, and Adam Linz, among others.
Mississippi (10 pm)
"Mississippi" is that big river dividing the nation east and west. It's also the name of a local jazz ensemble featuring four of the top performers in the Twin Cities. Led by Pete Whitman, the band grew from the Andres Prado Quintet which flourished during Prado's residency in Minnesota, going on indefinite hiatus when Prado returned to Peru about six years ago, reassembling in full on occasion when Prado visits Minnesota. As a quartet, the band has performed over the past three years with Whitman, pianist Peter Schimke, bassist Jeff Bailey, and drummer Kevin Washington.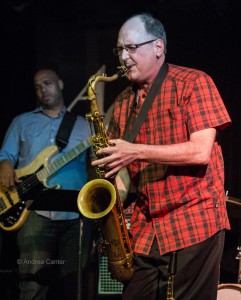 Pete Whitman is a veteran performer, composer, and arranger.  After launching his professional career in Kansas City, he completed his undergraduate and masters' degrees in jazz studies at North Texas State University. Pete moved to St. Paul in 1988 where he became one of the most prolific members of the Twin Cities jazz community. Pete's credits on tenor, alto, soprano, clarinet and flute include performing with Randy Brecker, Jack McDuff, Curtis Fuller, the Woody Herman Orchestra, and Andres Prado Quartet. Currently Pete leads his 10-piece X-Tet and Quartet, and is a member of the Laura Caviani Quartet, Bottomless Pit, the Jazz MN Orchestra. A dedicated educator, Whitman heads the Woodwind and Brass Department at St. Paul's McNally Smith College where he teaches saxophone, improvisation, and arranging, and directs McNally's edition of the X-Tet.
Pianist Peter Schimke is a popular performer and one of the busiest keyboardists in the Twin Cities. A member of How Birds Work, What Would Monk Do, leader of his own trio, long-time member of Bruce Henry's ensembles, and frequent collaborator with Billy Peterson, Kenny Horst, and Irv Williams, Schimke is a favorite of local and visiting vocalists and instrumentalists.  Currently Peter is working on a solo recording and teaches at McNally Smith College of Music.
Jeff Bailey is well regarded as a bassist, composer, teacher and producer. A founding member of A Moveable Feast, he has performed with such local and international stars as Captain Jack McDuff, Craig Taborn, James Carter, Nachito Herrera, Eric Gravatt, Rodney Jones, Dave King, Brian Lynch, Wessel Anderson, Andrés Prado, Doug Little, James Moody, Ellen Lease and Pat Moriarty, and the Atrium Jazz Ensemble.  Beyond jazz, Jeff has also toured and performed with Keri Noble, Joey McIntyre (NKOTB), Tommy Barbarella (Prince), Charles Lazarus (Minnesota Orchestra), Reverend Billy Steele and more.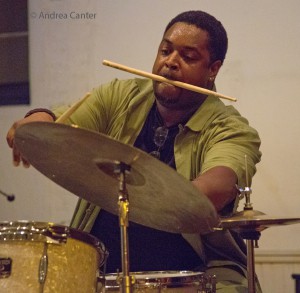 In his late 30s, drummer Kevin Washington already has nearly three decades of professional experience, from stages in Detroit to New York to the Twin Cities. A dedicated performer, composer and educator, Kevin was born in Detroit, the son of jazz artists/teachers Faye and Donald Washington. At thirteen, he moved with his family to the Twin Cities, and quickly became part of the local music community, spreading his talents across jazz, Latin, reggae and funk bands. After attending the New School in New York, Kevin returned to the Twin Cities and has been in high demand to support national touring artists as well as leading his own bands. And following in his parents' footsteps, Kevin has devoted considerable time to jazz education, as an instructor at McNally Smith College, Walker West Music Academy and the Twin Cities Jazz Workshop, and through private lessons.
Saturday Night Jazz at the Black Dog takes place weekly at 308 Prince Street in the street level of the Northern Warehouse in St Paul's Lowertown Arts District. No cover but tips ($10 suggested) appreciated to maintain the self-supporting series and support the musicians. Full Saturday Night schedule at www.saturdaynightjazzattheblackdog.info ; more information and monthly calendar at www.blackdogstpaul.com. The Twin Cities Jazz Sampler Volume 2 available at the show.