© Andrea Canter
One of the first ensembles to appear in the Dunsmore Room at Crooners Lounge after the space opened in December 2015, the Mary Louise Knutson Trio has proven to be one of the intimate listening room's most popular ensembles. Returning on Monday, February 20 (7 pm), the trio is led by one of the region's most accomplished jazz pianists and composers, with esteemed cohorts bassist Chris Bates and drummer Phil Hey, two more area veterans who have performed with a long list of top local as well as international stars.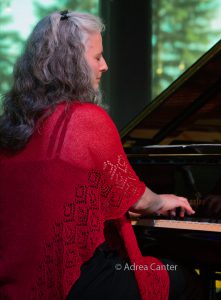 A modern mainstream artist who honors melody without being confined by it, Lawrence Conservatory graduate Mary Louise Knutson cut her performance teeth with such notables as Dizzy Gillespie, Bobby McFerrin, Dianne Reeves, Slide Hampton, Richie Cole, Greg Abate, Von Freeman, and Billy Hart; and toured with  Smoky Robinson, the Osmond Brothers, Engelbert Humperdinck, comedians such as Phyllis Diller, and internationally with Synergy (formerly Rupert's Orchestra). Her highly acclaimed first recording, Call Me When You Get There, was released in 2001 on Meridian Jazz and later in Japan, hitting the jazz charts "Top 50" in the U.S. and Canada for eight consecutive weeks following its debut. Said Jazz Times, "Call Me When You Get There is…state-of-the-art piano trio finery." If Call Me When You Get There was "piano trio finery," then Mary Louise's second release, In the Bubble (2011) was easily "piano trio majesty," remaining on the Top 50 charts for 19 weeks.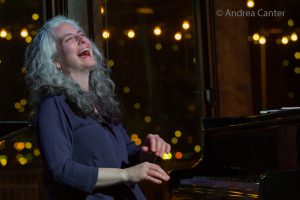 Deservedly, Knutson has earned considerable recognition as a composer, including two awards from Billboard magazine for her compositions, "How Will I Know?" and "Meridian."  One of five finalists in the first-ever Mary Lou Williams Women in Jazz Piano Competition at Kennedy Center in 2005, Knutson was a Minnesota Music Awards nominee for both Jazz Artist of the Year and Pianist of the Year in 2006. A former instructor at Carleton College, Mary Louise conducts master classes and private lessons when not busy performing. Among her current gigs, she has performed for the past eleven seasons with the JazzMN Orchestra, and for the past six years has joined Doc Severinsen's Big Band fall and spring tours; more recently she has toured with Doc when he plays a guest-star role with other orchestras.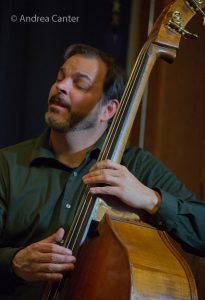 Chris Bates and his brother, drummer JT, grew up with jazz, sons of trumpeter/bandleader Don Bates. He began bass lessons in 4th grade and progressed to jazz studies at the University of Wisconsin-Eau Claire before returning to the Twin Cities to study with Anthony Cox. A member of the 1990s ensemble, the Motion Poets, Chris was a 1999 McKnight Composer Fellow, and often lends his compositions to the many ensembles that he juggles throughout his busy performance schedule. Over his career, he has played with Mose Allison, Lee Konitz, Joe Lovano, Steven Bernstein, Howard Levy, Michael Attias, Ira Sullivan, Bill Carrothers, Eric Alexander, Ari Hoenig and Tim Sparks, among others. In addition to his local ensemble work (Atlantis Quartet, Red Planet, How Birds Work, Klezmerica, Enormous Quartet, Framework, Leisure Valley, Zacc Harris Group, Dean Granros' Tall Tales, Pete Whitman X-Tet, Clearwater Hot Club) and leading Red 5 and the Good Vibes Trio, he has played solo concerts using both acoustic and electronic instruments, and appears on over 30 recordings. In spring 2013, Chris launched a monthly improvisation series at Jazz Central Studios in Minneapolis, "Magica Improvisado." Chris also teaches private bass lessons and has been an instructor with the summer jazz camp, Jazz Around Minneapolis (Minneapolis Public Schools).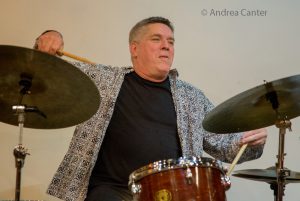 A former student of Ed Blackwell and Marv Dahlgren,  Phil Hey was born in New York City and raised in Philadelphia. One of the busiest drummers in his adopted home in the Twin Cities, Phil toured for 20 years with the late Dewey Redman and is often on the bandstand backing touring artists, local vocalists (Connie Evingson, Lucia Newell), and small ensembles (Chris Lomheim, Laura Caviani, Mary Louise Knutson, Dave Karr).  Phil (along with bassist Gordy Johnson) has toured with British vocalist Stacey Kent, including gigs at Birdland in New York. He also manages percussion duties for the Pete Whitman X-Tet, Benny Weinbeck Trio, Dean Sorenson Sextet and Chris Bates' Good Vibes Trio, performs in duo with saxophonist Pat Moriarty, and teaches at the U of M and St. Olaf College. Phil's recording credits are legion, including on the Artegra label with the Chris Lomheim Trio (The Bridge), Pete Whitman Quintet (Sound of Water) and X-Tet (Where's When), and his own quartet's acclaimed album, Subduction. His more recent recordings include a volcanic duo with trumpeter Kelly Rossum (Conflict), a sublime trio date with Mary Louise Knutson (In the Bubble), and the 2014 debut release of the Good Vibes Trio.  Phil also contributed to Von Freeman's Live at the Dakota, rating four stars from Down Beat. In 2006, City Pages named Phil its Jazz Artist of the Year.
Crooners Lounge is located at 6161 Highway 65 North in Fridley, just north of I-694. The Dunsmore Room accepts reservations (highly recommended!); choice of ticket only ($10) or dinner/show. Keep up with Mary Louise Knutson at www.marylouiseknutson.com