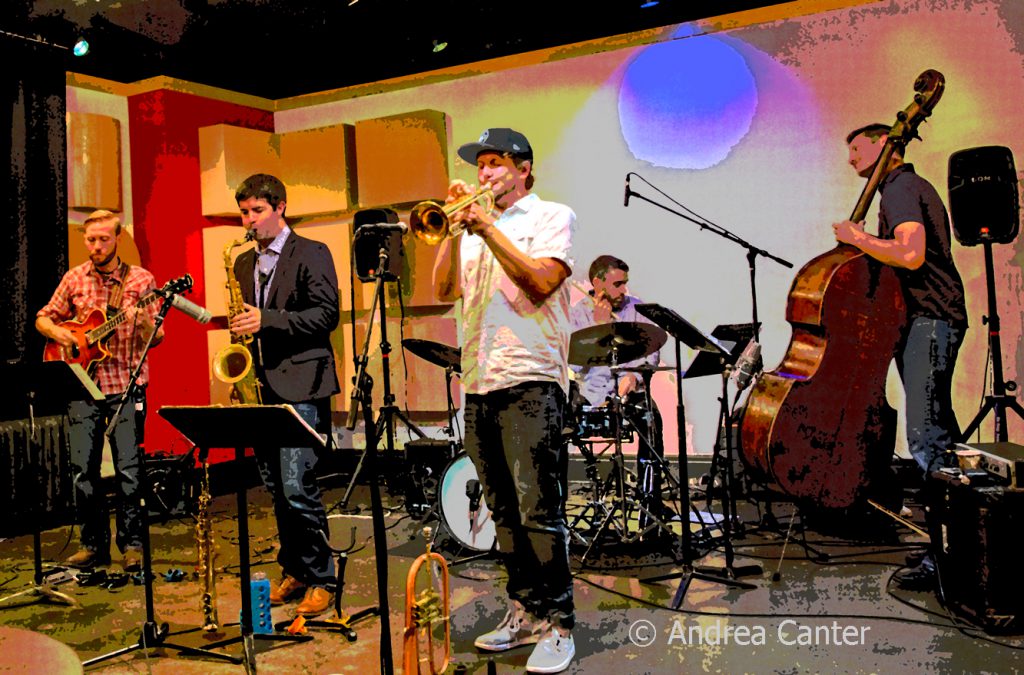 © Andrea Canter
The fourth annual Jazz at Studio Z Winter (or Spring!) Jazz festival will be held on Saturday, March 25, with four bands starting at 5 pm in Studio Z in St. Paul's Lowertown. Like the annual Jazz at Studio Z concert season, the music is curated by guitarist and bandleader Zacc Harris. Band scheduled to perform this year (one after the other) include Real Bulls, a drum duo with JT Bates and Dave King; the Adam Meckler Quintet; Dean Granros' Tall Tales; and special guests from Chicago, the Drobka-Weller Duo previewing their upcoming Shifting Paradigm release, Blues Town. Advance tickets are available on Studio Z's website (www.studiozstpaul.com) for $12 or $16 at the door.
Real Bulls
In the world of percussion, JT Bates and Dave King indeed are Real Bulls, a duo they have brought to the stage at the Icehouse a number of times over the past few years.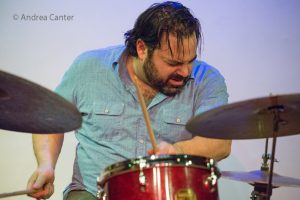 J.T. Bates is one of the busiest drummers in the Twin Cities, on and off the bandstand. He was a member of Motion Poets and has worked with a variety of Latin, electronic, and experimental ensembles, including jazz groups Bryan Nichols' Quintet and Trio, Chris Bates' Red Five, Fat Kid Wednesdays, the Zacc Harris Group, and rock bands The Pines and Alpha Consumer. He also leads the B-3 organ trio, Grain. In addition to curating his Jazz Implosion series at the Icehouse on Monday nights, JT often appears on the Icehouse stage with such musicians as brother Chris, Dave King, Brandon Wozniak and more. He also commutes to the U of M Morris campus where he teaches percussion.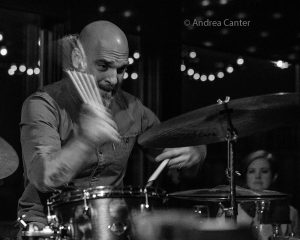 Drummer Dave King might be best known for his long-standing work with The Bad Plus as well as Happy Apple, but his affiliations hardly end there. In fact, at any given moment, King is likely involved in at least ten other projects ranging from his own jazz-infused Dave King Trucking Company and Buffalo Collision to rock bands like Halloween Alaska and impossible-to-define electronic outfits like Gang Font. Dave worked as a session musician in LA in the early 90s before returning to the Twin Cities to find his own voice, launching Happy Apple with high school pals Michael Lewis and Erik Fratzke, and soon co-founding The Bad Plus with Ethan Iverson and Reid Anderson. Dave released a solo album combining his skills as drummer, pianist and composer, Indelicate, in 2010 (Sunnyside); in fall 2012, his Dave King Trio with Bill Carrothers and Billy Peterson released the well-received I've Been Ringing You (Sunnyside). He's released three albums in five years heading the Dave King Trucking Company, and appears on the new ECM release from Craig Taborn's quartet, Daylight Ghosts.
Adam Meckler Quintet
Led by trumpeter and composer Adam Meckler, the Adam Meckler Quintet features some of the area's most acclaimed jazz musicians — Shilad Sen (tenor sax), Zacc Harris (guitar), Graydon Peterson (bass) and Greg Schutte (drums).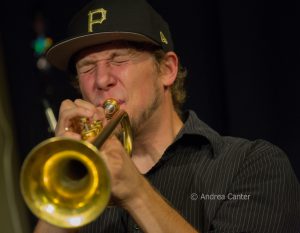 A prolific performer, composer and educator, Adam Meckler received his undergraduate degree in trumpet performance in 2007 from Lawrence University and his graduate degrees from the University of Minnesota. Based for the past decade in the Twin Cities, Adam has performed with The Artie Shaw Orchestra, the Stan Bann Big Band, Nova Jazz Orchestra, Evan Montgomery Quintet, Stan Bann Big Band, and Brass Barn Polka Band. These days he regularly performs with wife/vocalist Jana Nyberg's ensemble (Jana Nyberg Group), Jack Brass Band, Pete Whitman's X-Tet, the Graydon Peterson Quartet, Nooky Jones, and Youngblood Brass; leads his Adam Meckler Quintet, Lulu's Playground (a quartet of like-minded fellow Lawrence University grads, including trumpet, guitar, cello and accordion), and  Adam Meckler Orchestra. Meckler's debut recording, For Dad, was a  tribute to his late father (Rick Meckler). With the AMO, he released When Clouds Look Like This in fall 2014, and in August 2015, led his quintet through three live recording sessions at three venues for a 2016 release, Wander. 
Adam is also a busy educator, on the faculties of the MacPhail Center for Music and McNally Smith College of Music. He's also served as a clinician for the Dakota Foundation for Jazz Education, working with students in area high schools and middle schools.
Dean Granros' Tall Tales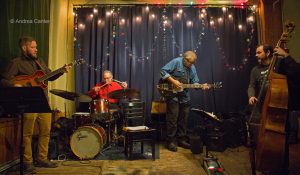 Dean Granros launched his double guitar quartet with Zacc Harris, Chris Bates and Jay Epstein about three years ago, yielding a self-titled CD release in 2015.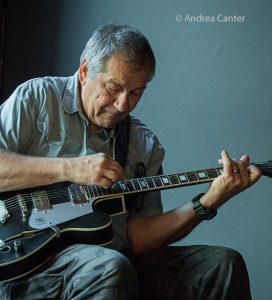 Dean Granros studied music theory and composition at the University of Minnesota and MacPhail Center for Music/ Concurrent with academic studies, he served a lengthy apprenticeship in jazz and blues in Twin Cities venues. He was a co-founder of one of the Twin Cities seminal experimental jazz groups, The Whole Earth Rainbow Band, joined former Weather Report drummer, Eric Kamau Gravatt, in the high energy post-bop band, Kamanari,  co-founded the progressive and virtuosic improvising trio F*K*G with saxophonist Scott Fultz and drummer Dave King, performed with George Cartwright's Curlew, and was a founding member of How Birds Work. Granros continues to perform locally with groups such as Starry Eyed Lovelies (with Mike Lewis, Anthony Cox and Dave King), FKG, and How Birds Work, as well as his double guitar quartet Tall Tales and duo with Joel Shapira.
Drobka – Weller Duo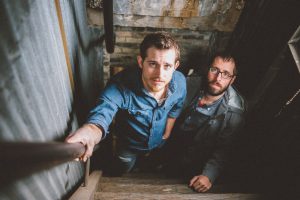 Devin Drobka (drums & percussion) and Chris Weller (tenor/bass saxophone & effects) are two long-time musical friends from Chicago and Milwaukee that bring a rock edge to their improvised music. Starting as college roommates, the two have collaborated for a decade in various groups, including the Chicago-based trio Hanging Hearts and Devin's own Bell Dance Songs.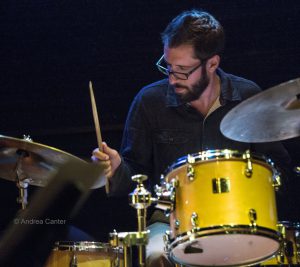 In October 2015, Devin and Chris recorded their first album as a duo, Blues Town, in Milwaukee. The album features a few melodies that have resonated with the two for years, including the title track "Blues Town" and "Scarecrow" from Devin's first record as a leader, and the comically-named song "Doo-Wop" from the self-titled Hanging Hearts album. "Appy Happle," the improvised second track on Blues Town, gives a tip of the hat to the Minneapolis-based band Happy Apple, one of the duo's musical inspirations. Blues Town will be released on April 21, 2017 on Shifting Paradigm Records (Minneapolis) with a supporting European tour.  Drobka has previously appeared in the Twin Cities, with Aakash Mittal at the Dakota in 2013.
Studio Z is located at 275 E. 4th Street in the Northwester Building (second floor) in St. Paul's Lowertown.  The Jazz at Studio Z concert series recently completed its fifth season curated by Zacc Harris. www.jazzatstudioz.com