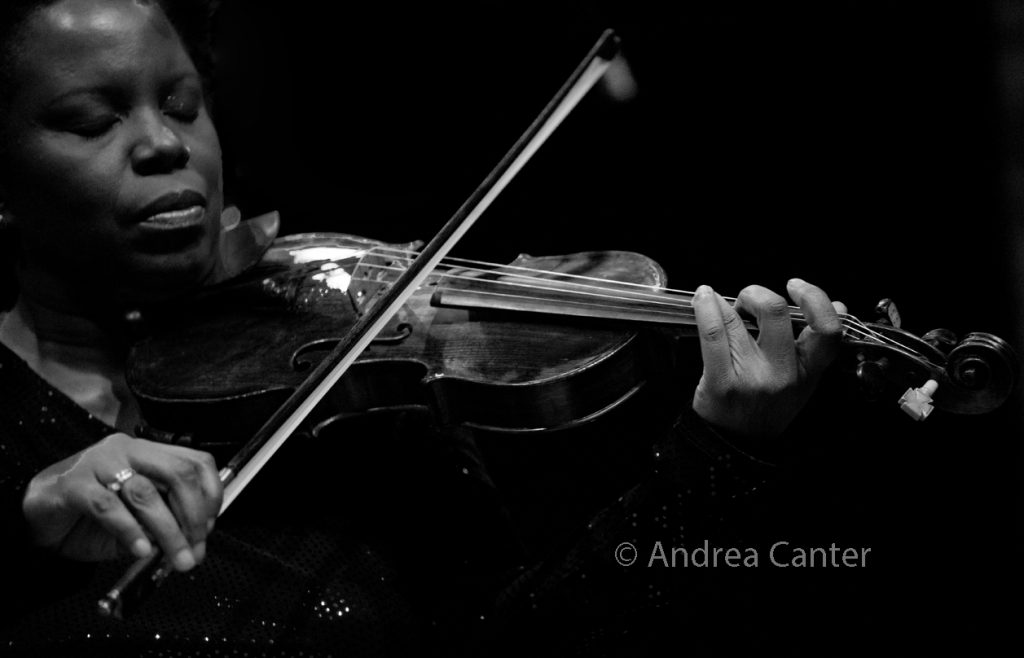 © Andrea Canter
"Regina Carter creates music that is wonderfully listenable, probingly intelligent, and, at times, breathtakingly daring…taking the listener into the future of jazz. " –Time Magazine
Known for her unique interpretations that fuse modern jazz and world music, MacArthur "Genius Grant" recipient Regina Carter is known for diverse projects. On previous visits to the Twin Cities, Carter brought Reverse Thread, melding traditional African instruments such as the kora from Mali and powerful drum rhythms from Senegal with her violin, accordion bass and drumset; her Southern Comfort (2014) project delved into the folk and blues of her paternal grandfather's roots in the American South. Now, returning to the Dakota on May 3, Carter celebrates the centennial of Ella Fitzgerald and her latest release, Ella: Accentuate the Positive.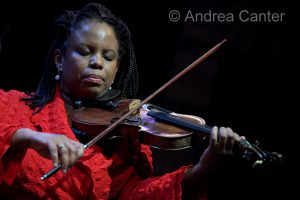 Regina Carter grew up in  Detroit, long a fertile breeding ground for jazz giants, from Kenny Burrell and Tommy Flanagan to Regina's cousin James Carter. "There's just so much music that came out of Detroit," Carter has acknowledged, "and it all inspired me." Initially she studied piano (from age 4), tap, ballet, and Suzuki violin. But classical music already seemed limiting to 14-year-old Regina when she saw Stephane Grapelli play at Detroit's Renaissance Center, and for the first time she was inspired by "that feeling" of jazz and particularly the freedom of improvisation.
Ultimately Regina studied both classical and African American Music (at the New England Conservatory and Oakland University), and absorbed a wide range of influences from R & B to East Indian to Latin.  "I followed a more non-traditional route. I initially learned by ear, then later learned to read, then learned theory. I think that kind of experience has freed my playing up a lot more, so I'm not stuck on the page," she said.  Performing with an equally diverse range of musicians from Aretha Franklin to Danilo Perez to the Minnesota Orchestra, she gained national attention for her solos on Wynton Marsalis's Blood on the Fields tour in 1997 and Cassandra Wilson's Travelin' Miles concert at New York's Lincoln Center in 1998. In 2001 she collaborated with pianist Kenny Barron on the acclaimed duet, Free Fall (Verve).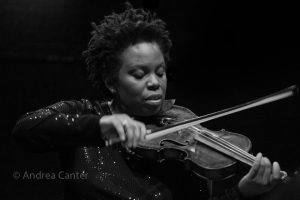 Also in 2001, Regina's career hit a new high when she became the first jazz musician invited to Genoa, Italy to play the legendary Paganini violin, known as the "Cannon". After this first encounter –in which she was to play only classical repertoire and not (heavens no!) "real" jazz, she returned to Italy in late 2002 with her quintet to record Paganini: After the Dream on Verve, a set of classically rooted music with not-so-subtle jazz elements. Once more in November 2002 she played the Cannon, this time at Alice Tully Hall in New York. "By the third time it was more comfortable," she noted, despite the police escort and security that probably rivaled that assigned to Air Force One. After the stunning success of Paganini, Regina came back with I'll be Seeing You, a tribute to her late mother, the music of the 20s, 30s and 40s. Named to a MacArthur Fellowship ("Genius Award") in September 2006, she received the International Society for the Performing Arts Distinguished Artist Award for 2007.
After touring in African, Carter was inspired to explore her African roots, culminating in her 2010 Reverse Thread project. The album, comprised mainly of African folk tunes from countries as diverse as Mali, Uganda, and Senegal, featured kora player Yocouba Sissoko, along with three of Carter's long-term cohorts who returned on Southern Comfort — Will Holshouser, Chris Lightcap and Alvester Garnett.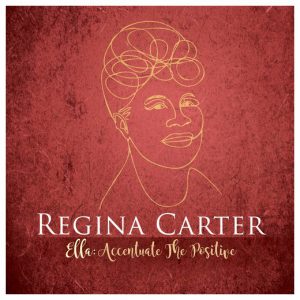 Ella: Accentuate the Positive was released in late April on OKeh/Sony Masterworks, including a number of tunes that are lesser known from Ella's catalog. "One of the many things that I adore about Ella is that she just loved music and didn't box herself in," Carter explains. "She recorded everything, not just the American Songbook — doo-wop, Stevie Wonder and Beatles songs, even some country western music. The fact that she experimented with so many different styles made me feel that, with this record, I would pay respect to her by taking the music and doing something else with it. I feel that she would smile in agreement." On the recording, as well as her 2017 tour, Regina is joined by frequent cohorts, guitarist Marvin Sewell, bassist Chris Lightcap, and drummer Alvester Garnett.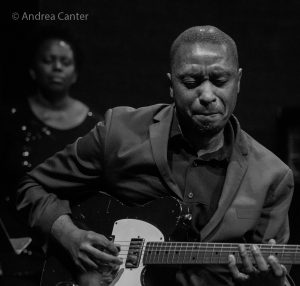 Chicago native Marvin Sewell was exposed to a variety of styles of music in his hometown, including blues, gospel, soul, rock, and fusion. He also played acoustic guitar in a Catholic church. In high school, Marvin turned to jazz and started playing with the Malcolm X Community College Big Band, and with such local Chicago musicians as Von Freeman, Ramsey Lewis, Billy Branch, Jody Christian, Big Time Sarah, and Barbara LaShoure. After studying composition at Roosevelt University, Marvin moved to New York where he has played both acoustic and electronic music. He joined Jack Dejohnette's Special Edition in 1992, and soon recorded with cellist Diedre Murray, Gary Thomas and Dejohnette. He played blues slide guitar in Hannibal Peterson's opera "African Portraits."  Over his career he has performed with David Sanborn, Marcus Miller, Greg Osby, Joe Lovano, George Benson and more.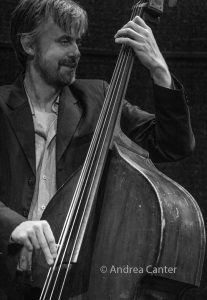 Chris Lightcap has built a reputation as one of New York's most inventive bassists, performing with the likes of Craig Taborn, Gerald Cleaver, Chris Cheek and Tony Malaby in his ensemble, Bigmouth, as well as with Regina Carter's ensembles. His earlier work included the Craig Taborn Trio and Cecil Taylor Big Band, and over his career he has performed or recorded with Marc Ribot, Mark Turner, John Medeski, Jason Moran, Tomasz Stanko, Chris Potter, Paul Motian, John Scofield, Dave Liebman, Paquito D'Rivera, Anthony Braxton, Sheila Jordan, James Carter, Ben Monder and more. The Pennsylvania native attended Williams College where he studied bass and composition with Milt Hinton, Cameron Brown and Bill Dixon; he also studied and performed with the late Ed Blackwell.  In 2011 Chamber Music America awarded Lightcap a "New Jazz Works" commission grant, resulting in his "New York: Lost and Found" that was premiered by Bigmouth at the 2012 Earshot Festival and released as Epicenter in 2015 (Clean Feed). He continues to tour with his Big Mouth ensemble. Lightcap has performed with Regina Carter since 2000.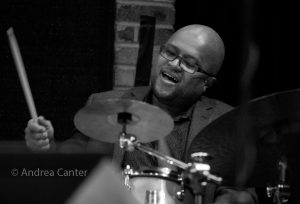 Versatile drummer Alvester Garnett has performed with vocal legends Abbey Lincoln and Betty Carter as well as Wynton Marsalis, James Carter, Regina Carter and Cyrus Chestnut. A native of Virginia, he began percussion studies at age 14. His early mentor was Ellis Marsalis, with whom he studied during high school and college; he also met and studied with Max Roach, and later Victor Lewis, through a summer jazz program directed by Gunther Schuller. Garnett won third place in the 1992 Thelonious Monk International Jazz Drum Competition, and the next year, following graduation from Virginia Commonwealth University, he moved to New York to work with Betty Carter, and then with Abbey Lincoln and Cyrus Chestnut. He began working with Regina Carter and James Carter in the late 90s, and has since worked with a very long list of top jazz artists including Roy Hargrove, Jacky Terrasson, Dee Dee Bridgewater, Benny Golson, Wynton Marsalis, John Hicks, Clark Terry, Kevin Mahogany and more. He and Regina Carter married in 2004.
The Dakota Jazz Club is located at 1010 Nicollet Mall in downtown Minneapolis; two sets at 7 and 9:00 pm. Reservations at www.dakotacooks.com or 612-332-1010.