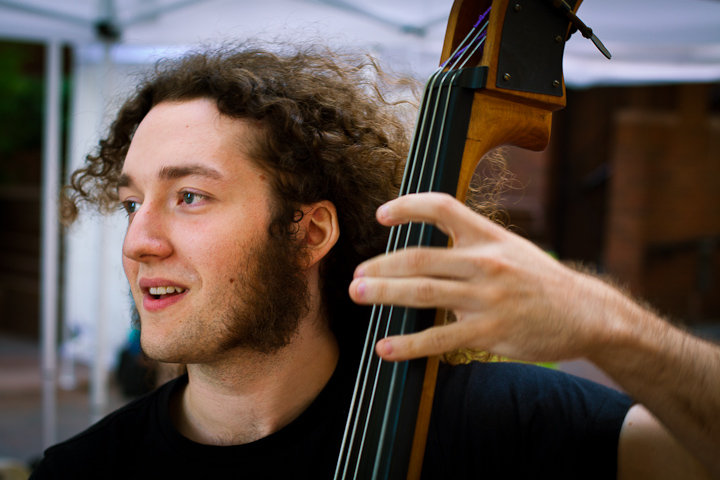 © Jon Morgan
Destined to be the jazz scene's sleeper performance of the week is the Minneapolis appearance of the collective trio comprised of trumpeter Russ Johnson, drummer Tim Daisy, and bassist Max Johnson. Nestled in between performances in Milwaukee and Chicago, the collective will bring their brand of creative improvised music to Jazz Central on Saturday, May 13 at 8 pm.
In the past five years, Max Johnson has become a highly visible member of the New York City jazz community.  Replete with a big sound that conveys a palpable presence, he has worked with a long list of improvisers and jazz musicians and put out a steady stream of recordings on a variety of labels, including Fresh Sound, Not Two, FMR, and No Business.
Raised in Hoboken, NJ, by a musical father, Max initially started out playing electric bass and focused on prog rock and fusion, but soon found himself drawn to jazz and bluegrass as a teenager: "It's funny, I've always just pursued the music I was interested in. When I started playing the upright bass I would always do free improvisations and standards right alongside going to bluegrass jams," Johnson reflects. "I love those music styles deeply and want to be the best and most musical voice I can be, no matter what the genre is." Formal training followed at the New School as an undergraduate and later Max completed his Master's degree in composition at the Vermont College of Fine Arts, where the young bassist studied chamber music. "I study composition very seriously. I really try to compose every day, and not let myself put things on the back burner."
The bassist has worked with numerous people over the past half dozen years, including major influences John Zorn and Anthony Braxton, and has several projects either in the works or recordings in the can. One of the bassist's most well documented collaborations is his trio with cornetist Kirk Knuffke and drummer Ziv Ravitz, which is represented on three critically acclaimed releases thus far. "One of the goals of that band was always to play simple looser compositions, so there would be more room for improvising," Johnson explains. "That group came together in June 2011, and I had been working with Knuffke in Fedrico Ughi's quartet.  I had met Ziv when I was playing with Steve Swell in a quintet. I loved the sound of both players and wanted to work with them, and knew we'd be able to cover a lot of different musical ground and play dynamically and acoustically… The trio with Ravitz and Knufke took 2016 off, as I was on the road a crazy amount, as were they, but we just recorded a new album adding Michael Attias and Ingrid Laubrock on saxophones. I call it my Trio + 2, and I'm really proud of the music we just recorded and hope to have it out early next year."
Additionally, Max Johnson has recorded with the likes of Vinny Golia, Karl Berger, Kris Davis and Thomas Borgmann, and has managed to stay extremely busy: "I've been really lucky to work with a lot of really great musicians in the last few years," Johnson considers. "I just try to be nice and friendly to everyone, and try to play my best."
Russ Johnson spent over two decades on the New York scene prior to relocating to the Midwest to teach at the University of Wisconsin-Parkside in Kenosha. As a leader, the trumpeter co-lead The Other Quartet, which put out a pair of recordings on Knitting Factory. Arguably his finest moment on record is 2014's Still Out to Lunch (Enja) in which his quintet, including pianist Myra Melford, vividly reinterprets the music from Eric Dolphy's best-known work. As a sideman, Russ Johnson has recorded with a diverse group of jazz icons and up-and-comers, including Lee Konitz, Michael Bates, Greg Ward, and Matt Ulery.
Chicago-based drummer Tim Daisy is perhaps best known for his lengthy association with the groups of Ken Vandermak and Dave Rempis, but he has also been active within a large pool of the Windy City's most adventurous improvisers over the past 20 years. Daisy also has several of his own musical projects, as well as running his own label, Relay Records.
The Johnson/Daisy/Johnson project is of relatively recent vintage, and presents geographic challenges with Daisy living in Chicago, Russ Johnson in Kenosha, Wisconsin and Max Johnson in New York. "We did a short tour last November, playing a few shows in Wisconsin and Chicago," Max Johnson explained. "I've known Tim for a while and have been a fan of his music for some time. I played a session with Russ in New York, and wanted to play more. When I told him I wanted to come to Chicago and play some gigs, he said we should play with Tim. Concurrently, when I told Tim I wanted to come out to Chicago and play some, he said we should play with Russ, so we put some shows together…The last tour we did we played improvisations, and it was really great. But, we all plan on bringing compositions to the group and making this something we do more often," Max Johnson mentioned. "It's really great working with those guys."
Jazz Central is located at 407 Central Av SE in Minneapolis. Admission $15. Full schedule at http://jazzcentralstudios.org