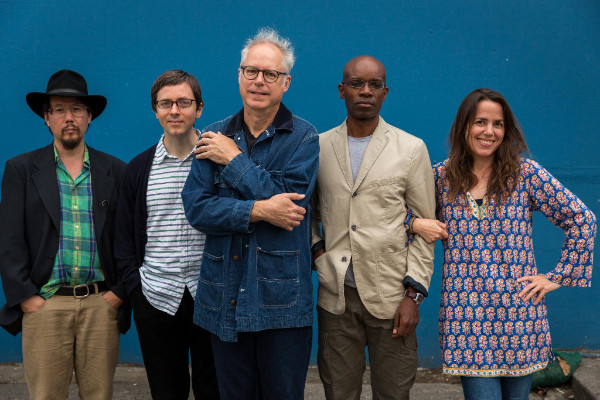 Words like "departure" don't apply to Frisell's recordings, they all hold that distinction. — Kevin O'Connor, Jazz Police
Known for his many eclectic projects, Grammy-winning guitarist/composer Bill Frisell returns to the Dakota with his "When You Wish Upon a Star" project, featuring vocalist Petra Haden, on Saturday, February 20. Just in town two weeks earlier with Charles Lloyd, this project offers interpretations of music from film and television, and marks the first time Frisell has come to the Twin Cities with a vocalist. The ensemble, whose self-titled debut album received a 2016 Grammy nomination, also includes bassist Thomas Morgan and long-standing Frisell cohorts, Eyvind Kang (viola) and Kenny Wollesen (drums), replacing Rudy Royston on this tour.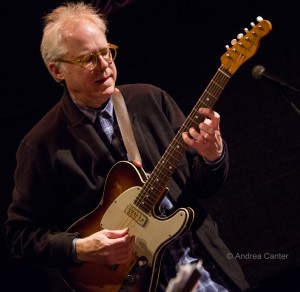 One of the working legends of modern jazz guitar, Bill Frisell is steeped in country, bules, and rock. Known for using a wide range of special effects to create unique sounds, he's performed or recorded with Kenny Wheeler, Paul Motian, Dave Holland, Elvin Jones, Don Byron, Fred Hersch, Jim Hall, and Charles Lloyd, among many others. The Baltimore native mostly grew up in Colorado, where he played clarinet as well as guitar. After studying music at the University of Northern Colorado where he studied with Johnny Smith, he went on to Berklee in Boston where he studied with the great Jim Hall. His big break came when he recorded for ECM in the early 1980s with Paul Motian, Jan Gabarek and Arild Andersen. Living in New York, he partnered with Motian, John Zorn and Joe Lovano, among others. Relocating to Seattle in 1988, Frisell began working on silent film soundtracks and adding elements of country and bluegrass. For the past 20 years, his work has expanded across a wide range of musical influences, he has received Grammy awards and nominations, and has issued a long string of notable recordings, including work with Paul Motian and Joe Lovano.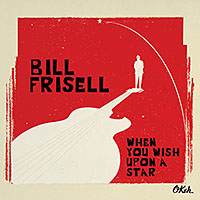 Frisell is a man of many projects, several of which tour concurrently. He has led Floratone, the duo with Greg Liesz, his trio, 858 Quartet, Beautiful Dreamers Trio, All We Are Saying, and Big Sur Quintet; he began his collaboration with Charles Lloyd about two years ago and has toured and recorded with Lloyd as part of the Marvels ensemble. His previous release, Guitar in the Space Age (Okeh, 2014) was described by The Guardian as "an old-school electric guitar fan's album….. in fact this is as serious, witty, layered and subtle as any of his more abstract work."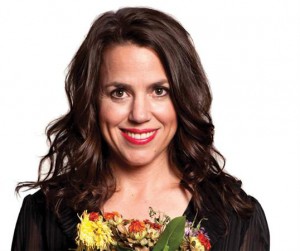 Daughter of the late bass legend Charlie Haden, vocalist/instrumentalist Petra Haden has established a singular reputation for creativity and versatility, and a unique niche that's allowed her to apply her multiple talents to a dazzlingly diverse array of music. Among her credits: her own movie music project, 2013's Petra Goes to the Movies; an a cappella version of the 1967 classic, The Who Sell Out; and guest vocals with the Foo Fighters, Paul Motian, Beck, The Decemberists, and many others.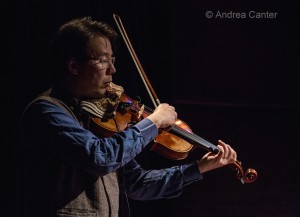 Eyvind Kang is an American composer, and master of the violin, viola, tuba and erhu who has lived in Canada, Italy, Iceland and beyond. His work is loosely described as a classical approach to jazz with influences of punk, ambient and traditional folk musics. Kang has worked with a similarly diverse range of musicians including John Zorn, Mark Ribot, Beck and Bill Frisell.  In the context of this trio with Frisell and Royston, Bob Burnett (CD Reviews by C60 Crew) notes that Kang "converts the viola into a sound contact instrument. He explores a wide array of sonic textures–strings, surface, touch, unique bowing come together in a way that had me thinking of John Cage contact mic'ing surfaces such as mushrooms and using turntable cartridges as instruments." Kang is a member of Frisell's Beautiful Dreams Trio.
Bassist Thomas Morgan has toured internationally with Paul Motian's bands, the John Abercrombie Quartet, the Dave Binney Quartet, Steve Coleman and Five Elements, and the Tomasz Stanko New York Quartet, among many others. He has played on more than seventy recordings, and is currently touring with the Craig Taborn Trio, Jakob Bro, the Jim Black Trio, the Dan Weiss Trio, the Scott DuBois Quartet, and more, and appears in a duo with Bill Frisell in addition to the When You Wish Upon a Star ensemble.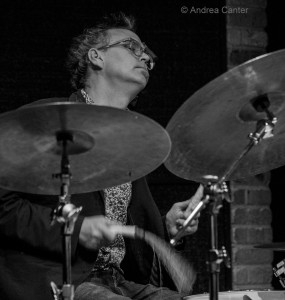 Drummer Kenny Wollesen has played with Tom Waits, Sean Lennon, Norah Jones, Myra Melford, Steve Bernstein and particularly John Zorn, in addition to his many years collaborating with Bill Frisell. He is a founding members of the New Klezmer Trio and member of Sex Mob.
When You Wish Upon a Star. The new project is hardly surprising, given Bill Frisell's generally eclectic nature and his early work with silent film soundtracks, as well as his relationship to films through his own music (Finding Forrester, Million Dollar Hotel). "Music is so rich with all the associations that go along with it, whether it's the words or a memory you get when you hear it," he said. Frisell and the band will re-imagine such gems as "When You Wish Upon a Star" and "Somewhere Over the Rainbow" and more from films from The Godfather to To Kill a Mockingbird, as well as music from television favorites, including Bonanza, The Dick Van Dyke Show and The Honeymooners. Enjoy a night of music from the big and small screen as only Bill Frisell and friends can deliver, two sets at 7 and 9 pm.
The Dakota is located at 1010 Nicollet Mall in downtown Minneapolis; reserved tickets recommended; www.dakotacooks.com or 612-332-5299.