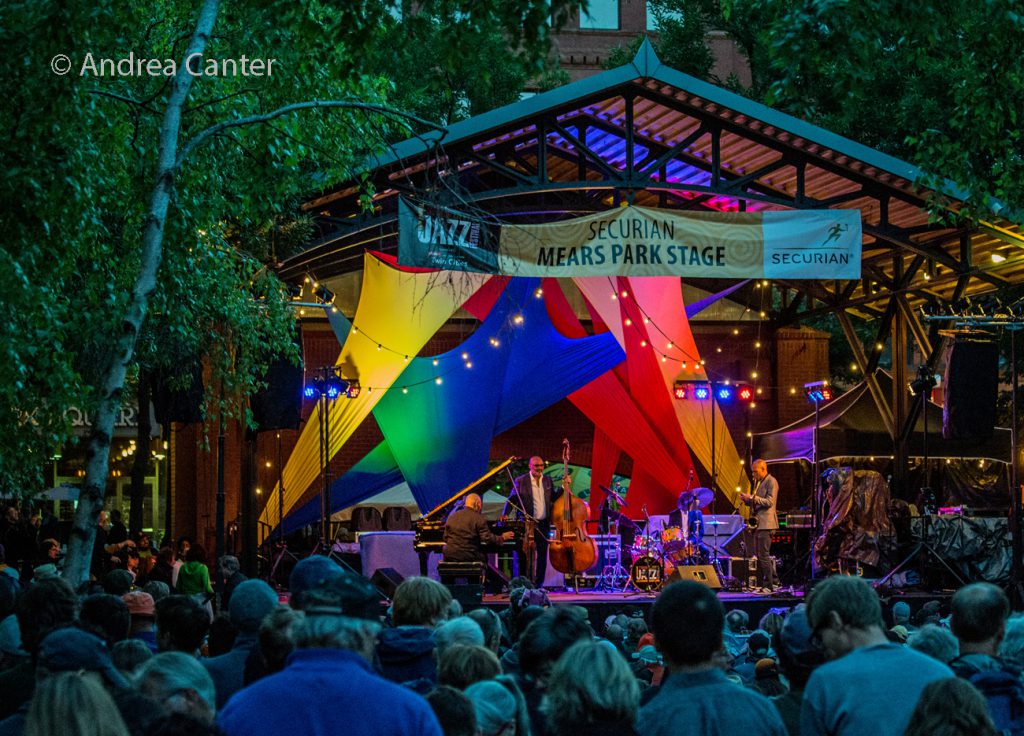 © Andrea Canter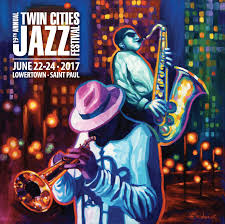 I've attended many Twin Cities Jazz Festivals — all since 2003. It's been the little jazz engine that could, overcoming inevitable weather issues (usually too hot, sometimes too wet) that plague summertime festivals, and surely the most serious obstacle of all, loss of funding, sponsorship, and even the support of the host city, Minneapolis. But in the face of the festival's pending cancellation back in 2009, the city of Saint Paul picked up the jazz guantlet, providing family-friendly Mears Park and the charms of Lowertown, and JazzFest bounced back, bigger and better than ever.
After recent trials with even larger venues (CHS Field, Kellogg Park) and big non-jazz headliners (Dr. John, Michael Franti), the 2017 Twin Cities Jazz Fest was blessed with the magical combination of all-jazz headliners and perfect weather – or at least perfect timing, as Thursday's steady rain stopped on cue at 4 pm, and Saturday's brief downpour came at the end of 2 pm sets and caused only a brief delay. The temperatures were San Diego-perfect in the low-mid 70s, perhaps dragging down beer sales but, then, there were that many more in the crowd to buy all varieties of concessions. Casting a wider net of venues pre and post festival, including a return to Minneapolis at the Hennepin Avenue United Methodist Church, a total of 27 stages, clubs, bars, senior residences and more provided music to what appeared to be the biggest audience in festival history–many venues including the primary outdoor stages at Mears Park, Fifth Street, and Union Depot, a new indoor stage at TPT, and the larger clubs like the Black Dog and Vieux Carre' saw standing room only set after set.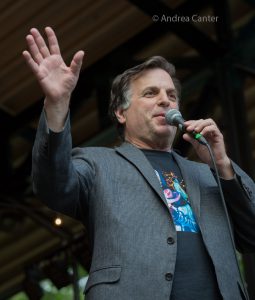 And in the end, what really matters is the quality of the music. Crowds, vendors, and sponsors ensure funding. But without the depth of talent, a festival can't really sustain its mission or its future. Arguably, the 2017 line-up of "headliners" was the finest in 19 years, presenting young stars of the future, a current generation of titans, and a beloved living legend. And perhaps even more critical to the festival's success, Festival Director Steve Heckler assembled a large, diverse, and much appreciated schedule of local and regional artists that few metropolitan areas could match, most of whom can readily be defined as "jazz" and "improvising" musicians.  From the young teens of Joe's Jazz Camp performing on the Youth Showcase at Union Depot to 86-year-old Dave Karr blowing his sax with the JazzMN Orchestra at Mears Park, over 300 local artists filled the air with the sounds of swing, bebop, and free improv, with global tinges from Cuba, Brasil and beyond.
The highlights are too numerous (and too subjective) to present in detail, but here is one listener's short list of memorable sets and moments: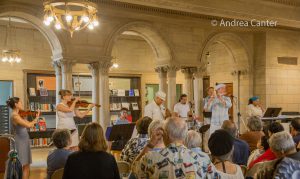 Pre-Fest, Charanga Tropical at the George Latimer Central Library (June 18).  The first American band to play at the Havana Jazz Festival (2015), Doug Little's nine-piece charanga ensemble features musicians from Cuba, South American and the U.S.  Adding violin and viola to Cuban percussion, piano, flute and acoustic bass brought authentic sounds of Havana to the architectural masterpiece of St. Paul's Central Library, where "Jazz in the Library" performances have previewed Jazz Fest for the past five-plus years. The Sunday afternoon, Father's Day audience filled the Magazine Room and then some, and the usually quiet and restrained atmosphere of the library gave way to loud applause and ultimately dancing in the aisles.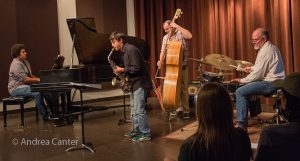 Pre-Fest, Jordan Anderson Quartet at Walker West Music Academy (June 20). Walker West Music Academy provides a perfect venue for pre- and post-festival music, with a well-tuned performance space that holds perhaps 80-90. And it's always a pleasure to hear one of the school's alumni reinforce his early opportunities. Jordan Anderson is a Walker West graduate, as well as a product of Pipjazz Youth and the Dakota Combo, who just completed his first year of studies under the great pianist Benny Green at the University of Michigan. His band at Walker West offered the best of two–make that three–generations. Joining Jordan was fellow University of Michigan jazz student (Mounds View High School and Dakota Combo graduate) Peter Goggin on saxophone and veterans Chris Bates (bass) and Mac Santiago (drums). Their set included classic post bop standards from such legends as Coltrane, and it was hard to remember that this band had never played together. And Jordan and Peter are surely strong ambassadors for the University of Michigan.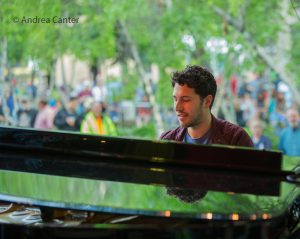 Securian Main Stage at Mears Park, Thursday (June 22). If you can have a hat trick in jazz, score three for Thursday's main stage lineup. As the last raindrops hit random targets, young trumpeter/flugelhorn specialist Oskar Stenmark led a quartet to officially open the festival. Cosponsored by the American Swedish Institute, the Swedish native/now New York resident blew some of the most elegant notes heard over the weekend. An hour later, another young gun, pianist Emmet Cohen, brought his trio on stage for a set of high energy, wide swing, inventive post bop that echoed the music that won him fans during his Twin Cities debut gigs in March. His relaxed poise and easy interaction with both his trio (bassist Russell Hall and drummer Kyle Poole) and his audience is as much fun to watch as his music is to hear. And now he can add another 4,000+ to his Minnesota fan club.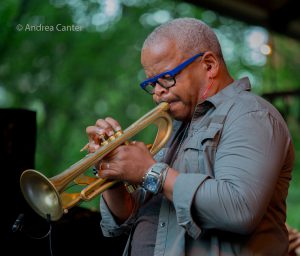 The finale in Mears Thursday night was one of the most lauded performers and composers in modern jazz, trumpeter Terence Blanchard, in town just five months after recording Caravan, live at the Dakota with his E-Collective, a sequel to his 2015 Breathless (recorded in three cities scarred by the escalation of tension between law enforcement and unarmed African Americans–St Paul, Cleveland and Dallas). Blanchard is a virtuoso, but his band is filled with talent as well, particularly young pianist Fabian Almazon.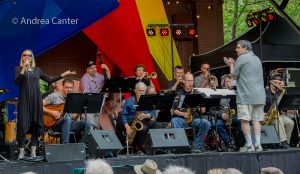 JazzMN Orchestra, Main Stage, Friday (June 23). What's better than hearing Minnesota's premiere jazz orchestra? Hearing the band outdoors and with guest vocalists Connie Evingson and the orchestra's Cameron Kinghorn, doubling on trumpet. Featuring 18 of the top jazz artists in the region (and with a deep enough talent pool to make any substitutions seamless), founder and director Doug Snapp seems to bring out the best of the best in settings like the jazz festival — maybe because they dress down away from the concert hall, maybe because there's just something magical about Mears Park. Even Connie Evingson, who apologized for her winter cold which forced her to switch her set list, seems to take it up yet another notch in the presence of JazzMN and the Mears Park audience.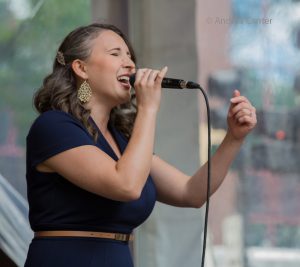 Katia Cardenas, Makers Mark Stage on Sixth (June 23). Maybe she rose even higher with her parents in the audience, or maybe it was the exhilarating atmosphere of the new Makers Mark Stage. Whatever, the young vocalist and her band (pianist Ted Godbout, bassist Ted Olsen, drummer, drummer Trevor Haining) sparkled on tunes from her recent album and more, including "Blue Skies"– very apt for the day's perfect weather.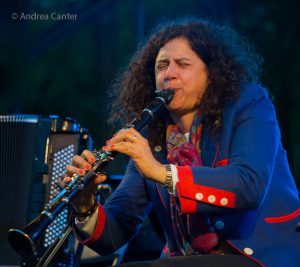 Anat Cohen and Choro Adventuroso, Main Stage (June 23). Any chance I get to hear Anat Cohen, I'm there. I've heard her in several venues with her quartet, in duo with Fred Hersch, dueling clarinets with Evan Christopher, and perhaps, now, my favorite, in one of her Brazilian ensembles. An Israeli educated at Berklee in Boston who has topped every poll in the past ten years, it's only natural that such an adventurer with global tastes would gravitate to Brazilian music. And she doesn't just play it, she writes it as well. Her Brazilian choro quartet featured outstanding cohorts on accordion, pandeiro and seven-string guitar. What made the set truly special beyond the obvious talents of the musicians was their relaxed spontaneity and obvious warm rapport with each other. You felt like you were sitting in Anat's living room while she held an animated music conversation with good friends. She isn't inclined to rehearse, preferring to find the music "in the moment," and what stellar moments we witnessed.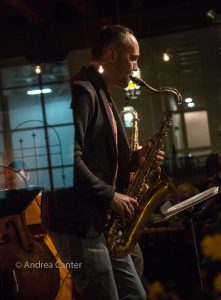 Bryan Nichols Quintet, Black Dog (June 23). For the record, the Black Dog hosted one great band after another for three nights, thanks to curator Steve Kenny who does the same week approaching a fourth year directing Saturday Night Jazz at the Black Dog. Jazz Fest offered him the opportunity to squeeze 15 weeks of the series into three nights. The closing two sets on Friday featured the too-seldom-heard Bryan Nichols Quintet with the double sax frontline of Brandon Wozniak and Mike Lewis, along with Nichols on piano, James Buckley on bass, and JT Bates on drums. Nichols is an elegant composer who knows how to write to his cohorts strengths. And of course these cohorts have a wide range of talents to draw on. The Black Dog drew wall to wall listeners (and nonlisteners) each night. It was hard to move around and harder to find a seat. But it was well worth the effort. While fireworks filled the air in adjacent CHS Field (following the Saint's games), jazz fireworks filled the Black Dog.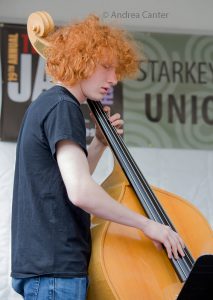 Liquid Vinyl and Dakota Combo, Youth Showcase at Starkey Hearing Technologies Stage at Union Depot (June 24). This year the Dakota Foundation for Jazz Education (DFJE) Youth Showcase was extended over two days, allowing 8 bands to participate. Each band defied age limits and raised eyebrows with its talented crew. Liquid Vinyl is led by a young drummer named Nick Adams, who also performed on Friday with Below Zero. Nick proved to be not only precocious on the trapset but behind the mic as well, introducing tunes and his cohorts with the confidence of a seasoned jazzman.  It's an important skill to learn early. The band's finale was cut short by the sudden cloudburst, but we'll be seeing them again as more and more venues offer young bands performance opportunities.  The Dakota Combo performs on the Youth Showcase every year as it is also a project of the DFJE, now completing its eleventh Combo season. Each year the band has a different configuration and character. This year, a piano-less quintet has performed at Studio Z, area schools, and soon will finish its year at the Iowa City Jazz Festival. Closing the Youth Showcase, the band impressed on mostly seldom-played modern jazz works. I couldn't help but think that in a year or two I will be seeing members of the bands like Liquid Vinyl on stage as the Dakota Combo.
Twin Cities Vocal Showcase at TPT (June 23-24). In an ideal situation, one would just sit down for the first vocal showcase set and stay put, and I am sure some did just that. My schedule and obligations precluded that, but I was able to get to this new indoor venue a few times over the weekend, catching the end of Charmin Michelle with Sam Miltich, the early part of Lucia Newell and her quartet, and the finale of Pippi Ardennia with PipJazz Youth alums. Each time, the room was full, even at the very end of the fest on Saturday when Pippi and her band were closing down the room at midnight. My biggest miss of the festival was my failure to get back to TPT for the second annual Singers' Scat Off! One of the most fun sets of the 2016 festival, the Scat Off returned with a bigger audience and bigger fun.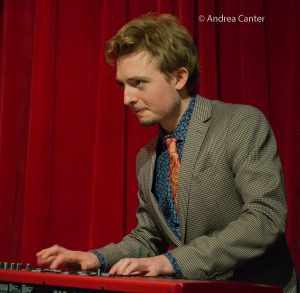 Group 47 at the Black Dog (June 24). Steve Kenny's cross-generation band features the under-appreciated Adam Tucker on bass and the almost under-age "veterans" Thomas Strommen on tenor, Will Kjeer on piano and Alex Burgess on drums. One-time weekly performers at the Artists Quarter, the band now convenes only sporadically given Kjeer's college schedule. Like most Steve Kenny projects, Group 47 relies on the compositional chops of its members — they not only play unique tunes, they have a unique rapport and their own sound. Needless to say, these late sets on the final night were standing room only.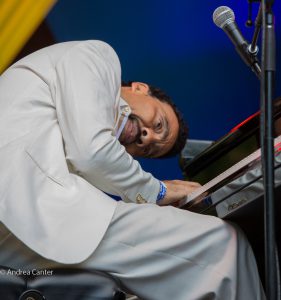 Bobby Lyle and Special Guest, Dan Kusz on the Main Stage (June 24).  Raised in the Twin Cities where he got his start performing in his teens, keyboard monster Bobby Lyle has been back a few times in the past year. He played the first part of the set on acoustic piano before moving to Hammond B-3, swinging with his trio all the way. But the surprise was a guest appearance by local contemporary artist, saxophonist Dan Kusz. Between his sky-blue pink suit jacket and his spiked hair, Dan looked more like a punk rocker than jazz saxophonist, but his performance cut through the difference, as he jumped, wailed, and twisted his way to stardom.  It's hard to steal a show from Bobby Lyle.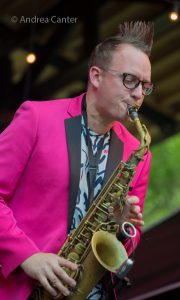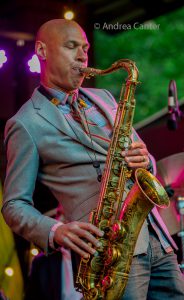 McCoy Tyner and Joshua Redman, Main Stage (June 24). Steve Heckler wanted to book McCoy Tyner from the beginning of jazz fest's run, and finally, declining health put Tyner on U.S. soil for his summer bookings. Nearing 80, McCoy could just as easily be 90, needing assistance walking to the piano and tracking his daily routine these days, yet once at the piano, the creative juice takes over and those fingers know just where to go, at least on Tyner's own material. But making the night more special, tenor strongman Joshua Redman was available to fill the horn chair, pairing up with Tyner for perhaps only the second or third time ever.  Redman joined bassist Gerald Cannon and drummer Francisco Mela in the first half of the set, and came out swinging and swaying and moving his feet as if tap dancing was just a natural extension of his saxophonics. Tyner came out about 4 tunes into the set, and including encore, led the band through four more, all Tyner originals. His chords may not have the power that has long defined his style, but it's still a thrill to see "the real McCoy." The Mears Park crowd spilled well out of its boundaries to witness this occasion. We might not have another chance here.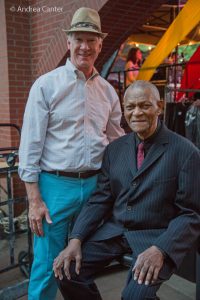 Ears buzzing, legs aching, media cards filled. Another festival success.