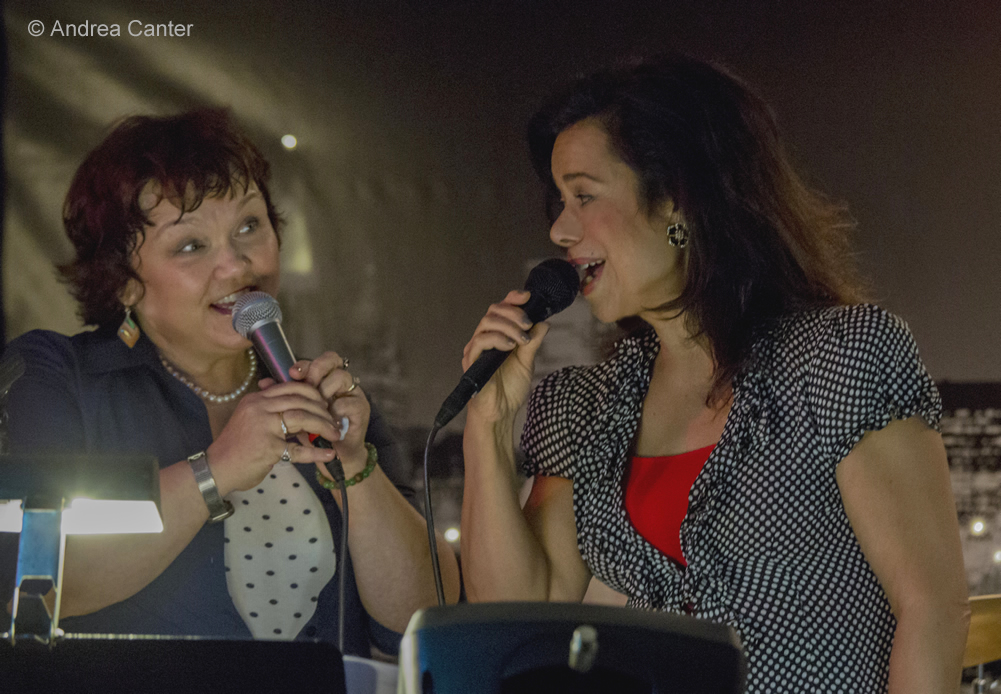 Two Twin Cities vocalists, each taking a somewhat twisting road into their careers as jazz singers, joined forces about three years ago to celebrate their mutual love of the swinging songs of the 20s-50s, forming the duo Retro Swing Sister. Rhonda Laurie and Maryann Sullivan have been pleasing both listening audiences and swing dancers ever since. On Saturday, February 20 at 7 pm, they come together on the Jazz @ St. Barney's concert series at St. Barnabas Lutheran Church in Plymouth. It will be a tasty program as Retro Swing Sister presents "Swingin' a la Carte," reflecting the singers' love of cooking through jazzy food songs.
Maryann Sullivan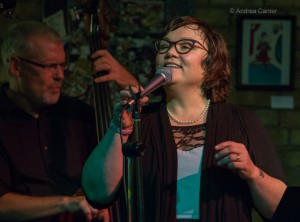 Although she played in the school band and heard the recordings of Louis Armstrong, the Dukes of Dixieland and Frank Sinatra throughout her childhood, Maryann Sullivan initially wanted to be a veterinarian. But rather than take all those math courses, she instead put herself on a somewhat jagged path toward a career in music. She attended Augsburg College as a flute student, studied broadcasting at the Brown Institute, and until recently worked primarily in radio and as a voice-over artist. A few years ago, she jokingly told her husband, bandleader Doug Haining, that she should sing in his band, the Twin Cities Seven. She was not envisioning singing in public, let alone making a recording, when she sought voice lessons with Vicky Mountain at the MacPhail Center for Music. "I would sing around the house," she recalls, "but then I started to think, 'I would really like to try that. So I will go learn how'… One of the benefits I got first was for my voice-over work. The singing exercises really helped my speaking voice.  And then I discovered my [higher] Blossom Dearie voice…Then I started to think, could I do that?" 
Today, Twin Cities jazz fans know her voice well – as former host of the Jazz Corner and Local Corner shows on KBEM Radio (where she currently appears weekly on the Morning Show with Ed Jones), as the vocalist with the Twin Cities Seven, and as the leader on her 2013 recording, Coffee Time. Although she initially gigged around the metro under the name Maxine Sousé ("I wanted to separate my radio self from my singing self, because it was new…"), friends convinced her to use her own name, and vocalist Maryann Sullivan went public. After appearing at venues that drew swing dancers (Eagles Club, The Nicollet), she teamed up with friend and vocalist Rhonda Laurie as Retro Swing Sister.
Rhonda Laurie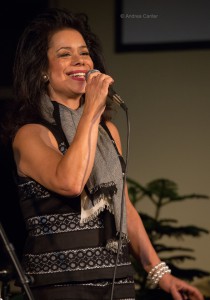 Rhonda Laurie is known for her savvy interpretation of jazz classics and less familiar repertoire that have been highlighted at venues throughout the Twin Cities and beyond, including the Dakota, 318 Café, Aster Café, Eagles Club, Barbette, Parma 8200, Jazz Central and Lake Harriet Bandshell. A "real" New Yorker who grew up in Queens, Rhonda's life was infused with music from the beginning. Her maternal grandfather was in New York vaudeville, a trumpeter and bandleader at the Plaza Hotel in the Catskills where young Rhonda spent her summers. Her maternal uncle was at one time the youngest trumpeter to play in Broadway pit orchestras. On stage at the Plaza, Rhonda was singing with her grandfather's band before she started kindergarten. Through high school, she continued "on stage," performing in and directing school productions, playing in a rock 'n roll band,  and attending the famed Neighborhood Playhouse School of Theater. After high school graduation, however, Rhonda was persuaded by her parents to pursue something more practical than show business. While completing her degree in pre-law at SUNY-Buffalo, however, she continued to take classes in art and dance, and even had some singing gigs in local bars. Still thinking about law school, Rhonda obtained training as a paralegal after graduation, and soon found herself working on Wall Street. Yet, "I knew something was missing." Ultimately she found a voice coach who involved Rhonda in cabaret, and later another who taught her the basics of singing jazz.
In 1989, Rhonda and husband Michael, a Twin Cities native, relocated to Minneapolis, and although she found a job as a paralegal, she soon realized she could not balance a fulltime job with her budding music career. As she became immersed in the Twin Cities' vocal jazz community, she found herself studying with the late Roberta Davis, who connected her to the late pianist, Bobby Peterson. "He played a big role in my jazz education…We played a lot together and he hired me for a few gigs, too…" Although "day jobs" still compete with her music, over the past few years Rhonda has performed and recorded with Sidewalk Cafe; sung in duo with guitarists Robert Bell, Joel Shapira and Reynold Philipsek; and has toured small town Minnesota and metro venues presenting her popular, state grant-funded Happy Days Are Here Again, a musical journey of songs that defined America from 1930s to the 1950s.  In spring 2013, Rhonda embarked on another musical venture, partnering with Maryann Sullivan as Retro Swing Sister, performing regularly at the Eagles Club, The Nicollet, Jazz Central and other venues. Rhonda has performed previously at St. Barney's, with pianists Phil Mattson and Rick Carlson.
Swingin' a la Carte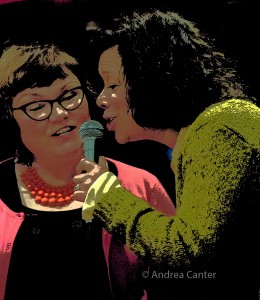 Joining Maryann and Rhonda for this "cooks' tour" of songs will be frequent collaborators, Robert Bell (guitar), Matt Peterson (bass) and Gus Sandberg (sax/clarinet). The ladies note that they "both love to cook as well as sing. So, we put our heads together and came up with a jazzy musical menu, from soup to nuts, [that] will delight your taste buds and entice your palate." Songs will include such lovely morsels as "Cook of the House,""Save the Bones for Henry Jones," "Spinach Song," "Jambalaya," "My Sugar," "Coffee Time," "Black Coffee," and "Hot Toddy." Adds Maryann, "Whether you prefer meat and potatoes, or strictly vegetarian, you will find something to enjoy… Soup's on!"
The Jazz @ St. Barneys concert series has been growing since the first season more than ten years ago, under the leadership of St. Barnabas Center for the Arts director, Jeff Whitmill. There are currently a dozen concerts during the fall-to-spring season, always featuring the most talented Twin Cities jazz musicians.
St. Barnabas Center for the Arts is located in the church at 15600 Old Rockford Rd, Plymouth. Tickets are $10 ($5 students) at the door only. See the full season on the program's website