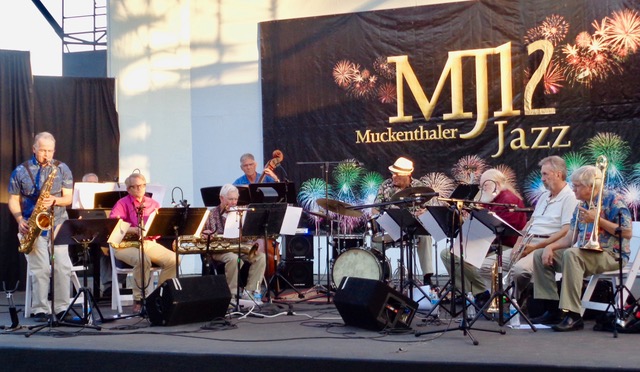 Glenn Cashman is a prominent tenor and alto saxophonist, composer, arranger, organist, and educator.  He is a bi-coastal musician and has been teaching at Colgate University in Hamilton, New York for many years and performing in both New York and Los Angeles as well. Muckenthaler Jazz Fest Producer Eric Futterer and Cashman have worked together closely for many recent years; Cashman is Artistic Director of the series.
Performing with his Southland Nonet at the 12th Annual festival in Fullerton, CA on June 22, Cashman began the evening announcing a special arrangement of the great jazz classic by Dizzy Gillespie, "A Night in Tunisia."  Pianist Ed Czach played gorgeously through early choruses.  Trumpeter Ron Stout delivered superb soloing.  This band of nine easily sounds like a big band.
Cashman introduced his Southland Nonet musicians:  Trumpet/Flugelhorn, Carl Saunders, Ron Stout; Saxes, Bruce Babad (alto), Glenn Cashman (tenor), Bob Efford (bari); Trombone, Scott Whitfield; Piano, Ed Czach; Bass, Luther Hughes; Drums, Paul Kreibich. The audience attending this last (of six) concerts was completely packed.
One of Glenn Cashman's composition pieces and a groovy one is titled "I've Got Your Rhythm."  Cashman gave a beautiful tenor solo.  Kreibich made brilliant and impressive drum fills.  The band made this one shine superbly.  Herbie Hancock's "Maiden Voyage," arranged by Cashman, began in Latinized form and branched off into several dynamic solos throughout the tune.  A number of pieces performed in this concert were from Cashman's 2012 CD Music Without Borders, with almost entirely the same personnel, with many excellent numbers and also exceptional listening as well.
Eric Futterer is also a composer.  Of two of his likable gems, "I Will Always Wait for You" (arranged by Cashman) featured Stout's smooth-flavored trumpet work once again;  "Carnival," a rousing number starting in Samba form, included impressive solos by Saunders, Efford, and Kreibich,  each receiving much applause.
Continuing in the second set, Cashman included two originals: "Prairie," a tune he said was similar to the movie, Blazing Saddles, reminding us of Count Basie's Big Band in the desert in this feisty film.  Cashman made several rhythmic changes woven into the chordal melodic changes of this pretty number.  His "Fall Color" composition, once again, had written melody over rhythmic changes and was nice and very serene.  Solos were again excellent, by Whitfield, Saunders, Efford, and Czach.    Other numbers included "Who Can I Turn To," "Cadenzas for Cadenas" (Cashman), "What Dolphins Say" (Cashman), "Artscape," and "Sumo," (Cashman).
Closing the concert, Glenn Cashman proposed a tune to do differently–"Magoo's Blues" by Paul McKee.  One part of the nonet played the first part of this blues and immediately following, the second side of the nonet performed as an opponent, playing against the first half of the nonet.  Results were exceptional.  Impressive solos came from Whitfield, Hughes, Cashman, and Kreibich.  The audience gave many rounds of applause and an appreciative standing ovation.
See websites: www.glenncashman.com and http://themuck.org
Adapted from L.A. Jazz Scene, July 2017