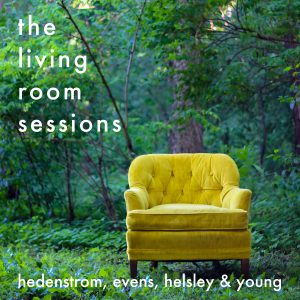 By Andrea Canter
(Note: Article based on press release from Shifting Paradigm Records)
After nearly three years, including one major schedule change and rebranding of the venue, Thursday Night Jazz at Reverie presents its final sets on Thursday, July 27 at 9 pm, pending venue relocation. Curator Steve Kenny has presented at least one band each week, starting out on Fridays in the cafe known as The Nicollet, and moving to Thursday around the same time that the venue rebranded as the Reverie Cafe + Bar. With a new tenant moving into the space at the end of the month, Reverie is seeking a new location that hopefully will support another live jazz series. But the end of Thursday Night Jazz at Reverie is also a celebration of the release of the collaborative album The Living Room Sessions, officially released on Shifting Paradigm Records on July 28. The quartet Hedenstrom, Evans, Helsley and Young features artists from across the U.S. who are all connected to the University of North Texas — from Minneapolis saxophonist Aaron Hedenstrom to Louisville pianist Gabe Evens, from Oklahoma City-based bassist Jack Helsley to Denton, TX-based drummer Matt Young.
The Living Room Sessions features 10 original compositions split between Hedenstrom and Evens, ranging stylistically from feel-good swing to tuneful contemporary compositions and lush ballads. The compositions highlight the dynamic group interplay and energetic spirit of each member of the band, striking a balance between intricate arrangements and open-ended solo sections. The sound of the album is that of modern jazz with vintage character. "The concept was that we would record in a comfortable setting and just feel free to play. That sense of freedom is present within the music," says saxophonist Hedenstrom. "I was inspired to write music that had strong melodies, rich harmonic sounds, and lots of soul." "Humble Lion", "Take Your Time", and "A Peace Beyond Words" contain melodies with soul and feeling, while "Blues For No Reason" asserts a brash sense of humor. "My contributions to this album are a collection of songs that I felt would fit the personalities of the band members. I gave each musician plenty of space to put his own stamp on the music," says Hedenstrom.
Pianist Gabe Evens composed a 5-movement suite for the album which takes the listener on a journey inspired by his daughter. "My 'Routine Suite' follows the daily activities of my three-year-old daughter. The day starts with the 'Dawn Routine' when her eyes crack open and she gets started with her day. 'Jamming Routine' is a high-energy samba written over the chord changes to 'All God's Chillun' Got Rhythm' and symbolizes high energy play throughout the day. 'Bath Time Routine' encapsulates this fun and sometimes raucous splash time. After bath, we wind down with 'Starlight Routine,' a mellow, lyrical piece. Finally, 'Dream Routine' is a nice-feeling, but unpredictable blues assumes activity happening behind closed eyes as her steady breathing brings on a deep sleep."
The album feels like a window into a live jam session where four dedicated musicians explore a challenging but rewarding collection of moods and styles. The quartet combines modern jazz sensibilities with a deep reverence for classic jazz and leaves the listener with a tasteful and deep listening experience.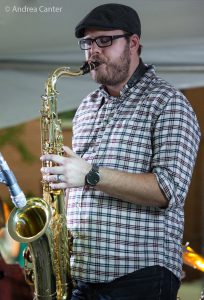 Saxophonist and composer Aaron Hedenstrom has performed across the United States as a saxophonist, clinician, and composer. He recently returned to Minneapolis after completing his doctorate in composition and arranging at the University of North Texas, where he met the other members of the quartet. Aaron has written numerous big band works, string arrangements, small group pieces, and chamber works. Some of his collaborations have included saxophonist Bob Reynolds, the University of North Texas One O'Clock Lab Band, vocalist Marlene Verplanck, vocalist Don Most, and S. Carey. Locally he has performed with Javier Santiago, Ted Olsen, Rodney Ruckus and more, and recently toured the Midwest with Tributary, another collaborative project of regional artists.
Co-leader Gabe Evens is Assistant Professor of Jazz Piano, Composition and Arranging at the University of Louisville, Jamey Aebersold Jazz Studies Program. He has performed throughout the United States and in Malaysia, Singapore, Spain, and France and has played with the Malaysian Philharmonic Orchestra, the Miami City Ballet Orchestra, the University of North Texas Symphony and Concert Orchestras, the UNT One O'Clock Lab Band, and the University of Miami Concert Jazz Band. As an arranger and composer, Gabe has released five albums of original music and has written a number of commissions, including works for Sheena Easton and Kate McGarry with the Cape Symphony Orchestra.
Jack Helsley is a bassist and educator based in Oklahoma City. After receiving a Bachelors Degree in Music from the University of Louisville, he toured extensively throughout Europe, Africa and the U.S. with the United States Air Force Band.  As a freelance bassist, he has been featured on numerous recordings of jazz, pop, rock, and country artists, and has performed with such notable talents as Jamey Aebersold, Lynne Arriale, David Baker, Michael Brecker, Randy Brecker, Joey Calderazzo, Bob Dorough, Michael Feinstein, Benny Golsen, Ernie Watts, and Jeff Watts.  He holds a Doctor of Music in Performance from The University of North Texas and a Masters in Jazz Studies from Indiana University. He has been on faculty at DePauw University, Eastern Illinois University, Western Illinois University, among other appointments, and formerly was co-host of the jazz radio show "Have You Heard" on WICR-FM.
Matt Young is a multi-award winning drummer, composer, and educator based in Denton, TX. Growing up in Marietta, GA near Atlanta, Matt developed a love of music and played drums through high school. In 2010 he won the Precussive Arts Society International Convention Drumset Competition (jazz). Matt enrolled at the University of North Texas to study with Ed Soph and immediately joined Bob Belden's Animation ensemble with Tim Hagans, recording Transparent Heart and Machine Language on RareNoise Records. He was invited to participate in the Ravinia Steans Music Institute for Jazz in Chicago in 2014, where he studied with Rufus Reid, Curtis Fuller, David Baker and more. A year later, he participated in Betty Carter's Jazz Ahead residency. In January 2017, Matt released his debut solo record, Headspace, on which Matt played all the instruments, recorded, programmed, and mixed all of the music. Also in 2017,
along with two of his most frequent collaborators, Addison Frei and Perrin Grace, Matt and the group AMP Trio released their third record, aptly titled, Three.
Reverie Cafe + Bar is located at the corner of Nicollet and Franklin in Minneapolis. No cover –the jazz series is funded via donations (tip jar) with a suggested $10 contribution.  The group will continue with a U.S. tour including dates in Kansas City, Oklahoma City, and Dallas in late July and early August. The tour schedule is available at www.aaronhedenstrom.com.