[Press Release]
"To my mind John was his generation's Jim Hall. His playing was always oriented around interplay with others, harmonic richness and flexibility, and tended more towards understatement a time when so many guitarists were moving in the opposite direction.. Like his music, John never aggressively sought the limelight; he simply tried to make the best music he could." –Marc Copland
John Abercrombie, one of the great improvisers, died on August 22, after a long illness.  He will be much missed, for his sensitive musicality, his good companionship, and his dry humor which enhanced many a session.   He leaves behind an extensive discography which will be studied as long as people continue to play jazz guitar.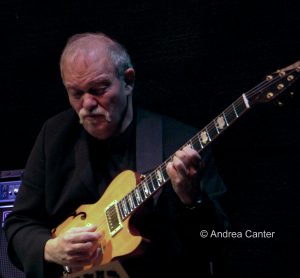 Born in Port Chester in Westchester County, New York in 1944, Abercrombie did not begin playing guitar until he was 14. A few years later, in 1962, he attended the Berklee College of Music. John made his first recording for ECM, the appropriately-titled Timeless, in the summer of 1974, with his lifelong friend Jack DeJohnette, on the drums, and Jan Hammer on organ.   Over the next four decades, he was active as leader, co-leader, and sideman on dozens of ECM projects.  A creative writer of jazz tunes, John also loved to play freely as much as he loved to play standards.  Many of his albums combine all of these resources, unified by his fluid, silvery tone and improvisational eloquence. In conversation he would speak of his enduring fondness for Jim Hall and Wes Montgomery, primary influences, and also of the liberating examples of Ornette Coleman and Jimi Hendrix; Bill Evans's sense of lyricism was also of crucial importance to him.
John Abercrombie led a number of very fine bands, and he was particularly proud of his last quartet with Marc Copland on piano, Drew Gress on double bass, and Joey Baron on drums.  This quartet released two albums, 39 Steps and Up and Coming, the latter just released in January 2017. Highlights in his recording career were many  and include the Gateway trio albums with Dave Holland and Jack DeJohnette,  the duo albums with Ralph Towner, the Special Editions albums (with DeJohnette, Lester Bowie, and Eddie Gomez),  Jan Garbarek's Eventyr,  Charles Lloyd's The Water Is Wide,  Collin Walcott's Grazing Dreams (where John and Don Cherry play together), Enrico Rava's The Pilgrim and the Stars, Kenny Wheeler's Deer Wan … the list goes on.
John died peacefully at Hudson Valley Hospital outside of Peekskill, NY, in the presence of his family.