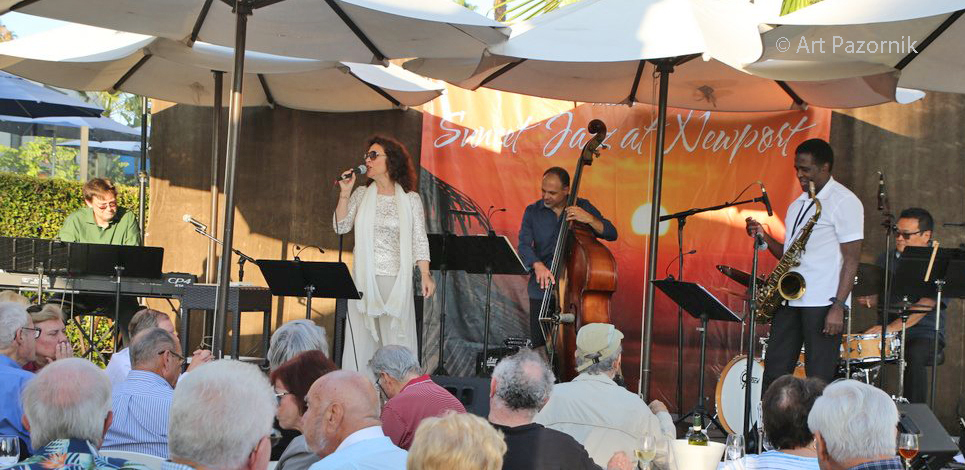 Superb vocalist Jackie Ryan gave a splendid performance at Sunset Jazz Newport in Marriott's Rose Gardens on August 9th.  The weather was once again perfect.  Ryan and  saxophonist Rickey Woodard's quintet performed exceedingly well with Quinn Johnson (piano), Chris Colangelo (bass), and Dean Koba (drums) rounding out the band. The Rose Gardens at Marriott Hotel in Newport Beach is an outstanding place for outdoor jazz concerts during summer evenings. The audience for this concert was filled to capacity.
After introductions from Joe Rothman, Jackie Ryan came to the stage and began a great opener, "Welcome to the Club," a superb number made famous by Nat King Cole (1959).  Woodard and the trio gave her fine backing.  Continuing, they performed a lovely ballad, "How Little We Know," part of the Great American Songbook from the 1944 film, "To Have and Have Not."  I noticed the rhythm section was very well balanced and the audience happily satisfied early on.  Woodard always fits perfectly into all the tunes.  Colangelo's bass solo was excellent.  Ryan's voice is clear, distinct and definite.  She and Quinn performed a duo number by the great Michel Legrand, "Summer Me, Winter Me," a superb ballad and highlight of the evening.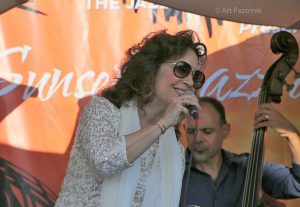 Ryan grew up surrounded by music, with both parents performing musicians.  There was always music in their home, inspiring her later interest and love of music, including jazz. She took a few moments to introduce surprise guest vocalist, Shep Sheppard, and his lovely wife Joy.  Shep still performs regularly in the Orange County area and is now celebrating his 100th birthday!  Jackie and the quartet dedicated a special tune for Shep's birthday, "Young at Heart." The audience gave all of them a big round of applause.
The band performed more terrific numbers before the intermission: "Between the Devil and the Deep Blue Sea" with tasty 8-bar breaks between Colangelo and Koba; "Why Don't You Do Right" (a 1936 number recorded by Peggy Lee with Benny Goodman); "Lover Come Back to Me" and "Slow Hot Wind"; and closing the first set, "To the Ends of the Earth," another standout tune of the evening.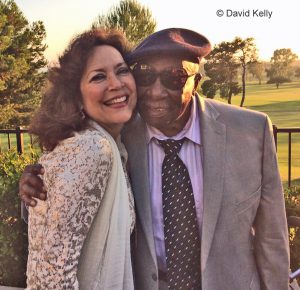 In set two, the band played the fine standard, "My Shining Hour." Woodard began wonderful choruses and the rhythm section  provided some of its best solos, including Quinn and Woodard sharing choruses and more rhythmic tradeoffs of 8-bar breaks between Colangleo and Koba.   "What a Little Moonlight Can Do," written by Harry Woods (1934) and sung in the movie, Road House, continued.  Ryan sung this with all the fervor and passion needed for this beautiful number.  Billie Holiday also recorded this one during her vibrant career.  "The Gypsy in My Soul" was performed superbly by all.  It is a great vocalizing number.  Johnson's piano work was outstanding in this tune and other numbers, too.
Finishing this exceptional concert were "Estate," "I Cried For You" (Duke Ellington's Sound of Love), "Siboney," "You Go to My Head," and closing with the fantastic "Caravan!"  Drummer Dean Koba made it a big showpiece with his drum solo.  During this last number (and in many others), Jackie Ryan danced to the music, adding much to the show.  As I stated in a previous review of Ryan, "She always dances to the music" and "Her stage presence is excellent."
The Sunset Newport Jazz audience happily gave a big standing ovation to Ryan, Woodard, Quinn, Colangelo, and Koba for their superb performance.  There are a few more excellent concerts at Sunset Jazz Newport concluding on Wednesday, September 20, 2017.  See Jackie Ryan's website: www.jackieryanmusic.com  and www.sunsetjazzatnewport.com
Adapted from  L.A. Jazz Scene website, September 2017