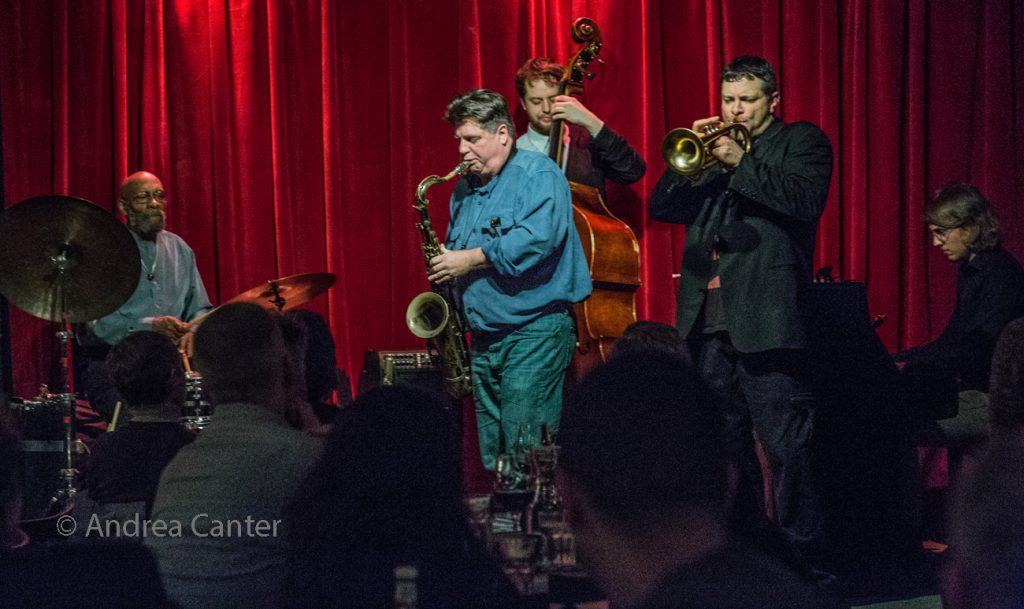 © Andrea Canter
It's not likely to be "below zero" and we have another month to go before we switch to standard time, but the bands on this weekend's installment of Saturday Night Jazz at the Black Dog are nevertheless ready for a blowout. Keeping it warm and in time will be Below Zero (7 pm), appearing on the JazzINK Youth Showcase, and Central Standard Time (8:30 pm), on September 23.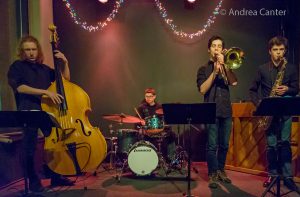 Below Zero (7 pm)
Below Zero is high school combo at the MacPhail Center for Music, directed by renowned clinician and saxophonist Greg Keel. The quintet includes Noah Willhite on tenor sax (10th grade, Southwest High School); Jacob Rochelle-Share on trombone (10th grade, Southwest High School); August McKinney on piano (10th grade, Southwest High School), Jorgen Linne on bass (11th grade, Southwest High School), and Nick Adams on drums (11th grade, Totino Grace High School). Over the past two years, Below Zero has performed at the Black Dog, Barely Brothers Records, Pepitos, the Marsh, Jazz Central, Reverie, Warming House, Twin Cities Jazz Festival, and more. The band also appeared on the JazzINK Youth Showcase last year. Two members of Below Zero–Jorgen and Nick– will be performing with the Dakota Combo this school year.
It's September–why are they "Below Zero?" Because they are "beyond cool"!
Central Standard Time (8:30 pm–Central Daylight Time)
Under the leadership of Saturday Night Jazz at the Black Dog curator Steve Kenny, CST launched about two years ago and has involved a rotating, cross-generation cast of area artists. This weekend, that cast includes an all-veteran ensemble with Kenny on Flumpet, Dave Brattain on saxophone, Peter Schimke on piano, Ron Evaniuk on bass, and Eric Kamau Gravatt on drums.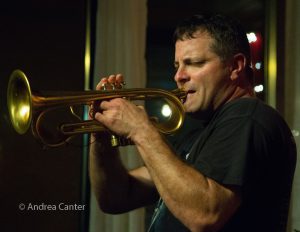 Steve Kenny studied at the University of Wisconsin-River Falls. Among many projects, he has performed with What Would Monk Do, the Cedar Avenue Big Band, and Larry McDonough's quintet (tribute to Chet Baker) as well as leading several editions of his own quartet. He's also known as co-founder of the Illicit Sextet, an ensemble popular in the 1990s before taking a long hiatus, and back in action for the past six years. Steve has received a Minnesota Music Award, West Bank School of Music Jazz Composer award, and multiple honors as Best Jazz Trumpet at the Eau Claire Jazz Festival. With support from a state arts board grant, he curated the ten-week "All Originals" jazz series at Studio Z for two summer seasons, continuing with a shortened schedule in summer 2016. In fall 2014 he launched the weekly Saturday Night Jazz at the Black Dog series, and in spring 2015, brought a similar series (Friday Night Jazz) to The Nicollet, recently rebranded and rescheduled as Thursday Night Jazz at Reverie. And that instrument he plays? It's a FLUMPET™– a hybrid trumpet/flugelhorn.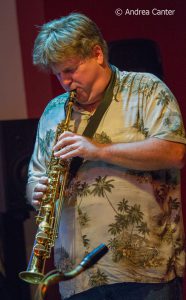 Saxophonist Dave Brattain is a 20+-year veteran of the Cedar Avenue Big Band and Vanguard Variety Ensemble, has toured the U.S. with Troupe America (1940s Radio Hour), and has been featured with pianist Ben Sidran. Locally, he's played with the Paul Renz Quintet, Jon Pemberton Quintet and JazzMN Big Band, as well as leading and co-leading his own ensembles, most recently heard at the Black Dog and Jazz Central. Currently Brattain is on the faculty of Wayzata High School.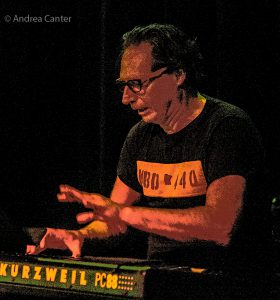 Peter Schimke launched his music career at age 8, playing piano and drums. His first pro gig was with the New Psychenauts and he played early rock gigs as keyboardist with Charlie Musselwhite at Blue Max on Maui. Over his career, he has toured or recorded with Art Farmer, Tom Harrell, Fareed Haque, Mark Murphy, Victor Wooten, Estaire Godinez, Rita Coolidge, and recently, with saxophonist Jerry Bergonzi with whom he recorded a live concert. He is also singing, playing keys and composing for a new solo project. Locally Peter can be heard with What Would Monk Do and How Birds Work. He is also on faculty at the McNally Smith College of Music.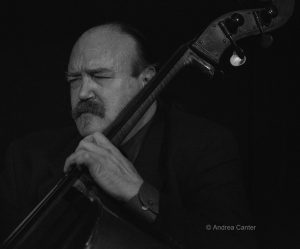 Bassist with the Americana Classic Jazz Orchestra (devoted to the big band music of the 20s and 30s), JazzMN Orchestra,  and leader of his own quartet, Ron Evaniuk recorded with Twin Cities trumpet legend Gene Adams and has played with George Avaloz, in addition to his long-standing work with Source Code.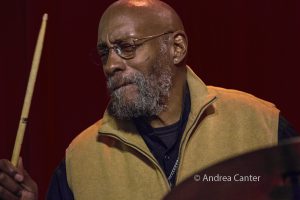 An alum of the bands of McCoy Tyner, Joe Henderson, Freddie Hubbard and Blue Mitchell as well as Weather Report, Eric Kamau Gravatt essentially has had two careers in jazz with a couple decades of separation. Invited to join Miles Davis, Gravatt turned down the Prince of Darkness to follow Wayne Shorter into Weather Report, with whom he toured and recorded in the early 70s. He moved on to the fusion band Natural Life (with Bobby Peterson and Bob Rockwell), a move that brought him to the Twin Cities some 30 years ago. Demands of family and a desire for financial stability took Gravatt out of fulltime music and into fulltime work as a guard at the Minnesota Correctional Facility in Lino Lakes. Only after retiring from Lino Lakes did Gravatt return to his calling, touring again with McCoy Tyner, performing with his band, Source Code, and engaging in some more experimental improvisations with metro area musicians including Adam Linz, Brandon Wozniak, Joel Shapira's Bottomless Pit, and Dean Magraw, with whom he released Fire on the Nile.
Saturday Night Jazz at the Black Dog is curated by Steve Kenny. No required cover charge but tips ($10 suggested) to the tip jar are appreciated to support the venue and the band. The Black Dog is located in the Northern Warehouse at street level, 308 Prince Street (at E. 4th Street and Broadway) in St Paul's Lowertown. Full Saturday Night schedule at www.saturdaynightjazzattheblackdog.com