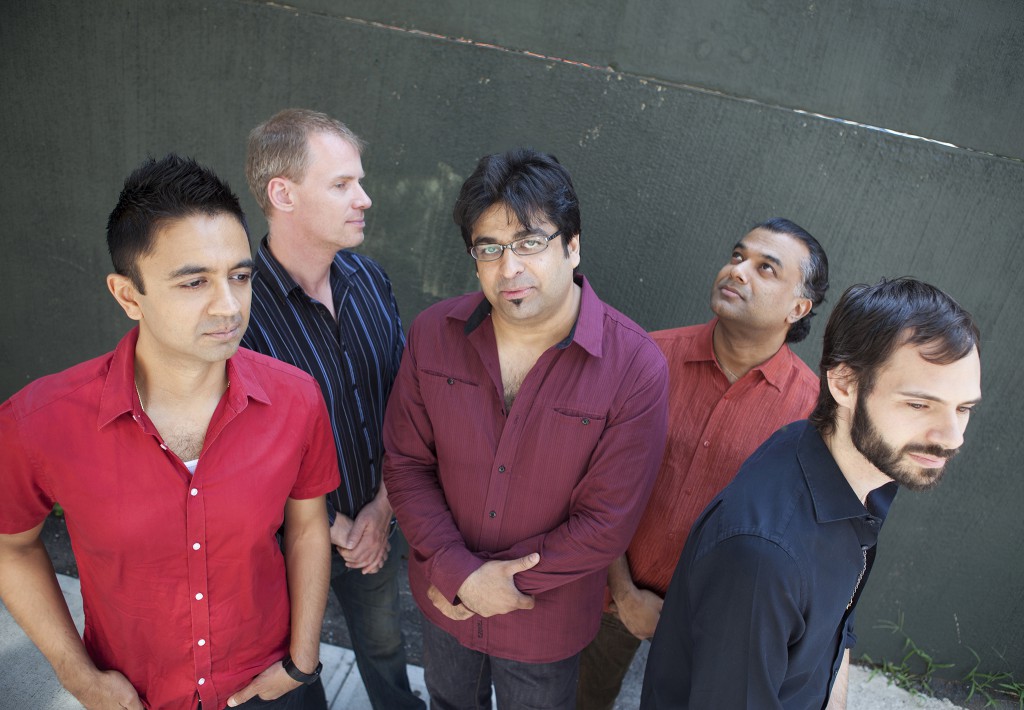 East meets West on the stage of jazz improvisation when the Walker Art Center presents Rez Abbasi's Invocation ensemble in the McGuire Theater on Thursday, February 25.  For this project, Pakistani guitarist Abbasi melds modern jazz and South Indian Carnatic traditions with support from a cast of internationally renowned artists–saxophonist Rudresh Mahanthappa, pianist Vijay Iyer, bassist Johannes Weidenmueller, and drummer Dan Weiss, along with new addition, cellist Elizabeth Means. Making it a stellar doubleheader, Mahanthappa's Indo-Pak Coalition with Abbasi and Weiss plays an opening set.
Rez Abassi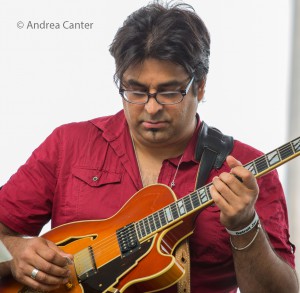 A native of Karachi, Pakistan who relocated to Southern California at age 4, Rez Abbasi studied jazz and classical music at the University of Southren California and the Manhattan School of Music. He also studied in India under master percussionist, Ustad Alla Rakha.  Based in New York for nearly 30 years, Abbasi is highly regarded as one of the top modern jazz guitarists in the world, named in the top ten by Down Beat critics for 2015. His performance and recording credits include Kenny Werner, Tim Berne, Marc Johnson, Billy Hart, Dave Douglas, Rudresh Mahanthappa, Tony Malaby, George Brooks, Ronu Majumdar, Kadri Gopalnath, Marilyn Crispell, Greg Osby, Howard Levy and many more. He's also served as music director, arranger and producer for his wife, Juno Award-winning vocalist Kiran Ahluwalia. Of his significant collaborations, he has worked with Mahanthappa in the saxophonist's Indo-Pak Coalition and Kinsmen ensembles.
Abbasi has released a long list of acclaimed recordings, including Snake Charmer (2005), described by 20th Century Guitar as "one of the best examples yet of how to merge Indian Classical music with jazz."  Abbasi's sixth album, Things to Come (Sunnyside, 2009, the first of his Invocation ensemble, was included in DownBeat's Top CDs of the Decade, and led to a grant from Chamber Music America to compose new music for the ensemble. This first edition of Invocation included vocalist Kiran Ahuluwalia; Abassi noted that he wanted to bring her "from the world of raga into more improvised music and open her up." For the ensemble's second release, Suno Suno (2012), Abbasi integrated Sufi devotional music from North India ("qawwali") and jazz.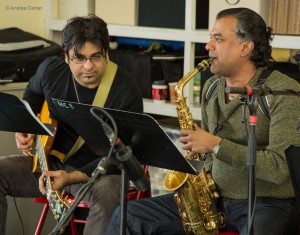 Now, Abbasi is preparing to record a third Invocation project, Unfiltered Universe, exploring the South Indian classical tradition, Carnatic music, and how it informs modern jazz. And there's a strong Minnesota connection to these new compositions — in 2014, Abbasi performed in an ensemble led by Mahanthappa in collaboration with the Minneapolis-based Ragmala Dance Company.  "I learned a lot about the Carnatic aspect performing with Rudresh and [traditional Indian saxophonist] Kadri Gopalnath," Abbasi told Star Tribune writer Britt Robson, "playing within the context of the music instead of just studying it. But seeing the dancers dance the rhythmic ideas and having to internalize them in the music, that's where it's at."
Invocation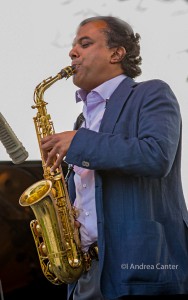 Rudresh Mahanthappa has been praised for his energetic blending of South Indian classical music and modern jazz. A perennial winner of the Jazz Journalists Association's "Alto Saxophonist of the Year" and a Guggenheim Fellow, Mahanthappa is a second generation Indian-American born in Boulder, CO. After studies at the Berklee College of Music and DePaul University, he began intensive studies of Indian music with Kadri Gopalnath, master of Carnatic music; Rudresh and Gopalnath continue to collaborate on recordings and concerts. In addition to the Indo-Pak Coalition, Mahanthappa leads a quintet which released the highly regarded Bird Calls in 2015; Other collaborations have included Apex with Bunky Green, Kinsmen,which he co-led with Kadri Gopalnath, and Raw Materials, his duo project with Vijay Iyer.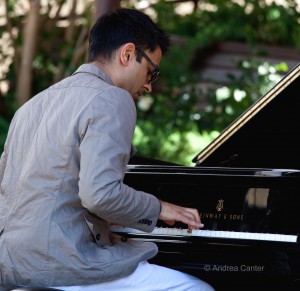 Vijay Iyer brings to his unique jazz modernism a background eclectic in both its cultural and musical influences. Born and raised in upstate New York, the son of Indian immigrants started on violin as a toddler but was more interested in his sister's piano. He continued violin studies but is entirely self-taught as a pianist and composer who discovered jazz in his teens. He played original music with his own ensembles through college, earning a Master's Degree in physics at 22 and a doctorate in music and cognitive science from UC-Berkeley in 1998. Over his career, Vijay has performed with Steve Coleman's Five Elements, Roscoe Mitchell's avant garde Note Factory, trumpeter Wadada Leo Smith's Golden Quartet, poet Mike Ladd's Fieldwork, and poet-activist Amiri Baraka's Blue Ark. He's worked with Rudresh Mahanthappa in the duo "Raw Materials," collaborated with Craig Taborn on a two-piano duo series, and tours and records with his trio (with Stephen Crump and Marcus Gilmore) and his his South Asian trio "Tirtha." Iyer is a 2013 MacArthur Fellow and was appointed as the Franklin D. and Florence Rosenblatt Professor of the Arts at Harvard University in 2014.
Bassist Johannes Weidenmueller emigrated to the U.S. from his native Germany to study at the New School, where his teachers included Ron Carter, Dave Holland and Buster Williams. He has performed with a who's who of modern jazz over his two-decade career, including Hank Jones, John Abercromibe, Joe Lovano, Brad Mehldau, John Scofield, Randy Brecker, Joshua Redman, and Kenny Werner.
Dan Weiss began playing drums at age 6, ultimately earning his degree at the Manhattan School of Music. He's toured and recorded with David Binney, Lee Konitz, Miguel Zenon, Kenny Werner and Rudresh Mahanthappa, with whom he has recorded as a member of the Rudresh Mahanthappa Quartet and Invocation. He's also studied tablas for 20 years, and leads his own trio with Jacob Sacks and Thomas Morgan.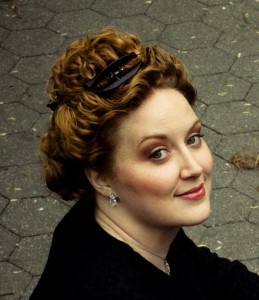 Cellist Elizabeth Means earned degrees from the University of Southern California, Universitaet der Kuenste Berlin, and the Manhattan School of Music. She made her Carnegie Hall debut as a soloist with Pinchas Zuckerman and was a Fellow for three summers at the Tanglewood Music Center. In addition to her work with Invocation, her recent collaborations include performing alongside Bobby McFerrin in Brian Greene's PBS special The Music Instinct: Science and Song; the world premiere of Peruvian/Chinese/Lithuanian/Jewish composer Gabriela Lena Frank's Puntos Suspensivos with Ballet Hispanico; and recording with rising folk star Emily Mure on her latest album, Odyssey.
Of the new compositions from Rez Abbasi, Vijay Iyer noted that "the new songs are great because they give us more space to push on them and shape them as we interact together. The way improvisation functions is more central than in the first two records. So even the places that are carefully orchestrated, with the cello and the beautiful colors and counterpoint, it can still be cracked wide open for the band to create a path through the music…There are a lot of grooves we can dig into. But it is not so much about soloing or burning, but creating radiance as a pulse when we communicate."
Radiance will emanate from the McGuire Theater stage when the Indo-Pak Coalition and Rez Abbasi's Invocation perform on Thursday, February 25, 8 pm.
A few tickets remain for this concert. The Walker Art Center is located at 1750 Hennepin Avenue, just west of downtown Minneapolis; box office 612-375-7600.