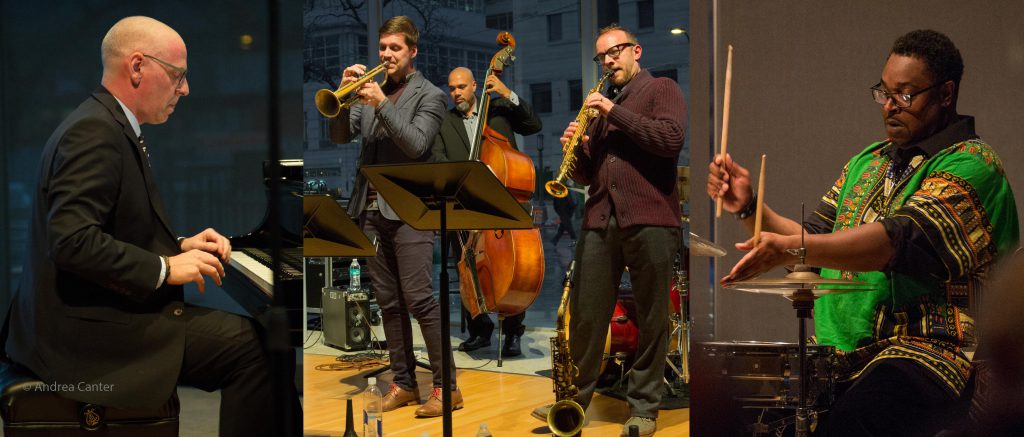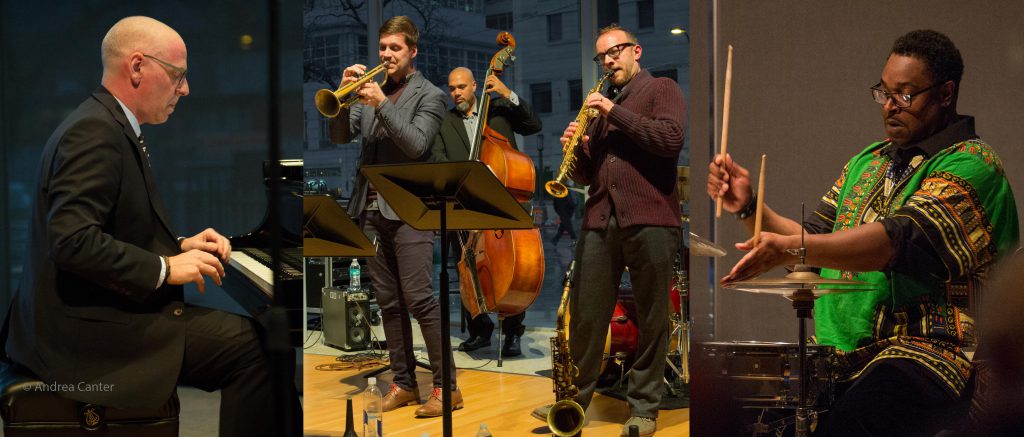 © Andrea Canter
Folklore suggestions Friday the 13th is a day for apprehension, bad luck, black cats, etc. At Orchestra Hall on this upcoming October Friday the 13th, we have a night of enthusiastic anticipation, good luck, and talented jazz cats as Jeremy Walker opens his fourth Jazz in the Target Atrium season with a nod to "Drum and Trumpet."  Joining pianist and director Walker will be trumpeter John Raymond and drummer Kevin Washington, with ample support from the rest of the Atrium Jazz Ensemble — saxophonist Chris Thomson and bassist Jeff Bailey.
Drum and Trumpet
From trumpeters Clifford Brown and Dizzy Gillespie to modern magicians like Roy Hargrove and Terence Blanchard, from ancient cultures where the drums were the primary mode of communication to such trapset giants as Roy Haynes and Max Roach and young titans like Marcus Gilmore,  drums and horns have been universal partners. These instruments, in their primitive and modern forms, have provided "fundamental sounds of celebration and dance, a call to action, and a reverie. In jazz, they can whisper and shout, cajole and soothe" (Minnesota Orchestra).
The Atrium Jazz Ensemble, October 13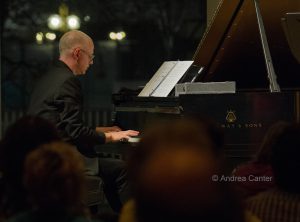 Minneapolis native Jeremy Walker (aka "Boot") started playing the saxophone at age ten, turning to jazz at age 14. After founding the short-lived Brilliant Corners club in 2003, he was named Best Local Impresario by City Pages; he also founded the nonprofit Jazz Is Now organization (and led its Nownet) and served as the first curator of the Dakota Late Night series. In 2005, when autoimmune disease (later diagnosed as Lyme Disease) interfered with the saxophone, Walker immersed himself in the piano, studying with David Berkman and Frank Kimbrough via a Jerome Foundation Grant, and turning more deeply to composing. Walker spread his wings, moving to New York in 2009 where he quickly became an active participant in the jazz scene and explored new collaborations. He returned to the Twin Cities in 2012 to be closer to family, but has maintained his Big Apple connections.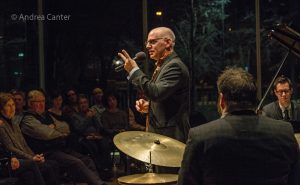 Walker led the Small City Trio, which released its debut recording, The Pumpkins Reunion, in 2010, as well as Boxcar, Bootet and Boot Camp. He was recruited to write a six-part blog for Walker Art Center and MnArtists.org, entitled "Jazz Is a Bastard," and has been a regular contributor to MnArtists.org. Over his career he has worked with such luminaries as Anthony Cox, Wessell "Warmdaddy" Anderson, Ted Nash, Matt Wilson, Vincent Gardner, Ron Miles, and Carei Thomas. He has also had collaborations with Alvin Ailey alumni, TU Dance, and Zenon Dance Company; composed commissions for Jackson State University (AL), North Dakota Jazz and Bethel University; and has written over 70 compositions for his ensembles. Jeremy's recent works include scoring Photographic Justice: The Corky Lee Story (release date 2013), and 7 Psalms (2014). He currently can be heard monthly with his trio at Vieux Carre' and around town with his new ensemble, the Songtet. Jeremy launched Jazz in the Target Atrium at Orchestra Hall in late 2014, now in its fourth season.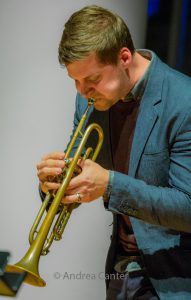 Few young musicians truly find success when they spread their wings in the Big Apple. That John Raymond found plenty of work as a sideman and leader within a few years of his graduation from the University of Wisconsin-Eau Claire is in part testimony to his artistic talent, in part to his tenacity in marketing his music. Both have served him well on the New York scene: In addition to completing his master's degree under Jon Faddis at SUNY-Purchase, Raymond has gigged regularly with his own ensembles throughout the Manhattan club circuit and on national tours; participated in the renowned Festival of New Trumpet; received the 2015 Herb Alpert Young Composer Award; released his debut album Strength and Song, and released a well-received quartet recording on Fresh Sound/New Talent, featuring the great drummer, Billy Hart (Foreign Territory, 2015).  Fortunately for Twin Cities' audiences, John returns "home" often, and on one of those visits in fall 2014, he performed at Studio Z with what he then called his Roots Trio with Hekselman and Stranahan. Shortly thereafter, the trio went into Terrarium Studios in Minneapolis to lay down the tracks that became Real Feels.  A few months later, John received the 2015 Herb Alpert Young Jazz Composers Award from ASCAP. With the first Real Feels live recording behind him and volume 2 in the works, Raymond decided it was time to spread his wings wider, taking the trumpet faculty position at Indiana's Jacobs School of Music in fall 2017. Now closer to "home," John will hopefully be a more regular presence on the Twin Cities Jazz scene– he was recently in town with Real Feels, will appear in the Dunsmore Room on October 15,  and will perform with a new "Jazz Is Now" trio at the Icehouse on October 16.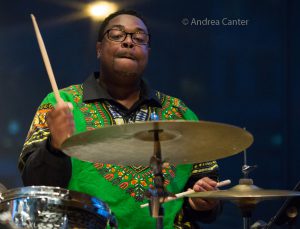 Barely into his 40s, drummer Kevin Washington already has three decades of professional experience, from stages in Detroit to New York to the Twin Cities. A dedicated performer, composer and educator, Kevin was born in Detroit, the son of jazz artists/teachers Faye and Donald Washington, starting drums at age 4. At thirteen, he moved with his family to the Twin Cities, and quickly became part of the local music community, spreading his talents across jazz, Latin, reggae, and funk bands. Moving to New York to attend the New School in 1996, Kevin gained experience with Chico Freeman, Arnie Lawrence, Antonio Hart and James Carter, and taught rhythm at the Harlem School of the Arts. Since returning to the Twin Cities, Kevin has been in high demand to support such national touring artists as Steve Slagle, Dave Stryker, the late David Fathead Newman, Rodney Jones, and James Carter; has played with Moveable Feast, Doug Little, the Heptones, Nachito Herrera, Bruce Henry, Andres Prado, Pete Whitman's Mississippi, and the Atrium Jazz Ensemble, as well as leading his own bands.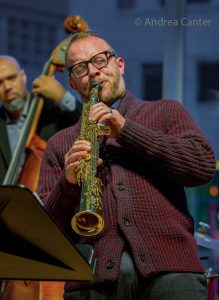 Saxophonist/composer Chris Thomson attended the U of M and Lawrence Conservatory, toured with the Glenn Miller Orchestra, and has appeared with Delfeayo Marsalis in addition to local collaborations with the New Standards, Anthony Cox, Dosh, Chris Morrissey, Dave King, Bryan Nichols, Michael Lewis, Adam Linz, Adam Levy, Kelly Rossum, Jeremy Walker, Chris Bates' Red Five, and more. Most recently he has been on tour with Bon Iver. Chris has released two recordings as leader and keeps a busy teaching schedule at the Performing Institute of Minnesota (formerly Mainstreet School of Performing Arts) in Eden Prairie, Hamline University, and MacPhail Center for Music.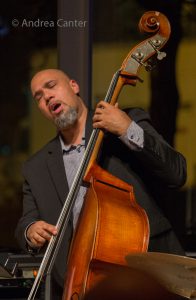 Jeff Bailey is well regarded as a bassist, composer, teacher and producer. He has performed with such local and international stars as Captain Jack McDuff, Craig Taborn, James Carter, Nachito Herrera, Eric Gravatt, Rodney Jones, Dave King, Brian Lynch, Wessel Anderson, Andrés Prado, Doug Little, James Moody, Ellen Lease and Pat Moriarty.  Beyond jazz, Jeff has also toured and performed with Keri Noble, Joey McIntyre (NKOTB), Tommy Barbarella (Prince), Charles Lazarus (Minnesota Orchestra), Reverend Billy Steele and more. Jeff has also received accolades for producing a Minnesota Music Award-winning CD for Alicia Wiley, received a Best of the Twin Cities Award as a founding member of Moveable Feast, and a Minnesota Music Award nomination for best Bass Player of the Year.
Jazz in the Target Atrium
Of the series, the Pioneer Press notes "Orchestra Hall's Target Atrium is the Twin Cities' answer to New York's Dizzy's Club Coca Cola in Lincoln Center—a smaller, more intimate venue where listeners can enjoy concert hall-quality jazz." The Target Atrium even looks like Dizzy's, with windows on three sides overlooking the bright lights of Nicollet Mall. As for the music, it will match the best in the Big Apple, note for note, trumpet squeal and drumbeat. Other concerts in the 2017-2018 season:
February 23, "At the Piano" (Jeremy Walker, Bryan Nichols, Javier Santiago, Chris Lomheim)
April 13, "The First Instrument" featuring Bruce Henry with Atrium Jazz Ensemble (Trio)
Tickets $32; student rush $17; children 17 and under, $12 — www.minnesotaorchestra.org.   Orchestra Hall is located at 1111 Nicollet Mall in downtown Minneapolis.