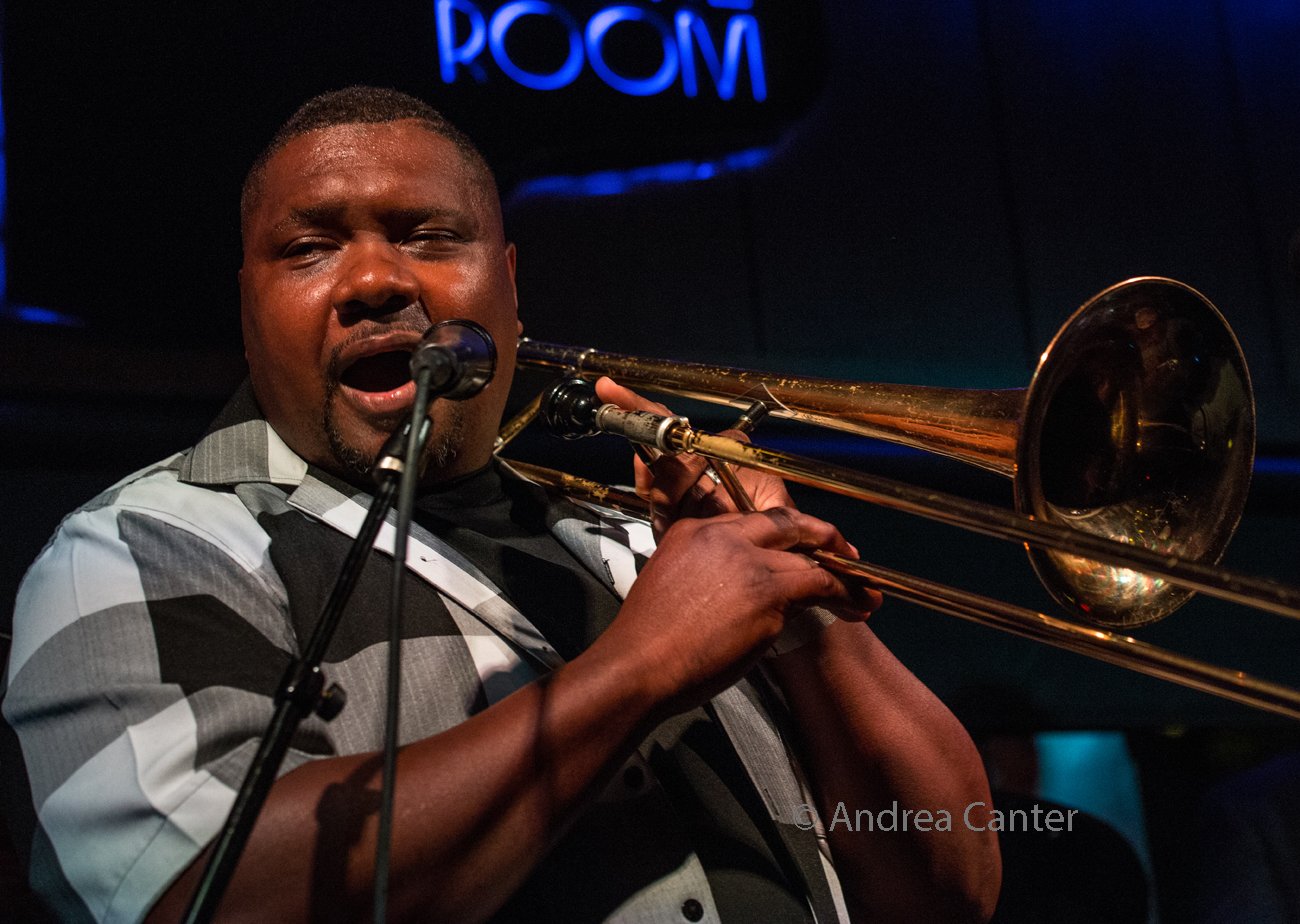 © Andrea Canter
The JazzMN Orchestra opens its 2017-18 season in the Ordway Concert Hall in downtown St. Paul on Friday, October 20, 7:30 pm. Featured guest artist will be award-winning trombonist Wycliffe Gordon, along with local vocal sensation Yolande Bruce, joining JazzMN in a tribute to jazz legend Louis Armstrong. It's a busy Minnesota week for Gordon, who also performs on Thursday, October 19, 7:30 pm in the intimate setting of the Dunsmore Room at Crooners Lounge in Fridley. His Twin Cities rhythm section will include Rick Carlson on piano, Graydon Peterson on bass, and Nathan Norman on drums.  By the end of the JazzMN concert on Friday, Gordon will be familiar with 20 great local talents!
Wycliffe Gordon has long been associated with the Jazz at Lincoln Center Orchestra under the direction of Wynton Marsalis. He can scat, multi-tone, slide and plunge, as if  he stepped out of the 1930s. Born in Waynesboro, Georgia, Wycliffe was exposed early to music in church, where his father was an organist as well as a classical pianist and teacher. Gordon took an interest in jazz in 1980 at age thirteen, listening to jazz records inherited from his great-aunt. In particular, he was drawn to Louis Armstrong and the Hot Fives and Hot Sevens. Wycliffe studied trombone in junior and senior high school programs in Augusta, GA, and was selected for the McDonald's High School All-American Band. He continued studies at Florida A & M University where he also played in the marching band. While attending Florida A&M, Gordon met Wynton Marsalis who invited him to join the Wynton Marsalis Septet and Lincoln Center Jazz Orchestra, where Wycliffe contributed as performer and composer. He also wrote the music that became the theme for NPR's All Things Considered. Over his career, Wycliffe has performed with jazz titans Dizzy Gillespie, Joe Henderson, Branford Marsalis, Lionel Hampton, Tommy Flanagan, and Shirley Horn, among others.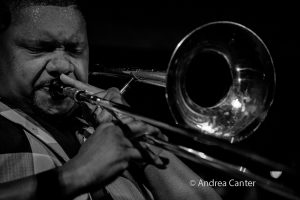 Wycliffe Gordon has topped many reader and critics polls, including multiple "best of the year" awards from Downbeat, Jazz Times, and the Jazz Journalists Association. He received the Louis Armstrong Memorial Prize from the Swing Jazz Culture Foundation, was named Artist of the Year by the Augusta Arts Council, and is a past recipient of the ASCAP Foundation Vanguard Award. In addition to recording and leading his Wycliffe Gordon Quintet, he tours internationally and has a long list of commissions. Gordon is also a dedicated educator, having held positions at the Juilliard School of Music, Michigan State University, and Manhattan School of Music; currently he is Artist in Residence at Georgia Regents University in Augusta, GA and has served three years as Artist in Residence at the Louis Armstrong Legacy Project in Chicago. His latest recording (2016) is Within These Gates of Mine.
Notes JazzMN Artistic Director Doug Snapp,  "We're excited to have the extraordinary Wycliffe Gordon perform his Tribute to Louis Armstrong with the JazzMN Orchestra. Wycliffe brings a unique combination of talent and just plain fun as both a trombonist and vocalist. Joining Wycliffe in a vocal duet (a la Louis and Ella) is the Twin Cities' own Yolande Bruce.  This will be her premiere performance with the JazzMN Orchestra."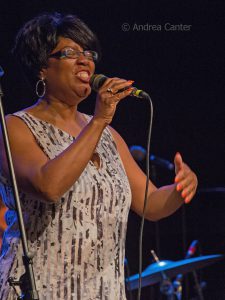 Yolande Bruce is well known throughout the Twin Cities and beyond as a member of the award-winning ensemble Moore by Four. With MB4, Yolande has performed nationally and internationally, opening for such legendary artists as Dizzy Gillespie, Sarah Vaughan, and BB King. A Minnesota Music Awards nominee for Best Female Jazz Artist, Yolande remains active in local theater, appearing on the Penumbra, Illusion, Guthrie and Ordway stages, and has performed at local venues such as the Dakota, Orchestra Hall, and The Fitzgerald Theater.
One of the top big bands in the Midwest, the nonprofit JazzMN Orchestra was formed in 1999 to "promote, preserve and perpetuate jazz, America's indigenous art music, through performance, historical preservation, and education." The band is directed by founder Doug Snapp and features some of the best musicians in the Twin Cities: Saxophones – Brian Grivna, Pete Whitman, Dave Karr, Doug Haining, and Kathy Jensen; Trombones – Michael B. Nelson, Dave Graf, Ethan Freier and Wade Clark; Trumpets – Bob Hallgrimson, Jeff Gottwig, Adam Rossmiller and Dave Jensen; Piano – Mary Louise Knutson; Guitar – Chris Olson; Bass – Gary Raynor; and Drums- Joe Pulice.
The Ordway Concert Hall is located within the Ordway Performance Center at 345 Washington Street in downtown St. Paul. Tickets ($15-$47) at 651-224-4222 or visit www.ordway.org. Information about the JazzMN Orchestra season is available at www.jazzmn.org. Remaining concerts will be held at the Chanhassan Dinner Theater (December 18) and Hopkins High School Auditorium (March 10 and April 7).  Wycliffe Gordon appears on October 19 in the Dunsmore Room at Crooners Lounge, located at 6161 NE Highway 65 (Central Av NE) in Fridley, just north of I-694. Tickets at www.croonersloungemn.com