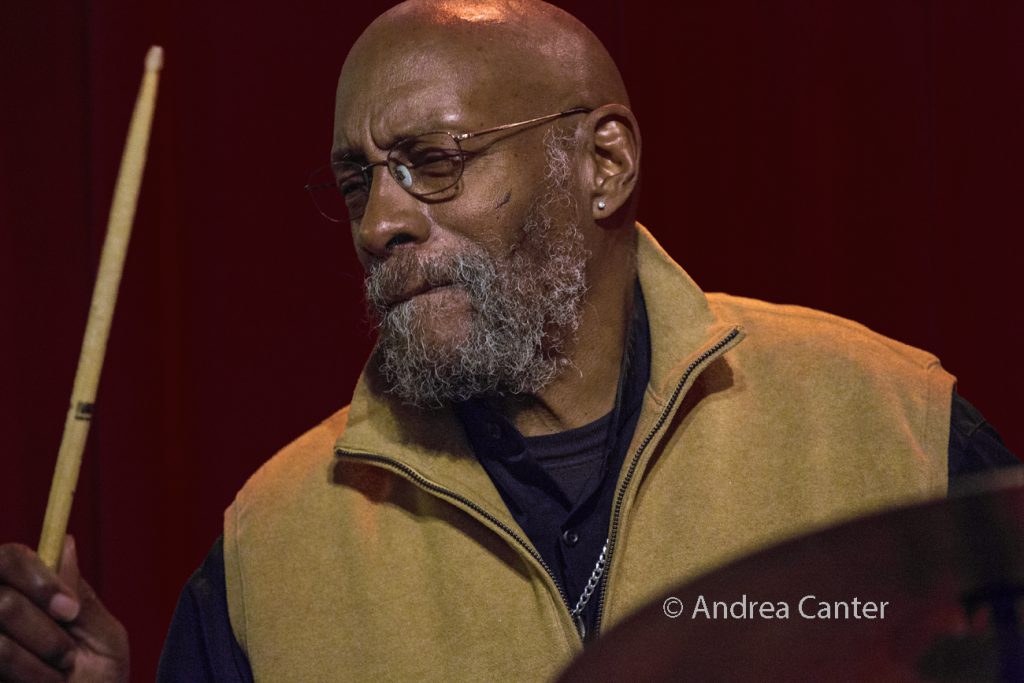 © Andrea Canter
Former Weather Report drummer Eric Kamau Gravatt was already a legend in the 70s, and has enjoyed a resurgence of his career over the past 15 years, particularly as leader of Source Code. Headlining the Illicit Jazz Workshop series at Jazz Central on December 8 (8 pm), Gravatt's ensemble includes long-time associate Ron Evaniuk on bass, along with Aaron Kippola and Dean Brewington on saxophones and Solomon Parham on trumpet.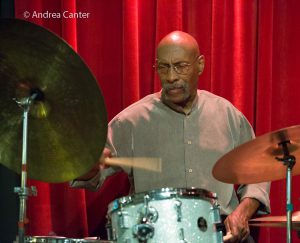 An alum of the bands of McCoy Tyner, Joe Henderson, Freddie Hubbard and Blue Mitchell as well as Weather Report, Eric Kamau Gravatt essentially has had two careers in jazz with a couple decades of separation. Like John Coltrane and long-time associate McCoy Tyner, he is a native of Philadelphia. Originally a conga player, Gravatt taught percussion and music in Philadelphia and Washington, DC in the 1960s. Miles Davis invited him to join his band, but Gravatt turned down the Prince of Darkness to follow Wayne Shorter into Weather Report, with whom he toured and recorded. But Gravatt's sound was not exactly what WR founder Joe Zawinul had in mind, and after a while Gravatt was replaced in favor of a more "bottom heavy" drummer. He moved on to the fusion band Natural Life (with Bobby Peterson and Bob Rockwell), a move that brought him to the Twin Cities some 30 years ago. Demands of family and a desire for financial stability took Gravatt out of fulltime music and into fulltime work as a guard at the Minnesota Correctional Facility in Lino Lakes. "I had kids, and Corrections were the only thing being offered that paid that good, and they had (benefits) you couldn't get in jazz," Gravatt told the St. Paul Pioneer Press. Only after retiring from Lino Lakes did Gravatt return to his calling, touring again with McCoy Tyner, performing with his band, Source Code, and engaging in some more experimental improvisations with metro area musicians including Adam Linz, Brandon Wozniak, and, recently, Dean Magraw, with whom he released Fire on the Nile.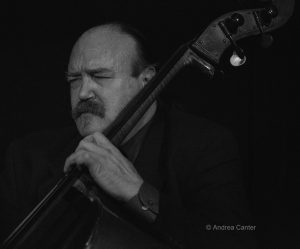 Source Code (from software lingo for a collection of instructions to generate the programs that run on our computers, PDAs, cell-phones and toasters) tackles the works of such titans as Coltrane and Jackie McLean—and Gravatt's band has the power to handle the repertoire. From one performance to another, Gravatt and Evaniuk have been the common denominators, with various combinations of horns, strings and keys.
Jazz Central Studios is located at 407 Central Av SE in Minneapolis. Donation of $10 requested to support the musicians and the nonprofit venue. Jazz Central presents a wide range of jazz at least five nights per week — visit http://jazzcentralstudios.org for full schedule. The Illicit Jazz Workshop is curated by Steve Kenny, every Friday night at 8 pm; see https://theillicitjazzworkshop.info/schedule