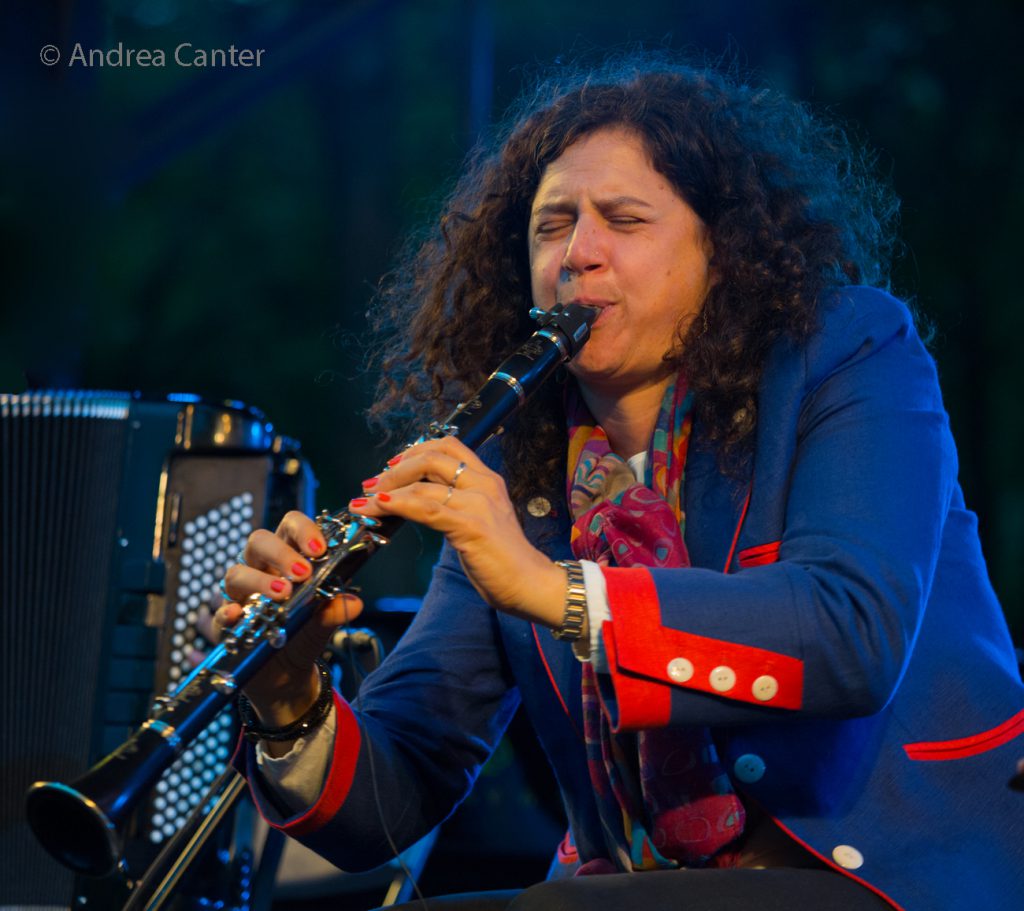 Just the other day I had been walking down Haight Street in San Francisco when I bumped into one of our best local sax players. He had just invested in a new soprano saxophone. The discussion soon changed into one about how we both had not learned the clarinet in our youth. "It would take me years to learn clarinet, so soprano sax is the logical choice for me," he stated. One moment in time means so much, and one decision by music teachers–shall we start the student on clarinet or not– can change someone's musical life.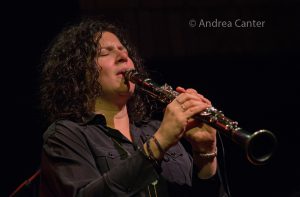 Which brings us to the musician Anat Cohen, who certainly did study the clarinet. Not only did she learn it, but she is now in a position to lead the entire field of jazz woodwind players into a revival of an instrument which has been part of jazz since the earliest years in New Orleans. In a concert with her Tentet at SFJAZZ (Sunday December 3), she demonstrated what her vision for this instrument is really about. And not since the emergence of Paquito D'Rivera from Cuba has there been a player on this level of excitement with the instrument. The question is, why is clarinet perfect for Anat? There are a couple of answers to this, and it has to do with the conjunction of musical cultures that Anat is drawn to.
Cohen documented this band on her new album, Happy Song, a project that reunited her with arranger/composer Oded Lev-Ari, a key collaborator on 2007's acclaimed orchestral album Noir. The idea was to shape an ensemble around Cohen's sweeping command of jazz idioms and various kindred musical currents.
The exciting part of the emergence of Anat through this show is that she is demonstrating she is a "HOT" jazz player, in the classic sense. As you might remember, in the days when swing music was a style, even after the demise of the big bands, there emerged an idea that "hot" jazz was the polar opposite of the new birth of the "cool" style, exemplified by Mile Davis, Charlie Parker and, later, the West Coast jazz players. Now this dichotomy doesn't quite exist now, in the midst of many styles played by musicians today, yet there are certainly players and music that by looking back to traditional sources, spring from classic styles and attitudes. And Anat and her group draw from a number of these sources, including Brazilian Choro, traditional music from the classics of Jewish culture, swing music, and others.
During the show, Anat performed originals "Happy Song," "Valsa Para Alice," Anat's Doina," "Loro," "Thrill and Thrills," "Kenedougou Foly," and an encore, "Espina de Bacahau." The music was non-stop, varied with solos by all of the band members. The spotlight moved quickly from the horn section to the percussion group (drums, bass, vibes and percussion instruments) to the pianist and accordionist to Anat's clarinet. From the first tune, the audience was completely involved in the flow, clapping, watching, cheering and so on.
This was a "world" music show, and as such, was making a statement in and of itself. Jazz is now a world music, with players like Anat ready to use sources from every corner of the planet. With this performance, Anat moves to the head of the class, the top of the charts, and the exclusive group of performers that can create a performance that rises to the peak of musical accomplishment. The question is, how does she top this?