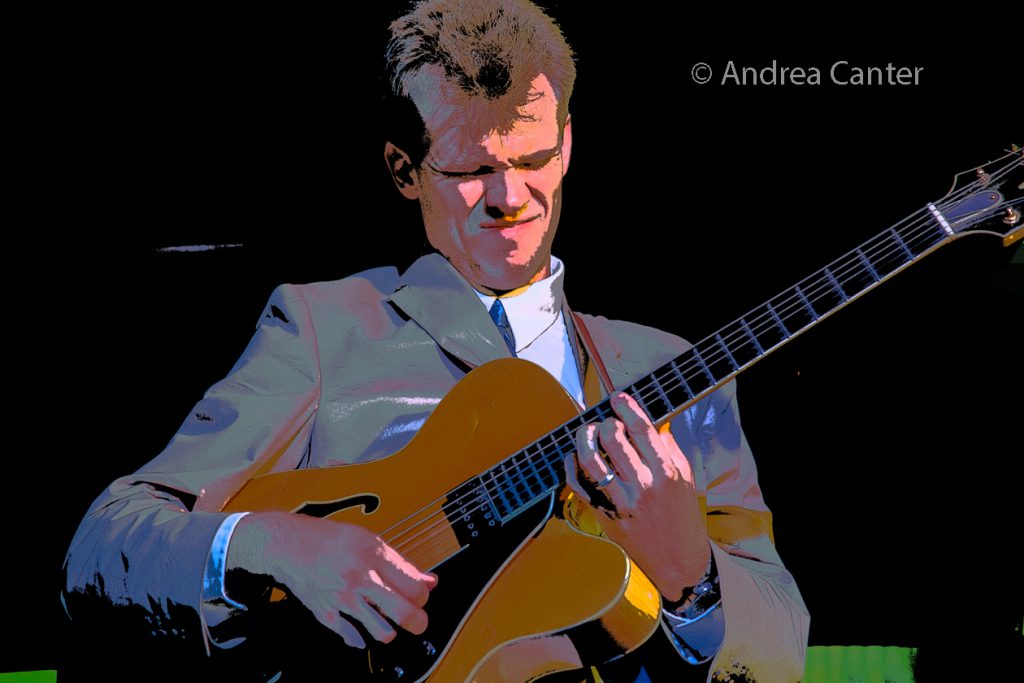 © Andrea Canter
About a year ago, guitar whiz Sam Miltich and elder statesman saxophonist Dave Karr led a quartet at the Black Dog with pals Chris Bates and Jay Epstein. Now the band returns on the Saturday Night Jazz at the Black Dog series at 8:30 pm, following Elevator Jazz, opening the evening on the almost-monthly JazzINK Youth Jazz Showcase at 7 pm.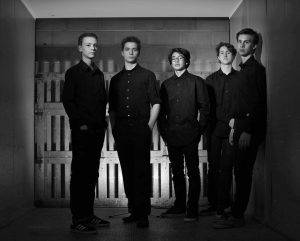 Elevator Jazz (7 pm)
Saxophonist Eli Zukor-Zimmerman leads a band of high school jazzers who dub themselves Elevator Jazz. In addition to Eli (Washburn High School), the band includes Jackson Wheeler on guitar, Lasse Corson (Southwest High School) on piano, Jon Butler (Burnsville High School) on bass, and Carter Pearson (Maple Grove High School) on drums.
Sam Miltich Quartet (8:30 pm)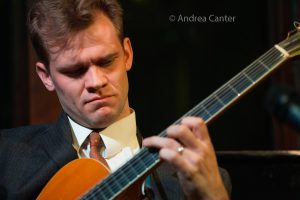 Music, like the surrounding forests of Northern Minnesota, was just a normal part of family life for young Sam Miltich. Dad Matthew Miltich taught English at the area community college and played electric bass. At age 7, Sam discovered an Erroll Garner recording in the family collection and commandeered it, declaring Garner to be a "genius." Soon he was learning to play piano, but a fire that destroyed the family home forced him to find another outlet. At age thirteen he picked up the guitar and taught himself to play bluegrass and folk. His life-defining moment came at fifteen, watching the Woody Allen film Sweet and Lowdown about the life and music of Django Reinhardt. The music for him was magic, "the fire and passion, the East European country sound….Everything I loved rolled into one," he noted in an interview on National Public Radio. Sam ordered instructional videos by Paul Meiling and began intense study on his own, practicing eight hours per day. Seeking a playing partner, he convinced his father to switch to upright bass. And seeking more in-depth instruction, he convinced his father to drive cross country for a lesson with Meiling, who invited the teenager to sit in with the famed Hot Club of San Francisco.  He began touring with the Robin Nolan Trio when he was 18; toured for two years with the Hot Club of San Francisco, and founded the Clearwater Hot Club in 2003. In 2010, he launched the Big Dipper Jazz Band, a six-piece traditional ensemble.
Sam's interests extend to Brazilian choro, French musette, Eastern European tamburitza, and other forms of traditional folk music, a bit of blue grass, but mastering gypsy jazz is his mission. "It's so hard…I have to practice and listen all the time… but it is my favorite music so it doesn't bother me that I am doing that." In addition to touring with the Hot Club of San Francisco, Sam has played in Holland, Germany and Japan; toured with David Grisman and the Stephane Wremble Trio; played at the Lincoln Center in New York City in a concert honoring Django with international musicians; and has shared the stage and bill with the Ferre' Brothers, Angelo DeBarre, Dorado Schmitt, Fapy Lafertin, Ludovic Beier, Samson Schmitt, and Ken Peplowski. His recent musical collaborators, in addition to the Clearwater Hot Club, have included popular vocalist Charmin Michelle, mandolin virtuoso Peter Ostroushko, legendary Twin Cities saxophonist Dave Karr, jazz and classical guitarist Joan Griffith, and Dutch jazz violinist Tim Kliphuis.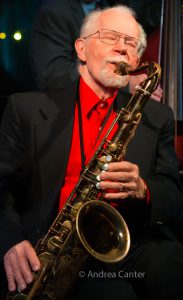 A native Canadian who emigrated to England in early childhood before landing in New York City, Dave Karr got hooked on jazz by listening to some of the great jazz legends, including Charlie Parker and Dizzy Gillespie. Moving to the Twin Cities in his twenties, Karr has been a fixture on the Twin Cities jazz scene for more than 60 years, composing and producing music for radio and TV since 1970. With Mark Henderson, he formed Mark & Dave Music and Sound Design in 1996. Karr has performed with numerous bands, symphony orchestras, Broadway shows, and recording sessions. Around town Dave has performed frequently with his own quartet and backing other musicians at the Dakota, Artists Quarter and other venues, ranging from vocalists (Connie Evingson, Lucia Newell) to small bands (Pete Whitman's X-Tet) to big bands (Jazz Mn Orchestra, Andrew Walesch Big Band). Most often heard on tenor, flute, and clarinet, Karr also breaks out the baritone on occasion. Among highlights of the last few years, Dave received a McKnight Grant, headlined a Jazz at Studio Z clinic and concert, led a trio with Adam Linz and JT Bates at the Icehouse, headed two quartet nights in the Dunsmore Room, appeared on KBEM's Legends of Jazz: The Elders (2016), and has performed frequently with vocalist Connie Evingson in her Jazz in the Lounge and Jazz at the Jungle series.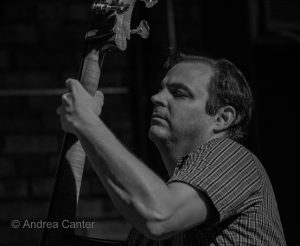 Chris Bates, with his brother, drummer JT, grew up with jazz, sons of trumpeter/bandleader Don Bates. Chris began bass lessons in 4th grade and progressed to jazz studies at the University of Wisconsin-Eau Claire before returning to the Twin Cities to study with Anthony Cox. A member of the original Motion Poets, Chris has focused on composing (he was a 1999 McKnight Composer Fellow) and leading ensembles (Red 5, Good Vibes Trio), as well as playing regularly with Red Planet, Atlantis Quartet, Framework, Tall Tales, Adam Meckler Orchestra, Leisure Valley, Laura Caviani, and more. He's often on the bandstand with local and visiting artists, and curates a monthly gig on the No Boundaries (new music) series at Jazz Central.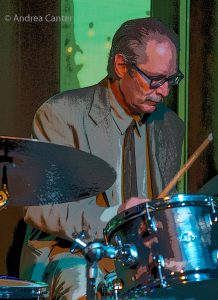 Of trapset master Jay Epstein, Cadence Magazine's David Lewis noted that "his dazzling cymbal and snare work extends the lineage of Tony Williams and Jack DeJohnette." For many years, Epstein has been one-third of Red Planet with Dean Magraw and Chris Bates. These days, Jay keeps busy with Red Planet, Framework, Firebell, Dean Granros' Tall Tales, and other ensembles, as well as supporting area vocalists and touring with Five by Design. He released his own acclaimed recording Long Ago on Igmod Records, has recorded with Bill Carrothers and Anthony Cox (Easy Company), and appears on each of Gordon Johnson's Trios, among a long list of sideman credits.
Saturday Night Jazz at the Black Dog is curated by Steve Kenny; weekly scheduled at www.saturdaynightjazzattheblackdog.info. No cover but donations appreciated ($10/set suggested) to support the musicians and the series. The Black Dog is located at 308 Prince Street (at E. 4th Street and Broadway) in the Northern Warehouse in St. Paul's Lowertown Arts District. Full venue schedule at www.blackdogstpaul.com