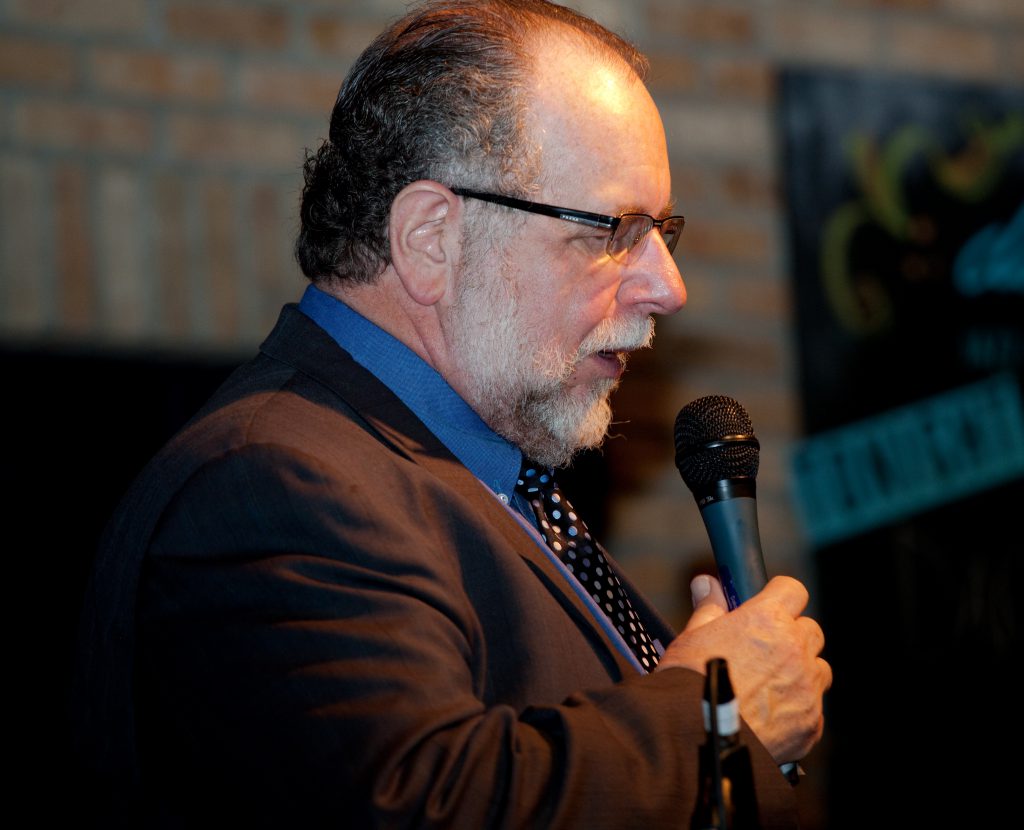 © Janis Lane Ewart
Each year, the Jazz Journalists Association seeks nominations from states and local jazz communities for Jazz Heroes. The 2018 Twin Cities "Jazz Hero" is Larry Englund. This is his nomination from Janis Lane Ewart.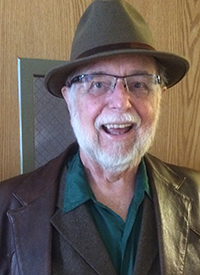 Larry Englund has graced Minnesota's Twin Cities with his broadcasting, writing and breadth of musical taste since 1980, when he began hosting "Shake Up Southside" on Monday mornings at KFAI-FM.  He'd grown up in The Bronx, and learned to deejay playing records of harmonizing vocal groups (doo-wop) and rock 'n' roll, the first music that he actively sought out, at Friday night dances at a local church during the late '50s and early '60s. He still spins vinyl — mostly classic soul and funk — for Sunday brunch at the Nightingale in Minneapolis, and occasionally elsewhere. He's never stopped listening to rock 'n' roll, but broadened his musical palette years ago to include blues, New Orleans R&B, American roots music, reggae, other world beat sounds, and, of course, jazz.
Larry was first exposed to jazz in his late teens when the father of a friend played him Ahmad Jamal's "Poinciana." Following up, he bought himself Things Are Getting Better by Cannonball Adderley with Milt Jackson and Jackson's Big Bags; Focus by Stan Getz with Eddie Sauter's arrangements for string orchestra, and Saturday Night/Sunday Night at the Blackhawk by Cal Tjader.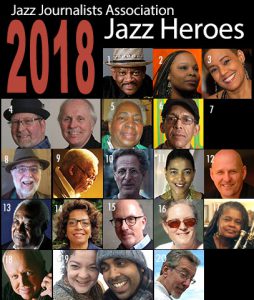 Jump from there to the '80s when he was a freelance music writer for the weekly City Pages for five years, interviewing artists ranging from James Brown, Bobby "Blue" Bland and Joseph Shabalala of Ladysmith Black Mambazo to Claudia Schmidt and Nanci Griffith. He also reviewed albums and performances by artists such as Sonny Rollins, Clarence Gatemouth Brown, the Neville Brothers and Dr. John, and wrote stories about local resident musicians for The Villager, a neighborhood newspaper covering the Highland, Mac Groveland, West 7th, and downtown neighborhoods of St. Paul, and the Longfellow neighborhood in Minneapolis.
Larry's tenure at KFAI, and his program "Streetlight Serenade" (first heard Wednesdays from midnight to 2 am and later on Saturdays from 9 to 11 pm), was interrupted in 1989 when he returned to school (he'd graduated from Wartburg College in Waverly, Iowa, but went to University of St. Thomas for his Masters in Business Administration degree). Still, Larry had not quit playing music for our community. Back on the air in the late '90s, in 2002 he established "Rhythm and Grooves," with live interviews of George Duke, Maceo Parker, David Sanborn and Esperanza Spalding, among other touring artists, as well as the Twin Cities' own talents. Englund's programming has always stretched across style and history, exposing listeners to artists from Jelly Roll Morton, Fats Waller and Louis Armstrong to Joe Lovano, John Scofield, Charles Lloyd, and members of the Marsalis family.
After more than 15 years of hosting the show, Larry retired from his KFAI show on December 30, 2017, and we miss him. He has not turned away from the music, however. Since 2007, Larry Englund has served on board of the Dakota Foundation for Jazz Education, including six years as board chair. He has so much music in his being, which he loves to share — he just does that. Truly the mark of a Jazz Hero.
Larry Englunds's Jazz Hero award presentation will take place on April 8 at 6:30 pm at Crooner's Lounge, 6161 Hwy 65 NE in Fridley, before the first set of the Emmet Cohen Trio with Tootie Heath (in the Dunsmore Room).