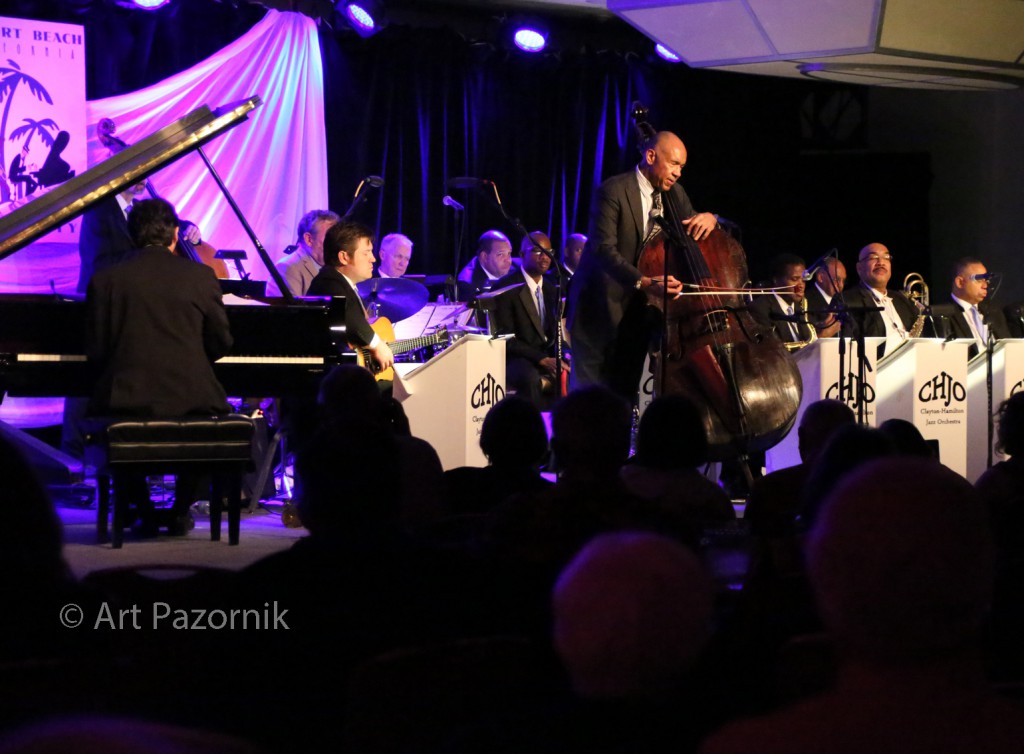 If I was thinking of words to describe Newport Beach Jazz Parties, they would certainly include enticing and exhilarating.  The four-day celebration in Newport Beach, CA, held Thursday to Sunday, February 11-14, had some amazing performances and showcases – some of the absolutely best musicians world-wide.  My friend and I were privileged to attend Saturday for a two-hour Champagne Brunch with the Dan Barrett/Houston Person Quintet, a Tribute to the Legacy of David L. Abell, and the afternoon Pool Concerts.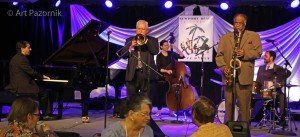 Dan Barrett/Houston Person Quintet
Opening the morning was the marvelous group of Dan Barrett (trombone), Houston Person (tenor sax), Tamir Hendelman (piano), Katie Thiroux (bass/vocals), and Matt Witek (drums). They entertained well with "There Is No Greater Love," "Just Squeeze Me," "Baby, Won't You Please Come Home," and "I Didn't Know What Time It Was," of several numbers.  These musicians are exceptional and blended very well together.  Their instrumentation is unique and everyone performed wonderful solos during this one-set show.
Tribute to David Abell
The Tribute to the Legacy of David Abell included five (of six) esteemed pianists who had closely associated themselves over many years with Abell's exceptional piano store, which was widely known to just about everyone who professionally performed on the piano, as well as many famous composers.  Stellar pianist Bill Cunliffe emceed the Abell tribute, and also performed as well.  He first introduced David Kreisberg who worked for Abell many years and told some interesting historical stories.  Abell was the first businessman to supply Bösendorfer and Yamaha pianos to the L.A. area some 50 years back.   Next, Cunliffe introduced the other five phenomenal pianists– Tamir Hendelman, Shelly Berg, Eric Reed, Tom Rainer and Larry Fuller– and helped tell their stories, but also let them tell stories of their friendship with Abell as well.  For over 50 years, Abell and his store helped other musicians and the music world in general.  Cunliffe stated, "He loved jazz like crazy."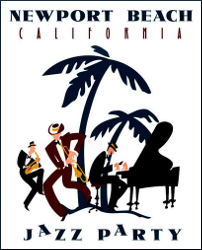 Each pianist played a special song.  Berg played an easy-going version of "Easy Living" and switched into a lovely rendition of Dizzy Gillespie's "Con Alma."  He stated that on his first visit to the Abell store, the great Cedar Walton was playing there in the store!  Cunliffe played Billy Strayhorn's "Blood Count."  Larry Fuller told stories of Abell helping Loyola Marymount College when they needed help in an emergency, and performed a beautiful piece, "Close Enough for Love," a spectacular gem.  Tamir Hendelmen gave us his own arrangement of Ira Gershwin's "S'Wonderful," with astounding and exquisite shading.   Rainer played a gorgeous version of the famous Johnny Green tune, "Body and Soul," with expert voicings, and told stories about Abell and his generosity over time.   Reed also was a regular customer of Abell's and played a gospel song, "Lean on Me."  The audience gave lots of applause for these artists' tribute numbers.  The tribute show continued with two rounds of two pianists playing together with pianos back-to-back.  The first was Tamir Hendelmen vs. Larry Fuller, playing an excellent version of Jerome Kern's "Yesterdays."  It began in ballad format and moved to swing before a glorious ending.   Next, Cunliffe announced he had wanted to play opposite Shelly Berg for many years and now was the perfect time.  They made a special groove back and forth with "Handful of Keys" by Fats Waller.  The audience was marveling at this duo concert of two great rounds of two greats each!  This closed the tribute and the entire audience gave a long standing ovation!
Pool Concerts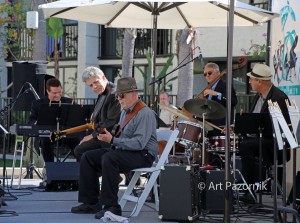 We attended two of the three "Pool Concerts" on Saturday afternoon.  The first was the Chuck Redd/Ken Peplowski Quintet with Redd (vibes), Peplowski (sax), Russell Malone (guitar), Christoph Luty (bass), and Matt Witek (drums).  They played a nice one-set show, performing several tunes including Jobim's "Wave," Monty Alexander's "Reggae Later," and Gordon Jenkins' "Good-Bye."  Russell Malone added immensely to this one-hour show and the audience enjoyed the relaxed pace and each band member's soloing.
The second Pool Concert was a tribute to the great Gene Harris given by pianist Bradley Young and his group. Guitarist Frank Potenza, bassist Luther Hughes, drummer Paul Kreibich, and two guests, Scott Hamilton (alto sax) and iconic guitarist Ron Eschete, played wonderfully together.   Hughes, Kreibich, Potenza, and Eschete all spent several years with Harris. They all made this tribute show swing to the max, performing a blues by Harris titled "Elbows and Armpits," "The Masquerade Is Over," "Love Walked In," and "If I Were A Bell."  The audience was happy and relaxed with both shows and gave applause throughout.
And More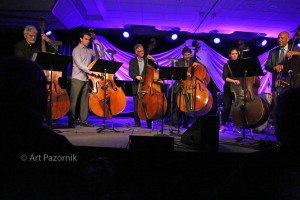 There were several other concerts throughout the four-day party that had a lot of very positive feedback from many patrons: Gordon Goodwin's Big Phat Band; vocalist Jackie Ryan with Bill Cunliffe, John Clayton, Chuck Redd, Graham Dechter and Rickey Woodard; a Six-Bass Salute to Howard Rumsey with John Clayton, Mike Gurrola, Luther Hughes, Christoph Luty, Richard Simon and Katie Thiroux; and The Clayton-Hamilton Jazz Orchestra: "Celebrating a 30 + Year Musical Journey."
This Jazz Party is an outstanding annual musical event and makes some lifetime memories.  It is highly recommended!
Please note that the Sunset Jazz at Newport Summer Series is coming for eleven weeks starting Wednesdays, July 6, and concluding Wednesday, September 14, 2016.   See the website for more information: http://www.sunsetjazzatnewport.com .
Reprinted with permission from  L.A. Jazz Scene, March, 2016 issue.