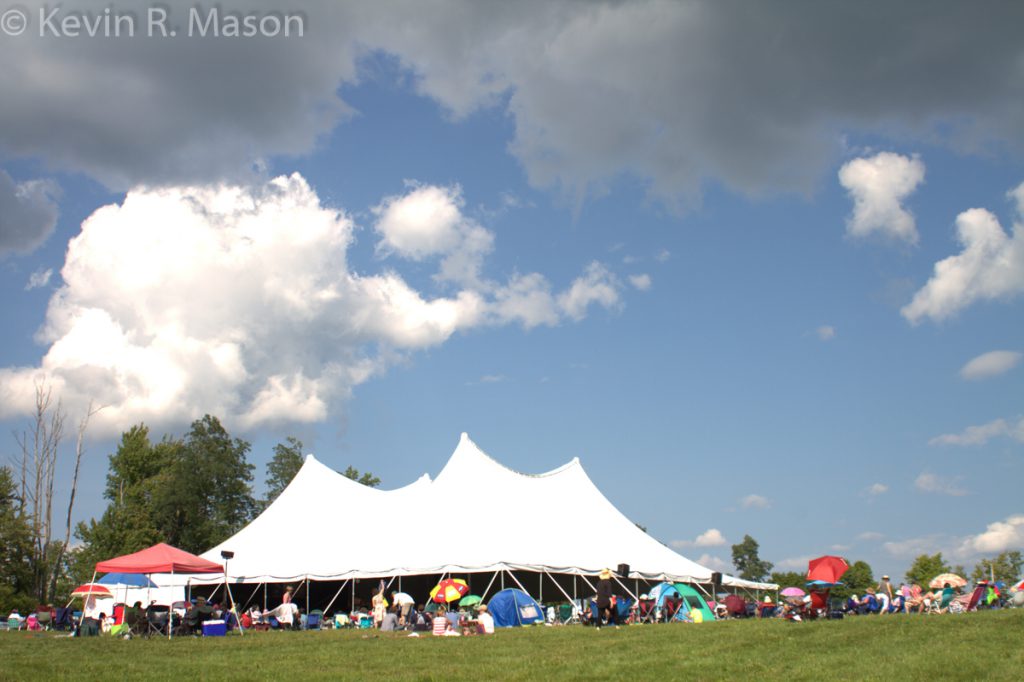 The 23rd Litchfield Jazz Festival will take place July 28 and 29, 2018 at Goshen Fairgrounds in Goshen, CT.
The line-up is as follows:
Saturday, July 28
11:00 am: Friends of the Festival Benefit Brunch
1:00 pm: Yoko Miwa Trio
2:45 pm: Litchfield Jazz Orchestra, Led by Zaccai Curtis
4:30 pm: Trio Da Paz
6:15 pm: Dan Brubeck & Friends – Tribute to Dave & Iola Brubeck
8:30 pm: Jeff "Tain" Watts Trio
10:00 pm: Saturday Night After Party & Jam – Hanq's Torrington
Sunday, July 29
12:00 Noon: Kris Allen Trio
1:45 pm: Doug Munro & La Pompe Attack w/ Matthew Westerby Company
3:30 pm: Orrin Evans
5:45 pm: Emmet Cohen Trio w/ Jimmy Cobb
7:30 pm: Jane Bunnett & Maqueque
Litchfield Jazz Camp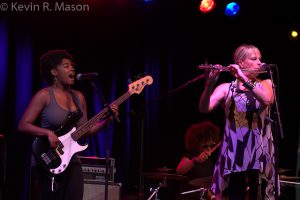 In addition to the great line-up at the Main Stage, the students from Litchfield's long-running Jazz Camp play between Main-Stage sets at their own Student Tent. These talented young musicians attend the Litchfield Jazz Camp, and the culmination of their summer experience is the opportunity to play at Litchfield Jazz Festival (LJF). About the Litchfield Jazz Camp, the Litchfield website says the following:
"Founded in 1997, Litchfield Jazz Camp serves 350-400 residential and day students during a month-long program on the campus of the Gunnery School in Washington, Connecticut. Run by Litchfield Performing Arts, a 35-year-old charitable organization dedicated to changing lives through music, the Camp's philosophy is simple. We start with a faculty of amazing and inspiring jazz musicians who represent the best jazz players/educators on the scene today. To that we add eager music students in a non-competitive, all-inclusive program. No audition is required; just a desire to attend and make music. Litchfield Jazz Camp embraces all learners: students of all ages from 12 years up-beginners, intermediate learners, advanced players, and 22 students with learning disabilities. That is how the collaborative, supportive and fun atmosphere at Litchfield Jazz Camp is created.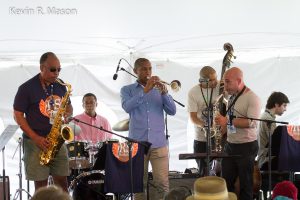 Money is never a bar to participation. Last summer LJC accepted 27% of its student body on need-based scholarships (distributing $104,000 in aid). Students are taught in skill-based combos and have extensive opportunities to perform for each other and the public at the end of each session and at the award-winning Litchfield Jazz Festival. They experience the music of their master teachers in the evenings and jam themselves each night.
An important part of the Litchfield experience is attendance at the 2-day Litchfield Jazz Festival in Goshen CT. There campers hear festival stars, perform themselves on a dedicated second stage, and meet artists in person. This makes for a thrilling wrap up to one of the most exciting music education experiences available anywhere. Understanding the whole person is the ultimate point of any right-thinking program. Health and stamina are encouraged with optional sports in the afternoons. Most students are college-bound, and to support that, the camp holds a college night each season with representatives of a wide array of university level music programs. This group includes scouts who often offer our need-scholarship students opportunities at their schools.
Many of our campers attend every summer throughout their teens, allowing for the Camp to make major impact on their skills and their emotional and personal development. Our Residential Assistant and Teaching Assistant ranks are peopled by former campers. Many of these in the fullness of time appear on the Litchfield Jazz Festival mainstage as sidemen and even leaders. Our surveys of former campers show that Litchfield's participants continue their education at college and beyond. About half take academic degrees and half music. At least half garner scholarships. Many go on to win prestigious music awards (Monk and Downbeat Competition winners and more)."
Friends of the Festival Benefit Brunch
The Friends of the Festival Benefit Brunch not only starts off the LJF in fine style, but it is also a fundraiser for Litchfield Jazz Camp scholarships. The Brunch will kick off the Festival on Saturday morning, July 28, from 11:00 am – 12:30 pm at the Fairgrounds. The tented party features great music by top Litchfield Jazz Camp students and instructors. The music is directed by saxophonist Albert Rivera, and the delicious brunch is provided by Ciesco Catering Co. Private reserve French wines courtesy of Vandoren Vineyards, beer and signature drinks will be served. The Festival and Camp are dedicated to changing lives through the arts, and the Jazz Camp has been awarding scholarships since its start in 1997. The Camp has never turned away a student in need, and awards scholarships amounting to $70,000 to $100,000 annually. The important financial support of festival attendees helps the Camp to keep this commitment. Additionally, Brunch ticket holders will be able to enjoy the full Saturday Festival line-up at the Main Stage. Brunch tickets are advance sale only, and space is limited, so HURRY and order yours. Brunch is included with the following Litchfield Jazz Festival ticket types:
-Best Friends
-Saturday Friends
-Saturday Lawn & Brunch
LJF After Party at Hanq's Torrington
On Saturday, July 28, a long-standing tradition will continue. After the last act of the first day of 2018 LJF is finished, the festivities will continue at the After Party. This year, the event will be held at a new location, Hanq's – 131 Water St., Torrington, Connecticut, which is only five minutes from the Goshen Fairgrounds. Hanq's is owned by proprietor Kris Kelsey, who runs a great show. The action starts around 10:00 pm. The After Party is also a jam session, and all musicians and singers are invited to sit in. Speaking about Hanq's, Vita Muir, LJF's founder says, "This place reads like the hippest of hip NYC clubs with a handsome bar, brick walls, butcher block tables, excellent food, and five-star drinks. Kris is excited to have us all and we are excited to be in the wonderful new space.  If it's a warm night, we can also gather on their spacious roof-top patio—won't find that in a New York club!" Entertainment will be provided by the Albert Rivera Ensemble. There is no cover charge for this fun celebration!
Fine Arts & Crafts
LJF hosts an artists' village with some very talented people offering their creations, including esteemed painter Chris Osborne, multi-media artist Danielle Mailer, handmade jewelry of rare & vintage beads, semi-precious stones & silver by Carnelian Knoll, handcrafted milk soaps, soy wax candles and seasonal herbal products such as liniment, lip balm, sugar scrub and more by And Beyond, jewelry, coasters, greeting cards, buttons, pins, pendants from rubber & acrylic stamps by the Great Paper Caper, henna themed body work and artwork by Henna by Asma, Chair Massage by Chantal, natural Indigo plants dyed fabric crafts by True Blue Collections, Inc.. and many more.
Food & Beverages
A variety of delicious food will be available from the following vendors: Johnny Potato, Ben & Jerry's, Makin Bacon, Qdeen's BBQ, Thai Avenue, Zelle Seafood & Chips, Angry Skillet, and Flavors.
General Information
There is free parking across the street from the Goshen Fairgrounds. You may bring your own picnic, or you can buy food from the many vendors on site. However, no beer, wine, alcoholic beverages, or glass can be brought onto the grounds. Coolers will be inspected at the gate. Coolers are allowed on the lawn, but not under the Main Stage Tent. Children 12 and under are admitted free when accompanied by a parent. Lawn chairs, blankets, umbrellas, and small tents are permitted on the lawn. For more information about LJF, go to www.litchfieldjazzfest.com.