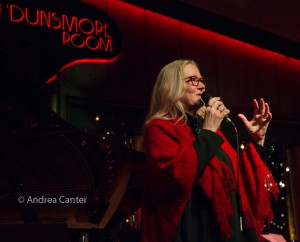 Making her Dunsmore Room debut last December for the "soft opening" of the new venue within Crooners Lounge, pianist Laura Caviani couldn't wait to return and again perform with her trio on the 9-foot Bösendorfer grand. Now open for three months, the Dunsmore Room has proven to be the intimate listening space that club owner Mary Tjosvold, jazz curator Andrew Walesch, and Bösendorfer owner Steven Anderson had envisioned when Anderson first suggested a long-term "loan" of his now-famous piano. Since the Laura Caviani Trio's December gig, the Dunsmore Room has hosted a round of Twin Cities (and beyond) notables, including Bill Carrothers solo, the Mary Louise Knutson Trio, Dave King Trio (with Carrothers on piano), Tommy O'Donnell Trio, the Peter Kogan Quartet, Dave Karr Quartet, Butch Thompson solo and in duo with Pat Donahue, the Steven Hobert-Dean Magraw Duo, and more on Jazz Tuesdays, as well as Dan Chouinard's "Birthday Party" Sundays with guest vocalists Prudence Johnson, Patty Peterson, Gwen Matthews and more, and a monthly "In the Crook" pairing pianist Rick Carlson and a guest vocalist. Some special events have included a pre-New Year's Eve night with Connie Evingson and just last week, piano owner Steven Anderson himself, celebrating the history of his instrument. Now the Laura Caviani Trio returns on Jazz Tuesdays, March 15 at 7 pm. Laura's collaborators this time out include bassist Chris Bates and drummer Dave Schmalenberger.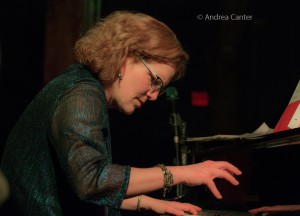 Raised in the Midwest where she studied trumpet as well as piano through high school, Laura Caviani received a Bachelor's of Music in Composition from Lawrence University in Appleton, WI, and a Masters of Music in Improvisation from the University of Michigan at Ann Arbor. With a grant from the Atlantic Center for the Arts in 1997, she studied with piano virtuoso JoAnne Brackeen, and the following year was one of four American musicians selected to study in Japan at the Akiyoshidai International Art Village.
Caviani is a veteran of two decades of performing, recording and composing, including appearances with Toots Thielemans, Bob Mintzer, and Dave Liebman, and touring and recording with star vocalist Karrin Allyson. As a leader she now has five acclaimed recordings to her credit and a long list of supporting roles with local musicians. Projects include her tributes to Horace Silver, Mary Lou Williams and Thelonious Monk; Soul Café with guitarist Steve Blons and saxman Brad Holden; Pete Whitman's Xtet; her cross-genre Alec Wilder project; "From Bach to Bop," and appearances with vocalists Prudence Johnson and Lucia Newell, and guitarist Joan Griffith. In 2010 she was a finalist in the Jacksonville (FL) Piano Competition.  In spring 2011, she collaborated with Prudence Johnson, Joan Griffith and other area composers to create "A Girl Named Vincent," setting the poems of a young Edna St. Vincent Millay to music for both live performance and recording. And more recently she has presented "From Bach to Bop" – jazz arrangements of favorite classical works– at a number of venues including the Artists Quarter, Hopkins Center for the Arts, and Jazz @St. Barneys; she also premiered new arrangements earlier this month in concert with the Pete Whitman X-Tet, at the Hopkins Center for the Arts.
As a composer, Laura has created numerous works for jazz ensembles and orchestral works for the Central Wisconsin Symphony Orchestra and the Kansas City Symphony Orchestra. Her most recent recording as leader, Going There, features Bob Bowman and Todd Strait. "Full of warmth and a swinging sense of fun" (Bob Protzman), Going There charted high on jazz radio following its debut. Her latest releases with Joan Griffith include Sambanova, mostly original works drawing from the traditions of Brazil; another set of Brazilian influenced songs, Circle of the Dance; and a 2013 reissue of a holiday album, Holly, Jolly and Jazzy with Gordy Johnson and Joe Pulice.
Laura's past teaching credits include St. John's University, the University of Wisconsin at Eau Claire, the University of St. Thomas, the University of Minnesota, the University of Wisconsin-Steven's Point, and guest artist/educator in residence in Cordoba, Argentina in summer 2007. Currently she is on the music faculties of Carleton College (directing the big band) in Northfield, the MacPhail Center for Music, and McNally Smith College of Music, and is a frequent instructor at the Shell Lake Arts Center.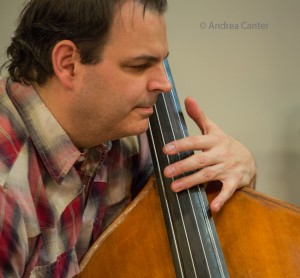 Chris Bates (and his brother, drummer JT) grew up with jazz, sons of trumpeter/bandleader Don Bates. He began bass lessons in 4th grade and progressed to jazz studies at the University of Wisconsin-Eau Claire before returning to the Twin Cities to study with Anthony Cox. A member of the Motion Poets, Chris was a 1999 McKnight Composer Fellow, and often lends his compositions to the many ensembles that he juggles throughout his busy performance schedule. Over his career, he has played with Mose Allison. Lee Konitz, Joe Lovano, Steven Bernstein, Howard Levy, Michael Attias, Ira Sullivan, Eric Alexander, Tim Sparks and more. In addition to his local ensemble work, he has played solo concerts using both acoustic and electronic instruments, duets with fellow bassists Adam Linz and Anthony Cox, and appears on over 30 recordings. In 2012, Bates debuted his quintet Red 5 and a new trio, Good Vibes, with vibes master Dave Hagedorn and drummer Phil Hey. With Red 5, he released New Hope in 2013; Good Vibes released its self-titled debut recording in April 2014. Around that time he also launched a monthly improvisation series at Jazz Central. One of four recipients of a commission from local new music ensemble Zeitgeist in 2014, Chris performs regularly with too many bands to list, including the Atlantis Quartet, Red Planet, and Dean Granros' Tall Tales.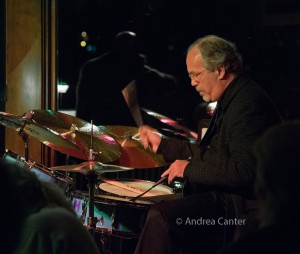 Drummer Dave Schmalenberger received his DMA in Percussion Performance and World Music from West Virginia University, his Master of Music Degree in Orchestral Percussion from the University of Michigan, and Bachelors Degree in Jazz Studies from Capital University. He has performed locally with Pooch's Playhouse, Laura Caviani, Alma Brasileira, Joan Griffith, the Jazz Imports, Vocal Essence, Synergy (a 10-piece dance band), SCHAG (jazz percussion duo with Dave Hagedorn), JazzMN Orchestra, Benny Weinbeck Trio, Russ Peterson Big Band, Cedar Avenue Big Band, and with vocalists Debbie Duncan, Judi Donaghy, Connie Evingson, Charmin Michelle, and Dennis Spears, Dave has also kept time for Lynne Arriale, John Scofield, Conrad Herwig, Kevin Mahogany, Steve Turre, the Jimmy Dorsey Orchestra, Cab Calloway, Rufus Reid, the Fifth Dimension, and The Mills Brothers, as well as in productions at the Ordway and Children's Theatre Company. He also toured with the Summit Brass Ensemble and the Intergalatic Contemporary Ensemble (I.C.E.). Dave is currently on the faculty of McNally Smith College of Music.
The Dunsmore Room is located within Crooners' Lounge in Fridley at 6161 Highway 65 NE, just north of I-694 and about 20 minutes north of downtown Minneapolis. Reservations strongly recommended at 763-571-9020; full music calendar (seven nights per week plus happy hour Monday-Friday) at www.croonersloungemn.com. No cover, in the Dunsmore Room a minimum food and beverage purchase is requested ($20 on March 15).