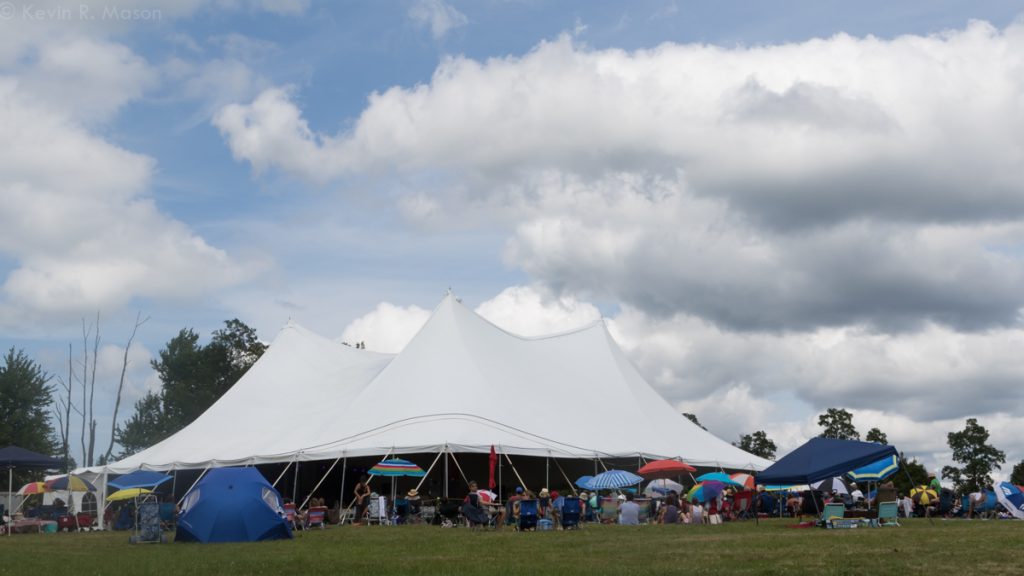 Although the changing seasons and the beauty of autumn's colors are breathtaking, there were some hot summer jazz festivals that make you look back at summertime and smile. The 23rd Litchfield Jazz Festival (LJF) took place at Goshen Fairgrounds in Connecticut, on Saturday July 28 and Sunday July 29, 2018.
Saturday, July 28
Jazz Brunch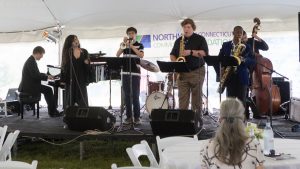 Despite a forecast that predicted downpours, the first day of LJF started with beautiful, clear weather. The first event of the day was a Jazz Brunch that served as a fundraiser for the Litchfield Jazz Camp, providing need-based scholarships. Peter Adomeit, Board President of Litchfield Performing Arts, welcomed the crowd, and talked movingly about the profound influence the Jazz Camp has on its students. At least twice, he has spoken to parents of Jazz Campers who said that the Jazz Camp experience had saved their children's lives. In both cases, the kids were having trouble at school, but after they attended the Jazz Camp, things turned around for them. The camaraderie, the discipline, and the musical knowledge gave them a new lease on life. That has been the case for several Jazz Campers over the years. Whether they became professional musicians (and several of them have), or if they just took the lessons learned into other areas of life, the time spent at Jazz Camp has benefits that last a lifetime.
The delectable buffet brunch was provided by Charlene Dutka of Ciesco Catering Co., and a wonderful selection of wine was made available by LJF sponsor Vandoren Paris. Several Jazz Camp combos performed at the Jazz Brunch, and they sounded amazingly accomplished and professional. Among the groups were ensembles mentored by guitarist Paul Bollenback and trumpeter Dave Ballou. Talented young bassist and Jazz Camp faculty member Zwelakhe-Duma Bell le Pere organized, directed, and performed in a number of the groups. Saxophonist Albert Rivera, who is the Director of Operations for the Jazz Camp, was the Master of Ceremonies, and he introduced the different combos and a succession of talented vocalists. Rivera also played with a couple of groups. Songs included "Swinging at the Haven," "The Very Thought of You," "Skylark," "Love You Madly," "Detour Ahead," "Serenade in Blue," and "Stella By Starlight."
LJF Founder and Executive Director Vita West Muir introduced saxophonist and Jazz Camp Music Director Don Braden, who talked about the mission of the Jazz Camp, and the great work that goes on there. He sincerely thanked the supporters for their generosity.
The Yoko Miwa Trio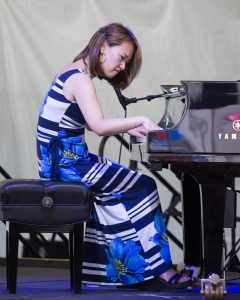 Pianist Yoko Miwa greeted the audience at the first concert of the day at the Main Stage, saying, "We're so excited to be here today!" She introduced the band, bassist Will Slater and drummer Scott Goulding, and she thanked some friends who had come from Boston to see the group. The set started with "The Goalkeeper," from her CD Pathways. The group followed with "After You," a delightfully upbeat, Latin-flavored song that Yoko played with gusto.  "Mr. B.G." was composed by Miwa in tribute to pianist Benny Green, and it was a swinging number that had traditional elements and a modern edge. Next, they played a poignantly beautiful version of Joni Mitchell's "Court and Spark." Yoko described Joni as "one of the most important female musicians of our time." "Lickety Split" was a high-energy song that had toes tapping and heads nodding. This fine set by the Yoko Miwa Trio was just the ticket to start the Main Stage performances of the day.
Litchfield Jazz Orchestra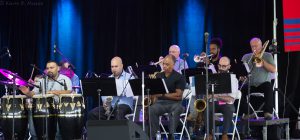 In their fourth performance at LJF, the Litchfield Jazz Orchestra included a combination of former Jazz Campers and faculty members. This year, the Orchestra was led by pianist/composer/arranger Zaccai Curtis and featured saxophonist Don Braden, bassist Avery Sharpe, alto saxophonist Albert Rivera, trumpeter Dave Ballou, Andrew Hadro on baritone sax, drummer Steve Johns, trumpeter Jean Caze, trombonist Peter McEachearn, and young up-and-coming pianist Brandon Goldberg sat in on cowbell. The set included a reggae-infused tune, and a composition by Zaccai Curtis – a pulsating number with energy to spare! Guest vocalist Melinda Rodriguez sang a sultry song that included a fine sax solo by Don Braden. Next came what Zaccai called "one of his favorite songs of all time," by Al Green, "Here I Am Baby." Curtis credited his father with exposing him and his siblings to all kinds of music when they were growing up. That was part of his inspiration for performing Al Green's song, and what a sensual rendition it was! Zaccai expressed his pleasure at playing with these musicians, some of whom are mentors he's always looked up to, and others are colleagues he grew up with. He introduced all the band members, and gave a little biographical information about each one, and he thanked them for their help on this project. The musicians worked beautifully together, and now the Litchfield Jazz Orchestra has become a Festival tradition.
Trio da Paz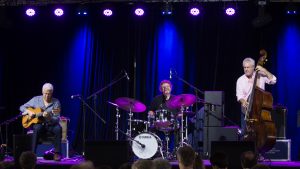 Trio da Paz – bassist Nilson Matta, guitarist Romero Lubambo, and drummer Duduka da Fonseca – started their set after the fairgrounds were evacuated for a thunderstorm. Although the day started out with perfect weather, around 3:30 pm, there was a severe weather alert, and the Fire Marshal requested that all Festival attendees go to their cars for safety. Fortunately, the storm quickly blew over, and the show went on. Trio da Paz's Brazilian jazz was the perfect antidote for the brief bad weather. The set included an original composition by Nilson Matta, a gorgeously evocative song. The concert continued with a meltingly romantic rendition of "Wave." Romero Lubambo thanked the audience for coming, and he joked for them not to hurt themselves when they ran to the tent to get their CDs after the show. They wrapped up their excellent concert with "For Flavio," which was written for Romero's father, "One Note Samba," and "Baden."
Dan Brubeck & Friends, With a Tribute to Dave & Iola Brubeck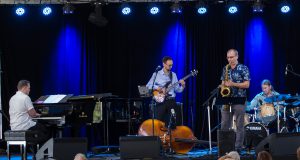 Drummer Dan Brubeck said, "We're playing the music of my father, but the lyrics of my mother Iola." Dan Brubeck & Friends – pianist Tony Foster, saxophonist Steve Kalestad, and Adam Thomas on bass and vocals – played "In Your Own Sweet Way," which Iola wrote lyrics for when Carmen McRae wanted to record it. Iola's writing was not that well-known, but after listening to Adam Thomas' wonderful rendering, it's obvious that Iola was quite a talented lyricist. Next came an expressive tongue-twister, "It's a Raggy Waltz." "Summer Song" is a beautiful number from a musical play, The Real Ambassadors, written by Dave and Iola. The musical is about the time during the Eisenhower administration, when the State Department sent many jazz musicians all over the world as musical ambassadors of freedom. Introducing "Traveling Blues," Dan discussed how his parents travelled by car from gig to gig, with him and his siblings sleeping in the back seat. Dan also talked about his father growing up on a 45-acre ranch. In addition to the superior musician we know, Dave Brubeck was also a cowboy growing up. His father was the foreman of the ranch, and a championship roper, which was the inspiration for "Ode to a Cowboy," a tribute to his dad. Dan recalled how his father heard a unique rhythm played by a street musician in Turkey, and it led him to write "Blue Rondo à la Turk." He introduced the last tune of the set with the comment, "I'm sure you'll know this." Since it turned out to be one of Dave Brubeck's most iconic songs, and in fact, one of the most iconic songs in all of jazz, "Take Five," the audience certainly recognized it. The quartet really did a wonderful interpretation of the song. The entire set was such a loving tribute to Dave and Iola Brubeck, played by a very talented group of musicians, and it was one of the highlights of the Festival!
The Jeff "Tain" Watts Trio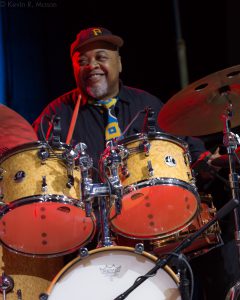 Drummer Jeff "Tain" Watts said he had heard about the LJF for a long time, particularly from Paul Bollenback, and he finally made his debut at the Festival. He was joined by bassist Orlando le Fleming and guitarist Paul Bollenback (a longtime member of the Litchfield Jazz Camp faculty), on a set that included "14E" and "Fisherman's Friend." Watts said that "Vodville" was dedicated "to the completely delicious drink called vodka."  The song "412″ was dedicated to the city of Pittsburgh and to late pianist Geri Allen. 412 is the area code of Pittsburgh, where he met Geri when she was a student there.  "Snarkasm" featured a hilarious rant by Jeff as an introduction, and the show ended with "Seed of Blackzilla." It was an exciting finish to the first day of the LJF.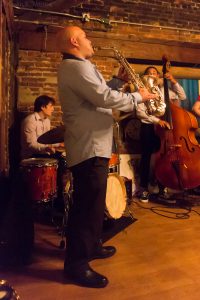 Saturday Night Jam Session After Party
This year's after party moved for the first time to Hanq's in Torrington, a restaurant/nightclub just a five-minute drive from the Goshen Fairgrounds. The Albert Rivera Quartet, featuring Zwelakhe-Duma Bell le Pere on bass, played well into the night, and had guest musicians, including pianist Brandon Goldberg, sit in throughout the night. Even after a day filled with stellar music, the party kept going!
Sunday, July 29
The Kris Allen Trio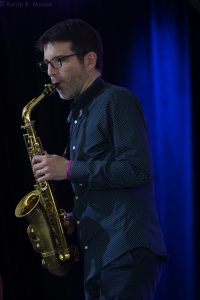 Saxophonist Kris Allen was accompanied by bassist Matt Dwonszyk and drummer Robin Baytas. All three are on the Litchfield Jazz Camp faculty, and Kris Allen has been a teaching artist there since 2001. Kris said that the Jazz Camp is a special place for him, and he's always glad to be there. The group started with Joni Mitchell's "Michael from Mountains," followed by John Coltrane's "Straight Street." Kris said that he is used to playing original material, but for this show he wanted to do something different, by playing his favorite songs by some of his favorite artists. They performed the much-recorded "My Ideal" and Cole Porter's "I Concentrate on You." Allen called the set "Songs I wish I'd written." He thanked Vita West Muir for the opportunity to appear. He said it's like a family reunion every year. He dedicated one of his own compositions to the Jazz Camp students, as well as his own family. The Kris Allen Trio provided a great start to the day.
The Brandon Goldberg Trio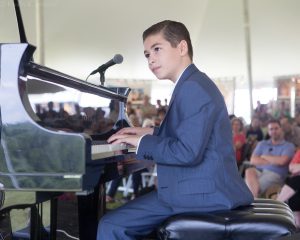 Young pianist Brandon Goldberg exudes joy on stage. Brandon just turned 12 this year, and he's already making a name for himself in jazz.  Brandon is the first current Jazz Camper to appear as a leader on the Student Stage, and he more than lived up to the expectations. He held his own with his talented and seasoned sidemen, bassist Avery Sharpe and drummer Ian Carroll. Despite his youthful enthusiasm and sunny smiles on stage, he is a bit of an old soul as a pianist, already playing like someone three times his age. The show included "Caravan" and Thelonious Monk's "'Round Midnight," which Brandon said is a very important song to him, and it motivates him in his piano playing and composing. Brandon recalled meeting pianist McCoy Tyner when Avery Sharpe was performing with Tyner at the Apollo Theater, and being really inspired. That inspiration paid off, in the form of a song Goldberg wrote in honor of Tyner, and the group played it with passion and flair. The splendid set ended with "Down By the Riverside," and Brandon said, "It was so much fun playing with Ian and Avery, and I am so glad you all came to  see us today."
Doug Munro & La Pompe Attack with The Matthew Westerby Dancers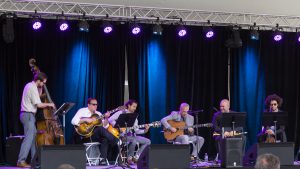 Guitar virtuoso Doug Munro is a longtime faculty member at the Litchfield Jazz Camp, and an established artist who has released 17 albums as a leader since 1987.  He has also appeared on over 75 recordings as a sideman, producer, or arranger. Munro shared the LJF stage with guitarists Vinny Raniolo and Ted Gottsegen, bassist Matt Dwonszyk, saxophonist Albert Rivera, and Andrei Matorin on violin. The set started with a delightful Gypsy jazz version of "Lullaby of Broadway" by Harry Warren, who primarily wrote for the movies. The group played "Jeepers Creepers," another of Warren's hits for the big screen. At one point, Doug said of his band members, "These cats are pretty good, right?" The audience responded with resounding applause. Guest stars Matthew and Dylan from the Matthew Westerby Company gave quite a tap-dancing performance to "I've Got a Gal in Kalamazoo." Doug has a dry sense of humor, and he sprinkled the set with quips.  He joked that in his mind, he could dance like the tappers, and that in his bedroom alone, he likes to dance. One time, his wife came in while he was dancing, looked at him, and said, "Are you having a fit?" He replied, "No baby, I'm dancing!" Dancing ability aside, Munro is not only a gifted musician, but also an entertaining raconteur. Doug sang a charming version of one of Harry Warren's most well-known songs, "There Will Never Be Another You," and it featured fine solos by Albert Rivera on sax and Andrei Matorin on violin. The finale was a rousing "We're in the Money." With the rain of Saturday long gone, this set was a perfect match for the weather – full of sunshine!
The Orrin Evans Quartet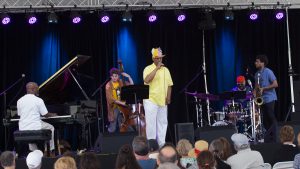 This set was a celebration of the life of the late jazz organist, Gertrude "Trudy" Pitts, who played with Ben Webster, Gene Ammons, and Sonny Stitt, among others. Pitts was the first jazz artist play a concert on Philadelphia's Kimmel Center's 7,000 pipe organ, taking jazz organ to a whole new level. Pianist Orrin Evans introduced the band, giving some background information about each musician, drummer Ralph Peterson, Jr., saxophonist Morgan Geurin, guest vocalist T.C. The 3rd, and bassist Dylan Reis, who just graduated from high school. The show began with "Steppin' in Minor," and "Teddy Makes Three" which was composed for Trudy Pitt's son, T.C. The 3rd, and he sang it in a smooth, deep, powerful voice. He followed up with a completely unexpected rendition of "I'll Always Love My Mama," with stand-out vocal pyrotechnics. On "Blessed One the Eternal Truth," Orrin Evans did double duty, singing as well as he played the piano, and ending the set in fine fashion.
The Emmet Cohen Trio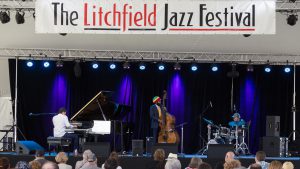 The trio opened with "Kind of Blue" and a really swinging version of "That Old Devil Moon." They followed with a haunting and romantic "Someday My Prince Will Come." Emmet said to the crowd, "Thank you all for being here. This is one of the greatest jazz festivals in the world." He went on to praise the runners of LJF and the Jazz Camp, where he started attending at 15 years old. He said the people in charge have a lot of love, passion, and dedication, and he gave a special shout-out to Vita West Muir. He also discussed music, saying, "This music, jazz, has a rich history, over 100 years long." Then, he introduced bassist Russell Hall and drummer Jimmy Cobb, who turned 89 this past January, but plays with gusto that belies his years! They performed a fabulous bebop rendering of "If I Were a Bell" from Guys and Dolls. Cobb did a bit of scatting on an exquisite version of "'Round Midnight." An explosive "Two Bass Hit" ended the set with a bang.
Nicole Zuraitis and Albert Rivera – Impromptu Performance
When there was a lull at the Student Stage, vocalist Nicole Zuraitis did an impromptu performance that was so good, you'd think she had rehearsed it extensively, and Albert Rivera had an impressive sax solo on "Route 66."
Jane Bunnett & Maqueque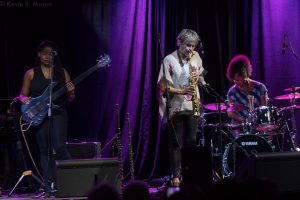 The fiery, spirited music of Jane Bunnett & Maqueque was so irresistible, it really got the crowd up to dance. The group, Jane Bunnett on soprano saxophone and flute, Melvis Santa on vocals and percussion, Celia Jiménez on bass, Yissy García on drums, Mary Paz on congas and vocals, and Dánae Olano on piano, played music from their first and second CDs, Jane Bunnett and Maqueque and Oddara. The concert also included "Ain't No Sunshine." The last song of the set was a composition by pianist Dánae Olano, and it was absolutely electrifying! It was a real party, and Jane Bunnett & Maqueque closed the 2018 Litchfield Jazz Festival on a high note!
Artist Talk – Jane Bunnett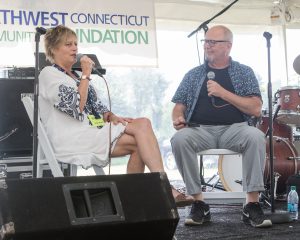 Frank Alkyer of DownBeat Magazine hosted Canadian saxophonist/flutist Jane Bunnett in an Artist Talk. Jane talked about her experiences in Cuba, the musicians she has worked with over the years, and how she came to create the group Maqueque. A few years ago, she realized that despite having several music schools in Havana, there were not many professional opportunities for women beyond school. She met the group's original lead vocalist Daymé Arocena, who was powerhouse singer, and then she found the other girls in the group. Jane discussed the issues with visas, and what it takes for Cuban musicians to come to the United States to perform. This situation has gotten more intense lately, with added restrictions. Because of this, she said the group never takes any concert in the U.S, for granted – they come to play! She also spoke about the vibrant American-Cuban music scene that included artists like Dizzy Gillespie, before the embargo. Jane thanked Vita West Muir for her early sponsorship and ongoing support of Maqueque.
Artist Talk – Emmet Cohen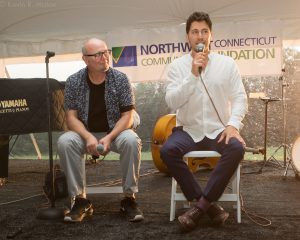 Pianist Emmet Cohen discussed his Masters Legacy Series recordings with Frank Alkyer. The first volume featured drummer Jimmy Cobb, and it was dedicated to him. The series was born because Emmet wanted to bridge the gap that existed between the oldest generation of jazz musicians and the youngest. He wanted to bring the elder statesmen together with up-and-coming artists. Emmet and Jimmy met in the New York jazz club scene, as well as at The New School, and they developed a friendship. Now, they are neighbors in New York, and often perform together. Of Cobb, Emmett said, "He's jazz royalty. He's a legend." He also said that Jimmy has strength and clarity, and he gives it everything he's got. Emmet said he gets emotional when he thinks about all the places Cobb has been, and the things he's done. Emmet declared that his playing has changed and grown since playing with Jimmy. He also talked about how every gig is different, which he thinks is good, because it keeps things fresh. Don Braden chimed in and imparted that he once asked Jimmy how he aged so well. Cobb said it was because he never took drugs, and all his colleagues who took drugs are gone. Emmet Cohen is part of the future of jazz, but he's also doing the important work of preserving the genre's history.
Coming Up
Jingle & Mingle 2018 is a special evening of great music, great food and drink, and an opportunity to help young, aspiring musicians. This event will allow you to enjoy the fabulous music of bassist/vocalist Nicki Parrott (former member of the Les Paul Trio) and support the Litchfield Jazz Camp at the same time! Top Jazz Camp students will join Nicki to perform, so the audience will be treated to great music, a cocktail party, and dinner. The festivities will take place on December 15, from 7:00 to 10:00 pm, at the Litchfield Community Center. The cost for this fundraiser is $85 per person. Last year's Jingle & Mingle was sold out, so get your tickets early!
Conclusion
One of the best things about the Litchfield Jazz Festival is how it brings different generations of jazz musicians together in a relaxed atmosphere. All the action is on just two stages – the Main Stage and the Student Stage. Most of the schedule does not overlap, so there's no need to rush from stage to stage. There are also lots of great vendors of food and art on the scene, including renowned Connecticut painter Chris Osborne, and multi-media artist Danielle Mailer, who've both done official t-shirts for LJF. Between the great music and the mellow vibe, Litchfield is one of the coolest jazz fests around.
The 24th Litchfield Jazz Festival will take place July 26, 27, and 28, 2019. For more information about LJF, go to www.litchfieldjazzfest.com.