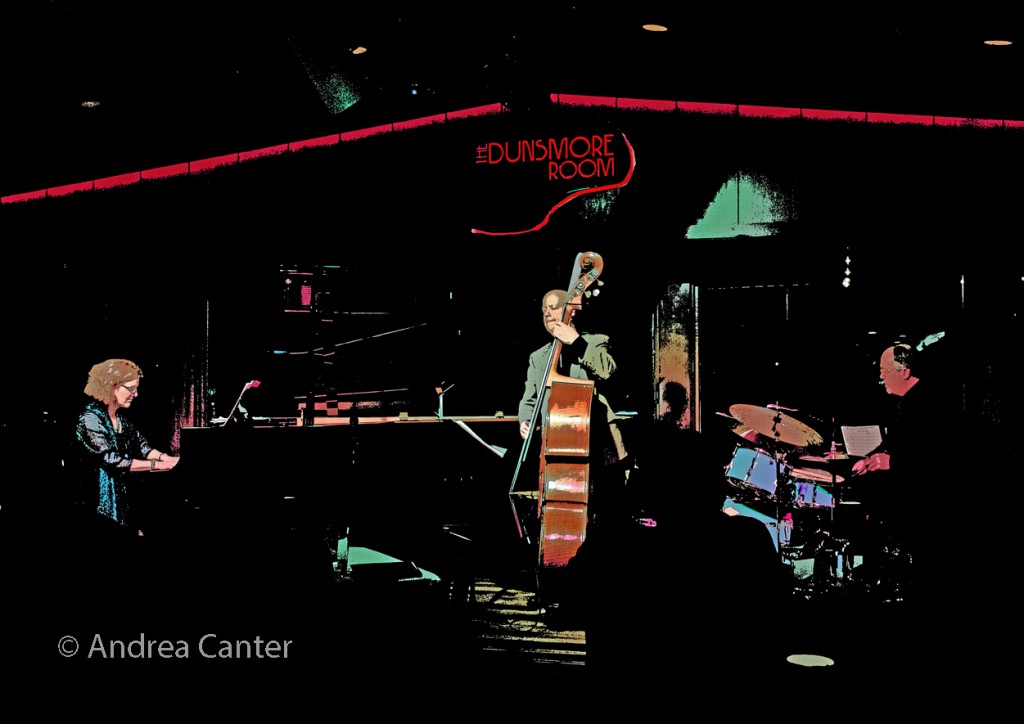 One of the most talked about happenings on the Twin Cities Jazz Scene of the past few months has been the opening of the Dunsmore Room at Crooners Lounge in the not-your-first-thought-about-jazz suburb of Fridley, about 20 minutes north of downtown Minneapolis. Now, three months into its run, the Dunsmore Room remains one of the most talked about venues in area music, boasting live, intimate jazz and more, two to three times per week, with a growing roster of artists from local vocalists, pianists and small ensembles to an impressive list of visiting talents. And aside from the quality of artistry–which, granted, can be found in other area venues–the drawing cards seem to be the management's commitment to a real "listening" room, the showcase Bösendorfer grand, relatively low pricing, and a "something for everyone" dinner menu.
Dunsmore Room – Historical Perspective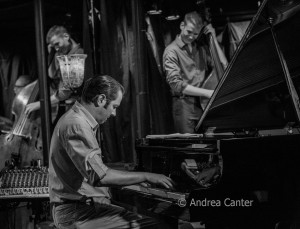 To recap briefly, the venue that once was home to the Shorewood was brought back to life as Crooners Lounge by the husband/wife team of lounge pianist Larry Dunsmore and health care executive Mary Tjosvold (Mary T) in 2014. Live music was the focal point from day one, initially including happy hour music Monday-Friday and eclectic "Main Stage" music in the lounge six nights per week plus Sunday jazz brunch. In fall 2015, with assistance from local pianist/vocalist Andrew Walesch as the curator, Crooners began offering Jazz Tuesdays, booking instrumental ensembles and attempting to create a "listening environment" by discouraging dancing and conversation. That effort succeeded (to a degree) in bringing in a new crowd of jazz fans seeking an alternative to the higher costs of the big acts at the Dakota and Orchestra Hall, and the local acts at the cheaper but small (and often noisy) bars and clubs, perhaps something to fill the gap since the Artists Quarter closed.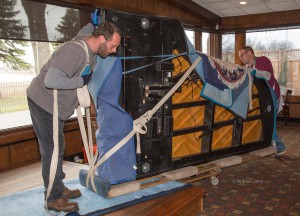 But the setting was not yet the quiet, intimate space desired. And with Larry Dunsmore's passing in late fall, Mary T was determined to carry out this dream. Coincidentally, Twin Cities-based pianist/composer Steven C. Anderson had a nine-foot Bösendorfer grand that was not getting the attention it deserved. By mid December, Steven had arranged to move his piano, on long-term loan, to Crooners, where it would be the centerpiece of a new, part-time jazz space to be known as The Dunsmore Room. The room itself was otherwise the Lakeside Dining Room, overlooking Moore Lake, and continuing to serve as a dining spot on weekends and other nights when no music was scheduled. Crooners built a stage to hold the piano, added lighting and a sound system, and Andrew started booking his Tuesday Instrumental Jazz Nights into the Dunsmore Room. Dan Chouinard, who years ago had hosted the Singers' Voice, a weekly live broadcast of piano/vocal duos, was asked to create a somewhat similar series of live duo shows on Sunday nights, and soon was heading The Birthday Club, bringing in vocalists to help him pay tribute to musicians with birthdays of the relevant month. (At the same time, Crooners discontinued Sunday Brunch.) Another series of music had just gotten off the ground –"In the Crook", putting a pianist together with a singer "in the crook" of the piano. What better piano to use than the Bösendorfer? Soon, "In the Crook" was scheduled monthly in the Dunsmore Room.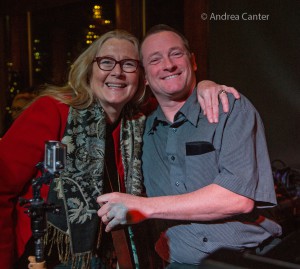 The First Orbit
The soft opening was held December 17, featuring the very popular Laura Caviani Trio (with bassist Gordy Johnson and drummer Dave Schmalenberger). Even on short notice, the room was full. The official opening, on December 22, presented the Dave King Trio: Bad Plus and Happy Apple drummer King showing his softer side in the company of pianist Bill Carrothers and bassist Billy Peterson, the same trio that had recorded together, a couple years earlier, the highly regarded I've Been Ringing You (Sunnyside). Although all three have Twin Cities ties (and King and Peterson are still based here), this is an international act that has played at the Village Vanguard, quite an opening gig for a supper club and lounge in Fridley, MN. And the room (capacity about 85) was full. Steve Wiese from Creation Audio was on hand to save the music for posterity (and a later release).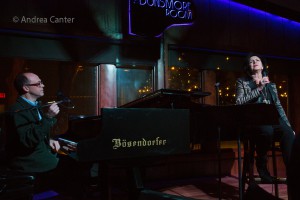 Now, mid-March, the Dunsmore Room has completed its first "orbit," with the return engagement of the Laura Caviani Trio (this time with Chris Bates on bass).  Dan Chouinard has presented such area stars as Prudence Johnson, Patty Peterson, Debbie Duncan, Gwen Matthews and Judi Vinar; Tuesday nights have included Mary Louise Knutson, Peter Kogan, Bill Carrothers (solo), Steven Hobert and Dean Magraw, Butch Thompson, Dave Karr, and Tommy O'Donnell; In the Crook has featured Rick Carlson with Rachel Holder Hennig and Dennis Spears; other special nights have included Pre-New Year's Eve with Connie Evingson, Valentine's Day with Debbie Duncan, and "Best Broads of Broadway" with Lori Dokken and Jen Burleigh-Bentz. "It's far exceeded anything we could have ever imagined," notes Andrew Walesch. "It's been full of people almost every time we have an event… a wonderful journey for everyone at Crooners."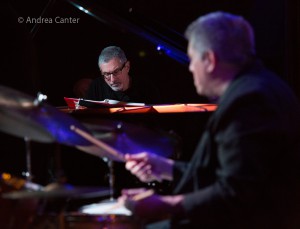 There have been too many highlights to create an inclusive list, even among the shows I have attended personally (which number at least a dozen). Hearing an otherwise stunning pianist like Laura Caviani, Mary Louise Knutson, Phil Aaron or Bill Carrothers on this amazing piano, in a relatively small room with no augmentation, is as much of an aural treat as one can hope for in any setting. Similarly, hearing a small ensemble without amplifying the acoustic instruments is a rarity in most venues, and really changes the listening experience. I have stood in different parts of the Dunsmore Room and have not found a weakness in the acoustics from one corner to another, although sitting close to the drums is probably not the best seat in the house. (However, it is darn fun to watch Phil Hey or Dave King from a few feet away!) And to hear Steven Anderson play his own piano in the Dunsmore Room was like watching the interaction between two long-time loving partners.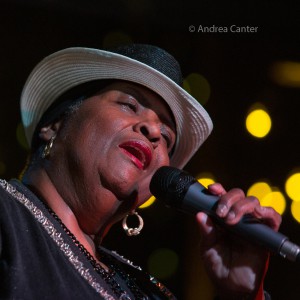 This is one of the best venues in the Twin Cities to hear a vocalist. The sound system has been tweaked with the singer in mind (perhaps because Andrew Walesch is a singer?), and the balance between piano and voice, after hearing a number of pairings, has been flawless.  No one here turns up the voice mic so that he or she can be heard above the never-amplified piano, a factor that has ruined many a singer's sound in some of our other venues where amplification rules. It's been a joy to hear Dan Chouinard's Birthday Club outings, unencumbered by faulty sound. We're left to enjoy two fine instruments — the piano and the voice–as well as the fun of hearing what might be an odd-ball selection of songs chosen to at least in part fit the theme of "birthdays."  Dan and Patty Peterson took us through Patty's history in the business, with pop songs from the 60s and 70s as well as favorite standards. With Gwen Matthews, we not only heard some of her favorites (including a drop-dead take on Etta James' "At Last"), but also the voices of a very talented family, including her nephew and daughter.  Most of all, I have enjoyed hearing the interplay of instruments in the small ensembles without sound system (or human) distractions (or ear plugs!). I've heard trio and quartet music all over town but rarely as clearly as I've recently heard the Laura Caviani Trio, the Mary Louise Knutson Trio, Dave Karr Quartet, or Dave King Trio in the Dunsmore Room.  Adds Andrew, "[The Dave Karr Quartet] was probably one of the most memorable music experiences I have ever had."
The enjoyment isn't limited to the audience. It's been a grand part of the Dunsmore Room experience to not only hear musicians "in the moment," but to also see their delight as they touch the Bösendorfer for the first time, as they interact with an audience that has really been listening to their music. We're all in that moment.
Creating a Listening Room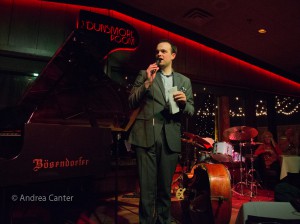 Mary T and her staff knew it would take more than a great piano and stellar musicians to create a true listening space, especially in a venue where the bar and lounge area had a history of good-time happy hours and space (and music) that encouraged dancing. Asking people to keep voices low and even putting out table cards with the "quiet" policy had only minor success in the Lounge. From the first show, Mary T and Andrew made a point of creating a culture of respectful listening: When introducing the evening's music, the host (Mary, Andrew other other staff) refers to the setting as a listening room and defines it (e.g., during the music, limit talking to whispers); table cards reiterate that request; and above all, staff enforces the policy, politely but firmly. Mary T has a significant advantage in enforcing the standard– she can move people to the adjacent Fireside Dining Room or to the bar or lounge if they are unwilling to give up conversation for music, or perhaps if they were unaware of the nature of the Dunsmore Room in the first place. And Mary has not hesitated to request that people move who are not otherwise responsive to staff (or patron) requests for "listening, not talking."
So far, the policy seems enforceable, the room generally quiet save a clinking glass. There is no sound bleed from the bar or lounge–on nights with music in the Dunsmore Room, music in the Lounge ends at 6:30 pm with Happy Hour. There is usually no significant sound bleed from the adjacent dining room– there are doors in-between and Sunday-Wednesday nights are not heavy with dinner reservations.
It's not a tomb. Patrons speak to wait staff in low voices and whisper to tablemates. Applause is frequent as in any jazz club. On occasion, someone, usually new to the experience, needs to be reminded to save chatter for later. And there was the woman who, enthused about the music, just had to keep time by loudly slapping the table, unfortunately quite out of time with Phil Hey's drumbeats. But that was an aberration in what has, so far, proven to be the most respectful listening environment in the Twin Cities, outside of the classical concert halls and smaller music-only spaces. Well, even including Orchestra Hall and Ordway where coughing sometimes prevails in winter!
Moving Ahead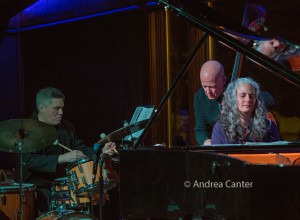 The first few months have proven that there is an audience, or several audiences, for jazz in a listening environment, even in the north burbs. (If you can avoid peak rush hour, it does not take that long to get to Crooners from points south, east and west — 20 minutes typically from my outpost in south Minneapolis if I wait til 6:15 or go in early for Happy Hour; somewhat less from downtown Minneapolis and west.)  Many nights are sold out in advance, and already there seems to be some different audiences from one night to another, suggesting there is generally broad appeal for the programming thus far. At the same time, the Dunsmore Room does not seem to be draining audiences elsewhere — my nights at the Dakota lately seem to have similar crowds as in 2015; the Nicollet, Black Dog, Studio Z and Jazz Central also seem to have their usual audiences. Adding a venue seems to have only expanded the overall audience for jazz. (Which is not to say that on any given night, there are no empty rooms. There are. It's still impossible to predict who will draw where and when.)
Crooners, which had been charging no covers in the Lounge, experimented with food and drink minimums in lieu of tickets in the Dunsmore Room. In April, an online ticketing process (Brown Paper Tickets) will take over, offering patrons the option of reserving for Dunsmore Room shows at a reasonable cover or the opportunity to buy a dinner show ticket including cover and three-course meal. (The bar and dining menus will still be available as well.) Local artist covers will generally be $10-$12; national artists will likely be in the $15-$25 range.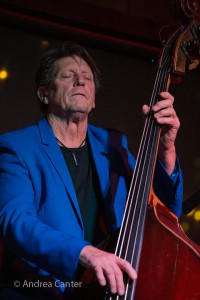 Most important, the upcoming schedule of artists should, if anything, increase the depth and breadth of the audience for music in the Dunsmore Room:
March 21, popular vocalist Patty Peterson's tribute to her mother, Jeanne Arland Peterson
March 23, Eau Claire native and Art Blakey alum, pianist Geoffrey Keezer with a rising star vocalist, Gillian Margot
March 30, local vocal star Connie Evingson
April 3, Dan Chouinard's Birthday Club with Dennis Spears
April 5, pianist/vocalist Larry McDonough's tribute to Chet Baker
April 10, vocalist Joyce Lyons and quartet pay tribute to Carmen McRae
April 12, one-time resident, Peruvian guitarist Andres Prado with his quartet, Mississippi
April 17, Dan Choiunard's Birthday Club with Thomasina Petrus
April 24, "In the Crook" with pianist Phil Aaron and vocalist Lucia Newell
April 25, former resident, New York-based vocalist Nancy Harms with pianist Jeremy Siskind, her midwest CD Release for her acclaimed Ellington at Night
April 26, area native, New York-based trumpeter John Raymond
May 10, Chicago pianist Stu Katz
May 24-25, native keyboard giant Bobby Lyle (with Billy Peterson)
June 20-21, Twin Cities Jazz Fest warm-up with David Hazeltine, Eric Alexander, Billy Peterson and Kenny Horst (that's an Artist Quarter reunion!)
Says Mary T, "We are delighted that both the audiences and the performers are excited about the Dunsmore Room, and the acceptance and appreciation of the Dunsmore listening room concept was evident in our very first performance. We thank the performer, the audience, and the piano at every Dunsmore event."
Here's to the second orbit!
The Dunsmore Room is located in Crooner's Lounge, 6161 Highway 65 NE, just north of I-694 and about 20 minutes north of downtown Minneapolis. Reservations (until Brown Paper Tickets takes over for April) and information at 763-571-9020.