Dave King Trucking Company , "Surrounded By The Night" (Sunnyside, 2016)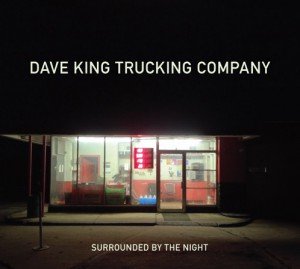 Every iteration of every band that drummer Dave King chooses to grace has been busy.  From his celebrated burst on the scene in the late 90s, he's continued to challenge a stunning array of partners with his compositions. A few years ago, he released a surprisingly melodic and ballad-laden outing on Sunnyside under his own name (Dave King Trio, I've Been Ringing You with Bill Carrothers and Billy Peterson).  His internationally celebrated trio "The Bad Plus" continues to evolve and record, as well as label-hop. Only Happy Apple has been a bit dormant in the studio of late, having last released Happy Apple Back on Top almost ten years ago.
With rumors and dreams of a new Happy Apple record, diehard fans are sure to be content with King's latest and second Trucking Company offering, Surrounded by the Night.  It contains an original composition from Happy Apple and Trucking Company bandmate, guitarist Erik Fratzke.  But King has shown little interest in cross-pollination when it comes to his music. Everything he does is fresh and unique.  This is not a Happy Apple Record.
Whether or not the King name is embossed on the recording, the group concept is at the forefront.  They've added exciting bassist Chris Morrissey to the roster, hopefully permanently. The versatile edge of saxophonist Brandon Wozniak has been wisely retained with colorful results. It's all here in King fashion: Obfuscating titles and next to no insight in the liner notes. But what should never be dismissed is the musicianship and conversation that he has with his band, powerfully evident in songs like "Delta Kreme" and "Glamour."