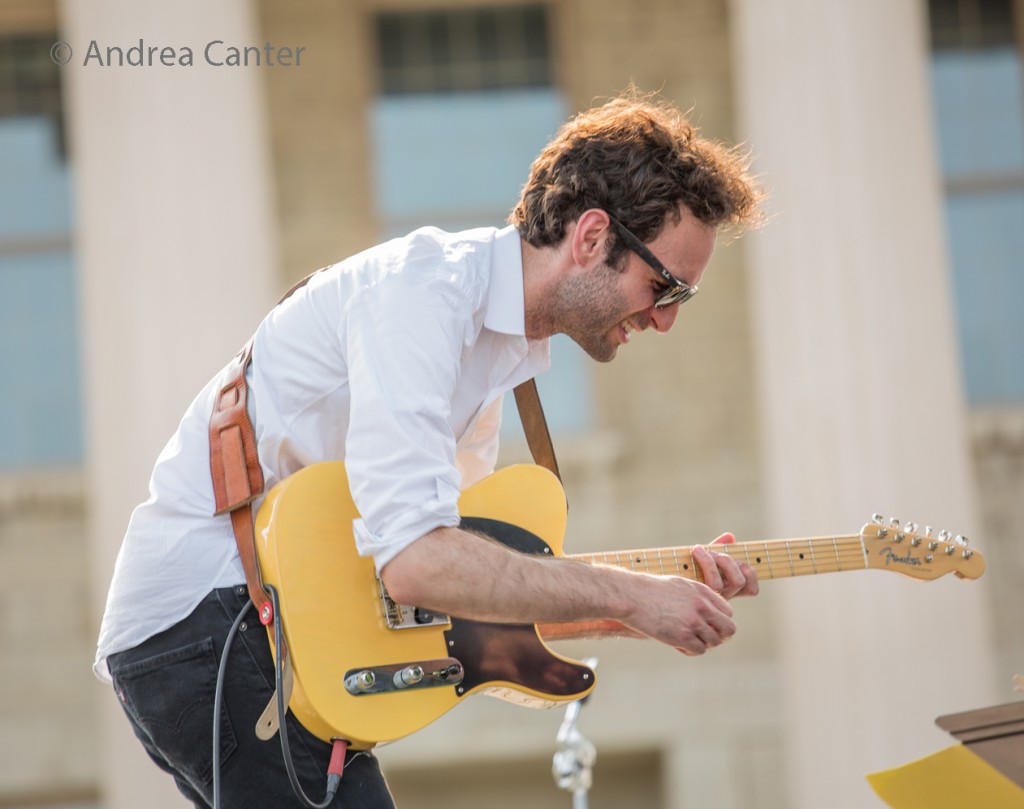 "Julian Lage…packs an enormous amount of songcraft into the compact songs on Arclight without losing any sense of spontaneity or improvisational excitement." –Ben Gray, nextbop.com
"A true master — Lang is one of the finest acoustic finger-style players in the nation… his songs are complex, mercurial, lyrical, and fluid." — Village Voice
It's a guitar extravaganza at the Dakota this weekend, as a unique double bill presents one of the young stars of jazz guitar, Julian Lage with his acclaimed trio, and one of the pioneers of fingerstyle guitar, Peter Lang, performing with fellow Takoma artists Toulouse Engelhardt and Rick Ruskin. The fun starts at 7 pm on Friday, April 29.
Julian Lage Trio
Dubbed a guitar prodigy as a pre-teen in his native San Francisco, Julian Lage is now a veteran performer still in his 20s, enjoying the accolades surrounding the release of his debut recording, Sounding Point (2009) and his follow-ups, Gladwell (2011), his first solo release, Worlds' Fair (2015), and new trio outing, Arclight (2016), as well as recent acclaimed duos with Chris Eldridge, Nels Cline, and Fred Hersch.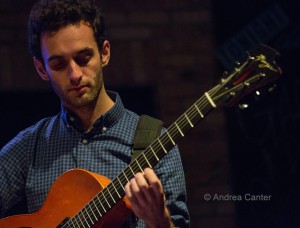 Initially drawn to Muddy Waters and the blues as well as old time acoustic guitar and bluegrass, Lage started on guitar at age 5. He sat in with Carlos Santana at age 8 and was discovered by Gary Burton when he played on the Grammy Awards telecast at age 11. Lage spent his teens learning and touring with Gary Burton's Generations and Next Generation bands before earning  a classical guitar degree from the San Francisco Conservatory and a jazz degree from Sonoma State University; he also studied classical composition at the Berklee College of Music in Boston.
Julian continues to collaborate with Burton on the vibraphonist's quartet. He has also appeared on a Grammy-nominated album by Nnenna Freelon and has long collaborated with pianist Taylor Eigsti, appearing on Eigsit's Grammy-nominated Lucky to Be Me. Along the way he's also performed with such modern jazz greats as Lee Konitz, Charles Lloyd, Martin Taylor, Christian McBride, Herbie Hancock, Billy Hart, Jim Hall, and the late Billy Higgins; he was a guest on Marian McPartland's Piano Jazz in December 2005. His current trio, which appears on the new Arclight, includes bassist Scott Colley and drummer/vibraphonist Kenny Wollesen.
Peter Lang and Takoma Guitar Masters
Considered the founders of American fingerstyle guitar, Peter Lang and colleagues from the Takoma label (e.g., John Fahey and Leo Kottke) helped redefine guitar as a serious concert instrument. Using alternate tunings with the techniques and vocabulary of country blues, Lang generated a bright sound, driving rhythm, a humor-infused compositions, touring and recording as one of his generation's top acoustic guitarists in the 70s. During that period he recorded or performed with Ry Cooder, John Fahey, Jerry Garcia, Chet Atkins, John Hartford, the Nitty Gritty Dirt Band, Emmylou Harris, Leo Kottke, Freddie King, Paul Butterfield Blues Band, John Hammond, Phoebe Snow, Keith Jarrett, Maria Muldaur, the Yellowjackets, Robben Ford and more.
Guitarist, composer and humorist Toulouse Engelhardt was dubbed the Segovia of Surf, given his years living in Southern California's beach culture. His "free form", lightning-fast guitar and colorful melodies earned him praise from both serious critics and audiences.  Rick Ruskin drew up in Detroit where, after only a year of playing, he was already regarded as a serious professional. Still in junior high, he opened for the master of blues and gospel guitar, Reverend Gary Davis, at Detroit's Retort Coffee House in 1964, leading to a long association with Davis.
Reservations for the Dakota's Guitar Night at 612-332-5299 or online at www.dakotacooks.com; the Dakota is located at 1010 Nicollet Mall in downtown Minneapolis. Tickets $30-$42.