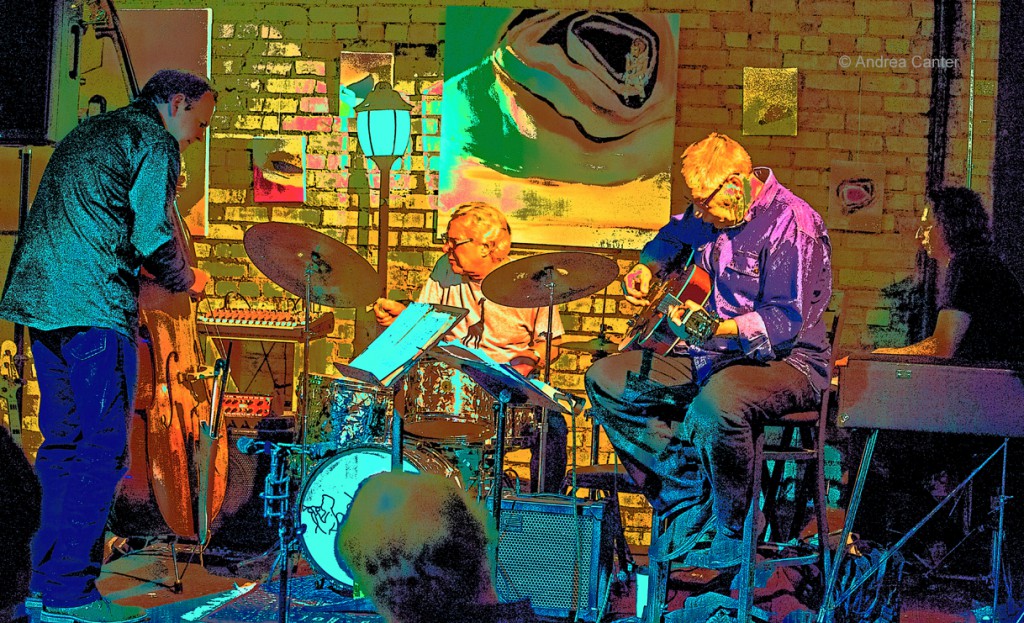 "We all listen to what's happening moment to moment and try to contribute a part that no one else would think of. When we open it up, it's like, whoa. It might not be obvious to listeners where the top or the bridge of the tune is. But we always come back." – Peter Schimke, How Birds Work (Mpls-St Paul Magazine)
In about 2003, the artist-friendly setting of the Artists Quarter was the genesis of How Birds Work, a collaboration of four well-known area musicians—guitarist Dean Granros, keyboard specialist Peter Schimke, bassist Billy Peterson, and drummer/AQ owner Kenny Horst. The band released an acclaimed CD in 2004 (Live at the Artists Quarter) and was profiled in Minneapolis-St Paul Magazine in January 2007. HBW has continued to hone its craft, although performances have been less frequent in the past few years since the closing of the AQ. The quartet takes a rare flight on the Saturday Night Jazz at The Black Dog series this weekend, April 30, promising a fitting celebration of International Jazz Day. The opening set features a new trio of veterans led by Joel Shapira, dubbed The Growlers.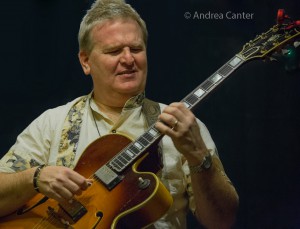 The Growlers, 7 pm
Recently assenbled by Joel Shapira, the Growlers brings together three veterans who know how to engage the audience while creating new music. Joel Shapira (Charmin and Shapira, Bottomless Pit) and David Martin (Salsa del Soul, Samba Meu) handle the strings(Joel on guitar and Dave on fretless bass), while drummer Pete Hennig (Atlantis Quartet, Fantastic Merlins) keeps all in drive mode.
How Birds Work, 8:30 pm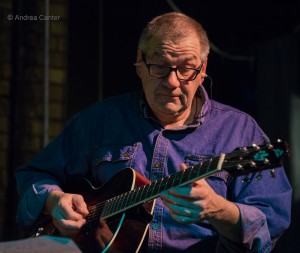 For this weekend's gig, HBW features Dean Granros on guitar, Peter Schimke on piano, Ted Olsen on bass, and Kenny Horst on drums. Each of these artists has established his reputation through many diverse routes: 
Dean Granros studied music theory and composition at the University of Minnesota for in 1970-1972, and studied composition with John Gessner at MacPhail Center  for Music in 1973. Concurrent with those academic studies, he served a lengthy apprenticeship in jazz and blues, playing nightclubs such as the old Blue Note in North Minneapolis, the Extraordinaire, and the Downtowner. He was a co-founder of one of the Twin Cities seminal experimental jazz groups, "The Whole Earth Rainbow Band" in 1970, and in 1974 he created and wrote for "Lapis," an ensemble dedicated to exploring composition with structured improvisation. From 1985 through 1993, Dean joined former Weather Report drummer, Eric Kamau Gravatt, in the high energy post-bop band, Kamanari.  He co-founded the progressive and virtuosic improvising trio F*K*G in 1995, with saxophonist Scott Fultz and drummer Dave King. In 2002, he joined George Cartwright's band Curlew and was featured on Curlew's much lauded 2003 Cuneiform release, Mercury. Granros continues to perform locally with groups such as Starry Eyed Lovelies (with Mike Lewis, Anthony Cox and Dave King), FKG and How Birds Work and with his double guitar quartet. In early 2015, Dean and Joel Shapira released Jazz Guitar Duets: Live From the Twin Cities Jazz Festival, recorded in June 2014 at the Black Dog.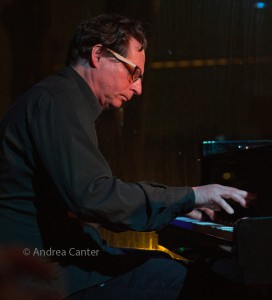 Pianist Peter Schimke is a popular performer and one of the busiest keyboardists in the Twin Cities. He first worked in his brother's blues band and launched his pro career with the New Psychenauts. Know first for his keyboarding in rock bands, Peter studied jazz piano with Brazilian pianist Manfredo Fest, Jim McNeely and Harold Mabern. A member of How Birds Work, What Would Monk Do, and the PipJazz Band, leader of his own trio, long-time member of Bruce Henry's ensembles, and frequently collaborating with Billy Peterson, Kenny Horst, and Irv Williams, Schimke is a favorite of local and visiting vocalists and instrumentalists. Other projects have included tours with the Andres Prado Quintet, Estaire Godinez, Chris Morrissey and a soon-to-be released DVD project with Jerry Bergonzi. Currently Peter is working on a solo recording and teaches at McNally Smith College of Music.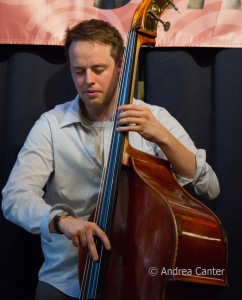 Ted Olsen studied bass with Travis Schilling and Adam Linz. He graduated from St. Paul's Como Park High School in 2010 and went on to study composition at Luther College in Decorah, IA, finishing college studies at the University of Northern Colorado in spring 2015. In the Twin Cities, Ted has taught at the Twin Cities Jazz Workshop and has performed as leader and sideman at various venues including the Artists Quarter, Jazz Central, Black Dog and more. His quartet performed on the main stage of the 2015 Twin Cities Jazz Festival and he is a member of the Javi Santiago Trio.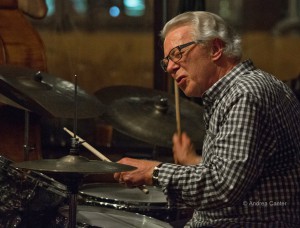 Kenny Horst owned and managed the Artists' Quarter for 18 years before the club closed at the end of 2013.  He also tended the drum kit with many of the AQ's visiting and local artists, and anchored the Tuesday Night Band during its weekly run at the AQ. With more time now, Kenny has performed at Jazz Central, the Black Dog and The Nicollet, in HBW and What Would Monk Do.  Says Don Berryman (Jazz Police), "Great hard-bop, soul jazz, and fusion chops and the sweetest guy you could meet." He served double duty on the HBW recording as both drummer and producer.
So what happens when this quartet gathers for a night out? Sophisticated, often subtle, How Birds Work offers multiple layers of intrigue to the listener. Their Live at the AQ is an ambitious recording, including well-known classics of master composers, Coltrane's "Equinox," Hancock's "Maiden Voyage," and Shorter's "Footprints." These have been performed many times by legendary artists—with the bar set so high, this could be a dangerous play list, but these guys are up to the challenge, and throw in three originals to boot. And according to CD Baby, "It's jazz. Some of it is out there, some if isn't. Some of it has a little bit of a rock tinge. A lot of it doesn't." I agree, and I would also add "it is simultaneously accessible and challenging" for the listener.
How Birds Work follows in some large "footprints" of modern jazz, often teetering toward the outer limits but nevertheless always within reach. Catch their inventive musings Saturday night at the Black Dog. You can never be too sure what will happen.
Saturday Night Jazz at the Black Dog is curated by Steve Kenny; no cover but tips ($10-20) appreciated to pay the musicians and support the series. The Black Dog is located at 308 E. Prince Street (E. 4th Street at Broadway) in St. Paul's Lowertown arts district. Schedule at www.saturdaynightjazzattheblackdog.info