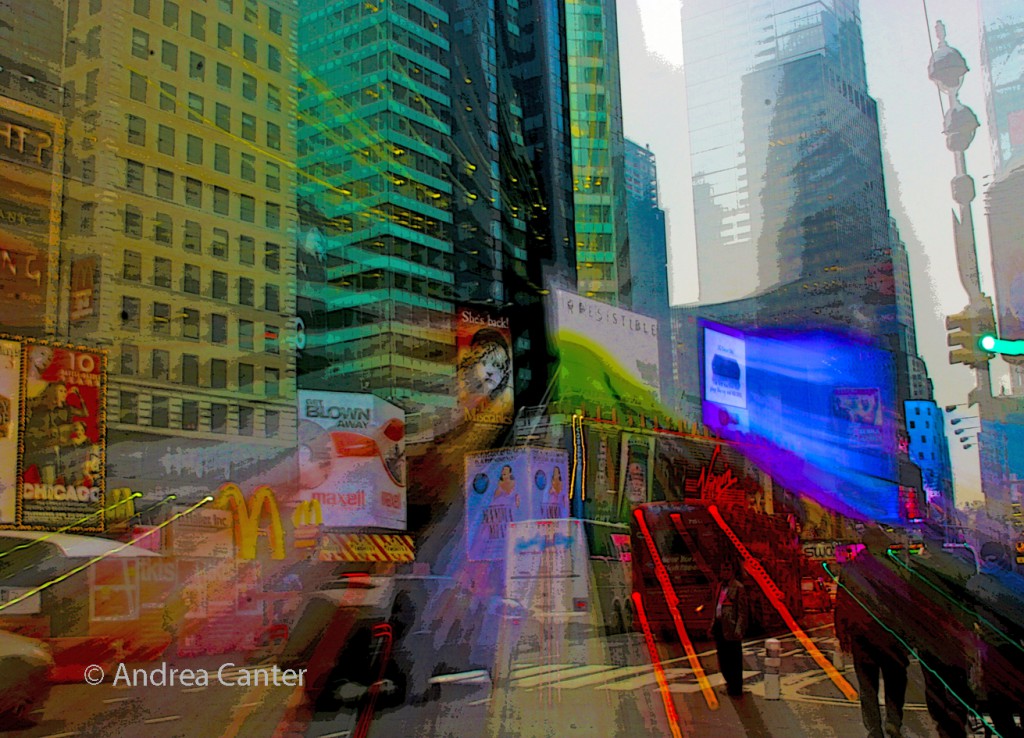 In the past fifteen years, I have vowed to get to the epicenter of jazz, New York City, every year. It's not a vow I have been able to keep. I think I've made it ten times since 2002 which is not a bad record. But this was the longest gap in that period– I was last in New York in winter 2012. Spring 2016 proved to be more challenging in some respects– I'm older and the subway stairs seem steeper; the trains more crowded; the density of tourists, cabs, and general traffic about double what I remember from just a few years ago. The level of city road repair seemed surprisingly comparable to summer in Minnesota! And the corned beef on rye at Katz's Deli seemed piled even higher. At least one thing remains thankfully the same– the quantity and quality of jazz; prices are perhaps a bit higher but mostly that seemed insignificant. The options each night can make your head spin like an old 45, but whatever you choose, chances are you will be more than satisfied with your decision.  As my friend Pamela observed, I created my own personal jazz festival. And I did well.
Leny Andrade/ Roni-Ben Hur Trio at Birdland, 5/12/16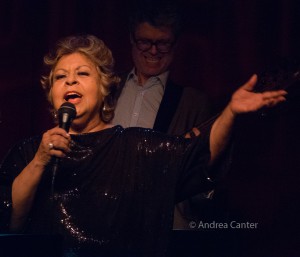 At 73, Latin Grammy-winning Brazilian vocalist Leny Andrade still tours and enchants with her melding of samba and jazz. Whatever wear and tear on her voice over the years, she still can carry a tune. And more important, she is an engaging storyteller and interpreter of the great Brazilian songwriters, especially Jobim.  She filled at least half of her set with Jobim, including an encore medley that inevitably ended with "The Girl From Ipanema" (starting out with "So Danço Samba"); earlier she sang "Dindi" and "Ana Luisa" in honor of the 18th birthday of the daughter of guitarist Roni Ben Hur, whose trio backed her at Birdland as well as on Leny's most recent release on Motema Records. Birdland was chattier than I remember despite the usual request for "quiet" at the start of the show. The club was pretty much full for the 8:30 set, but we were invited to stay at no charge for the late set. All in all, Birdland reminded me of a night at the Dakota in Minneapolis, with a bit more crowd chatter. I seem to recall a more reverent audience there a few years ago — but then perhaps Kurt Elling always elicits reverence.
Fred Hersch and Anat Cohen at Jazz Standard, 5/13/16
For the past ten years, virtuosic composer/pianist Fred Hersch has held a Duos Residency at Jazz Standard in May – for each of seven nights, he meshes musical chops with a different duo partner. In the midst of duos week, he paired up with a recent collaborator, clarinetist Anat Cohen. It is a heavenly match. Like piano and saxophone, piano and clarinet seem meant for each other, perhaps all the more so with Fred and Anat who, despite their differences in generation and culture, speak the same eloquent language of improvisation and melody. Fred announced that the two original opening compositions were tributes to Lee Konitz and the late Charlie Haden ("Child's Song"); the duo added a playful "The Best Thing for You Would Be Me," and finished with Anat dancing her way through what I think was Luis Bonfa's "Samba de Orfeu" ( "Sweet Happy Life"). But the highest point in a set that was otherwise pretty much stratospheric was their exquisite reading of Jimmy Rowles' "The Peacocks." Surely this song was always intended for this moment. Anat and Fred, like one of the week's earlier duos, Fred and Julian Lage, clearly inspire something unique in their interaction, and like Fred and Julian, we can hope this duo will also find time to bring that elegance into the studio (or perhaps this set was recorded at Jazz Standard?).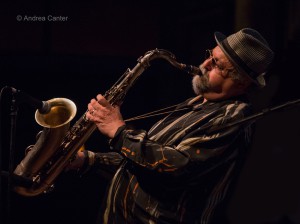 Joe Lovano: The Spirit of John Coltrane in the Appel Room, Jazz at Lincoln Center, 5/13/16
Just in case you need to know this, it takes all of 20 minutes to get from Jazz Standard to JALC at Columbus Circle, with one train and a little walking. This is critical to know if your visits to Manhattan tend to involve double-header nights of jazz. Leaving the breathtaking duo of Fred Hersch and Anat Cohen to hustle up to the Time Warner complex to arrive in time for the second of four weekend shows honoring "The Spirit of John Coltrane" was worth the hustle.  In fact seeing these shows back to back underscores the talent of 21st century artists, even as they pay tribute to the geniuses of the 20th century.  There is no one better suited to honor John Coltrane's music and spirit than Joe Lovano, and he could ask for no better partners than the seven-piece ensemble he assembled for these special performances, starting with Ravi Coltrane sharing multiple saxes (Joe on tenor, straight alto, and soprano; Ravi on tenor, soprano, and straight sopranino). The third horn (not third string) belonged to Tom Harrell on trumpet and flugelhorn.  The piano duties split across the two nights with one-time Coltrane sideman Steve Kuhn this evening, Geri Allen the next night. Reggie Workman, another Coltrane alum, offered lessons in the art of the upright bass; and following the Lovano blueprint, there were two drummers – another Coltrane cohort Andrew Cyrille and the younger percussion master and long-time Wayne Shorter sideman, Brian Blade. The program likely varied with each set, including portions of "A Love Supreme," Coltrane compositions ("Jimmy's Mode") and standards he was fond of playing ("Central Park West" and "Lazy Bird").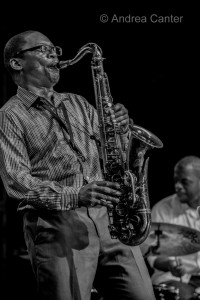 Most of the program was played without verbal comment, and safe to say, none was needed. Each musician had his opportunity to shine, and each contributed to a soaring, satisfying set that overcame a drizzling night (still, quite a view above Columbus Circle), and some intermittent audience chatter. Steve Kuhn's sleight of hand was literal –at one point he seemed to swivel his wrist to backhand a sweep up the keyboard; he found uncanny, perfect opportunities to insert notes from the very top and very bottom of the keyboard, and took a magical solo turn on "I Want to Talk About You." Ravi showed no intimidation from his father's shadow but the "spirit" of John Coltrane nevertheless lives through the son. Workman's bass solos were commanding, beautiful, at times harp-like as he caressed the strings and created 2-handed glissandos that were as intriguing to watch as to hear.  Although initially it seemed Andrew Cyrille was content to play straightman to the thrashings and crashing of Brian Blade, ultimately they went head to head on a couple alternating solos, the elder drummer staying in step with Blade at every turn, ending in a duel with Cyrille using his own face as his instrument. As for Tom Harrell — I think this was the first time I saw him smile on stage, slightly in response to the applause after his own solo, more blatantly in response to Lovano's soaring tenor. The night ended in "Resolution," and it was supreme. Gathering this Coltrane choir was surely no easy feat but hopefully not a one-off.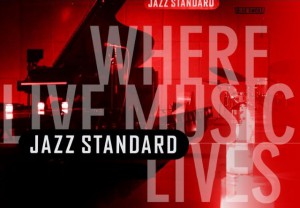 Fred Hersch and Kate McGarry at Jazz Standard, 5/14
Had I arrived in town earlier in the week, I might have simply rented a room at Jazz Standard! But I am content with the two nights of Fred Hersch's Duo Week, moving from the instrumental elegance of Friday's show with Anat Cohen to the glorious piano/voice partnership that Fred has long shared with Kate McGarry. The set covered a wide emotional path, from Neal Hefti to Cole Porter to Joni Mitchell and originals from Fred and one of his other favorite partners, Norma Winstone. They opened with a nod to Mitchell with an upbeat run through "All I Want," and Kate gave "Girl Talk" a sassy spin, but the high points (for me) were the two Winstone songs, which the British songstress recorded some yeas ago with Fred (Songs and Lullabies), two exquisite renderings by equally elegant partners, "Stars" and "A Wish." In addition to her lovely voice, Kate is a physical singer, expressing herself as much through facial expressions and postures as through her voice. Fred is an equal partner in creating the music, at times his phrasing suggesting variations on Bach. Usually a room of good listening, I had to gently shush a loud adjacent table, where one of the (clearly tourists) party responded, "This isn't the opera!"  Obviously he had not been listening.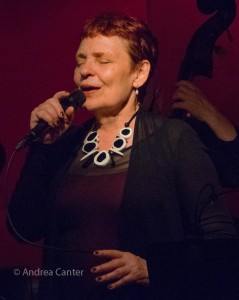 Teri Roiger Quartet at The Kitano,  5/14
I had been to The Kitano a few times when it was tucked away in a tiny space on the second floor of the hotel. You could order sushi while you listened to an intimate presentation of music; I had heard Tom Harrell in a duo of new compositions, and pianist/vocalist Janice Friedman in a trio of swinging standards and originals. Since my last visit, the music room at The Kitano had moved down to the main floor in a significantly enlarged space. It's still an intimate listening room that now seats about 60 instead of 35. Having walked (fast) from Jazz Standard, we caught the end of Teri Roiger's first set of mostly Billie Holiday tunes from her forthcoming recording, Billie 101: A Tribute to Lady Day (the release will be celebrated in the Twin Cities on June 7, in the Dunsmore Room at Crooners Lounge); and as planned, we finished the night with the second set. Along with husband, bassist John Menegon, Teri was joined by Shirley Horn's long-time drummer Steve Williams (who has also enjoyed a long relationship with Teri) and a Kansas City transplant based in upstate New York, pianist Wayne Hawkins. This is the core ensemble on the new recording. Teri filled the late set with some gems from her 2012 Dear Abbey release, including "Wholly Earth;" a stunning arrangement of Hoagy Carmichael's "The Nearness of You;" and several tunes from the Billie Holiday tribute. Teri also included "Foolin' Myself," which she noted is "a song Billie used to do, but I first fell in love with Shirley Horn's version with Steve Williams on drums. I recorded it with Jack DeJohnette, Kenny Burrell and John [Menegon] on my first CD Misterioso! I love doing it with Steve on drums…he is so swingin'! I usually add it on to a last set if he's doing the gig with me, which he almost always is." He was and she did.
Teri reminds me of Sheila Jordan – each song is all about the story, about the emotion, about the personal interpretation and arrangement.  And nothing beats a good bedtime story.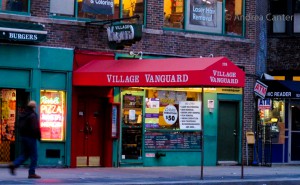 Steve Coleman and Five Elements at the Village Vanguard, 5/15
MacArthur Fellow and founder of the M-Base Collective, saxophonist Steve Coleman had never played the Vanguard until last November, and now he returned for six nights with his far-ranging band of trumpeter Jonathan Finlayson, guitarist Miles Okazaki, bassist Anthony Tidd and drummer Sean Rickman, all of whom appeared on Coleman's 2013 release, Functional Arrhythmias (Pi Records). I caught the last night, my first live encounter with Coleman, Tidd and Rickman, having heard Okazaki some years ago with Jane Monheit, and meeting Finlayson just a week before at the Walker Art Center with the Steve Lehman Octet. I have no idea what three compositions formed the set– all originals from Coleman and the first stretching over thirty minutes like a grand sonic essay about artistic freedom. Yet it was not a free-for-all but a collaboration among like minds, passing the leadership baton back and forth as different voices dominated across time. I thought it might be a more dissonant, challenging listening experience, and at times it was indeed challenging to sort out the voices and their roles, and indeed some of the sounds created a certain dissonance. But it was far more accessible than I expected, with melodic as well as urgent passages. These five elements create one hefty and intriguing jazz molecule!
As I wandered around the Village neighborhood the next morning, I spotted more clubs deserving attention next visit– Fat Cat, Small's, Cornelia Street Cafe, 55 Bar and more. That's just within a few blocks of the Vanguard. I also  didn't get to the Blue Note, Iridium, The Stone or Jazz Gallery, or to Brooklyn after hours. So much jazz, so little time.  It's almost too much of a good thing–by day, outstanding museums, lush spring gardens, "real" bagels (with the mandatory ingredient–New York water), and half dills; by night, jazz, jazz and more jazz. Almost. I vow to return in 2017.