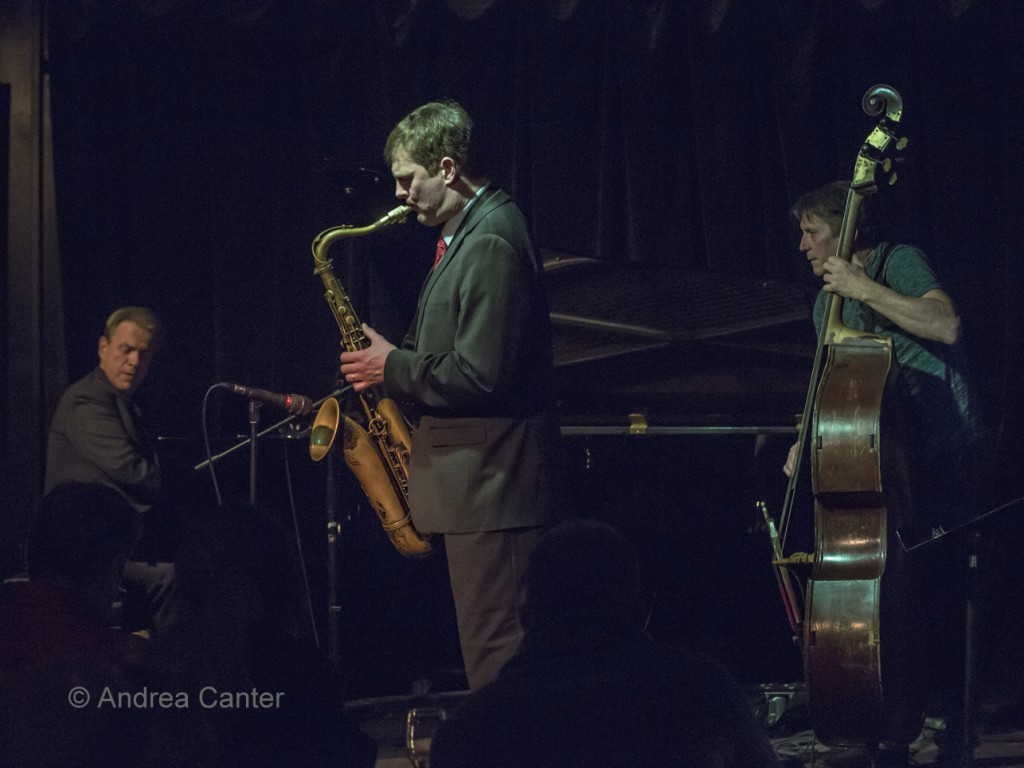 "A player and writer with great respect for the melody, Hazeltine can be surprisingly inventive with the harmonic and rhythmic possibilities in a tune… his approach makes well-known tunes sound fresh…."  –Aaron Steinberg, Jazz Times
"[Eric Alexander]…a tenor saxophonist who can play at all tempos, in all registers, and never without swinging mightily"—George Kanzler, Hot House
Before the Artists Quarter closed at the end of 2013, two favorite visitors had been pianist David Hazeltine and saxophonist Eric Alexander. The last national act to perform at the AQ, Hazeltine and Alexander joined forces with bassist Billy Peterson and drummer and AQ owner Kenny Horst for a blazing weekend of quartet music. It was one of those special collaborations that has been hard to replicate locally since the AQ's closing. Now, adding celebration to celebration, the Dunsmore Room and Crooners Lounge and the Twin Cities Jazz Festival team up to present a three-night "Pre Fest" David Hazeltine/ Eric Alexander extravaganza: On Monday, June 20, Hazeltine and Alexander perform as a duo; on Tuesday, June 21, celebrate the Solstice with a reunion of that 2013 quartet, adding Billy Peterson and Kenny Horst; on Wednesday, June 22, Billy Peterson and David Hazeltine perform duo sets celebrating their new CD release. For all nights, there are 2 ticketed shows, 7 and 9 pm; reservations strongly recommended.
David Hazeltine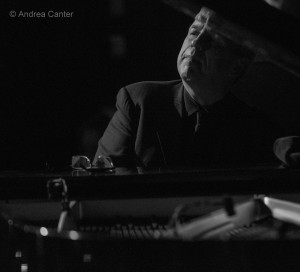 Noted for adventurous arrangements, rhythms, and harmonies, as well as swinging, melodic original compositions, New York pianist David Hazeltine brings both a reverence for tradition and a unique inventive spirit to the bandstand. And he's no stranger to the Twin Cities, having spent his childhood and early career in the Midwest. A native of Milwaukee, Dave fell in love with jazz when his mother gave him a Jimmy Smith recording. He played his first professional gig (on organ) at age 13 (weekends at a neighborhood Italian restaurant), switching to piano at 15. "Stylistically, I think there are a lot more possibilities on the piano," said Hazeltine, looking back. "All the variations in touch on the piano make it a much more interesting instrument for me." However, music was not his first priority, and through high school he was intent on a career in electrical engineering. At the last minute, he says, he decided to switch to music school.
Still in college, David Hazeltine became the house pianist at Milwaukee's Jazz Gallery, where his first gig was with the great tenor player Sonny Stitt, who became a mentor. Soon he was playing with such visiting legends as Charles McPherson, Eddie Harris, Pepper Adams, and Chet Baker. Baker encouraged him to move to New York in 1981. Personal issues sent him back to Milwaukee two years later, but he expanded his horizons throughout the Midwest, playing venues in Chicago and the Twin Cities, as well as Milwaukee. Returning permanently to New York City in the early 1990s, Dave started playing at the old Star Café in the company of Junior Cook and Curtis Fuller, then went on the road with Jon Hendricks. Later he played with his "Classic Trio" (drum legend Louis Hayes and bassist Peter Washington) as well as serving as sideman for Freddie Hubbard, James Moody, the Faddis-Hampton Sextet, Slide Hampton Big Band, the Carnegie Hall Jazz Band, and Marlena Shaw, for whom he also served as arranger and musical director. He's also appeared as the guest artist on Marian McPartland's Piano Jazz.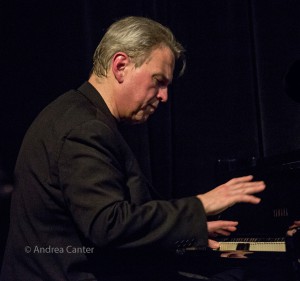 Hazeltine's first recording as leader in 1996 (Four Flights Up, Sharp Nine) featured Slide Hampton, and received wide acclaim from critics and musicians. His American recordings have included Sharp Nine and Criss Cross, while in  Japan, he has released six trio recordings for Venus, including tributes to Bill Evans (Waltz For Debby) and Horace Silver (Senor Blues). Today, Hazeltine has 23 recordings as leader to his credit, including a series with the collaborative ensemble, One for All, which includes Eric Alexander, Steve Davis, Jim Rotondi, Joe Locke, and Joe Farnsworth. Also heavily involved in jazz education, David Hazeltine was co-founder and director of The Jazz School in Milwaukee and the Program Coordinator of Jazz Studies (later Department Chairman) at the Wisconsin Conservatory of Music. More recently, he served as Associate Professor at Berklee College of Music and is currently on the faculty of SUNY- Purchase.
Eric Alexander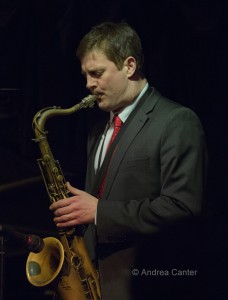 In the past decade, tenor saxman Eric Alexander has forged a reputation as one of the leading jazz voices of his generation. With an astounding 3 dozen+ recordings to his credit as leader and dozens more as sideman, the 2003 Jazz Week Musician of the Year keeps a busy schedule composing and performing.  Born in Galesburg, IL and raised in Olympia, Washington, Alexander first learned piano at age six, then clarinet at nine, and moved to alto sax at 12. With a strong classical background, Alexander became obsessed with jazz as a student at Indiana University and converted to tenor. Transferring to William Paterson College in New Jersey, he studied with Harold Mabern, Joe Lovano, and Rufus Reid. "The people I listened to in college are still the cats that are influencing me today," says Alexander. "Monk, Dizzy, Sonny Stitt, Clifford Brown, Sonny Rollins, Jackie McLean, Joe Henderson–the legacy left by Bird and all the bebop pioneers, that language and that feel, that's the bread and butter of everything I do. George Coleman remains a big influence because of his very hip harmonic approach, and I'm still listening all the time to Coltrane because I feel that, even in the wildest moments of his mid- to late-Sixties solos, I can find these little kernels of melodic information and find ways to employ them in my own playing."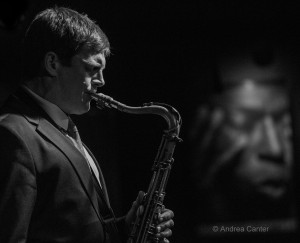 Settling in Chicago initially, Alexander impressed organist Charles Earland, with whom he made a number of trio recordings, including his debut as sideman, Unforgettable (1991, Muse). In 1991, Alexander placed second behind Joshua Redman in the Thelonious Monk International Saxophone Competition. He soon moved to New York, performing at The Blue Note, The Village Vanguard, Sweet Basil's, Small's, and The Iridium, appearing with Cecil Payne, Harold Mabern, Eddie Henderson, Larry Willis, Kenny Barron, Freddie Cole, Pat Martino, and Cedar Walton, among others. After his first release as a leader, Straight Up (Delmark, 1992), he went on to record with CrissCross and Alfa, and formed the hard bop sextet, One for All, with Jim Rotondi, Steve Davis, Joe Farnsworth, Peter Washington, and Dave Hazeltine.
These days, Eric continues to appear regularly at Smoke in Manhattan with One for All and tours with his quartet, featuring Harold Marbern on piano, John Webber or Nat Reeves on bass, and Joe Farnsworth on drums. He's also been performing with the great Jimmy Cobb, Pat Martino, McCoy Tyner and the ensemble Chasin' the Trane. His long string of acclaimed recordings includes his most recent quartet release, The Real Thing (2015, High Note). An almost annual visitor to the Artists Quarter through 2013, Eric's 2011 gig at the AQ was nearly derailed by a severe dog bite, but the saxman proved to be too dogged to hang it up and played some of his finest AQ moments on that date.
Collaboration: Duo and Quartet
Eric Alexander and David Hazeltine have collaborated for a number of years as members of One for All. And Dave notes the saxophone has long been a source of inspiration. "I really like the freedom of a horn," he says. "I like the things that they can do melodically and expressively, almost like a voice, that a piano just can't possibly do. They have profound melodic rhythmic shapings to their lines."  Put Eric Alexander and David Hazeltine together, add bassist Billy Peterson and drummer Kenny Horst, and you can expect some profound jazz.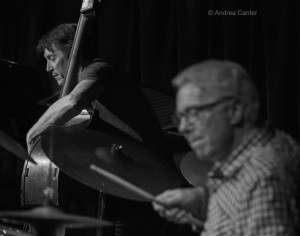 From Minnesota's "First Family of Music," bassist Billy Peterson sang in commercials with sister Linda at age 9 and played bass and drums in his father's ensembles while in junior high. He played in a variety of combos and big bands throughout his high school years, including a summer tour with the Righteous Brothers and a stint with the Lawrence Welk All-Stars. After graduation, Billy played three years with Billy Wallace (Clifford Brown's pianist) and co-founded the band Natural Life with saxman Bob Rockwell. He has recorded with Leo Kottke and performed or recorded with BB King, Johnny Smith, Lenny Breau, and the late Les Paul. Due to tour commitments, he passed on an invitation to join the Bill Evans Trio (Marc Johnson's good fortune!). In 1975, he appeared on Bob Dylan's acclaimed Blood on the Tracks, and a few years later began a long-standing collaboration with Ben Sidran, which led to his 20+ year association with the Steve Miller Band. Billy continues to tour with Bob Rockwell in Europe, records and tours with the Dave King Trio, and appears in the Twin Cities with The Peterson Family, How Birds Work, What Would Monk Do, and other ensembles.
When Kenny Horst wasn't busy running the Artists' Quarter, he tended the drum kit with many of the AQ's visiting and local artists, and anchored the long-running Tuesday Night Band. He also performed regularly with How Birds Work, the Dean Granros Trio, and The Five. Says Don Berryman (Jazz Police), "Great hard-bop, soul jazz, and fusion chops and the sweetest guy you could meet." With the closing of the AQ in 2013, we've seen more of Kenny behind the trapset at such venues as Jazz Central Studios, The Nicollet, Icehouse and the Black Dog.
The Dunsmore Room at Crooners Lounge is located at 6161 NE Highway 65 (Central Av) in Fridley, just north of I-694 and about 20 minutes northeast of downtown Minneapolis. Each night, 7 and 9 pm, tickets only or dinner show at www.croonersloungemn.com