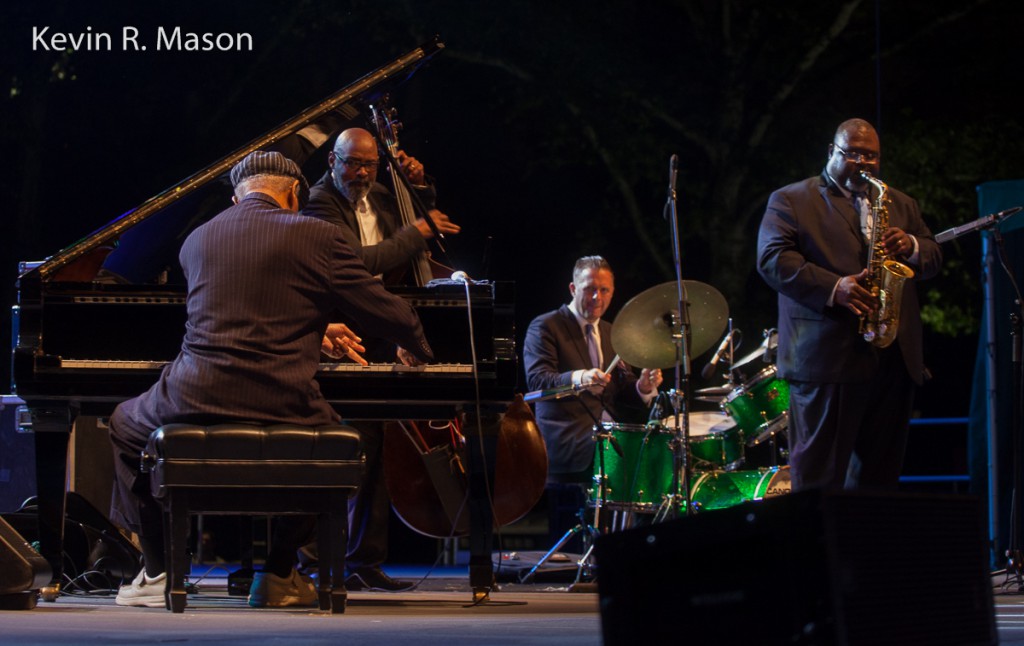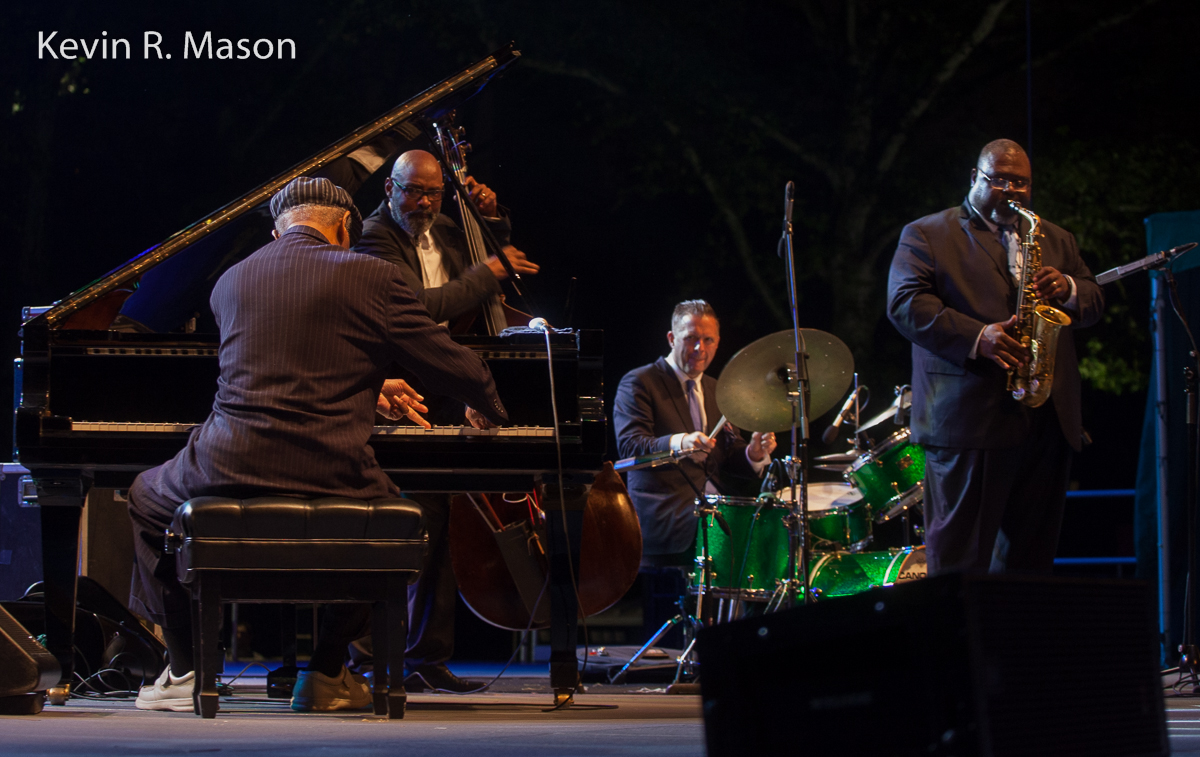 Hosting concerts throughout New York City since 1986, SummerStage is the largest free performing arts festival in the city! The SummerStage website says, "By presenting artists and genres that reflect the diverse cultures and communities in neighborhood parks across the five boroughs, we help to build new audiences and foster a broader interest in the arts." The site continues, "SummerStage was founded in the spirit of Central Park's original purpose–to serve as a free public resource to enrich the lives of New Yorkers. The first season consisted of free events at the Naumberg Bandshell and kicked off by a performance from the Sun Ra Arkestra."
SummerStage has a rich jazz history, and 2016 continues that tradition in a big way, by presenting their largest jazz season ever! New York is the birthplace or adopted city of many jazz greats, and the press release announced, "This summer, as an ode to the music that is interwoven with the fabric of our city, that tradition will continue in 8 different parks around the city. From bluesy jazz to funky jazz to orchestral jazz, this season has got it all.  The 2016 season of SummerStage will both showcase exceptional performing artists from around the globe, and will also feature more jazz performances than ever before, with nearly half a dozen planned for Central Park and many more in neighborhood parks across the city. The focus on jazz this season coincides with the upcoming centennial of the musical dawning of the term "jazz," as well as what would have been the 100th birthdays of late jazz greats including Dizzy Gillespie, Thelonious Monk, and Ella Fitzgerald." Highlights of the 2016 season include performances by McCoy Tyner, Ron Carter, Roy Haynes, Terence Blanchard, Dianne Reeves, Kamasi Washington, Jason Lindner, Randy Weston, Jack DeJohnette, Jason Moran, Dave Holland, Theo Crocker, Marc Cary, Anat Cohen, Wadada Leo Smith, Jazzmeia Horn, Vince Giordano, Wycliffe Gordon, and Grace Kelly. The full schedule of SummerStage jazz events appears near the end of this article.
The Legends Honor McCoy: McCoy Tyner Quartet / Ron Carter / Roy Haynes
Co-sponsored by the Blue Note Jazz Festival, the first 2016 SummerStage concert was held on Saturday, June 4, and drew a standing-room-only crowd for this show of jazz elder statesmen. In fact, so many people showed up, the audience was asked to move closer to accommodate as many people in the waiting line as possible. Considering the talent, illustrious careers, and well-earned reputations of the three headliners, it's no surprise that Rumsey Playfield in Central Park was packed!
Bassist Ron Carter at 79, drummer Roy Haynes at 91, and pianist McCoy Tyner at 77, ages when most people have long retired, are still going strong! These three icons are among the most recorded musicians in the history of jazz, and collectively, they have worked with a veritable musical Who's Who, as well as earning awards and honors too numerous to mention.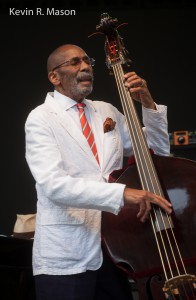 The festivities started with Ron Carter, who looked sharp and stylish in a summer-white jacket, black slacks, and bright-red accessories, and his set more than lived up to his dapper appearance. Carter received great support from pianist Renee Rosnes, percussionist Rolando Morales-Matos, and drummer Payton Crossley, and he segued from song to song, including "Flamenco Sketches," Orpheus, and "My Funny Valentine," only stopping once to acknowledge the crowd. Although the sound for the instruments was great, unfortunately, there were technical difficulties with the stage microphone, and Ron Carter could barely be heard while introducing the band. People called out "Louder!" but Carter quickly went back to playing. In the end, it didn't matter much, because the excellent music spoke for itself. At one point, trumpeter Wallace Roney joined the quartet, playing some fantastic solos. Although the music was sublime, the weather wasn't. It started raining lightly during Carter's set, causing a few people to leave, but it soon became a downpour, which considerably thinned out the crowd.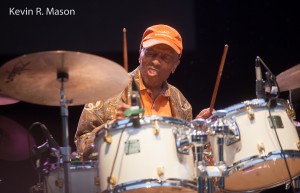 By the second set, featuring Roy Haynes, only the die-hard fans remained, most holding up umbrellas against the torrential downpour, while others unabashedly danced in the rain, embracing the deluge. Haynes was the perfect antidote for the inclement weather, with his enthusiasm and youthful spirit. Roy had great backing from his aptly named Fountain of Youth Band: saxophonist Jaleel Shaw, bassist David Wong, and pianist Martin Berjerano. Haynes' drumming is as outstanding as ever, and his joyful, exuberant banter really helped counteract the effects of the rain. He repeatedly yelled out the familiar phrase, "Give the drummer some!" and moved around in a manner that belied his 91 years. The set included a whimsical, interactive version of "The Gambler" where Haynes got the audience to sing along, and an exquisite rendition of "James" by Pat Metheny that was so well-received, they revisited it later. Pianist Harold Mabern and trumpeter Theo Crocker were on hand, enjoying the show from the wings.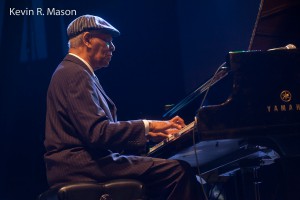 In the closing set, McCoy Tyner not only brought his considerable piano skills to songs that included "Fly With the Wind," "Blues on a Corner," and "In a Mellow Tone," but also some special magic that stopped the rain! When Tyner's show started, the showers dried up for the night. It was like a special reward for those who had endured being drenched. With saxophonist Sherman Irby, bassist Gerald Cannon, and drummer Joe Farnsworth, McCoy Tyner thrilled the audience, demonstrating that he hasn't missed a beat since he started playing at 17 with John Coltrane. Although the microphone problems continued when Tyner thanked the audience for staying, his message got through to the crowd.
Something special happened for those who remained until the end, despite the wet conditions. A synergy transpired between the musicians who appreciated the fans who stayed, and the fans who recognized the importance and artistry of these celebrated musical giants. The weather didn't cooperate, but the music was certainly worth the inconvenience.
SummerStage Schedule
Saturday, June 25, Butler, Bernstein, and the Hot 9 / The Hot Sardines / Bria Skonberg and the New York Hot Jazz Festival All-Stars featuring Anat Cohen, Vince Girodano, Wycliffe Gordon, Joe Saylor, and Dalton Ridenhour (Central Park, 3:00 pm)
Tuesday, June 28, Lisa Simone / Screening: What Happened Miss Simone? (Herbert Von King Park, 7:00 pm)
Wednesday, June 29, Soul in the Horn featuring Theo Crocker, Maurice Mobetta Brown, Marcus Machado / Kendra Foster / DJ Natasha Diggs. Hosted by DProsper. (Herbert Von King Park, 7:00 pm)
Thursday, July 7, Tribute to Latin Jazz Great Dave Valentin (Crotona Park, 7:00 pm)
Wednesday, July 27, Dianne Reeves / DJ Greg Caz (Queensbridge Park, 7:00 pm)
Saturday, July 30, Stefanie Batten Bland with Burnt Sugar the Arkestra Chamber / Master Class: Karisma Jay (Queensbridge Park, 7:00 pm)
Sunday, July 31, Marc Cary: The Harlem Jam Sessions / Joseph Webb: Dancing Buddhas / WBGO Kids Jazz Concert Featuring Brianna Thomas & The Jazz Travelers (Queensbridge Park, 4:00 pm)
Sunday, August 7, Igmar Thomas & the Revive Big Band present: A Journey Through the Legacy of Black Culture / Pre-Show Panel (Central Park, 7:00 pm)
Wednesday, August 10, "We Play for You, Butch Morris" featuring Nublu Orchestra / DarkMatterHalo with Wadada Leo Smith / Screening "Black February" (East River Park, 7:00 pm)
Friday, August 26, Charlie Parker Jazz Festival: Jason Lindner: Breeding Ground / DJ Greg Caz (Marcus Garvey Park, 7:00 pm)
Saturday, August 27, Charlie Parker Jazz Festival: Randy Weston African Rhythms Sextet / Cory Henry & the Funk Apostles / The Artistry of Jazzmeia Horn / Charles Turner III / Master Class: Samuel Coleman (Marcus Garvey Park, 3:00 pm)
Wednesday, August 31, Chicago The Musical: 20th Anniversary Concert (Central Park, 8:00 pm)
Sponsorship
Because all SummerStage events are free to the public, sponsorship is essential to the festival. The 2016 SummerStage festival is presented by Capital One Bank; Sierra Nevada, Lagunitas, Ommegang, Downeast Cider, Red Hook Winery, Bai Beverages, Lyft, MetroPCS, Disney, Bloomberg Philanthropies, and JWT are all official SummerStage sponsors. Generous private support is provided by the Howard Gilman Foundation, Horace Silver Foundation, Doris Duke Charitable Foundation, Harold and Mimi Steinberg Charitable Trust, J.E. & Z.B. Butler Foundation, The Shubert Organization, and the Fan Fox and Leslie R. Samuels Foundation. SummerStage is also supported by National Endowment for the Arts, New York State Council on the Arts, and by public funds from New York City Department of Cultural Affairs, in partnership with the City Council. Media sponsors include: Bandsintown, Big Screen Plaza, QNS.com, Remezcla, Relix, Time Out New York, The Village Voice, WBGO, WFUV, WNET, WNYC, and Zoom Media & Marketing.
For more information about SummerStage events, go to: http://www.cityparksfoundation.org/summerstage/