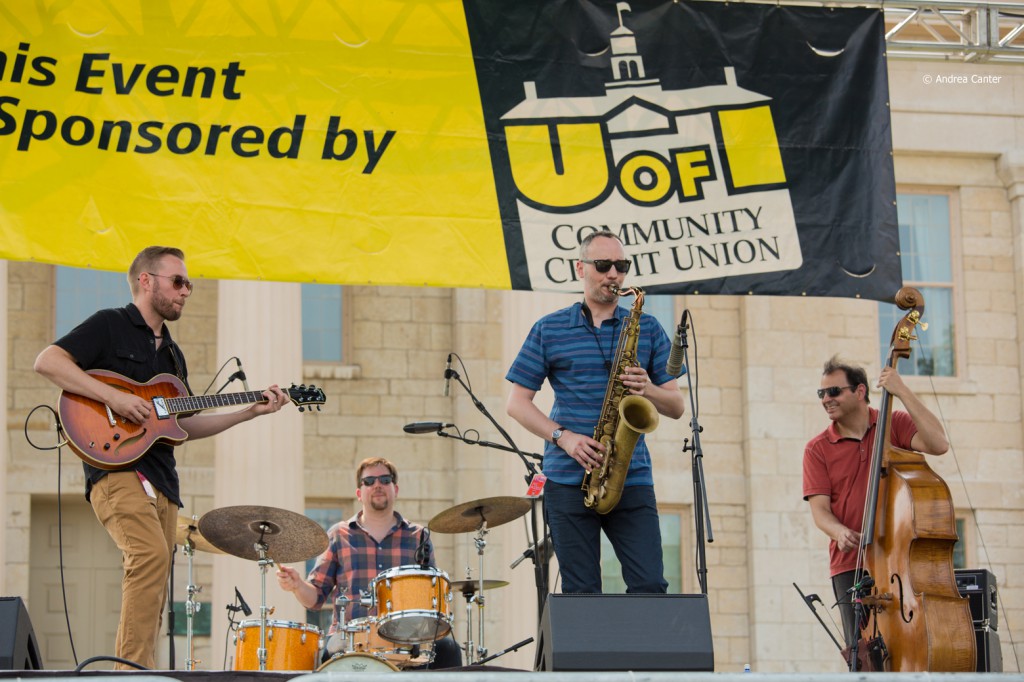 It was the best of times for devotees of jazz. It was a time for bebop and a time for inventive improvisation, a chance to hear swing and even a chance to swing your partner.  There were times for youth and times for veterans. There was jazz in the urban park, music in the baseball stadium, improvisers on the campus lawn and in the art deco theater.  We had two weekends of glorious music–  jazz heaven in two cities, one week and 300 miles apart. And this is a tale of two festivals, not a parody of Dickens.
Two Weekends, Two Festivals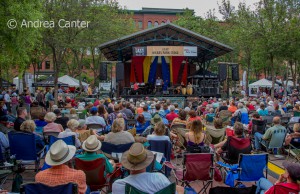 Every summer, in late June and early July, the Upper Midwest hosts two of the year's best –and free–opportunities to enjoy live music, much of it outdoors, all of it planned to appeal to (and attract new) fans of that very wide-ranging music labeled "jazz." The 2015 Twin Cities Jazz Festival took place in St. Paul June 25-27, although a number of events extended the glow of the festival back to June 16.  Approximately 35,000 people heard music on four outdoor stages and two dozen smaller, mostly indoor venues, with over 80 bands and more than 400 musicians. The 2015 Iowa City Jazz Festival took place on the central campus of the University of Iowa July 2-4, with about 30-35,000 enjoying music on four outdoor (one main, three side) stages, one bar and one renovated movie theater, with 32 bands and approximately 150 musicians. In some ways the festivals could not be more different. In other respects, the festival have much in common–including a few dozen hearty fans who regularly attend both events and the first ever Iowa – Minnesota Festival Exchange.
One area of commonality this year was the outstanding weather — two weekends of nearly flawless conditions of sunshine, low humidity, minimal mosquitoes and very reasonable mid-summer temperatures. Aside from a (well-timed) 20-minute shower in St Paul, both festivals enjoyed rare weekends of weather-free disruptions. Both festivals also boast some common attributes–all music is free; music broadcasts live via KBEM (Minneapolis) and KCCK (Iowa City); the artists include national headliners, local and regional stars, area up-and-comers, and student ensembles; the music is (mostly) concentrated over three days and nights; all events are family-friendly; and the venues are naturally-occurring spaces–not fairgrounds but existing parks, lawns, clubs, theaters; and at both festival, there's historic significance to the major venues. Both festivals enjoy significant support from their respective cities. An increasingly rare and common characteristic of the two festivals is their ongoing focus on jazz– you will hear some funk in Iowa City and you will hear some blues and groove in St Paul, but the primary focus of both festivals remains jazz, unlike many festivals nation-wide that have become more generic and more pop-oriented music events.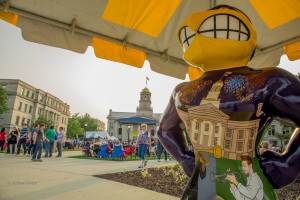 There are differences as well. The Twin Cities Jazz Festival takes place within a large urban area with a population of several million, while the Iowa City Jazz Festival takes place within a large university campus in modest-size town of about 60,000. In the Twin Cities, the jazz festival is the largest such event of the year, but one of many attractions on a summer weekend. In Iowa City, the jazz festival is not only the largest such event of the year, but the primary attraction of a holiday weekend. While both festivals are free, the Twin Cities' festival is supported as much by arts and foundation grants as by private and civic sponsors. The Iowa City festival is primarily supported by civic and private sponsors. And most obviously, the Twin Cities Jazz Festival offers what might be the most dense scheduling per music day of any North American jazz event, with dozens of stages and many competing activities. In Iowa City, there is only one venue for headliners who thus have no competition; and on the three side stages, scheduled between headliner sets, each band performs twice, increasing the odds for hearing everything.  There is simply more music in the Twin Cities and more difficult decisions as to what to hear. But there are at least as many "headline" acts in Iowa City and no real conflicts in scheduling. Whether "less is more" depends on your needs, interests, and energy level.
And collaboration: In fall 2014, the leaders of the Iowa City festival issued an invitation to the Twin Cities festival– send us a great Minnesota band and we'll send you a top Iowa band. Soon the exchange expanded to include a youth ensemble "swap."
The 17th Annual Twin Cities Jazz Festival (June 25-27)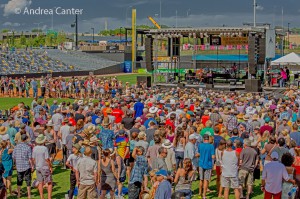 St Paul has played congenial host to the Twin Cities festival since 2009, when loss of support from the city of Minneapolis pushed the festival solely to the east side of the metro. Each year the festival grows– in numbers of artists, venues, and supporting sponsors. Support in 2015 included a substantial grant from the Knight Foundation as well as collaboration from the new CHS Field, home of the Saint Paul Saints, which allowed Jazz Fest to add a Saturday afternoon with Dr. John, drawing a festival record 7500 attending a single performance. The overall three-day attendance of 35,000 was also a festival record.  2015 also brought the festival's first Artistic Director, drummer Francisco Mela.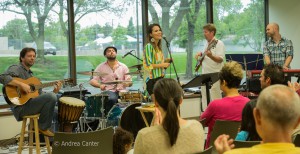 Jazz at the Library. For the fifth year, the festival collaborated with the St. Paul Library system to bring three outstanding ensembles to community libraries during the week leading up to the festival. Bossa and samba rhythms are the hallmark of Ticket to Brasil, performing as a quintet at the Sun Ray Library on June 16. Led by guitarist Pavel Jany and featuring vocalist Natania Kammin, TTB prompted young and old to swing and sway in the aisles — dancing in the library was permitted this one night. There was some significant carryover from Sun Ray for bassist Chris Bates' Good Vibes Trio at Hamline Midway Library the following night– unexpected given the distance between the two libraries and the very different nature of the music. Good Vibes (with Dave Hagedorn on vibes and Phil Hey on drums) performed music of modern jazz icons including Coltrane and Coleman, as well as originals. No dancing here but a full and enthused house. As usual, the final library concert was held on Sunday afternoon at the St Paul downtown George Latimer Central Library in the beautiful art decco Magazine Room. Francisco Mela collaborated with two local favorites, Mary Louise Knutson on piano and Graydon Peterson on bass,  and the trio found energetic common ground on standards as well as one of Mela's originals. The room was full, the background as stunning as the music. The festival was off and running.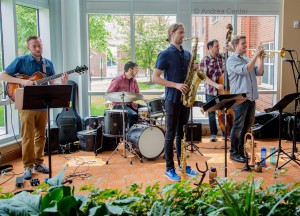 Pre-Fest on the Green Line. Music was scheduled during the few days leading up to the festival's official opening, primarily at two stops on the Light Rail Green Line and in St. Paul's Highland neighborhood. One venue, the Episcopal Homes at Iris Park, hosted Saturday afternoon jazz for an audience of mostly residents who seemed to enjoy the modern compositions of the Adam Meckler Quintet performed in the light and airy atrium.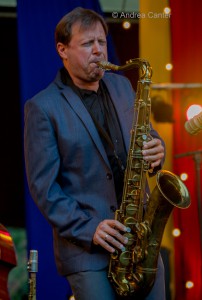 Headliners. The AARP Main Stage at Mears Park, as usual, hosted most of the headliner sets on Friday and Saturday nights. But it was local "headliner" Laura Caviani who kicked off activity at Mears on Friday with her long-overdue festival debut with visiting Kansas City bassist Bob Bowman and drummer Dave Schmalenberger. Usually on the Shell Lake summer faculty during festival dates, Laura's appearance drew a good late afternoon crowd to hear a number of Bob's compositions as well as originals from Laura.  The energetic Araya Orta Latin Jazz Quartet followed, reprising their festival appearance in 2012, but this time the two pairs of brothers brought along the pioneer of steel pan jazz, Othello Molineaux, honoring the music of his one-time employer, the late Jaco Pastorius. And drawing the largest Mears Park crowd of the weekend, the evening ended with the quartet with no name, just big talents– Chris Potter, Dave Holland, Lionel Loueke and Eric Harland. This band launched only a few days earlier at the Winnipeg festival, but they seemed to have hit their stride already, performing original compositions from each band member and tossing the lead back and forth. Potter soared on both tenor and soprano, and Loueke's guitar changed flavors with each solo.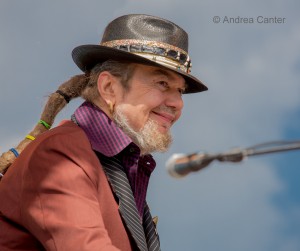 The much-anticipated inauguration of music at CHS Field came off as everyone had hoped– with a large crowd, beautiful weather, and exhilerating music. The decision to offer free tickets reserved in advance paid off, with the limit of 4000 general admission and $75 VIP tickets reserved well ahead of June 27th. And another 3500 showed up to claim open seating. The Jack Brass Band— Minnesota's New Orleans brass band–opened the afternoon with a Second Line march into the stadium and the very first set of music ever played at the field, warming up the stage for Dr. John and the Nite Trippers. The music was what everyone expected– really loud, really funky, really Dr. John.
Back at Mears Park, the evening headliners filled Lowertown with their own glorious sounds — Marquis Hill showed why he won the 2014 Monk International Trumpet Competition in leading his talented Blacktet, which features another young master horn player, saxophonist Christopher McBride. And closing down the mainstage, Artist Director Francisco Mela showed off his new Crash Trio and his new collaboration with trumpet king Nicholas Payton.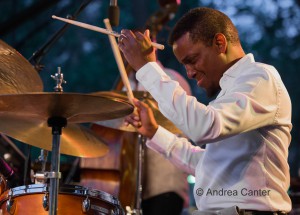 And More. With 82 sets of music, it's impossible to cover or comment on all.  Some unforgettable moments: Pippi Ardennia opening Thursday night via Music at Mears, spreading joy with her PipJazz band and entourage of PipJazz Youth all-stars; Patty Peterson (twice), at the Amsterdam with a surprise treat when Yolande Bruce and Debbie Duncan dropped in after their set up the road at Arnellia's, and Patty again with the JazzMN Orchestra at Union Depot;  hot club swing with guitarist Sam Miltich and the Clearwater Hot Club, featuring Dutch violinist Tim Kliphuis, with Tim and Sam engaging in some playful duets as well;  the lush trio interplay from the London-based Cloudmakers Trio and their Minnesota guest, guitarist Zacc Harris; five sets of youthful enthusiasm at Union Depot, with the Dakota Foundation for Jazz Education's Youth Showcase; salsa lessons in Rice Park, followed by the opportunity to try it out to the sounds of Salsa del Soul in what became a mass salsa party that went on well past dark; three nights of Smooth and Groove Jam led by trumpeter Solomon Parham and his band at The Bedlam; the brash energy of McNally Smith's Breaking Brass Band on the Jefferson Lines Sixth Street Stage; the veteran finesse of No Time for Squares, also on Sixth Street; perennial festival pianist Jon Weber, with bassist Billy Peterson and drummer Mela at the new, not-yet-really-open Vieux Carré in the old Artists Quarter space– playing a trio set before opening the stage to the late night jam sessions; and my personal opening night tradition, ending the night at Mancini's on West 7th with the last set from Arne Fogel and Maud Hixson, this time highlighted by an audience request for "My Funny Valentine" that yielded an impromptu, and stunning, duet.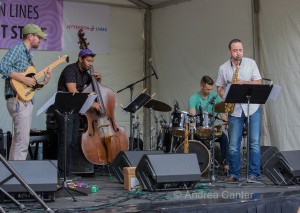 And there was the first Iowa-Minnesota Exchange — bringing Iowa's Laranja to Sixth Street, quickly making new fans with their fabulous originals, and bringing the savvy City Six ensemble from Iowa City High School to the Youth Showcase. Minnesota's Atlantis Quartet and Dakota Combo would return the favors the following weekend.
The 25th Annual Iowa City Jazz Festival (July 2-4)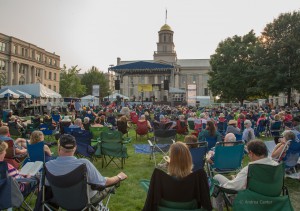 Iowa City has run its jazz festival for 25 years, and they do it well. It covers a relatively small area– the main stage sits on the east side of the famed Pentacrest lawn, in front of Old Capitol– the site of the first Iowa statehouse with its landmark gold dome; three side stages are about a half block apart on adjacent Clinton Street and Iowa Avenue, streets that are lined with pubs, bars and restaurants with outdoor patios overlooking the stages and "Culinary Row." This year, two late night sets were staged at the Englert Theater, about two blocks from the main stage; another late night session was held at the popular Mill bar and restaurant, another two blocks away. And this year, a special screening of a documentary film about headliner Charles Lloyd took place at the Iowa City Public Library, maybe three blocks from the main stage.  There were no festival destinations more than a five-minute walk apart.
The Pentacrest itself is an ideal setting for a stage event. Generally people–and lawn chairs–fill the shaded areas running long and wide on either side of the central walk way, with the midsection filling up by early evening. At the side stages, people stand, bring their chairs, or, at the Youth Stage, fill a small set of bleachers and otherwise crowd around the gaps between tents on Iowa Avenue.
Iowa City has a predictable schedule – each festival day begins early to mid afternoon with local and regional bands on the main stage, followed by the headliners. During the hour break between headline bands, the side stages present youth, college and local ensembles performing 30-minute sets, with each band playing two back-to-back sets. And Saturday night ends with the city's annual fireworks display, shot off from the nearby Iowa River and exploding over the Old Capitol dome. Late sets follow, including jam sessions at The Mill and Clinton Street Social Club.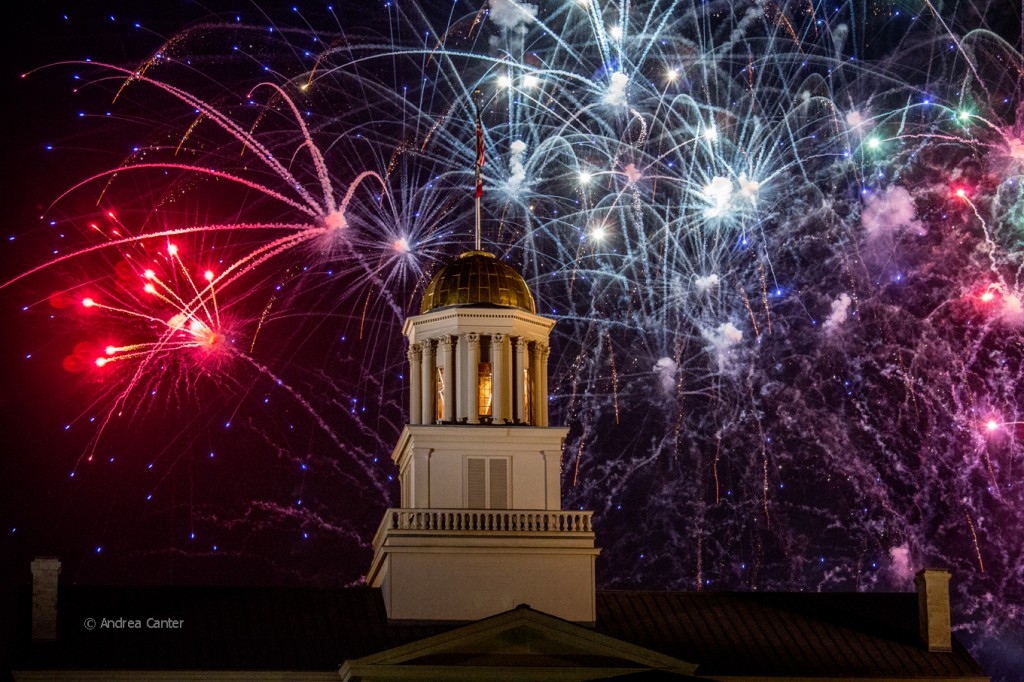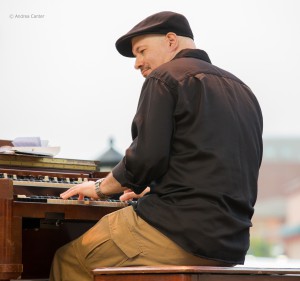 The Iowa City Jazz Festival gets into the heart of the festival quickly with two headliner sets on opening night. First up, B-3 organist (recently named Rising Star by Downbeat critics) Brian Charette, and his trio featured two other rising stars, guitarist Will Bernard and drummer Rudy Royston. Royston deserved an award here as "most valuable sideman," turning up again with Rudresh Mahanthappa on Friday and Ben Allison on Saturday. Charette's trio performed a number of tunes from his newly released Alphabet City. Charette was followed by vocalist Becca Stevens and her band–keyboardist and accordionist Liam Robinson, bassist Chris Tordini and drummer Jordan Perlson. Stevens and company had just played at the Dakota in Minneapolis, and offered a similar set filled with original songs from their new Imperfect Animal. Stevens has a versatile voice that seems most at home in a folk-jazz style, and her instrumental skills seem to include anything with a neck and strings, including guitars, ukuleles and some Brazilian counterparts.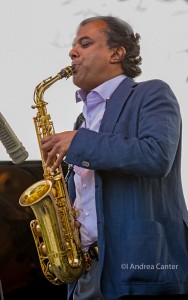 Friday featured Rudresh Mahanthappa and Dave Douglas. Rudresh was riding high on the results of the new Downbeat Critics Poll, naming him Alto Saxophonist and Rising Star Composer of the Year, as well as naming his Bird Calls the Jazz Album of the Year.  Using Charlie Parker as a point of inspiration, not imitation, Rudresh led his band though many of the tunes from Bird Calls. His band includes current and future stars– bassist Francois Moutin, drummer Rudy Royston, fast-rising pianist Matt Mitchell, and very young (20!) and already much accomplished trumpeter Adam O'Farrill.  But it was Rudresh himself who soared like Bird, but on his own wings.  Only a veteran like trumpeter Dave Douglas could follow that! And Douglas has a new ensemble, dubbed High Risk, with bassist Jonathan Maron, drummer Mark Guiliana and laptop artist Shigeto.  High Risk blends acoustic and electronic into unpredictable, exciting new music.
Two new features augmented Friday's music:  The Public Library hosted an afternoon screening of Arrows Into Infinity, a documentary about the life and music of Charles Lloyd, master of saxophone and flute and recently named an NEA Jazz Master. Lloyd's wife, filmaker/artist Dorothy Darr completed the film in 2013. Charles and Dorothy were on hand after the screening to answer questions. It was a remarkable film for the intimate look into the mind and music of a remarkable artist as well as the live footage of music dating back to Lloyd's early quartet with Keith Jarrett. And a perfect prelude to Saturday's finale with Lloyd's quartet. The first-ever late night (11 pm) performance featured Chicago-based trio Whirlpool with Denver-based trumpet master Ron Miles. Miles had last appeared at the Iowa City Festival with Bill Frisell in 2009. Another late night at the Englert followed fireworks on Saturday, featuring KROM with Iowa native Gabe Medd on trumpet.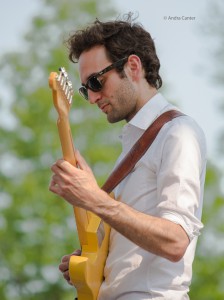 The Minnesota contingent in particular was in place Saturday afternoon for the festival debut of the Atlantis Quartet— on the Iowa City stage as part of the Iowa-Minnesota festival exchange. It didn't take long for the Minnesotans to win new friends and fans as they played a set of original tunes covering their four albums and beyond. Zacc Harris, Brandon Wozniak, Chris Bates and Pete Hennig were at the top of their game.  Harris was in good company as the Julian Lage Trio followed on the main stage. Lage has performed as leader and sideman in many configurations, most notably with Gary Burton. This is a relatively new trio for Lage, featuring Norwegian bassist Eivand Opsvik and Bill Frisell staple, drummer Kenny Wolleson. Any time Julian is on stage, you expect melodic journeys, and he didn't disappoint.  Bassist Ben Allison has appeared several times at the Iowa City Jazz Festival, and for 2015 he brought in his latest edition of his band, Think Free– featuring trumpeter Jeremy Pelt, guitarist Steve Cardenas, and — no surprise–drummer Rudy Royston who completed a jazz hat trick of sorts. Pelt is a force of his own and gave the band firepower throughout the set.
It was already a memorable festival when the Charles Lloyd Quartet took the stage for the final round Saturday night, but this was more than icing on the cake — this was the top layer, rich, full-flavored and a touch exotic. Lloyd's latest edition includes Gerald Clayton on piano, Joe Sanders on bass and Kendrick Scott on drums– all young enough to be grandsons to Lloyd.  And all more than up to the task of supporting Lloyd's music as well as taking off on their own. They played through the Wild Man Dance suite, which forms the core of the quartet's new recording. And on flute and tenor sax, the "wild man" Lloyd danced his way through the music, tossing anthems and Coltranish prayers high into the twilight. The subsequent fireworks seemed a bit anti-climatic. We'd already witnessed a joyful celebration of fire and soul.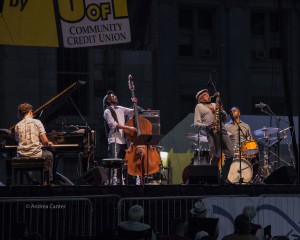 And More.  I love the frequent breaks in headline action in Iowa City, the opportunities to wander from one side stage to another and take in the talents of the community, from the middle and high school ensembles to the senior citizen bands that all appear on the "Youth Stage" to the college faculty and student bands on the College Stage and the very accomplished regional pros on the Local Stage.  I always enjoy catching guitarist (and one-time festival director) Steve Grismore and whatever ensemble he brings; this weekend I also had a chance to hear the inventive collaborators of Koplant No, a band of former University of Iowa students now spread out a bit in the midwest.  And the young end of the Iowa-Minnesota exchange featured the Twin Cities' all-star Dakota Combo on the Youth Stage Saturday evening, playing their final sets together as if they had just topped a Downbeat poll.
Holding On to the Iowa – Minnesota Connection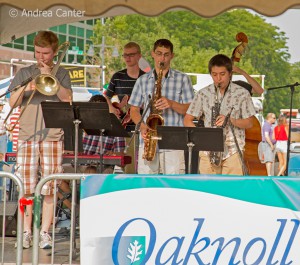 After attending two world-class jazz festivals over a period of ten days, there's been some withdrawal. Our ears and brains need the rest. But it's hard not to wonder, who will be on the festival schedules next year? For sure, we need to continue the Iowa-Minnesota festival exchange. After all, we're blocking out time and resources to attend both festivals. Why not share our great musicians, too?
More about the Twin Cities Jazz Festival at www.hotsummerjazz.com; more about the Iowa City Jazz Festival and Summer of the Arts at http://www.summerofthearts.org/festival-menu/jazz-festival/about.aspx