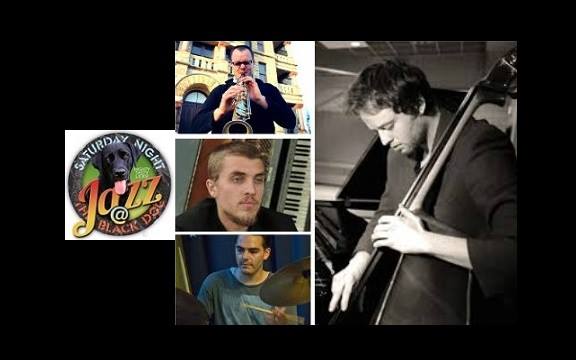 When the show starts on Saturday night, November 5, curator Steve Kenny will proudly announce that it's the 110th week of Saturday Night Jazz at the Black Dog. These days, that's a long-running series, and Kenny has never waivered off course in offering top flight jazz, from seasoned veterans, rising stars, and teen and college ensembles. Young veterans rule this weekend, with an opening set from Common Space (a mostly UW-River Falls affiliated quartet) and a headline show from the Ted Olsen Group with Aaron Hedenstrom, Javi Santiago and Miguel Hurtado.
Common Space (7 pm)
The members of Common Space have also performed as the Alex Burgess Quartet, and share current and past affiliations with the University of Wisconsin-River Falls.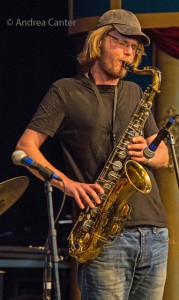 Saxophonist Thomas Strommen studied with David Milne for two years at the UW-RF, and is continuing studies at the U of M. During his senior year at Wayzata High School, Thomas was selected as a member of the Dakota Combo. Barely into his college studies, Thomas began playing with trumpeter and veteran bandleader Steve Kenny in Group 47, which released its debut Straight to Vinyl in 2014 and continues to perform throughout the Twin Cities. Thomas also performs with his quartet Dark Blue.
Guitarist Dylan Nelson is a spring 2015 graduate of UW-River Falls where he majored in music and minored in psychology. He has played in the improvisation collective Grüve Trüpe, in the UWRF Falcon Band, in Dark Blue, and in the bluegrass band, Walter Croll and Friends.
Keyboard specialist Eric Graham, a native of Barrow, Alaska, is also active as a jazz bassist and musicologist. He holds a Masters Degree from the Peabody Conservatory of Music, Johns Hopkins University and is a full-time music professor at Century College where he teaches courses in jazz, world music, and popular music; he is also currently an adjunct music faculty member at the University of Wisconsin-River Falls and Minnesota State College-Southeast Technical. He has been featured at various contemporary music festivals, including the Society of Composers National Convention, Ernest Bloch Composers' Symposium, and NEA-funded "Windows" exhibition.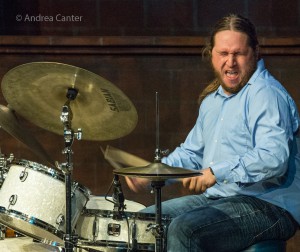 Alex Burgess has studied drums with Craig Hara and composition with David Milne at UWRF. Also a founding member of Steve Kenny's Group 47, Alex performs with Dark Blue, Bad Habits Brass, Grüve Trüpe, Walter Croll and Friends, Metro Brass, and other working jazz and commercial ensembles, and leads is quartet and Common Space. Alex teaches drums at Brickhouse Music in River Falls.
Ted Olsen Group (8:30 pm)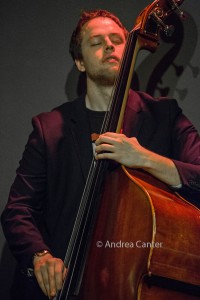 Ted Olsen studied bass with Travis Schilling and Adam Linz. He graduated from St. Paul's Como Park High School in 2010 and went on to study composition at Luther College in Decorah, IA, finishing college studies at the University of Northern Colorado in spring 2015. In the Twin Cities, Ted has taught at the Twin Cities Jazz Workshop and has performed as leader and sideman at various venues including the Artists Quarter, Jazz Central, Black Dog, Twin Cities Jazz Festival, and more, often in the company of Javi Santiago and Miguel Hurtado.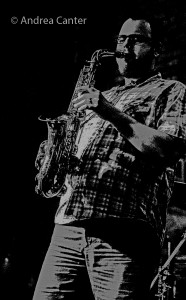 Aaron Hedenstrom (saxophone) was born in Lesotho (Africa) where his parents were teaching; he grew up in the Twin Cities where he developed his interest and talent in music. He attended the jazz program at the University of Wisconsin-Eau Claire, performing in the pop/rock band Underdub and with the John Raymond Project. Aaron moved to Denton, TX  where he enrolled in the master's degree and then the doctoral programs at the University of North Texas, serving as a Teaching Fellow and performing in the famed One O'Clock Lab Band.  He also performed as a freelancer in the Dallas/Fort Worth Metro area before returning to the Twin Cities in 2015. As a student, Aaron earned a number of composing and arranging awards–2012 Detroit Jazz Festival Arranging Contest (for his arrangement of Wayne Shorter's "Yes and No"), the Herb Alpert ASCAP Young Jazz Composer Award, the Jazz Education Network Student Composer Showcase, and several Downbeat Student Awards. His quintet opened the Jazz at Studio Z season last weekend.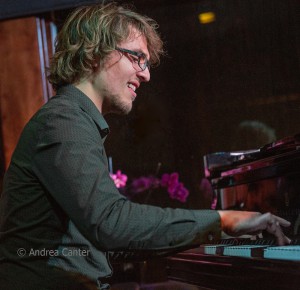 Minneapolis native Javi Santiago (piano) comes by his musical bent honestly, the son of drummer Mac and vocalist Laurie Santiago, and grandson of Latin percussion master, the late Luis Santiago. Javi began studying piano at age 7, turning to jazz piano and trumpet at age 10, and playing with the bands in middle school and high school as well as the Minnesota Youth Jazz Band and the first edition of the Dakota Combo under the direction of Kelly Rossum. A former student of pianist Tanner Taylor, Javi was selected as a Fellow of the Brubeck Institute at the University of the Pacific after completing high school, where he attended for the maximum two years. From Brubeck Javi moved on to complete his college studies at the New School for Jazz and Contemporary Music in New York, graduating in 2011. Since returning to the Twin Cities, Javi has become a significant voice on the local jazz scene, performing  at Jazz Central, The Nicollet (now Reverie), Black Dog, Icehouse, Crooners, Vieux Carré and other venues as well as at the Twin Cities Jazz Festival. In 2015, Javi released an EP, Year of the Horse, with original compositions.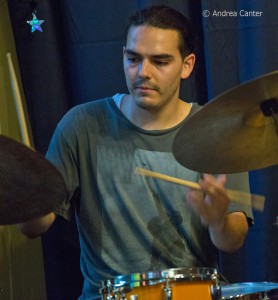 Miguel Hurtado (drums) played throughout the Twin Cities as a teenager with Javi Santiago in several youth bands, as well as with South High jazz ensembles. After graduating from the Manhattan School of Music in spring 2010, he returned to the Twin Cities where he quickly became a busy member of the local jazz scene. He led his own ensembles at the 2011 Twin Cities Jazz Festival and performed at the Artists Quarter and Dakota; more recently he has been heard at Jazz Central, the Icehouse, Black Dog and more. In addition to leading his own bands, he has performed with Jake Baldwin, John Raymond, Jeremy Walker, Javi Santiago, Joe Strachan, Ted Olsen, and Courageous Endeavors. He's also expanding his musical resumé, playing with some local pop and R&B singers, particularly Alicia Steele and vocalist/rapper Toussaint Morrison.
Saturday Night Jazz at the Black Dog is a weekly series of top jazz artists curated by Steve Kenny. No cover but donations ($10 suggested) to the tip jar are appreciated to support the performers and the series. The Black Dog is located at 308 Prince Street, main level of the Northern Warehouse at Broadway and E. 4th Street in St Paul's Lowertown. Series schedule at www.saturdaynightjazzattheblackdog.info; full line-up for the Black Dog at www.blackdogstpaul.com