Mack Avenue SuperBand: Live at the 2015 Detroit Jazz Festival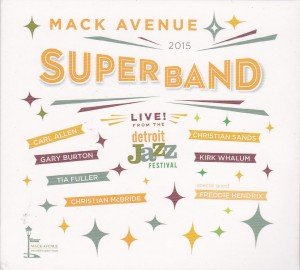 Starting at the 2012 Detroit Jazz Festival, jazz label Mack Avenue annually pulls together the top artists in its stable to perform as a headline ensemble and make a live recording of the set. And with an ensemble lead by bassist Christian McBride, the 2015 effort was arguably the best yet, with McBride Trio's pianist Christian Sands and trumpeter Freddie Hendrix joining Mack Avenue veterans–Gary Burton, Kirk Whalum, Tia Fuller and Carl Allen. Six of the seven tracks were composed by members of the band, with a seventh written by Gary Burton's long-time cohort Makato Ozone.  It's a modern straight-ahead affair, but don't confuse "straight-head" with "conservative." Notes Burton, "Playing straight-ahead is something I hadn't done much for a while, so I was looking forward to a relaxing, fun, jam session kind of setting where I didn't have to read a million notes and play a lot of complex music. In spite of that, some of the music ended up being fairly complicated and challenging."
The band starts out with Kirk Whalum's "Preach Hank," soaring with the R&B/soul jazz king's nod to muse Hank Crawford, or "fatbacks and greens," to quote McBride. In addition to Whalum's trademark snarls and honks, the track offers a great intro to Freddie Hendrix. Hendrix's "Sudden Impact" is filled with shifting rhythms and Sands' articulate, limber runs that travel in tandem with McBride before Hendrix climbs one spiral staircase after another. The leader's bright "Paint Brushes" splash primary colors with a dash of shading courtesy of Burton and then Fuller, while MacBride's solo bounces with joy. Burton penned "All You Have to Be is You," with Fuller on soprano delivering a lush melody begging for words.
Fuller's own "Decisive Steps", which she describes as "an oldie, moving forward in faith and not fear," showcases the composer's acrobatic facility before yielding to pyrotechnics from Hendrix and a final storm from drummer Allen. Ozone's "Test of Time" is a bluesy ballad, evoking Miles Davis's "All Blues." Whalum is the perfect spokeman here (we should rename him Kirk Wail-'em), and Sands puts on his inner Ray Charles. The pianist's "Up" is a ten-minute tour de force–everyone gets in on the act for a grand finale.
I'm admittedly a Detroit Jazz Festival junkie, attending every year, and the set from the Mack Avenue SuperBand is always a highlight. Aside from serving as a major festival sponsor, Mack Avenue Records goes well beyond Detroit, helping to keep the mainstream jazz flame burning. And every year, we delight in the documentation of their cadre of exemplary musicians.