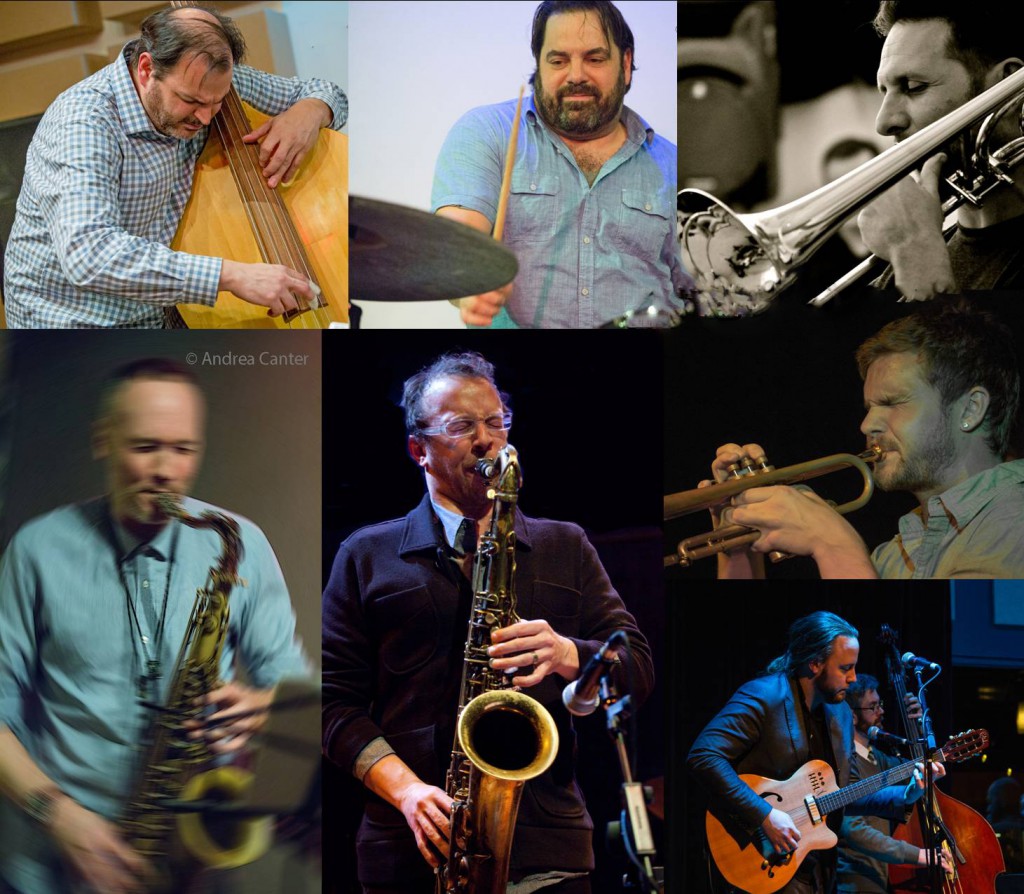 © Andrea Canter
The Saint Paul Winter Carnival gets underway this weekend, and Saturday Night Jazz at the Black Dog adds to the starpower with a much anticipated return of Chris Bates' Red Five. The early set features the monthly JazzINK Youth Showcase, with the Simon Petrick/Adam Astrup Quintet at 7 pm.
JazzINK Youth Showcase: Simon Petrick/Adam Astrup Quartet (7 pm)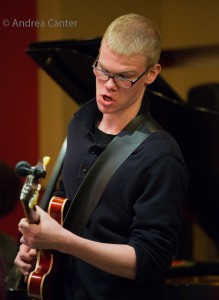 The monthly JazzINK Youth Showcase typically presents high school ensembles, with occasional performances from college student artists. The Simon Petrick/Adam Astrup Quintet finds the younger artists, both high school seniors, leading an ensemble with three of the busiest college musicians in the Metro, DeCarlo Jackson, Levi Schwartzberg and Drew Stinson.
Guitarist Adam Astrup is a senior at Ricori High School in Cold Spring, MN, but he has been making the trek to the Twin Cities regularly over the past three years, studying with Zacc Harris and participating (for three years) in the Dakota Combo, a metro-area all-star high school ensemble. With fellow guitarist Will Schmid, he performed in duo at the 2016 Winter Jazz Festival, again at the summer festival, and at the 2016 Iowa City Jazz Festival, coleading a quartet as well as performing in the guitar duo and Dakota Combo. He has appeared a number of times on the Black Dog and Reverie stages.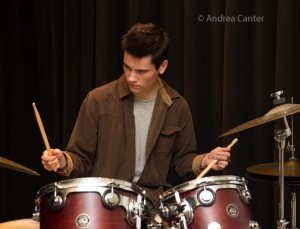 Drummer Simon Petrick is technically a high school senior but is taking all coursework at the University of Minnesota through Post Secondary Education Options; also through PSEO he participates in U of M Jazz ensembles under Dean Sorenson. Simon previously attended the Mainstreet School of Performing Arts in Hopkins. He's been heard on stages throughout the metro including the 318, Reverie and Black Dog.
Trumpeter and bassist DeCarlo Jackson grew up in St Paul and began co-leading bands with older brother Devante as a young teen. An alum of the Dakota Combo, PipJazz Youth, and Walker West ensembles, he attended the University of Manitoba before moving back to Minnesota, where he now studies at McNally Smith. He's also worked as a Program Associate at Walker West. DeCarlo performs with a number of area ensembles including HippoCampus.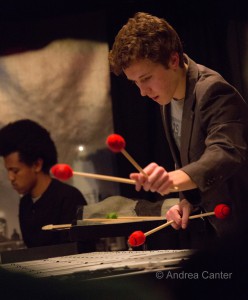 Vibraphonist/pianist Levi Schwartzberg is a junior Physics major at the U of M and member of the U's Jazz Ensemble and Combo. A graduate of Minneapolis Southwest High School, Levi performed in the Dakota Combo for two years. He's currently a member of Sound Skirmish, Adam Linz's Le Percheron, leads his own bands, and appears with many other area artists.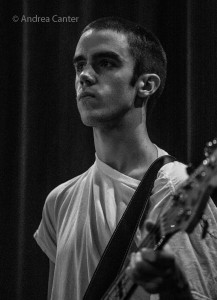 Bassist Drew Stinson attends the McNally Smith College of Music. He performs with the Julian Manzara Quartet, his own bands and ensembles at McNally Smith, and is a founding member of the quartet Sound Skirmish, recently heard at Reverie.
Chris Bates' Red 5 (8:30 pm)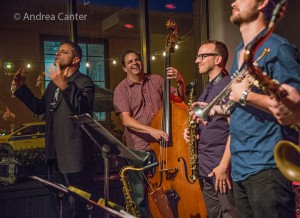 Chris Bates launched Red 5 in 2012 via a series of "open sessions" at Jazz Central Studios, bringing original compositions to the band to test drive and tweak before live audiences before heading into the studio to record New Hope. The album pleased audiences and critics alike, the only jazz release in the top 20 choices of Star Tribune critics for 2012. The band–original members Chris and JT Bates, saxophonists Brandon Wozniak and Chris Thomson, and trumpeter Zack Lozier– has since performed sporadically on local stages (the Artists Quarter, Icehouse, Studio Z, Black Dog), the long periods between performances reflecting the very busy schedules of the ensemble musicians, each of whom performs with numerous bands in the metro and beyond. "The nature of running your own band filled with your favorite musicians means you are at the mercy of fate in trying to schedule around 5 people in high demand," notes Bates. "It's a challenge to bring together the most sought after players on the Twin Cities creative music scene."  Perhaps adding to the challenge as well as the sound, Red 5 recently expanded to a with the addition of guitarist Thomas Nordlund; Jake Baldwin has been heard on trumpet in place of busy Lozier, and taking things yet another step beyond, the performance at the Black Dog adds New York transplant JC Sanford on trombone.
"This ensemble was created to challenge my abilities, to stretch my composing skills and lastly to celebrate the improvisational culture of this geographical area," notes Chris. "This is not a safe band….we fly at the edge of our seat at all times, we are consistently challenging each other rhythmically, harmonically and spiritually to push past preconceived notions of jazz. This unit was built to celebrate the making of music…We let the moment take us, each show is a unique experience, song to song, set to set, second to second…It's pure joy…..The smiles on our faces are proof. There is a great deal of love and respect on the bandstand and we really want our audience to participate in this…..it's a community vibe!"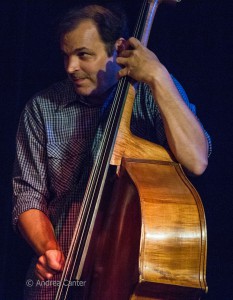 Chris Bates and his brother, drummer JT, grew up with jazz, sons of trumpeter/bandleader Don Bates. He began bass lessons in 4th grade and progressed to jazz studies at the University of Wisconsin-Eau Claire before returning to the Twin Cities to study with Anthony Cox. A member of the 1990s ensemble, the Motion Poets, Chris was a 1999 McKnight Composer Fellow and in 2014 was awarded a commission from local new music ensemble Zeitgeist. He often lends his compositions to the many ensembles that he juggles throughout his busy performance schedule. Over his career, he has played with Mose Allison, Lee Konitz, Joe Lovano, Steven Bernstein, Howard Levy, Michael Attias, Ira Sullivan, Bill Carrothers, Eric Alexander, Ari Hoenig and Tim Sparks, among others. In addition to his local ensemble work (Atlantis Quartet, Red Planet, How Birds Work, Klezmerica, Enormous Quartet, Framework, Leisure Valley, Zacc Harris Group, Dean Granros' Tall Tales, Bill Simenson Orchestra) and leading Red 5 and the Good Vibes Trio, Chris has played solo concerts using both acoustic and electronic instruments, and appears on over 30 recordings. In spring 2013, Chris launched a monthly improvisation series at Jazz Central Studios in Minneapolis, "Magica Improvisado."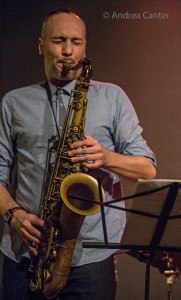 Saxman Brandon Wozniak previously lived and worked in New York City, toured with the Tommy Dorsey Orchestra, and earned his BA from Indiana University under the tutelage of the late David Baker. Since arriving in the Twin Cities in 2006, he has performed with local bands including Red Five, Dave King Trucking Company, the Bryan Nichols Quintet, Zacc Harris Quartet, and Vector Families; and in varying combinations with Adam Linz, Billy Peterson, Dean Magraw, Kenny Horst, Zacc Harris, Steve Kenny and more. Over its first two seasons, Brandon has performed on the Jazz in the Target Atrium Series at Orchestra Hall as part of the Atrium Jazz Ensemble, led by Jeremy Walker.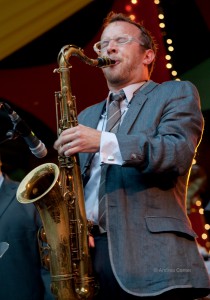 Saxophonist/composer Chris Thomson attended the U of M and Lawrence Conservatory, toured with the Glenn Miller Orchestra, and has appeared with Delfeayo Marsalis in addition to local collaborations with the New Standards, Anthony Cox, Dosh, Chris Morrissey, Dave King, Bryan Nichols, Michael Lewis, Adam Linz, Adam Levey, Kelly Rossum and more. Most recently he has been on tour with Bon Iver. Chris has released two recordings as leader and keeps a busy teaching schedule at the Mainstreet School of Performing Arts in Hopkins, Hamline University and MacPhail Center for Music.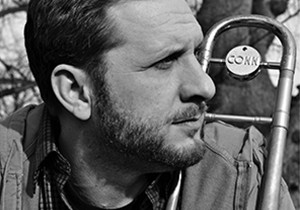 A protégé of legendary composer Bob Brookmeyer, trombonist and Northfield native JC Sanford studied at the University of Northern Iowa and completed graduate studies at the New England Conservatory. Living in New York for the past sixteen years, JC's compositions have been performed by leading artists such as John Abercrombie and Dave Liebman, and he has built a reputation as conductor of large ensembles including the John Hollenbeck Large Ensemble, Alan Ferber Nonet, Alice Coltrane Orchestra and his own JC Sanford Orchestra. JC recently returned to Northfield, in time to celebrate the release of his new quartet album, Can You Believe It, which will have its Minnesota release gig on January 23 at the Icehouse, with Zacc Harris, Chris and JT Bates.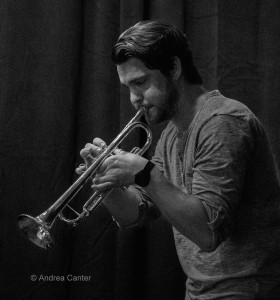 A 2009 graduate of Minnetonka High School and alum of the second and third editions of the Dakota Combo (2007-09), trumpeter Jake Baldwin studied with Jerry Bergonzi, Bob Moses, John McNeil, Joe Morris and Fred Hersch at the New England Conservatory, and was one of three finalists in the 2011 International Trumpet Guild Solo Competition; a year later he was runner-up in the jazz division of the National Trumpet Competition. After graduating from NEC 2013, Jake moved back to the Twin Cities, initially working for the Harralson Trumpet company while building his creds on the local jazz scene. Those creds have been accumulating, with his own bands at such venues as the Dakota, Artists Quarter, and Jazz Central, and in other bands including the Twin Cities Latin Jazz Orchestra, Chomsky, Thomas Nordlund Group, Endeavors, Cory Healey's Beautiful Sunshine Band, Ramtrack, and the McNasty Brass Band. Jake recently released his first album as leader, Ra Ra Ru and has been on tour with Har Mar Superstar.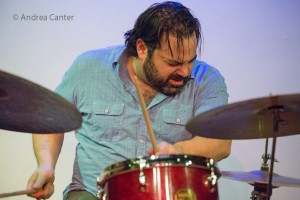 J.T. Bates is one of the busiest drummers in the Twin Cities, on and off the bandstand. He was a member of Motion Poets and has worked with a variety of Latin, electronic, and experimental ensembles, including Bryan Nichols' Quintet and Trio, Chris Bates' Red Five, Fat Kid Wednesdays, the Zacc Harris Group, The Pines, and his own organ trio, Grain. In addition to curating his Jazz Implosion series at the Icehouse on Monday nights, JT often appears on the Icehouse stage with such musicians as brother Chris, Dave King, Brandon Wozniak and more.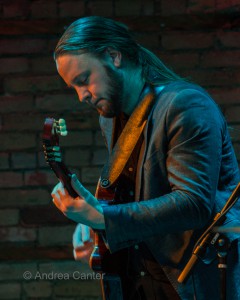 Twin Cities guitarist Thomas Nordlund earned a BA in Guitar Performance at the University of Minnesota-Morris and a certificate in Jazz Studies from the Universit of Auckland, NZ. He recently released an album of eight original compositions (Divide Avenue), featuring a strong cast of metro musicians.  In addition to leading his own band, Thomas performs regularly with vocalists Sarah Morris and Jana Nyberg, and has performed with Andrew Foreman, Patrick Harison, Adam Meckler, Ben Abrahamson, and other area standouts.
The Black Dog is located at 308 Prince Street in the Northern Warehouse, in St Paul's Lowertown Arts district, across from CHS Field. The Saturday Night Jazz series is curated by Steve Kenny and has been bringing the best in regional jazz to Lowertown for the past 2+ years. No cover but donations to the tip jar ($10 suggested) are appreciated to support the series and the musicians. Full bar and kitchen at the Black Dog. Saturday Night Jazz schedule at www.saturdaynightjazzattheblackdog.info; full music and event schedule at www.blackdogstpaul.com