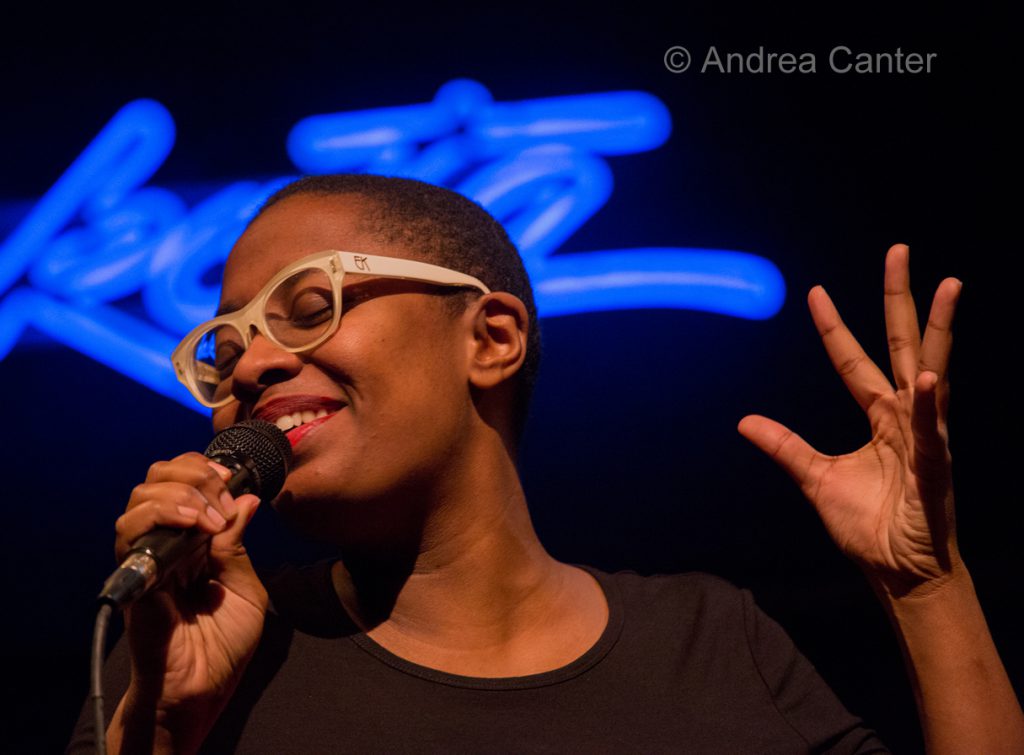 © Andrea Canter
"She evokes Vaughan when she releases a taste or two of lush vibrato. She sounds a bit like Betty Carter, swooping up or down between notes to make a point; like Ella Fitzgerald, when she revels in an up-tempo groove. Yet these seem less like references than inherited traits…It's enough to make a listener care all over again…" Larry Blumenfeld, Wall Street Journa
In the 2010 Thelonious Monk International Jazz Vocalists Competition, a young woman barely into her 20s seemingly came out of nowhere to take top honors. In 2013, that same young singer, at 23, released a remarkable recording for Mack Avenue Records, aptly titled Woman Child and soon nominated for a Grammy for Best Jazz Vocal Album. In late 2013 she toured with Wynton Marsalis and Jazz at Lincoln Center. In March 2014, Jazz Times' Expanded Critics Poll named Cecile McLorin Salvant as its New Artist of the Year and Female Jazz Vocalist of the Year. Currently Cecile is touring with pianist Aaron Diehl's "Jelly and George" show, highlighting the music of Jelly Roll Morton and George Gershwin, and featuring both Diehl and Cecile's frequent trio partner, pianist Adam Birnbaum. This double piano/vocal ensemble lands at the Dakota in downtown Minneapolis for two nights, February 21-22.
The music of ragtime legend Jelly Roll Morton and prolific composer of early 20th century popular songs, George Gershwin, has timeless appeal. "Jelly and George" highlights their classic tunes as well as some little-known gems, given spectacular new life by the voice of Salvant and her two stunning pianist cohorts.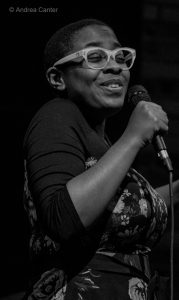 Born and raised in Miami of French and Haitian parents, Cecile McLorin Salvant notes that "Everybody in my family just loved to listen to all kinds of music," she said. "We would go from classical music to funk, Appalachian music, fado, Senegalese music, Sarah Vaughan. Whatever was good was listened to and maybe even danced to." Cecile started piano at age five and was singing in the Miami Choral Society at age 8. She went to France (Aix-en-Provence) to study law and political science, and also studied classical voice at the nearby Darius Milhaud Conservatory. There she met jazz clarinetist Jean-François Bonnel and became immersed in improvisation (instrumental and vocal).  Still, she "thought I would do jazz as a hobby, much as I would have done a pottery class or a theater class."  But soon she was studying the great vocalists and singing with Bonnel's ensemble. In 2009, she made her first recording with Bonnell's Paris quintet, Cecile, and a year later, won the Monk Competition.  The contract with Mack Avenue and a January 2013 appearance on Piano Jazz: Rising Stars followed, as well as the opportunity to lend her voice to Chanel's "Chance" ad campaign.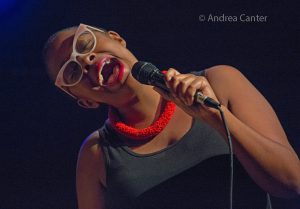 McLorin Salvant's star has been on a fast rise, but perhaps none of her achievements sufficiently predicted the startling maturity of Woman Child, released in spring 2013 and nominated for a Grammy for 2014 (Best Jazz Vocal Album); the album won the Downbeat Critics' Poll for Best Jazz Album of the Year (and Salvant also topped Downbeat's Female Vocalist of the Year and Rising Star Female Vocalist of the Year). (See Jazz Police review at http://bitnami-wordpress-7b91-ip.centralus.cloudapp.azure.com/archives/4139).   One to Love followed in 2015, and this time Salvant was the Grammy Winner for 2016's Best Jazz Vocal Album. She was also named Female Jazz Singer of the Year (2015 and 2016) by the Jazz Journalists Association. In addition to her tour with Diehl and Birnbaum in "Jelly and George," Cecile currently tours in duo and trio with Diehl and pianist Sullivan Fortner; she recently appeared with Fortner on Christian McBride's Jazz Night in America.
Salvant's choice of material reflects her interest in the less familiar, seldom recorded repertoire of jazz and blues, from early 20th century through the full history of the music, as well as her own talents as composer, lyricist and pianist, recalling (but not repeating) the history of jazz singing, from Bessie Smith and Billie Holiday to Ella Fitzgerald and Sarah Vaughan, Betty Carter and Abbey Lincoln. Especially for a young singer, such muses can also inspire imitation. Noted Cecile in a recent interview for Downbeat, "Following all the great vocalists in this music, how do you make it your own?…You have to remember yourself in the music—express your thing." Already, McLorin Salvant seems to have no trouble expressing her thing. There is no note of imitation – this is an artist who has an uncanny ability to meld classical training, improvisational talent, and dramatic flair into a wide-ranging and unique voice.  Few modern vocalists manage to so successfully recall the past while keeping eye and ear in the present, and to do so with such precision in intonation, articulation and overall musicianship. That Cecile McLorin Salvant is at this pinnacle at age 26 is a bit scary. Fortunately, she seems fearless.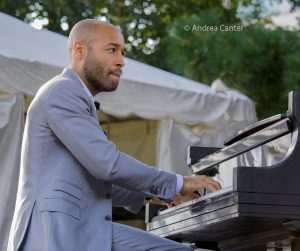 Pianist Aaron Diehl plays with a style The New York Times describes as "melodic precision, harmonic erudition, and elegant restraint." A graduate of the Juilliard School, he studied with Kenny Barron, Eric Reed, and Oxana Yablonskaya. He released his first album in 2008 (Live at Caramoor); his Live at Players (2010) featured his two trios, and his Mack Avenue debut (The Bespoke Man's Narrative) in 2013 hit number one on JazzWeek. His follow-up, Space Time Continuum, features Benny Golson, Joe Temperley and his trio with David Wong and Quincy Davis, along with a vocal track written by Cecile McLorin Salvant. Diehl served as Music Director for Jazz at Lincoln Center's New Orleans Songbook series during the 2014-15 season and has toured Europe and the U.S. with Cecile McLorin Salvant during the past two years. Their trio with Paul Sikivie on bass and Lawrence Leathers on drums performed at the Newport, North Sea, Istanbul and Jazz in Marciac festivals. Aaron has also performed at the Monterey and Detroit Jazz Festival, with Wynton Marsalis and his Septet, and the Jazz at Lincoln Center Orchestra, as well as with Warren Wolf, Lew Tabackin, Matt Wilson, and Wycliffe Gordon. A 2014 Monterey Jazz Festival Commission Artist, he also received the Up-and-Coming Artist Award from the Jazz Journalists Association (2013), Prix du Jazz Classique from Academie du Jazz (2012), and the Cole Porter Fellowship from the American Pianists Association (2011).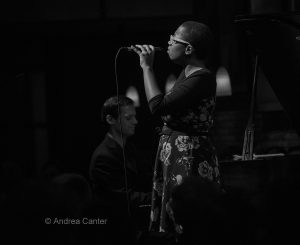 Pianist Adam Birnbaum was last at the Dakota in 2014 and 2015, accompanying Cecile McLorin Salvant. Since graduating from the New England Conservatory and receiving a graduate Artist's Diploma in jazz studies from The Julliard School (2003), the Boston native has been a leader and sideman on the New York jazz scene, performing at the Village Vanguard, the Blue Note, Birdland, the Jazz Standard and Dizzy's Club Coca-Cola. In 2004 he won the American Jazz Piano Competition and became the American Pianists Association's Cole Porter Fellow in Jazz. That same year, he became the first jazz pianist to present a recital at the prestigious Gilmore Rising Stars Recital Series. Adam has performed internationally, including at the Gilmore International Keyboard Festival, the Kennedy Center, the Montreal Jazz Festival, The Spoleto Festival, The Red Sea Jazz Festival, The Rockport Chamber Festival, NPR Jazz Christmas, and the Capetown Jazz Festival. Adam has released four albums as leader, including Ballade Pour Adeline which received a Gold Disk Award from Swing Journal (2006); Three of a Mind with Doug Weiss and Al Foster received an Editor's Pick and four-star review in Downbeat Magazine. A sideman on over 15 albums, Adam  has performed with a long list of stars, including Al Foster, Greg Osby, Wallace Roney, Eddie Henderson, Eddie Gomez, The Vanguard Jazz Orchestra, Jazz at Lincoln Center with Wynton Marsalis, Darcy James Argue's Secret Society, and Cecile McLorin Salvant
Salvant, Diehl and Birnbaum are a significant ensemble already, but add a horn section with clarinet star Evan Christopher? It will be two amazing nights of music at the Dakota.
The Dakota is located at 1010 Nicollet Mall in downtown Minneapolis; www.dakotacooks.com. Shows at 7 and 9 pm on February 21 and 22; reservations recommended at 612-332-5299.