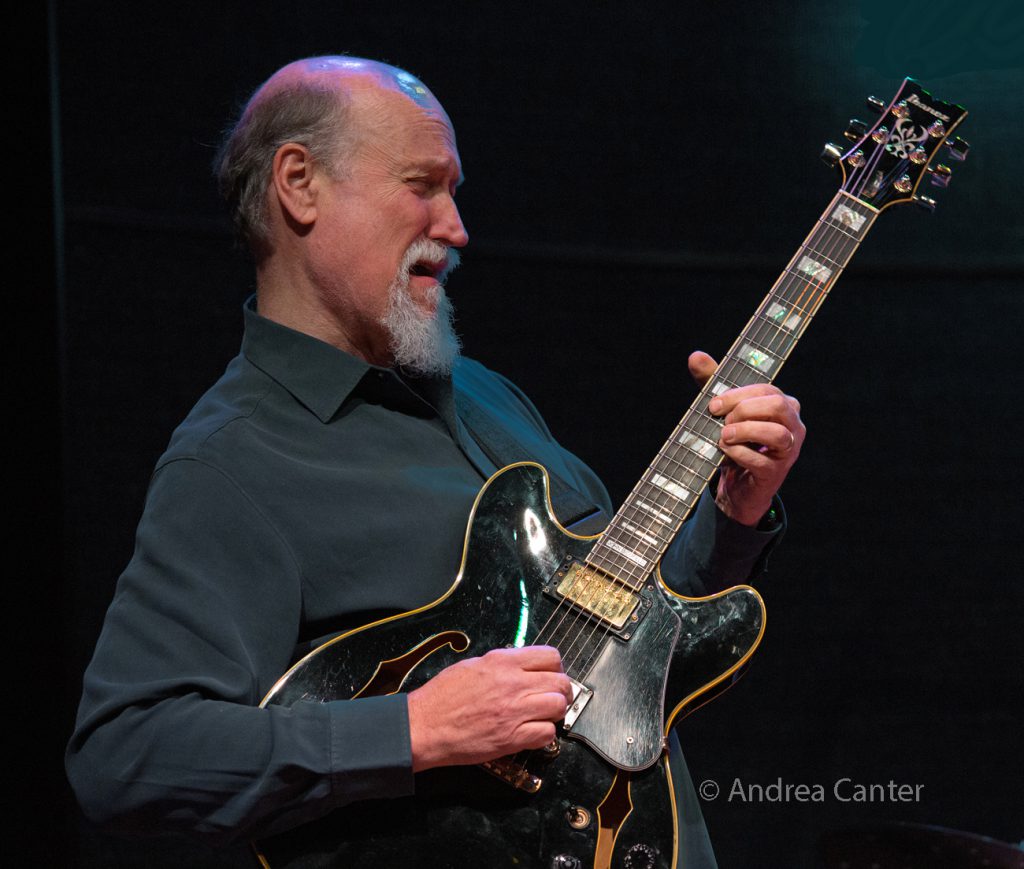 On a cold blustery winter night at SFJAZZ (February 19), guitarist John Scofield threw up a solid, "perfect game" piece of American-inspired music that was the antidote to the winds of winter and the blast of politics rattling our peace of mind. It is not our imagination that our culture, and music in particular, is taking a "back to the roots" turn right before our eyes. It is as if many players are intent on signaling a return to that time not so very long ago when folk, roots and protest music were in the air, and there was real community in the common vocabulary of songs that trumpeted common cause.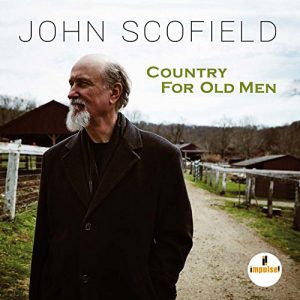 Here was John Scofield himself, born December 26, 1951, nearly a Christmas child, and certainly one of the great holiday gifts to guitar fans, playing at the height of his powers. The show demonstrated a player moving with supreme confidence through song after song. It was the kind of show that made us think that all the rock guitar gods would have been enthralled by this night: Clapton, Keith Richards, and the rest. They weren't there, and the lucky audience was mesmerized by a presentation that had the feel of Dylan lighting Nashville fires, Johnny Cash grabbing the spotlight, and even Buddy Holly or Elvis smiling at the very idea that music can create such warm and tender magic. It took magic to open up a bunch of jazz fans to a music that many have hated and despised since the 1960s when rock declared that soapy sentiment was just not acceptable. Even Scofield himself referred to a time not too long ago when he hated country and screamed in pain when anyone would switch to this style on the radio. Of course, in one of the most ironic turn of events in pop history, it is country that has survived and flourished, while rock and roll has suddenly withered and faded. That said, there was one blazing, rocking, burning guitar on display this night.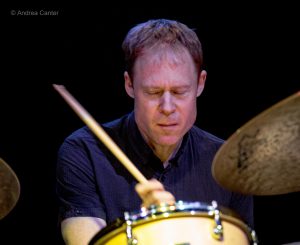 Playing almost all of the tunes from his 2017 Grammy-winning album (Country for Old Men), Scofield had a wonderful band that included pianist and organist Larry Goldings, bassist Vicente Archer (replacing Steve Swallow who appears on the recording), and drummer Bill Stewart.  Each of these three players contributed powerfully to the sound, the interplay and the very texture of the music. Not one piece of sheet music was on the stage, as if to emphasize that, for jazzers, these songs are simple in every way. And that is the point of making them come alive in jazz. This "tour de force" of guitar invention brings us back to Sonny Rollins, a player who throughout his career has used some of the most mundane melodies to demonstrate spectacular invention. Here Scofield took "Don't Fence Me In" and made it ring and rock to demonstrate that, for a master, this kind of challenge is at the very core of a music that can reconstruct any style from any time or place.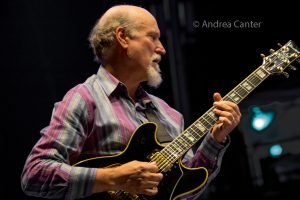 As we watch a society being torn again by the winds of change, revolt, and reconsideration, it was perfectly fitting to watch a concert that reclaimed the sound of America that could be shared by everyone there. America's greatness rests not only on our past, but in the present, where our artists can resurrect the very heart of Americana in such a way that demonstrates the perfect splendor of its heart and soul. John Scofield demonstrated that he was up to any challenge in creating this masterpiece of live music. Standing on the stage, unable to stand still from the force of his inspiration, we witnessed the pure joy of one of the giants of the electric guitar. The experience of this show was one we will never cease to treasure. And thanks to him, we can now feel that glow that country can inspire and that master interpreters present to us in such a magical way.
John Scofield's Country for Old Men tour continues, coming to the Dakota in Minneapolis on February 25.