In most areas of the country, Monday is President's Day. At the Icehouse, JT's Jazz Implosion recognizes it as Wayne Shorter Day, at least during evening hours at the south Minneapolis venue. Implosion night welcomes Witch Hunt, an ensemble of local modern jazz stars playing Shorter's famed Speak No Evil in its entirety. The band will include Michel Schults on saxophone, Jake Baldwin on trumpet, Ted Godbout on piano, Chris Bates on bass and Adam Nussbaum on drums. But there is a "B Side" this evening– a second set featuring the edgy duo of saxophonist Nelson Devereaux and drummer/host JT Bates.
Speak No Evil 
"Wayne is truly a masterful genius." — Chris Bates.
Speak No Evil was recorded on Christmas Eve, 1964 and released in 1966, produced by Blue Note co-founder Alfred Lion and recorded by acclaimed engineer Rudy Van Gelder. His third album for Blue Note within a year following Night Dreamer and Juju, and his sixth recording overall, Wayne Shorter changed up the band, perhaps to counter critics who regarded him as "just another Coltrane" follower. Only drummer Elvin Jones carried over to the new cast, which otherwise included Herbie Hancock and Ron Carter from Miles Davis's Second Quintet, along with Freddie Hubbard;  other than Jones (replaced by Tony Williams), this would be the line-up for Shorter's VSOP.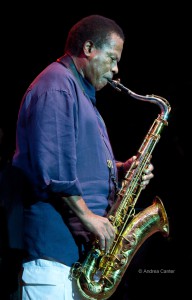 Six new compositions from Shorter fill the album, inspired, he said, by thoughts of "misty landscapes with wild flowers and strange, dimly-seen shapes — the kind of place where folklore and legends are born. And then I was thinking of things like witch burnings, too." Fairy tales were another source of inspiration, as the title of the bluesy "Fee-Fi-Fo-Fum" comes straight from the giant in Jack and the Beanstalk.
Overall the album brings together 50s hardbop and the modal trends of 60s avant garde in a cloak of the dark and mysterious. Hancock's soloing distinguishes the title track, and in addition to the unorthodox harmonies of  "Fee-Fi-Fo-Fum," the tracks include "Infant Eyes" (a hymn to his infant daughter), "Dance Cadaverous" (a waltz with hints of Sibelius that Shorter notes was inspired a photo of a med student with a cadaver), "Witch Hunt" (with an opening horn fanfare and melody of mostly perfect fourths), and "Wild Flower" (soon to become a standard jazz "waltz" in 6/4); the reissue includes an alternate take of "Dance Cadaverous."
The original album cover features Shorter's first wife Teruka (Irene) Nakagami. Generally critics have listed Speak No Evil as one of Shorter's best, if not the best of his albums. The Penguin Guide to Jazz selected this album as part of its suggested "Core Collection" calling it "by far Shorter's most satisfying record". Allmusic gave the album five stars.  Yet Downbeat did not list the album among the highlights of Shorter's career, and critic David Wilson described the album as "more or less standard bebop" and pale in comparison to Maiden Voyage and Out to Lunch.
Whatever the reception in 1966, in 2016 you can be assured that the musicians performing Speak No Evil on the Jazz Implosion gig will add their own twists and turns.
The Icehouse is located at 2528 Nicollet Avenue South in Minneapolis. Music at 9:30 pm, cover $8; www.icehousempls.com.