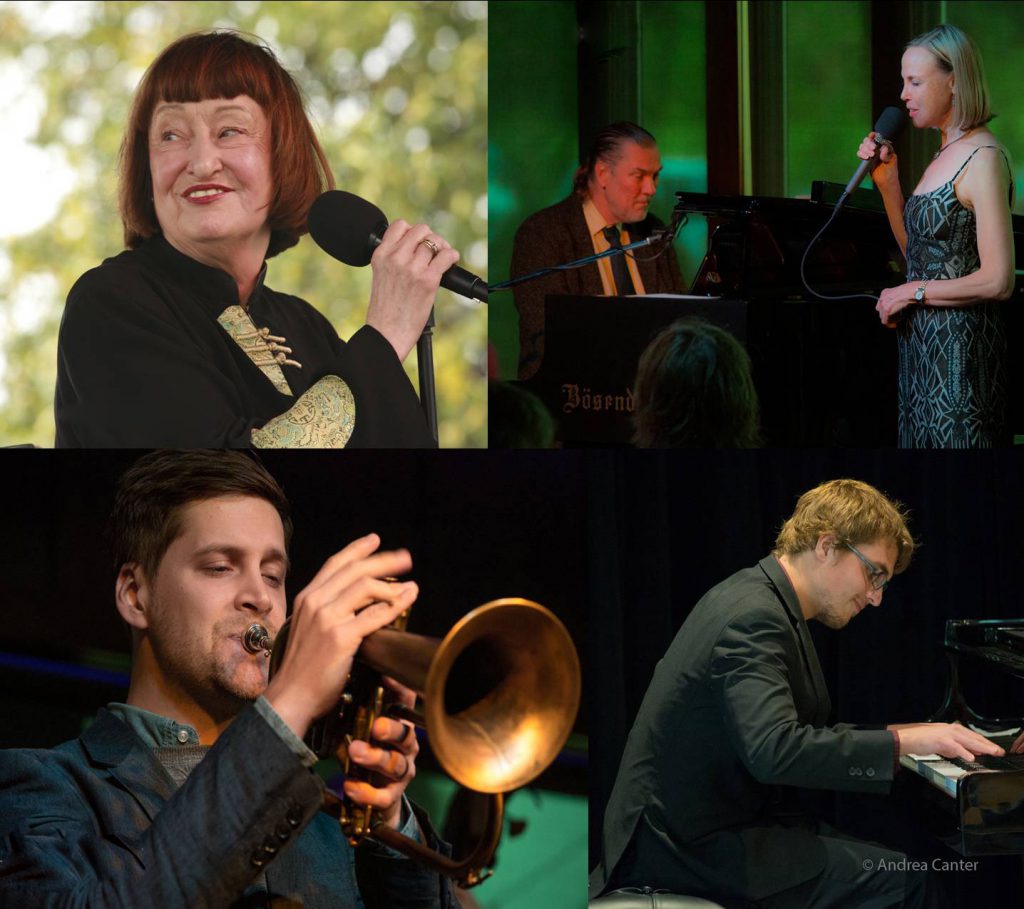 © Andrea Canter
When the Dunsmore Room at Crooners Lounge opened in late 2015, it seemed to be a risk. A suburban supper club, already sporting a successful bar and lounge with live music, reconfiguring a dining room as a "listening room" for jazz? For the first few months, local artists augmented by former residents like Bill Carrothers and John Raymond proved that there was an audience for such a setting, and certainly the 9-foot Bosendorfer on loan from local artist Steven Anderson helped bring attention to the venue. But over time, success generated success, with a growing schedule of national artists, the purchase of the house's own 9-foot Steinway grand, positive press, and the inevitable word-of-mouth among the jazz community confirming that this was, indeed, a great place to play as well as listen. Now, about 18 months since it's inaugural gigs, the Dunsmore Room boasts a week of artists whose reputations far exceed the Metro area: living legend vocalist Sheila Jordan (April 23), a visiting favorite son, John Raymond (April 24), and two long-time favorites celebrating the centennial birthday of Ella Fitzgerald, Connie Evingson and Jon Weber (April 25-26).  It would be a dazzling week for any venue.
Sheila Jordan with Javier Santiago (April 23, 5 and 7 pm).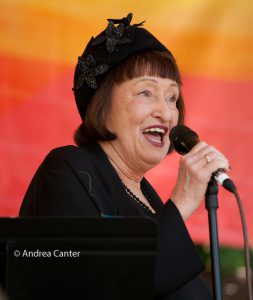 Charlie Parker often introduced jazz vocal pioneer Sheila Jordan as "the singer with the million dollar ears." And the New Yorker notes that Jordan has "absorbed bebop from the source, but she's also a committed modernist whose style has evolved with the ensuing decades." And that's a lot of  decades as Sheila Jordan is now 88 and not only still singing and touring, but presenting two shows back to back at 5 and 7 pm in the Dunsmore Room.  Famous for performing with just a bassist, in Fridley Sheila will be supported by pianist and a ferocious young lion, Javier Santiago. Although three generations apart, Sheila and Javi share an extensive bebop vocabulary.
Born Sheila Jeanette Dawson in Detroit, Sheila was raised in the poverty of Pennsylvania's coal-mining country. She found her voice as a singer early in her childhood, noting that singing was a way to ward off pain. "I was very unhappy as a little kid," she told NPR's Eric Westervelt. "The way I got rid of that was to sing, so I was constantly singing." Sheila sang so much that she was working semi-professionally in Detroit clubs as a teenager. Yet her affinity for working with black musicians subjected her to serious racism as she worked to establish herself as a professional musician. Discovering the music of Charlie Parker set Sheila on an unwavering path through bebop, and she was forever influenced more heavily by instrumentalists than vocalists.  Her determination to hear Parker in person in a Detroit club, as a 14-year-old, was recounted in an interview for MPR: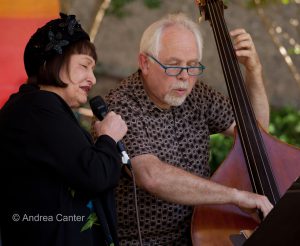 You had to be 21 years old to get in there and I said, "Oh, I've got to hear my hero!" And I forged my mother's birth certificate and I dyed my hair blonde and I wore a hat with a veil and high-heeled shoes and I was smoking a Lucky Strike cigarette, unfiltered, and I was sure I was going to get in the door smoking my cigarette and going through the whole trip. And I got to the door and the man said, "No no no, you can't come in here. Hey, you better go home and do your homework, little white girl." And I was so disappointed. And then I went around in the alley and sat on the garbage cans. Now, Bird was by the door so he heard all of this. He went to the back door of that club and he stood there at one point and played. The door was open and I sat on the garbage cans and Charlie Parker played for me. And it was incredible.
After moving to New York in the early 50s, she married Parker's pianist, Duke Jordan, and studied with Lennie Tristano, making her first recordings under her own name in the early 60s. She also recorded The Outer View with George Russell which included her famous 10-minute arrangement of "You Are My Sunshine."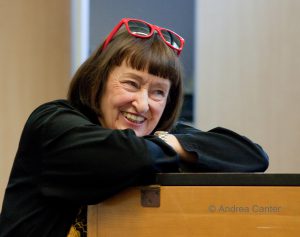 Sheila continued working in the 60s and 70s despite a lack of broad appeal — the vocal equivalent of bebop was slow to catch on with American jazz audiences. She began finding more success in the late 70s, appearing more often on recordings, including albums with pianist Steve Kuhn, and releasing Home, a selection of Robert Creeley's poems set to music and arranged by Steve Swallow. After sitting in with Charles Mingus on an impromptu bass-voice duet, Sheila began a long series of duo performances with bassists, releasing Old Time Feeling in 1983 with Harvie Swartz (aka Harvie S). These albums reflected what are now recognized as Sheila Jordan signatures, such as her use of frequent and unexpected changes of pitch. Her trademark collaboration with bassists in duo format led to a long-standing relationship with Cameron Brown, with whom she still performs after two decades.
In addition to performing, Sheila gained a reputation as a talented educator, running workshops and teaching on college faculties throughout her career. Sheila was named an NEA Jazz Master for 2012, and is the subject of an insightful biography by Ellen Johnson, Jazz Child, published in 2014. Now 88, Sheila shows no signs of slowing down. Earlier this year she performed new arrangements for jazz vocalist and string quartet at the Green Mill in Chicago; she will appear at the Chicago Jazz Festival with the Steve Kuhn Trio, and will be teaching summer workshops in New York and New England.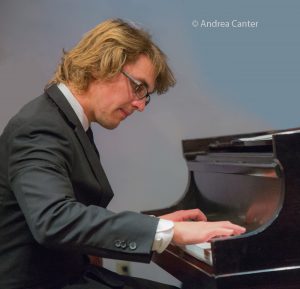 Minneapolis native Javier Santiago comes by his musical bent honestly, the son of drummer Mac and vocalist Laurie Santiago, and grandson of Latin percussion master, the late Luis Santiago. Javi began studying piano at age 7, turning to jazz piano and trumpet at age 10, and playing with the bands in middle school and high school as well as the Minnesota Youth Jazz Band and the first edition of the Dakota Combo under the direction of Kelly Rossum. In 2006, Javi was awarded the Jane Matteson Scholarship at the Schubert Club/Dakota Foundation for Jazz Education Jazz Piano Competition; the following year he won the David Paulus Scholarship at the same competition. A former student of pianist Tanner Taylor, Javi was selected as a Fellow of the Brubeck Institute at the University of the Pacific after completing high school, where he attended for the maximum two years. From Brubeck Javi moved on to complete his college studies at the New School for Jazz and Contemporary Music in New York, graduating in December 2011 after participating in the Betty Carter Jazz Ahead program at Kennedy Center earlier that year. Since returning to the Twin Cities, Javi has become a significant voice on the local jazz scene. In 2015, Javi released an EP, Year of the Horse, with original compositions; in 2016 he was awarded a McKnight Artist grant to support his music. Among a number of ensembles, Javi currently performs with the Steve Kenny Quartet, Ted Olsen Quartet, and Rodney Ruckus Trio, as well as his own trio. A semi-finalist in the American Piano Competition in 2016, Javi recently received the competition's Audience Award.
John Raymond and New Standards Quartet (April 24, 7 pm)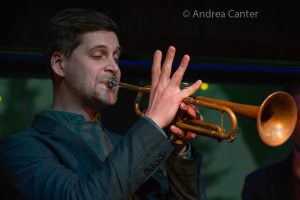 A native of suburban Minneapolis, trumpeter John Raymond completed undergrad studies at the University of Wisconsin Eau Claire before moving on to graduate studies at State University of New York Purchase were he was a protege of Jon Faddis. Raymond has gigged regularly with his own ensembles throughout the Manhattan club circuit and on national tours; participated in the renowned Festival of New Trumpet; received the 2015 Herb Alpert Young Composer Award; and released his debut album Strength and Song. John went on to release a well-received quartet recording on Fresh Sound/New Talent, featuring the great drummer, Billy Hart (Foreign Territory, 2015).   In fall 2014, he launched what he initially dubbed as the Roots Trio with Gilad Hekselman and Colin Stranahan, rebranded as Real Feels with their studio release on Shifting Paradigm Records; a live release followed in late 2016. Fortunately for Twin Cities fans, John returns often to visit family and favorite venues like the Dunsmore Room, Vieux Carre' and Icehouse. And those visits might be more frequent now that John has accepted a faculty position in the Jacobs School of Music at Indiana University, starting fall 2017.
Of the New Standards Quartet (with local stars pianist Javi Santiago, bassist Graydon Peterson, and drummer Rodney Ruckus), John notes that they "will play a handful of songs written in the past 25 years that have essentially become modern-day jazz standards. We'll also have a few special guests join us as well." Tunes on the set list include ​"Benny's Tune" (Lionel Loueke), "Happy People" (Kenny Garrett), "Question & Answer" (Pat Metheny), "Shade of the Cedar Tree" (Christian McBride), "Hey It's Me You're Talking To" (Victor Lewis), "Doctone" (Branford Marsalis), "Homage a'Mitch" (Kurt Rosenwinkel), "Diende" (Kenny Kirkland), and "Sail Away" (Tom Harrell).
Connie Evingson and Jon Weber, "Best of the Songbooks" (April 25-26, 7 pm)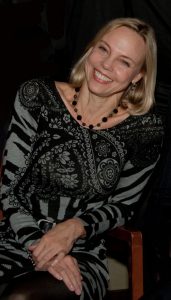 Some musical partnerships were just meant to be. Twin Cities vocalist Connie Evingson and New York-based pianist and honorary Twin Citian Jon Weber paired up during the 2012 Twin Cities Jazz Festival and on a Prairie Home Companion European cruise, where they cooked up the idea for a show for Connie's Jazz at the Jungle series at the Jungle Theater in south Minneapolis. They have since appeared together a number of times at the Jungle, including shows devoted to the songs of Dave Frishberg, "Desert Island Picks" from the Great American Songbook and popular stars, several editions of The Best of the Ella Fitzgerald Songbooks, and the roots of American song in folk, blues, ragtime, country and Tin Pan Alley. They first brought Ella's Songbooks to the Dunsmore Room last fall, and now reprise that performance in honor of the centennial birthday of Ella Fitzgerald on April 25 with two nights of music. Their joined by frequent cohorts Dave Karr on reeds and Gordy Johnson on bass.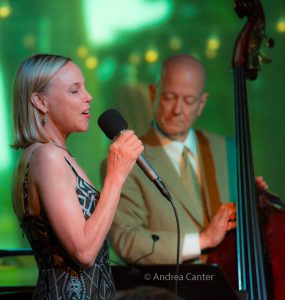 A native of Hibbing in northern Minnesota's Iron Range, Connie Evingson grew up listening to her father's records of Duke Ellington, Count Basie, Ella Fitzgerald, Sarah Vaughan, Joe Williams, Tony Bennett, Lambert, Hendricks and Ross, and later Peggy Lee and Shirley Horn. Influenced by these early muses as well as the musical icons of her generation (the Beatles, Joni Mitchell, Bob Dylan, Sting, Bonnie Raitt), Connie's eclectic tastes were soon evident, from her first club gig at the old Night Train in St. Paul to a brief stint with the Minnesota Vocal Jazz Ensemble before she joined Moore By Four in 1986. Over the past 15+ years, her career as a soloist has included nine CDs for Minnehaha Music, with most releases charting on Jazzweek's Top 50 for extended periods. Long regarded as among the top echelon of jazz artists in the Midwest, recipient of two McKnight Artist Fellowships, and nominated as Jazz Week's Vocalist of the Year in 2005, Connie's back-to-back recordings of hot club swing (Gypsy in My Soul, Stockholm Sweetnin') brought renewed attention to the genre and led to performances at Jazz Alley in Seattle, Blues Alley in Washington, DC and appearances in Europe. Yet Connie is always expanding her repertoire, and even as her gypsy jazz reputation soared, she delved into new projects including the songs of David Frishberg (Little Did I Dream, 2008) and Sweet Happy Life (2012), showcasing her "framing and saluting [Norman] Gimbel's work with her delightful voice, superb diction, timing and phrasing" (All About Jazz). She also returned to hot club repertoire with All The Cats Join In, recorded with the John Jorgenson Quartet (2014) and appears almost monthly at Vieux Carre' with her own hotclub ensemble.
In addition to curating Jazz at the Jungle productions over the past five years and heading a monthly Jazz in the Lounge gig at the Minneapolis Woman's Club, Connie appears regularly at the Dakota, Vieux Carré, and Crooners Lounge, and, in June 2013, made her Jazz at Lincoln Center debut in Michael Feinstein's "Swinging With the Big Bands," featuring Wynton Marsalis. Connie received an Artist Initiative Grant for 2015 from the Minnesota State Arts Board, which supported concerts at the American Swedish Institute.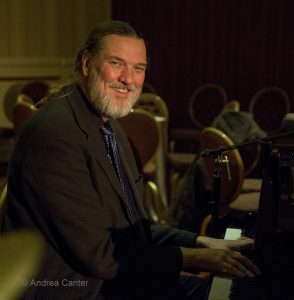 As a toddler in Milwaukee playing a toy organ, Jon Weber already displayed both perfect pitch and memory. By age 6 he had memorized 2,000 songs from his grandmother's old piano rolls. A self-taught musician, Weber took off two years from piano during his teens to develop counterpoint in his left hand by playing guitar. Returning to the piano, Jon and his quintet opened for Pat Metheny, Buddy Rich, Freddie Hubbard, and Stanley Turrentine at major summer jazz festivals. Since moving to Chicago in 1987, and then to New York a few years ago, Jon has performed around the world as well as in the recording studio. In addition to his remarkable chops, Jon Weber is well known for his incredible music knowledge. He's been the subject of profiles by CNN, CNBC, Black Entertainment TV, Bravo/Arts, National Public Radio, and Voice of America. In New York, he has been a regular performer at the 92nd Street Y jazz series and at the Algonquin Hotel; performed at the Metropolitan Room with local songbird Maud Hixson as part of a tribute to songwriter Mickey Leonard; and hosts the Piano Jazz spin-off, Piano Jazz: New Generation on National Public Radio. He's become a fixture of the Twin Cities Jazz Festival, hosting evening jams at the Artists Quarter through 2013 and returning to host jams at the new Vieux Carré during the 2015 and 2016 festivals.
Perhaps Crooners owner Mary T should consider expanding her venue to include Bed and Breakfast — one could easily regard weeks such as this as the equivalent of an elegant jazz festival, complete with lakeside views, full dining service, and of course nightly entertainment of the highest quality. Reservations for all shows highly recommended (April 25th nearly sold out).
The Dunsmore Room at Crooners Lounge is located at 6161 NE Highway 65 (Central Ave NE) in Fridley, just north of I-694 and about 15 minutes north of downtown Minneapolis. Schedule and ticket information at www.croonersloungemn.com