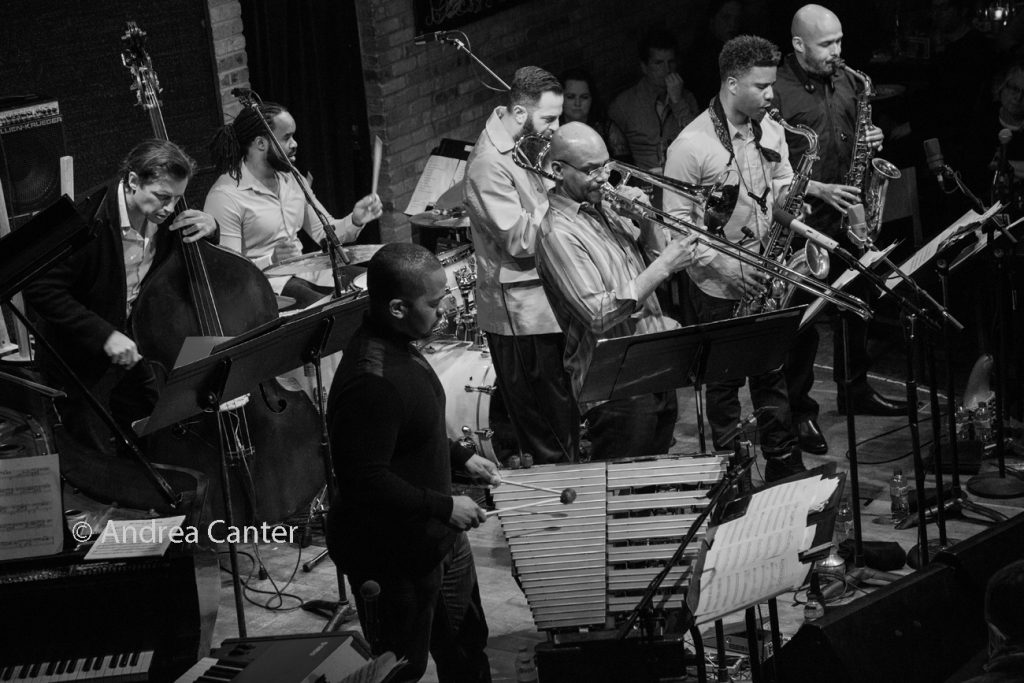 © Andrea Canter
"The octet boasts as much or more collective talent, firepower and critical acclaim than any other jazz ensemble going…" — DownBeat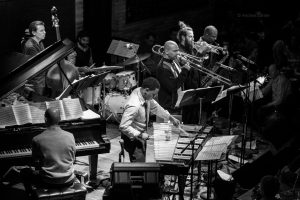 One of the most acclaimed modern jazz ensembles, the SF Jazz Collective returns to the Dakota on April 24-25 with its 2017 edition, celebrating the music of Miles Davis. An offspring of the famed SFJAZZ organization (sponsor of the annual San Francisco Jazz Festival housed at SFJAZZ in the heart of San Francisco), the Collective was launched in 2004 to promote jazz as not only a great art form but as an ever-evolving and modern music. The octet changes personnel periodically, but always features top performers who are also esteemed composers and bandleaders.
When the SF Jazz Collective first came together under the leadership of Joshua Redman, Billboard hailed its debut as "one of the two most significant jazz moments of 2004."  As a resident and touring ensemble, the Collective gathers in San Francisco each year for a multi-week residency. Throughout this extended rehearsal period, the octet concentrates on the season's new repertoire and interacts with the Bay Area community through SFJAZZ's education programs for youth and adults. Each season brings a new repertoire, highlighting the works of a great modern composer (post-1960 era) through new arrangements, as well as debuting new works from each band member, commissioned by the parent organization. Since its inaugural year, the band has celebrated the works Ornette Coleman, John Coltrane, Herbie Hancock, Thelonious Monk, Wayne Shorter, McCoy Tyner, Horace Silver, Stevie Wonder, Chick Corea, Michael Jackson, and more. The Collective's first studio recording, Wonder: The Songs of Stevie Wonder, won Outstanding Jazz Album during the 2014 NAACP Image Awards.
Following its rehearsal period, the Collective takes to the performance stage, including home season concerts under the auspices of the SFJAZZ Spring Season and a national and international tour, with stops in some of the world's most prominent concert halls and clubs. At the end of its season, the Collective issues a limited edition recording featuring the year's repertoire, now totaling 14 recordings. This season, the Collective examines the works of iconic trumpeter and composer Miles Davis.
Meet the Band
This season, the SF Jazz Collective includes founding member Miguel Zenon, David Sanchez, Robin Eubanks, Warren Wolf, Edward Simon, Matt Penman, Obed Calvaire, and newest member, Sean Jones.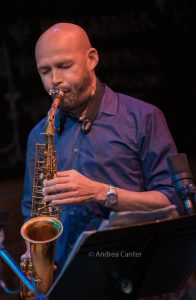 Alto saxophonist and SF Jazz Assistant Artistic Director Miguel Zenon is regarded as one of the brightest players of his generation. A native of San Juan, Puerto Rico, he listened to the music of Charlie Parker and other jazz greats while in high school. However, he did not formally study jazz until he began his studies at the Berklee College of Music, where he gained experience playing on the Boston area jazz scene with drummer Bob Moses' Mozamba and the Either/Orchestra. After graduating in 1998, Zenón received a scholarship to the Manhattan School of Music, earning his Masters in Saxophone Performance and studying with Danilo Perez, Dick Oatts, Dave Liebman, George Garzone, and Bill Pierce. Over the past few years, Zenon has played or recorded with such musicians as David Sanchez, Danilo Perez, William Cepeda's Afrorican Jazz, The Village Vanguard Orchestra, The Mingus Big Band, Charlie Haden, The David Murray Big Band, Branford Marsalis and Ed Simon, among others. He has been named Rising Star Alto Saxophone by four Downbeat polls and in 2012 topped the Alto Saxophone category in the Jazz Times Readers Poll.  A multi-Grammy nominee with 9 recordings as leader, Zenon was awarded a McKnight Foundation "genius" grant and a Guggenheim Fellowship in 2008.  He's on the faculty of the New England Conservatory of Music.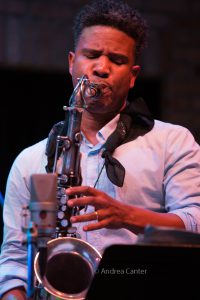 Puerto Rican tenor saxophonist  David Sánchez  is one of the leading voices of his generation. After studying with Kenny Barron at Rutgers University, Sanchez was tapped by jazz legend Dizzy Gillespie to join his renowned United Nation Orchestra. Since that big break, Sánchez has become a one of the most celebrated instrumentalists in jazz, recording nine albums as a leader and winning a Latin Grammy Award for his 2004 Columbia orchestral session, Coral. Now a five-time Grammy nominee, Sanchez has performed with along list of jazz greats, including Charlie Haden, Eddie Palmieri, Roy Haynes, and Tom Harrell; he is also an in-demand educator, conducting master classes, workshops and residencies at the world's top universities and conservatories. His latest album, Ninety Miles (Concord), was recorded in Cuba and co-led by trumpeter Christian Scott and former Collective member, vibraphonist Stefon Harris.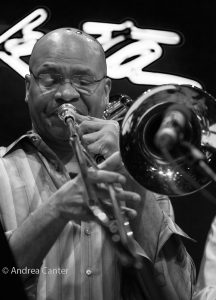 A graduate of the University of the Arts in Philadelphia, trombonist Robin Eubanks' credits include Music Director for Art Blakey and the Jazz Messengers, arranging, composing and performing for McCoy Tyner's Big Band; and performing with Slide Hampton's Jazz Masters, the Tonight Show with Jay Leno, the Rolling Stones, Talking Heads, and Barbra Streisand on her historic 1994 tour. A long-time member of Dave Holland's Quintet, Eubanks has led his own projects, including Mental Images and his current EB3.  He also serves as Assistant Professor of Jazz Trombone at the Oberlin College Conservatory of Music and has been named Jazz Trombone of the Year five times by the Downbeat Critics Poll. Noted Jazz Times, "Live, as on record, Eubanks makes it all work artfully, like tiles in an intricate, logical yet intuitive, and slightly surreal mosaic….[he is] one of the finest jazz trombonists alive…"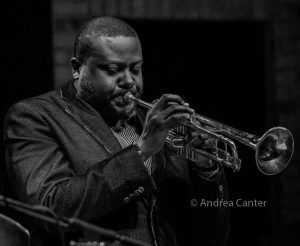 Ohio native Sean Jones was raised on gospel music and was attracted to the trumpet as a fifth grader when he encountered the music of Miles Davis; he was further inspired as a student at Youngstown University by John Coltrane's A Love Supreme. As a student he won two awards from DownBeat as well as a scholarship for graduate study at Rutgers University. Jones went on to hold the lead trumpet chair for the Lincoln Center Jazz Orchestra for five years. His performance credits also include Illinois Jacquet, Jimmy Heath, Frank Foster, Nancy Wilson, Dianne Reeves, Gerald Wilson and Marcus Miller. The relationship with Miller led to Jones touring with Herbie Hancock, and Wayne Shorter in Tribute to Miles in 2011. Jones currently has released seven albums for Mack Avenue Records and tours with his long-standing quartet with pianist Orrin Evans, bassist Luques Curtis and drummer Obed Calvaire. He also serves as Chair of the Brass Department at the Berklee College of Music and previously taught at Duquesne University and the Oberlin Conservatory. Artistic Director of the Pittsburgh and Cleveland Jazz Orchestra, Sean is also a member of the Mack Avenue Superband as well as SF Jazz Collective.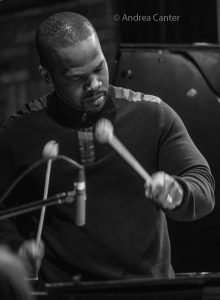 A native of Baltimore, vibraphonist/multi-instrumentalist  Warren Wolf has also honed his chops on drums and piano since age three. He graduated from the Baltimore School for the Arts and went on to study at the Berklee College of Music, where he studied with Caribbean jazz vibraphonist David Samuels.  With the SF Jazz Collective, he follows in the footsteps of vibes masters Bobby Hutcherson and Stefon Harris; he also performs with the Mack Avenue Super Band. Wolf's most recent recording, Wolfgang (2015), features two different three-man rhythm sections (pianist Benny Green, bassist Christian McBride and drummer Lewis Nash; and pianist Aaron Goldberg, bassist Kris Funn and drummer Billy Williams, Jr.), as well as two noteworthy duets with pianist/label-mate Aaron Diehl.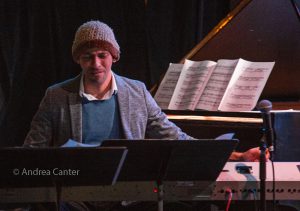 Pianist Edward Simon was born in the coastal town of Punta Cardón, Venezuela, surrounded by music in a family of musicians. He attended the Philadelphia Performing Arts School at 15 and went on to the University of the Arts. After relocating to New York in 1989 to study at the Manhattan School of Music, Simon soon took over the piano chair for Bobby Watson's Horizon, later joining the Terence Blanchard Group. He also played with Herbie Mann, Paquito D'Rivera, Bobby Hutcherson, and Don Byron.  In 1994, he launched the Edward Simon Trio and placed third in the Thelonious Monk International Piano Competition. In 2000, Simon co-founded the quartet Afinidad with saxophonist/composer David Binney, and including bassist Scott Colley and drummer Antonio Sanchez. As leader, Simon has released 11 critically acclaimed albums, including two New York Times top ten jazz records of the year–Edward Simon (Kokopelli, 1994) and Simplicitas (Criss Cross, 2005); his most recent release with bassist John Patitucci and drummer Brian Blade, is  Live in New York at Jazz Standard. A 2010 Guggenheim Fellow, Simon teaches at the New School for Jazz and Contemporary Music.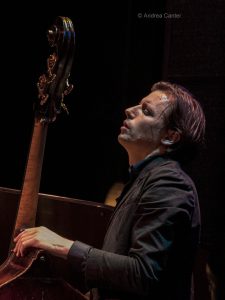 Originally from New Zealand, bassist Matt Penman is a compelling composer whose "vivid reflective and crafty writing" (All Music Guide) led to a nomination for his homeland's Best Jazz Album of the Year, even before he attended Boston's Berklee College of Music.  Penman studied piano for ten years before taking up bass at age 16. After a year at Berklee in Boston, he moved to New York in 1995.  He has released his own critically acclaimed recording as a leader, The Unquiet (2002), and has recorded as a sideman on some 50 others. His performance credits include Kurt Rosenwinkel, Seamus Blake, Gary Bartz, Kenny Werner, Neenna Freelon, Brian Blade, Mark Turner, Brad Shepik, Bill McHenry, Guillermo Klein, George Cables, George Garzone, Ravi Coltrane, and Terri Lynne-Carrington, and he tours with the quartet James Farm.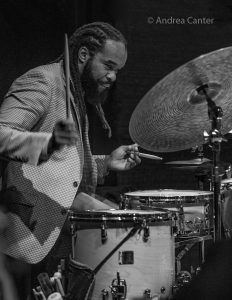 Miami native Obed Calvaire is one of the most exciting young drummers on the jazz scene, joining SF Jazz Collective in spring 2013. Gaining recognition through his work with trombonist Steve Turre, Calvaire has performed and recorded with such jazz luminaires as Wynton Marsalis, Eddie Palmieri, Roy Hargrove, Bob Mintzer, the Vanguard Jazz Orchestra, Mark Murphy, Eric Reed, and the Clayton Brothers. Calvaire is an eclectic artist, performing extensively in Afro- Cuban, R&B, pop and world music contexts. In addition to the SFJAZZ Collective, his current projects include work with Richard Bona, Peter Cincotti, Musiq Soulchild, Monty Alexander, Mike Stern, and Sean Jones. Calvaire holds Bachelors and Masters degrees from the Manhattan School of Music.
The SFJAZZ Collective plays two shows each night at The Dakota, 7 and 9 pm on April 24-25. The Dakota is located at 1010 Nicollet Mall in downtown Minneapolis; reservations recommended at 612-332-5299 or www.dakotacooks.com
.