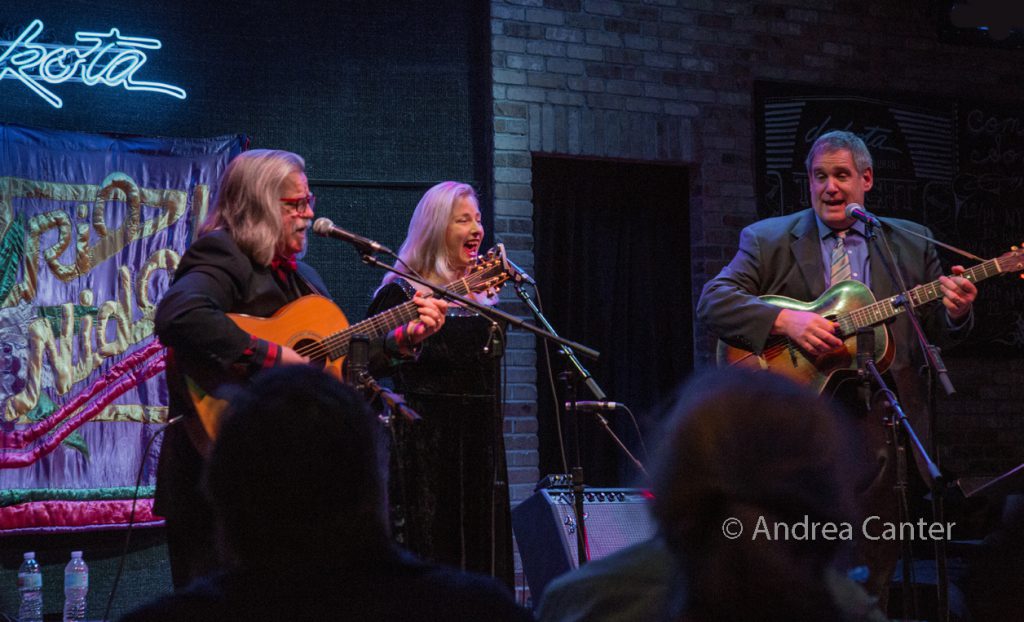 © Andrea Canter
One of the Twin Cities' most popular vocal groups, Rio Nido performs in the Dunsmore Room at Crooners Lounge in Fridley on Tuesday, May 9. The original trio of Tim Sparks, Prudence Johnson, and Tom Lieberman established themselves as exceptional performers, playing classic jazz from the 1930s and '40s at the hottest spots in Minneapolis. After garnering regional attention and releasing several records between 1972 and 1986, the group disbanded, and each member has gone on to enjoy successful solo careers. About a year ago, Rio Nido reunited at the Dakota– and thus began a new era of the trio's magic.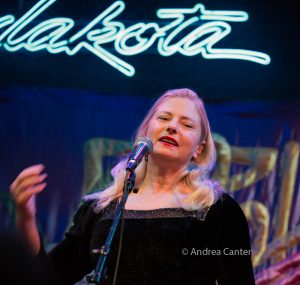 Prudence Johnson's career as a singer, writer, and teacher has included two feature films (A River Runs Through It, A Prairie Home Companion), national radio (A Prairie Home Companion), and concerts across North America and occasionally Europe. She has released more than a dozen recordings, including albums dedicated to the music of Hoagy Carmichael, Greg Brown, and a collection of international lullabies. In recent years, Prudence has focused on creating multi-media works for concert and theater stages that blend performance with her interests in history and literature. In 2011, she created and produced the touring show and CD, A Girl Named Vincent, featuring the poetry of Edna St Vincent Millay set to music by four Minnesota composers. She has recently appeared in the Dunsmore Room at Crooners' Lounge with frequent cohort Dan Chouinard ("The Birthday Club"), with whom she released S'Gershwin (2003) and produced four multi-media music/history projects — Flappers, Miners & Moonshiners; The Golden Age of Radio; Tiptoe Through the 60s: Songs and Stories from a Revolutionary Decade; and Another Song About Paris. Their 2015 album is simply called Gerswhin.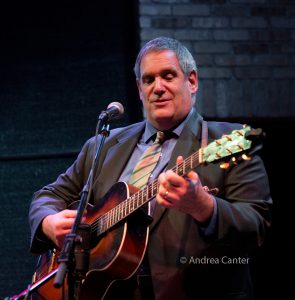 In addition to his role as a founding member of Rio Nido, songwriter and guitarist Tom Lieberman was a regular contributor to Garrison Keillor's A Prairie Home Companion for 10 years. His music has been heard far and wide, on productions ranging from Sesame Street to Sweet Land. Tom's recent recording of original songs, Common Denominator, has been received enthusiastically by listeners and broadcasters worldwide, and was named one of the Star Tribune's Top 10 Minnesota-Made Recordings of 2013.
Tim Sparks is an award-winning guitarist (including the 1993 National Fingerstyle Guitar Championship) whose blending of musical styles has won him extensive praise from all corners of the music world. Guitar Player Magazine has called his music "Fresh, exotic, and totally cool." Acoustic Guitar Magazine calls it "rich and sensuous," and guitarist Leo Kottke simply says "He's really one of the best musicians I know." From the early traditional country blues and gospel music he learned in the Blue Ridge Mountains of his native North Carolina to the jazz, Bebop, classical and world music from his varied career across the U. S. and Europe, Tim has thrilled and inspired audiences and musicians world-wide. With an extensive and varied discography, Tim is now a frequent weekend performer (in solo and often with bassist James Buckley) at the Icehouse.
Rio Nido performs in the Dunsmore Room at Crooners Lounge at 7 pm on May 9. Tickets recommended at www.croonersloungemn.com.    Crooners is located at 6161 Highway 65 NE (Central Av NE), just north of I-694 and about 15 minutes from downtown Minneapolis.   Rio Nido will also appear at the Dakota on June 2.