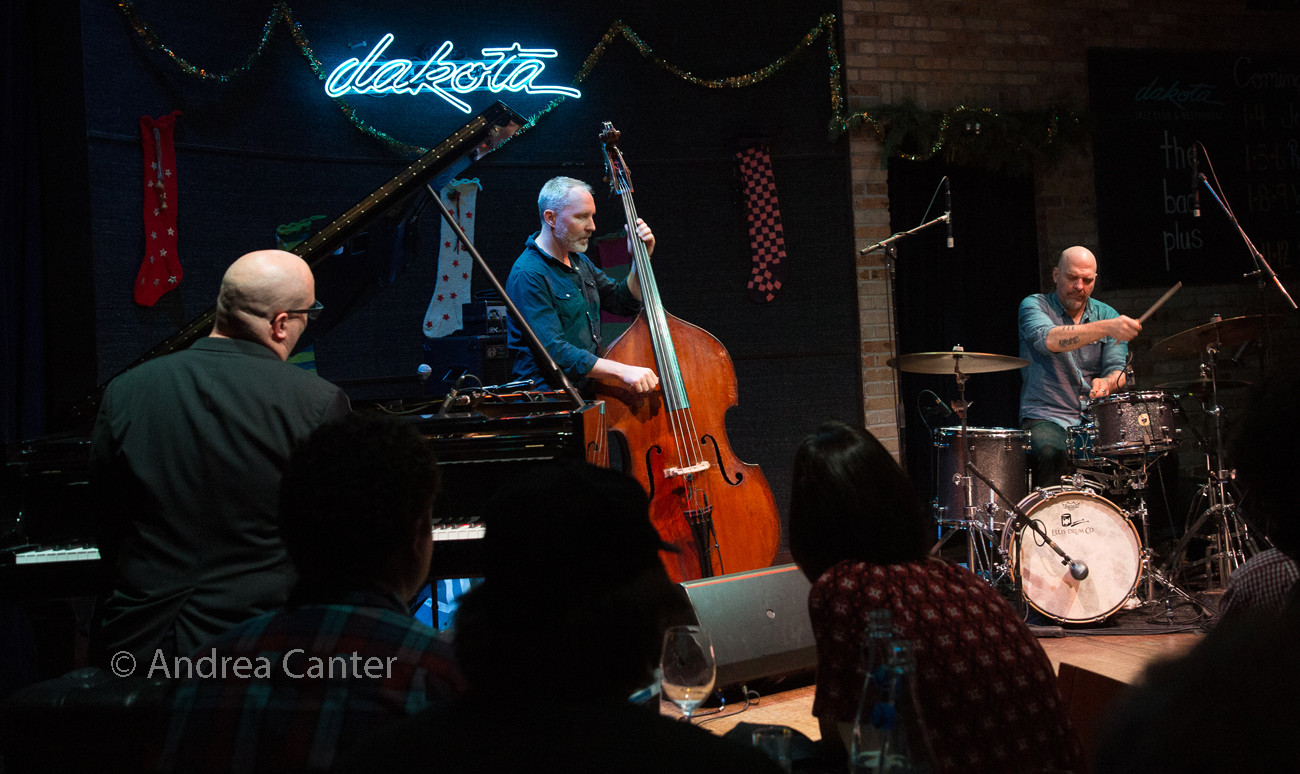 © Andrea Canter
"It's about as badass as highbrow gets." — Rolling Stone
About six months ago, one of the iconic bands of the 21st century announced a major personnel change: After 17 years, The Bad Plus would be changing pianists after their December 2017 gigs, with founding member Ethan Iverson leaving the trio, with Orrin Evans taking over on keys. But before Iverson's exit, TBP will perform twice in the Twin Cities, including their annual holiday residency at the Dakota (December 20-23) and a special, world premier night with guitar legend Bill Frisell at the Walker Art Center's McGuire Theater this Friday, September 29 (7 and 9:30 pm). This is not the first collaboration among Frisell and the trio. In 2012, they joined together in tribute to Paul Motian at the Newport Jazz Festival, bringing the effort to Jazz at Lincoln Center's Allen Room a few months later. Their performance at the Walker will feature Frisell's music from 1985-95, including his partnerships with Motian, Joe Lovano and more.
The Bad Plus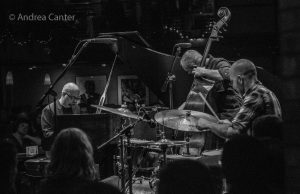 After their 17+ years of collaboration, global touring, acclaimed recordings, even controversy as to their relationship to "real jazz," The Bad Plus still ranks as one of the most popular genre-bending ensembles in modern music. With their unique approach to original composition and arrangements of pop covers, the trio has been compared to other ensembles that seem to appeal as much to young rockers as middle-aged boppers, but they remain a unique force in improvisational music, covering anything from Stravinsky (Rite of Spring) to Johnny Cash as well as their ever-evolving original compositions, the latter highlighted on their recent projects, Inevitable Western and The Bad Plus Joshua Redman, their inimitable approach to covers restated on their latest release, It's Hard.  Bringing together Ethan Iverson's creative, humor-spiked percussive piano, Reid Anderson's often-melodious, never laid-back bass, and the incredible treasure chest of rhythm and sound from Dave King's drum menagerie, this acoustic trio is as apt to fill the Hollywood Bowl as the Village Vanguard.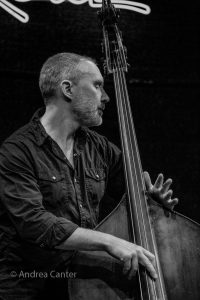 Reid Anderson and Dave King grew up in Minneapolis and jammed together as teenagers, listening to such bands as Mike and the Mechanics and Sting, and then turning to modal music and free jazz. Ethan Iverson, the one member of TBP who can not claim inspiration from a background in rock, met Anderson in college (University of Wisconsin – Eau Claire) and the two played free jazz in area restaurants, hooking up with King informally in 1990. Going their separate ways, Anderson headed to Philadelphia where he studied classical bass at the Curtis Institute of Music; Iverson jumped into the music scene in New York; King spent a few years as a session musician in LA before returning to the Twin Cities, where he found plenty of outlets around home, including cofounding Happy Apple. Although Iverson, Anderson, and King had not performed as a trio in a decade, they had remained in touch and were fans of each other's music, finally reconnecting in 1999.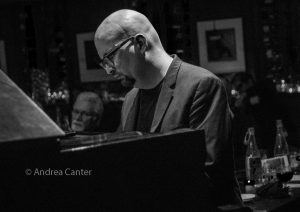 Their self-titled debut recording (Thirsty Ear, 2001) made barely a ripple in the music world, and the follow-up, Authorized Bootleg (self-produced in 2002), similarly stayed below the radar screen. It was a 2002 gig at the Village Vanguard that sparked one of the most explosive power surges of modern jazz, leading to a contract with Sony/Columbia and the subsequent releases of These Are the Vistas, Give, Suspicious Activity and Blunt Object—Live in Tokyo. Freed from Columbia, they released Prog in spring 2007 on their own imprint, Do the Math Records. Noted Troy Collins notes in All About Jazz, "The infectious originals (mostly penned by bassist Reid Anderson) easily hold their own to the selected cover tunes, no easy feat considering their iconoclastic nature…With muscular conviction and steely focus, Prog is the sound of a much heralded ensemble rising to the occasion and fulfilling the hype."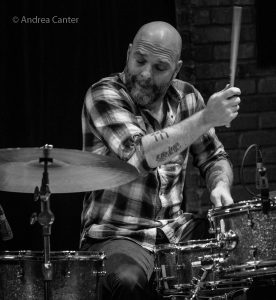 Early 2009 marked the American release of For All I Care (EmArcy) and the first time TBP had added vocals, bringing in Twin Cities' rocker Wendy Lewis. Covering diverse compositions from pop (BeeGees, Roger Miller), rock (Nirvana, Pink Floyd, Wilco, Heart) and modern classical (Stravinsky, Ligeti, Babbitt), For All I Care paid tribute to the broad range of 20th century music—and an expanded repertoire for TBP. While rock and pop covers have been fair game over the past decade, For All I Care marked the first time the trio tackled classical works. And for the first time, the trio did not record works by three of the most potent composers of the 21st century—Iverson, Anderson and King. But original works were the entirety of their 2011 CD, Never Stop. The ten compositions, never appearing before on record, provided a dazzling summary of the trio's first decade of collaboration, a partnership that, in its own unique way, brings together the history of modern music.
But original compositions were not the only repertoire of 2011, as the trio tackled Stravinsky's ominous Rite of Spring. With a commission from Duke University and Lincoln Center and eight months of rehearsal, TBP unveiled their reworkings of one of the most lauded and controversial musical works of the 20th century at Duke in spring 2011 and subsequently at limited venues. By all accounts, The Bad Plus succeeded in turning a monolithic 20th century ballet score into a 21st century masterpiece without taking away any notes from Stravinsky. TBP's 2012 album, Made Possible, returned to the realm of (mostly) original works. The album was described as "at once vintage Bad Plus in its striking themes, nonchalant time-bends and full-on collective improv, and proof of this awesome ensemble's continuing evolution" (John Fordham, The Guardian).
That evolution moved up another notch as the trio returned to the studio (The Terrarium in Minneapolis) to record an album of new, original compositions, released in fall 2014 as Inevitable Western. Bill Beuttler (Jazz Times) noted, "Much of it has a classical feel, the bluesier side of jazz mostly ignored but its improvisational interplay emphasized." Added Thom Jurek (All Music.com), "Inevitable Western is a reminder that the Bad Plus are not a 'piano trio' in any ordinary sense of the term, but a unit of strikingly different voices acting as one in expanding the boundaries of jazz." Also in 2014, the trio's recorded version of Rite of Spring was released on Sony Masterworks. Noted Lloyd Sachs in Jazz Times,  "Placing clockwork precision over improvisation—drummer Dave King has never played more elegantly under control—they cast dark, threatening shadows with their hard-hitting, hard-angled attack…This Rite of Spring swings at times…and achieves an unshakable intensity with its minimalistic strokes."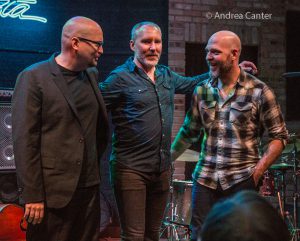 TBP had quite a year in 2014. In addition to releasing two acclaimed albums, the trio was voted #2 Jazz Group in the annual Downbeat Critics Poll and saw Rite of Spring score a "top ten of the year," receiving 5 of 5 stars in the same poll. More recently, they toured with Joshua Redman, releasing The Bad Plus Joshua Redman in spring 2015. Noted Tom Moon for MPR, "There's a lot of the trademark Bad Plus wonkery going on here; even the pieces built on straight-up rock-style backbeats tend to lurch away from predictability, with fitful odd-meter detours and sudden moments of explosive group upheaval…"  In fall 2016, TBP was back on top of their covers magic with It's Hard, this time adding two modern jazz tunes to their usual amalgam of pop and rock sources, from Prince to Johnny Cash. Noted Matt Collar (AllMusic.com), "It's as if the Bad Plus are demonstrating their longstanding belief that all good music can be interpreted in a jazz style, whether it's Prince's 'The Beautiful Ones,' Cyndi Lauper's 'Time After Time,' or Kraftwerk's 'The Robots'… with It's Hard, the Bad Plus continue to make the process of transforming modern pop songs into jazz standards sound both deceptively easy and endlessly enjoyable."
Bill Frisell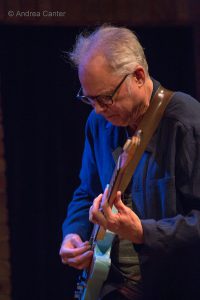 One of the working legends of modern jazz guitar, Bill Frisell is steeped in country, blues, and rock. Known for using a wide range of special effects to create unique sounds, he's performed or recorded with Kenny Wheeler, Paul Motian, Dave Holland, Elvin Jones, Don Byron, Joe Lovano, Fred Hersch, Jim Hall, and Charles Lloyd, among many others. The Baltimore native mostly grew up in Colorado, where he played clarinet as well as guitar. After studying music at the University of Northern Colorado where he studied with Johnny Smith, he went on to Berklee in Boston where he studied with the great Jim Hall. His big break came when he recorded for ECM in the early 1980s with Paul Motian, Jan Gabarek and Arild Andersen. Living in New York, he partnered with Motian, John Zorn and Joe Lovano, among others. Relocating to Seattle in 1988, Frisell began working on silent film soundtracks and adding elements of country and bluegrass. For the past 20 years, his work has expanded across a wide range of musical influences; he has received Grammy awards and nominations, and has issued a long string of notable recordings, including work with Paul Motian and Joe Lovano.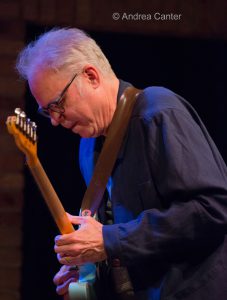 Frisell is a man of many projects, several of which tour concurrently. He has led Floratone, the duo with Greg Liesz, his trio, 858 Quartet, Beautiful Dreamers Trio, All We Are Saying, and Big Sur Quintet; he began his collaboration with Charles Lloyd about two years ago and has toured and recorded with Lloyd as part of the Marvels ensemble. His 2014 release, Guitar in the Space Age (Okeh) was described by The Guardian as "an old-school electric guitar fan's album….. in fact this is as serious, witty, layered and subtle as any of his more abstract work." Of his When You Wish Upon a Star (2015), which reimagined musical gems from film and television, Kevin O'Connor (Jazz Police) wrote, "Words like 'departure' don't apply to Frisell's recordings, they all hold that distinction.
The Bad Plus Frisell: 1985-95
The current tour of TBP and Bill Frisell reconstructs compositions from the now-classic first 10 years of recordings by Frisell. As high school students during this period, King and Anderson heard the legendary jazz guitarist perform at the Walker, and created this tour as a chance to reimagine these tune with Frisell joining in as guest artist. These concerts, the world premiere of this music, were commissioned by the Walker. The Bad Plus Bill Frisell tour will move on to Urbana, IL and Columbus, OH before a six-night residency at the Village Vanguard in New York.
The McGuire Theater at the Walker Art Center is located at 725 Vineland Place (across from Loring Park) in Minneapolis. Tickets at https://walkerart.org/calendar/2017/the-bad-plus-bill-frisell-85-95#event-times.